For some, photography is a profession, whereas it's a hobby for some others. Regardless of how you see it, you still need the right set of equipment to get your photos right.
If you want to get a bit creative with your photography, you would definitely need high quality equipment to assist you. I think that it's safe to assume that you operate a DSLR camera to take pictures.
While talking about such equipment, flash needs a special mention, as it's the thing that could either make it or break it. No matter how you good your photography skills are, you still need better light source in order to capture the moments you wanted to. If you're a regular photographer, you must have already aware of how important it is to have an external flash.
Not only an external flash offers you almost 10x more light, you will also enjoy more battery power, as they usually have their own power source. So, I've decided to compile a list of best flash products for DSLR cameras, and while doing so, I made sure that they all are available at budget prices.
Furthermore, as I use a Canon DSLR, I took the liberty of writing down the products that are compatible with Canon digital SLR cameras. But, most of these are also compatible with other brands as well.
Buckle up and keep on reading to learn about the best budget flash for Canon DSLR.
1.) Neewer TT560 Flash Speedlite – A solid Flash for moderate photographers
When it comes to DSLR Flash, Neewer can be labeled as one of the pioneers in the industry. They've a wide range of models, which are adored by the photographers all around the globe.
Out of many DSLR flashes from Neewer, the TT560 deserves special attention, as it offers a great collection of features despite being available for a reasonably cheap price.
The guide number of this flash is 38, which translates to its decent distance range. It is a hot shoe DSLR flash, which can be rotated 90 degrees vertically and 270 degrees horizontally. As long as your camera has a hot shoe mount, you can use this flash, regardless of your camera's model.
The flash duration ranges from 1/300s to 1/20000s, as you can set the parameters depending on your requirements. It offers three different flash modes, which are M, S1, and S2. A power management switch is equipped with this flash, as you can charge it by turning it ON.
What I really liked about this product is, the test flash button, which lets you check the status of flash. A charging indicator is also available, that helps you check the battery status. Since this is a manual flash, you can't use your camera's flash menu to control it.
2.) Altura Photo AP - UNV1 Bundle – Best product for power users
Would you like a flash that comes with a bundle of extra items?! If yes, consider getting Altura AP – UNV1.
Similar to the previous entry, this is also a flash that can be attached to any DSLR camera that has a hot shoe mount. The rotation angles are 90 degrees vertically and 270 degrees horizontally, much like the previous flash on this list.
This flash has a guide number of 38, which translates to a powerful flash capacity. When you buy this flash, you will get a pack of four Polaroid batteries included.
Along with these standard items, you will also get several other extra items with the flash. A wide-angle flash diffuser along with a reflection panel is included in the package. In addition to them, a flash stand that has a tripod mount is also available. For protection, a drawstring pouch is being offered.
This flash can be used in three different modes; Manual, S1, and S2. Now, here comes the best part! Along with all those items, this product comes with an infrared remote control that allows you use shutter and autofocus of your camera.
Make sure that your camera has an infrared receiver, to use this feature. For better photography sessions, take advantage of the tripod stand to avoid shaky moments while taking photos.
3.) Powerextra Professional DF – 400 – Cheap, reliable, and efficient
As the name suggests, Powerextra is indeed a powerhouse when it comes to accessories related to photography.
Now, coming to the product, Powerextra DF 400 is a DSLR flash that fits into almost any camera that has a hot shoe mount. It has a guide number that reads 33, which is a quite good capacity.
You should consider getting this flash, if you're looking for a long battery life. It supports three flash modes that include manual, S1, and S2. The latter two modes are compatible with wireless flash triggers. The flash recycle time is 3 seconds, which is pretty good; as it lets you reuse the flash almost instantly.
One of the best features this flash brings is, the automatic shutdown option, which saves you quite an amount of battery power. You'll also be able to access auto save function with the DF 400. The flash head rotates 90 degrees and 270 degrees on vertical and horizontal directions respectively.
A PC sync port is also made available with the flash, which is always a helpful feature. In addition to that, a mini stand and a protective bag are also included. You can control the power output of this flash with the 8-level setting.
A detailed instruction manual comes with the product, which helps you understand how to use it properly.
4.) Photoolex M500 – Buy this if you like speed
Since 2010, Photoolex has been churning out amazing photography equipment one after another.
People seem to really like their products, as the internet is full of overwhelmingly positive reviews about their products. Their flash line seems to be receiving special interest, which is why I've decided to try out their M500, and I must say that I'm seriously impressed.
First things first, similar to the already-mentioned flash above, M500 is also a DSLR flash that fits right into almost all cameras that come with hot shoe mount. With a solid guide number of 35, it packs a powerful flash output that can help you capture beautiful moments in a rather beautiful way. An external power port along with a PC sync are embedded within the flash.
What impressed me the most about this product is its impressive battery life. With a set of four AA batteries, it gives you nearly 1500 flashes. With light mode, you'll get about 4 hours of uninterrupted light.
You can use this flash in manual, S1, and S2 modes, like any other standard Canon DSLR flash. Power saving mode is engineered into this flash, which is quite a helpful feature, especially when you're photographing outdoors.
A standard flash stand and a protective bag are also included. You'll also get a warranty of 18 months. The Photoolex M500 offers a rapid recycle time of just 2.8 seconds, making it the fastest in our list.
What I didn't like much about this flash is, that it's compatibly with only a handful of cameras, so look if it supports your DSLR before buying it.
5.) Voking VK750 – An advanced DSLR Flash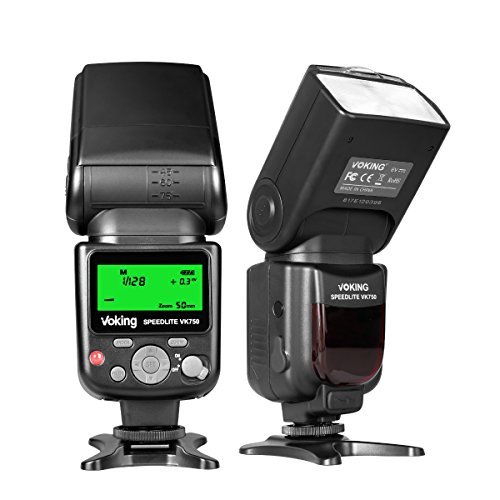 Okay, now I'm really excited, as I've been waiting to write about this flash for quite some time.
First and foremost, Voking is infamous for their superior product line. They've been offering amazing photography equipment for comparatively very cheap and affordable prices. Voking VK750 is no different at this aspect.
This hot shoe flash comes with a significantly greater guide number, 58. You can already tell by now, how powerful it is. Combine that with wireless flash control setting, pretty amazing, right?!
That's what you get with this flash. The recycle time of this flash is 3 seconds, which is quite good, and this product is also compatible with an external power source.
We're not done yet! You'll also get a LCD screen panel, which lets you access key information. You will be able to look and make any changes in settings through the LCD panel. You can trigger the flash from a distance of 15 meters indoor and 10 meters outdoor.
There are four modes through which you can operate this flash, as the standards being manual, S1, and S2. MULTI is an extra flash mode you get with VK750. A PC sync port, hot shoe stand, and a protective pouch are also included in the package.
I personally feel that this flash could've been a much better choice if it had a better recycle rate.
6.) Opteka IF-980 – Best for Batter life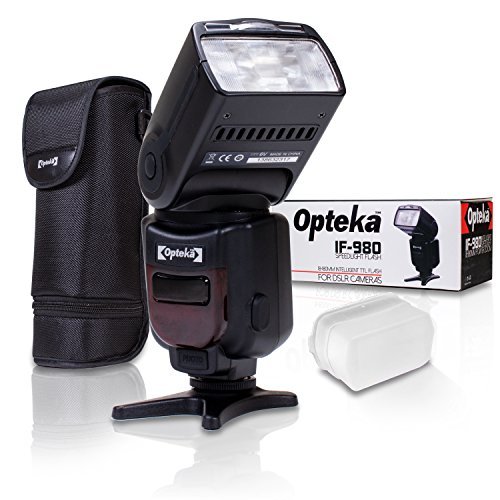 For those of you looking for a sophisticated Canon DSLR flash, Opteka IF-980 could be the best bet.
This flash comes equipped with a vast array of features that are quite efficient in helping you capture your beloved moments. This flash is basically suitable for all, whether you're a professional photographer or someone who's doing it for the sake of hobby.
The IF-980 has been specifically designed for the Canon DSLR cameras, also being compatible with other point and shoot cameras. You can trigger the flash through the wireless slave function.
An autofocus setting has been engineered into this flash, helping you proceed with your photographic activities, even in low-light environments. When you're not using the flash, it turns itself off automatically, saving your power.
If you're a power user, you should take assistance of an external power source for extended usage, as the IF-980 has a HV port for it. It also benefits you in another way, as it enhances the recycle time. The product comes with a stand that allows you attach it to a tripod, clamp, or a light stand.
Opteka has included several other bonus features, as they've engineered some cool functions such as red eye reduction, On-Camera eTTL, wireless functionality, and many more. You can use this flash via four different modes which are manual, S1, S2, and MULTI. A wide angle diffused has also been embedded into this DSLR flash.
Once charged, the batteries offer about 1500 flash cycles. This is pretty good, even for a regular photographer. But, you can't use non-rechargeable batteries with it, which is what disinterested me a bit.
7.) ESDDI PCL-350 – Buy it for efficiency and durability
Last, but definitely not the least, the PCL-350 from ESDDI makes a very good Canon DSLR flash for its decent set of features and reasonable price.
With a powerful guide number of 35, it offers a great light source for your photography activities. A reflection panel and a flash diffuser are also included within this product.
The PCL-350 lets you control the power output manually, by using the keypad buttons and shifting across the eight power levels. The standard modes, manual, S1, and, S2 are available.
For a better access to information and functions, an LCD panel has been embedded into this flash. The best part with this product is, the super-fast recycling time. It ranges from as low as 0.5 seconds to 5 seconds, depending on your preferred power output.
A standard mini stand and a protective case are also included, when you buy this product. For better power management, this flash employs a power saving mode, where it turns itself off automatically, when not being used. You don't have to worry about overheat problems, as ESDDI made sure that this flash is secured through over temperature protection.
An auto-save function is also made available, so that you can have a better photography experience with this external DSLR flash.
So, I guess you've gone through the best budget flashes for Canon DSLR by now. If you're confused on which one to proceed with, don't fret.
First, make a list of your priorities and then see which flash match them the most. If you ask me for my personal opinion, I would go withVoking VK750, just for the sheer number of features.
But, hey, it's not always about the numbers though. So, since everyone has their own requirements, try to go with the one that matches your requirements.
People also like: Best Camera Accessories