In this article, we have reviewed the 10 best lenses for Nikon D3400 of different types according to your photography needs along with a comparison table to help you choose the best lens possible.
Nikon D3400 is a digital SLR camera and a quite famous one too. With economic price and a broad range of features, this camera has been talking of a town for fairly some time.
And we all know that when it comes to digital cameras, Nikon is a force to be reckoned with. So if you have recently purchased a Nikon D3400 or owner of it then congratulations, you've selected one of the best cameras in the market.
Now that you've got hold of this amazing device, you would want to utilize it to the fullest extent and to do that you will have to select the most appropriate camera lenses that could work for a given situation.
In this article today, we are going to take a look at some of the most suitable lenses for the Nikon D3400 for various types of photography. Since this camera is capable of capturing moments of most kinds of events, you will also get a variety of lenses that go hand to hand with it.
You can select from zoom, prime, telephoto, portrait, and wide-angle lenses, attach them to the camera, and just dive into the world of representative photography.
This guide will help you in choosing the correct lens in regard to your subject matter, the location of your shooting, your budget, mobility along with various other factors. The selection of lenses will also depend on whether you are shooting a video or simply capturing the photos.
Focal length, autofocus, resolution, weight, connectivity, and some other things will also play a vital role in the assertion of the most suited camera lenses. So hold your cameras and get into this list of best lenses for the Nikon D3400 so that you can store the most memorable moments of your life.
Best Lens For Nikon D3400:
1. Nikon AF-S DX NIKKOR 35mm f/1.8G Prime Lens (Best for Low Light Photography)

This lens right here is probably one of the best lenses for the Nikon D3400 you can upgrade to. For people who are done with shooting kit lenses, this feature of Nikon is what exactly they need. In places where light conditions aren't really good, it becomes a hectic job to capture images. But this lens will solve that problem for you since it assists a lot in maintaining light.
So right off the bat 35mm is the focal length of this device along with the largest aperture of 1.8 which makes it one of the fastest lenses available in the market. With a silent wave, autofocus motor, and compatibility with handset cameras, this inclusion of Nikkor is capable of setting high standards of photography.
The focal length is fixed which is not really a problem since it's a prime lens. You can't zoom in but don't let it get in the way of your artistic mind. You can always move towards the subject and have an active approach. You can adjust your positions and orientations remotely and get the best shots from the best angles without any help from Zoom.
As mentioned above in the low light conditions the aperture of 1.8 works incredibly well. Its light-gathering ability is also top-notch and the use of a wide aperture makes this easy for you. Apart from 1.8, you can select different apertures as per the conditions around you.
For brighter and sharper images, you can go for 2.4 to 2.6 and it will just do the perfect job for you by getting all essence of the picture.
Auto Focus works fine for taking photos without making any noise and locating vital points in the picture but when it comes to videos, you might hear some kind of noise. Though, it's minimal and much lesser than some similar lenses.
You can even manually set the AF points when the AF mode is on by the use of manual mode.
Pros
It is extremely fast in operation.
Works well in dim light conditions.
The use of a silent wave AF motor makes a negligible sound.
Cons
You can't zoom in using this lens.
The Autofocus ring doesn't have any hardpoint.
2. Nikon 40mm f/2.8 AF-S Close-UpLens (Best for Macro Photography)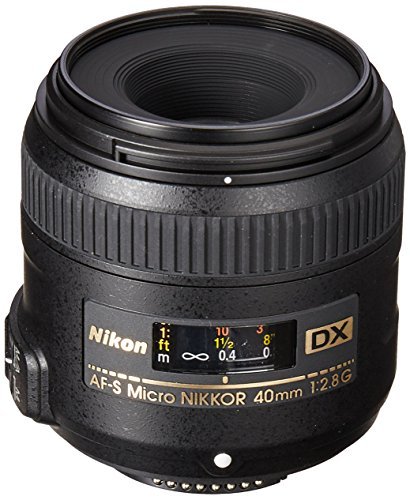 Close-up photography is one of the most trending styles of photography these days and if you happen to own Nikon D3400 then this lens of Nikon would be a perfect match for it.
Taking close-up shots is a relatively difficult task compared to usual photography, especially for beginners and that's the reason why this lens was made. With the features of Nikon 40mm f/2.8 AF-S that support the micro photographer, you can become a micro-Grapher without any nuisances.
Now many people would think that microlens would only be able to focus on near distances but there is more to it. The most important thing in this lens is that you get a 1:1 scale which is claimed by many other microlenses but they are absent in actual use.
The only probable concern you might have about the lens is its focal length of 40mm which isn't quite suitable for taking photographs of insects because you will have to get closer to them and as you move towards those insects, some of them will fly away, hence the failed attempt.
But for other micro stuff like animals that are friendly and won't run away when you get close to them, this lens is an ideal choice.
For being between 35mm and 50mm focal length, you get to use the lens creatively but the thing is that there are some limitations. Apart from that, this lens offers an amazing range of apertures. It varies from f/22 to f/2.8.
Especially when we talk about microphotography, you really require a kind of lens that has a low aperture so that you get that nice blur in the background and more sharpness to your subject.
The lens is also pretty lightweight and compact in size so its mobility is more than enough. Take it with you in the forests and get the best shot of wildlife.
Pros
The lens is dustproof and waterproof.
Built-in macro assists in microphotography.
Perfect for capturing stationary macro subjects.
Easy to switch between Autofocus and manual focus.
Cons
The build quality is pretty cheap.
Not really suitable for moving macros.
3. Sigma 18-35mm F/1.8 Art DC HSM Zoom Lens (Best for sports videography)
If you are the kind of photographer who loves landscape and portrait photography then this lens can become a perfect buddy for your Nikon D3400 camera.
The epitome of refinement is what the lens represents with the grade of glass being built of higher quality. Basically, there are 17 elements in the lens, 4 are aspherical, 5 are low dispersion and the rest are some elements made up of certain glass.
Above it, all the surface of the glass is coated with a multi-layer coating which is quite a handful for minimizing reflections.
There is a nine-blade rounded design for the aperture diaphragm which extensively increases light gathering ability of a lens. In the field of zoom lenses, you can't really find an aperture that goes as far as 1.8 for the maximum value but it is an exception with this lens. From f/16 to f/1.8, you can select the aperture at your convenience.
The zoom ring also offers a good range as you can get 18, 20, 24, 28, and 35mm of zoom with a focal length of 18-35mm. Also, you don't really have to rotate the zoom lens much since these points are located nearer to each other. The focus ring is also located just behind the zoom ring and takes a 1/4th turn to go from minimum to maximum.
The material used in the barrel of the lens is TSC which is quite tough and durable. It also offers resistance to higher temperatures and undesirable environmental conditions.
Besides this, the overall lens is pretty light in weight since it's not metal so you can carry it with you anywhere you go. The autofocus of the lens is firm and fast in operation and without any appreciable noise does its work. Regardless of the movement of the object, it is capable of capturing images without any distortion.
The sharpness offered by the lens is great too and around 2.4 to 1.8 you will get an ideal one. Select an 18mm focal length and combine it with an aperture of 1.8 to get the optimum results. The overall lens is convincing enough for its price and optically very stable.
Pros
It is one of the best lenses out there to capture moving objects.
It leaves the essence of amazing sharpness to the images.
A maximum aperture of 1.8 is ideal for portraits and landscapes.
The lens is reliable and can work in different conditions.
Cons
There are problems with linear distortion at the wide end.
Sometimes lateral chromatic aberration occurs while getting lesser zoom.
4. Nikon AF-P 18-55mm F/3.5-5.6G DX VR Zoom Lens (Best for close-up photography)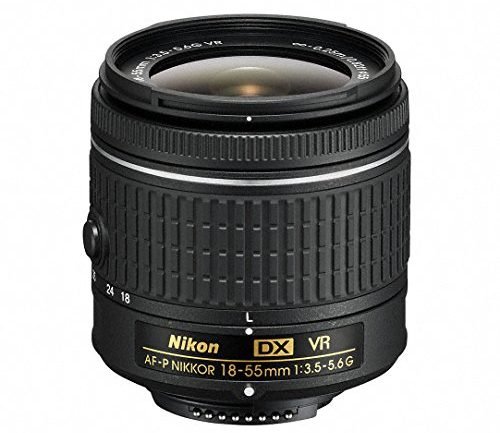 Nikon AF-P 18-55mm F/3.5-5.6G DX VR is one of the best lenses when it comes to beginners. Being easy to use and basic controls have made it very feasible and persistent for people who have just gotten into the field of photography.
One of the many reasons why it is preferred by newbies is because of its price which is extremely low. Usually, people buy this lens along with a camera but there is also the option of purchasing it separately if you want to nurture your basics. So let's get into the review of this amazing product.
Let's talk about lens material at the moment. So the material which is used to make the lens is plastic, which is pretty much expected as the lens is needed to be lighter in weight. To be more precise its weight is around 220g which is really low compared to similar variants of Nikon.
One prominent feature that is employed in the lens is a retracting mechanism which assists a lot while taking pictures, especially for beginners. In order to access it, you will have to press a button which is located on the outer barrel.
With a zoom ratio of 3.1x, you will get the range of focal length of 18-55mm and if you compare this to full-frame, it is equal to 27-82.5mm of zoom. Focusing can be done by both manual focus and autofocus as per your convenience.
The front element of the lens does most of the job of zooming in and out. Just near this element, you will find a manual focusing ring which again can be used in both autofocus and manual focus. Though, there isn't any button to access it.
If we talk about its speed then you should know that this is the first-ever lens to use the technology of AF-P.
Silent wave motor which was previously used in other models does produce certain noise but the provision of a stepping motor in this lens completely eliminates any kind of noise and provides a smooth speed. Even while shooting videos, you will see that the motor makes absolutely no sound.
Pros
Suitable for macro photography.
Higher speed and no sound at all.
Focusing is very accurate.
The price is pretty cheap
Cons
Build quality is moderate.
It has a limited zoom range.
There is no switch for AF On/Off.
5. Nikon AF-S DX NIKKOR 18-200mm f/3.5-5.6G ED VR II Telephoto Lens (Best for interior photography)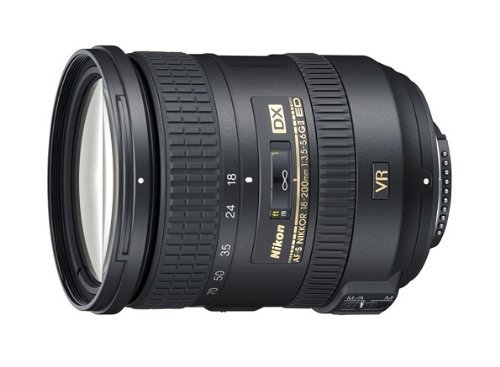 As a successor to its previous model, Nikon AF-s DX NIKKOR 18-200m f/3.5-5.6G ED VR II made a huge impact in the market due to its newest features that completely eliminated whatever deficiencies were faced in the previous variant.
Let it be a reduction in vibrations, elimination of noise, optical quality, or build, everything is top-notch right from scratch. So if you are one of those photographers who just hate to change the lens every time you want to do different photography, you can select this feature of Nikon as this will solve your problem with the kind of versatility it offers.
If you take a look at the glass of a lens, it is pretty thick which again makes it tougher and stronger and suitable to work in devastating environments. And even if the glass is thick there aren't any problems of noises being made while it rotates as the provision of a silent focus motor completely eliminates those ripples.
The design of the lens is compact which also helps a lot in stabilizing the orientations of images. The overall housing is of plastic along with a metal cover for mounting, though the inclusion of metals doesn't increase its weight.
So VR is actually an image stabilization technology that is kind of new in the market. The previous variant didn't quite achieve the perfect stabilization but this variant has successfully surpassed it.
The purpose of using this VR is to obtain maximum sharpness at a more shutter speed. The focal length doesn't really matter much but putting it around 70/82.5mm would just do the perfect job.
As far as the resolution goes, you will get higher at shorter focal lengths to lower at the highest focal lengths. This goes without saying that this lens offers a large zooming range, varying from 18-200mm which is one of the reasons why it is so versatile.
In total, there are 16 elements in the lens which is more than what you usually find. This ultimately reduces the ability of a lens to back the light which is not the kind of thing we desire. Apart from that, its quality-to-price ratio is pretty good, and along with other features, this is probably one of the best lenses on the market at the moment.
Pros
Zoom range varies from 18-200mm which is more than enough for photographers who like experimenting.
It is an extremely versatile lens.
It has a very compact design.
Good resolution of images.
Cons
It is vulnerable to backlight.
Not possible to limit the depth of field.
The blur obtained is not good.
6. Nikon AF 70-300mm f/4-5.6G Telephoto Zoom Lens(Best for sports and travel photography)
Versatility is what many camera lenses lack these days and if happen to stumble across a lens that offers amazing versatility then its price will be too high. But what if there is a lens available in the market that provides versatility and comes up at an economic price?
Yes, there is such a lens there and it goes by the name of Nike AF 70-300mm f/4-5.6G Telephoto Zoom lens. The focal length in this one ranges from 70 to 300mm which makes it one of the best multipurpose lenses in the market.
In any event or for any situation, you will find this lens useful and since this is easily portable, you can take it anywhere with you.
Close up feature of this lens is somewhat greater as it allows you a minimum of 1.5 meters of distance. You can vary the zoom of the lens and get a similar kind of focus.
This is very helpful while taking pictures of small insects. The F-Bayonet type of mount consists of 13 elements which are divided into 9 groups. A nine-blade diaphragm is included in out-of-focus elements that assist in blurring the image.
As always you can choose from autofocus mode or manual focus mode. Though its autofocus mode is pretty neat and accurate so I would recommend you use it.
The lens can work in both DX and FX format which you don't often see for a telephoto zoom lens. There is a command dial mounted on the body of a lens which allows you to set the aperture.
It varies from 4 to 5.6. Along with that, there is also a feature of 4.3x zoom which can be used for various focal lengths. From 70 to 300mm, you can get any length, and you are assured that you will get images only of higher quality.
Another interesting thing about the lens is the presence of G-design in it which automatically selects the most suitable aperture. Overall you get to have noiseless and accurate photography with the help of this amazing feature by Nikon.
Pros
The lens supports both DX and FX format.
It offers a staggeringly wide range which varies from 70mm to 300mm.
The automatic aperture setting is possible.
Noiseless in operation.
Cons
It doesn't come up with a vibration reduction feature.
Autofocus isn't that good in this product.
7. Nikon AF-S NIKKOR 28mm f/1.4E ED Lens (Best for Portrait Photography)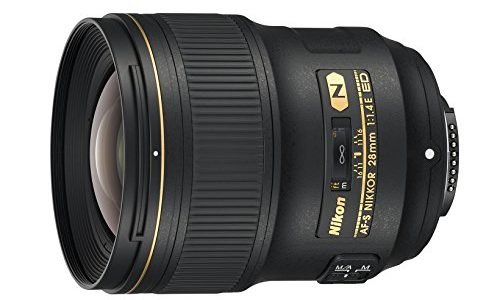 Capturing still pictures is an art in itself and the one who excels in that is considered to be standing at the pinnacle of photography. But you must be very careful when selecting a lens for such photography since very small elements play a vital role.
Nikon AF-S NIKKOR 28mm f/14E ED could be one of those game-changing lenses for you that can ultimately assist you in getting the best still pictures with its staggering features.
It offers an amazing 28mm angle of view which creates a lot of space in the pictures along with the desired depth. The best thing is that all of it will appear natural without any means of artificiality.
Alignments and viewpoints that images contain will be exactly how you wanted in the first place. One of the prominent features of this lens is the use of an electromagnetic diaphragm mechanism which is new for the lens market. Its significance is found when you are shooting continuously.
It operates the diaphragm blade and adjusts the aperture as per the frame of the image.
The coating on the lens is top-notch. Basically, it's fluorine with some mixed elements. Dust, water droplets, grease, or other impurities are prevented from striking the lens with the use of this coating. It is also anti-reflective, so the images that you are going to capture will be crystal clear.
The anti-reflective property is derived from another nano-coating which is embedded within the main coating. Ultrafine nano elements are used in this to minimize reflections omitted by internal elements of the glass.
It also has a rear focusing system which increases the speed of focusing by moving forward. Along with that, it comes with a silent wave motor which ultimately reduces the noise.
Pros
The glass is anti-reflective.
Compact size.
Less aberration.
8. Nikon AF-S NIKKOR 35mm F/1.4G Portrait lens (Best for night photography)
Next up on the list of best lenses for Nikon D3400 is a banger by Nikon itself. People who've been using lenses for a long time in order to capture portrait photos know the frustration of obtaining edge-to-edge sharpness but this baby right here is optically enhanced in such a way that you get the edge-to-edge sharpness that too in both DX and FX.
Talking about its focal length, it comes up with a focal length of 35mm which is fixed. Though there isn't any freedom in movement of length which is kind of essential when it comes to still photography buy you get a great amount of angle which can be adjusted to obtain images from different perspectives.
The aperture too can be set to 1.4 as the maximum which is pretty good for the price you are getting the lens. This kind of aperture proves to be very helpful when you are capturing images at night.
For minimization of various undesirable effects like a ghost, flare, coma, aberrations, etc, nanocrystal coating is applied to the lens. The significance of this coat is that it reflects the light that could get entrapped within the elements of the glass, thus causing different uncertainties.
One of the newest features that this lens employs is the use of a manual autofocus drive mechanism which assists in focusing when the lens is set in manual focusing mode. Besides this, you can also use autofocus mode at your convenience.
Along with this, it is also inherited with a silent wave motor which effectively reduces noise while focusing. With a closest focusing distance of 0.3m and weight of just around 600g, you can capture the best still images with this comprehensive lens.
Pros
Better snaps even in low light conditions.
A very attractive bokeh can be obtained.
Color rendering and contrast is pretty good.
9. Nikon AF-S DX NIKKOR 10-24mm f/3.5-4.5G ED Wide Angle Lens (Best for architectural photography)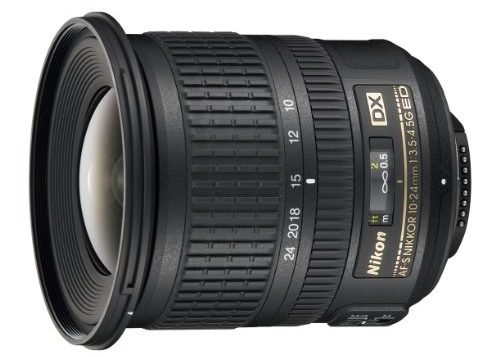 When it comes to taking pictures from versatility in standpoint, Nikon AF-S DX NIKKOR 10-24mm f/3.5-4.5 ED takes the cake. This lens right here is probably the best lens for capturing wide-angle photos because of its features that sync with this type of photography.
The lens just operates like a 15-35mm focal length and works pretty well for things that are usually large like architectural photography, landscape, interior photography, etc.
In the lens, there is a total of 5 elements. 3 are aspherical elements that are used to minimize aberrations and the other 2 are low-dispersion elements that help in obtaining the highest sharpness and clarity for images.
As far as the coating of the glass goes, this product makes use of the super-integrated coating. This kind of coating is most useful when it comes to diminishing effects like ghost and flare and also giving a nice color to the pictures. In addition to this, it also overturns internal reflections of the elements.
The aperture which is most useful where there is an abundance of light is employed in this one.
In low light conditions, you might have to make certain provisions to obtain images since this lens is not really suited for it. But if there is enough light available at the location, you will get fully-fledged beautiful images with no chromatic aberrations and color fringing.
You can even have a quite shallow depth of field with the help of a rounded 7-blade diaphragm that comes up with the lens.
One of the most prominent features of this lens is its precise and quick operation. This is possible due to the internal focusing design that is used in the lens. It allows for internal elements to only move forward while focusing which gives accurate results.
The use of a silent wave motor also assists in it to some extent.
Pros
The lens is equivalent to 35mm.
Super-integrated coating minimizes various undesirable effects.
Cons
It doesn't support the FX format.
10. Sigma 10-20mm f/3.5 EX DC HSM Zoom Lens – Wide Angle Lens (Best for landscape photography)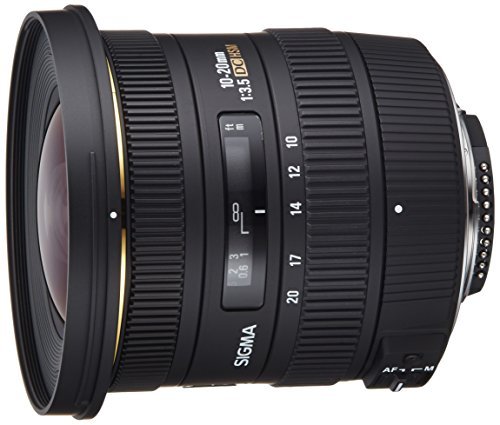 The last entry into this list of best lenses for Nikon D3400 is another inclusion of Sigma which is essentially used in wide-angle photography. One of the very few fixed maximum aperture lenses available in the market used for taking shots at wide-angle, this lens right here is a game-changer and capable of taking the level of photography to new heights.
The focal length can be varied as per your convenience and any kind of length in this feature of sigma will give the optimum quality of images to you. The use of a fixed aperture here has a significant impact as it lets you keep the aperture setting open for every focal length.
The focus of the lens is very accurate and quick. The distance from which you are taking pictures doesn't really affect the focus. The aperture of 3.5 also helps in maintaining the light conditions optimum even when you are capturing pictures from large distances.
The constant aperture also ensures that there aren't any changes in surrounding conditions when you are zooming in the lens.
A button on the barrel of the lens is located that allows you to shift between autofocus and manual focus. It is recommended to use manual focus in this one as it can open an entirely new realm of photography.
The image quality obtained is fair enough as expected from a wide-angle zoom lens. For the images taken from larger distances, you will find no issues but for closer images, you have to deal with a little bit of flare.
The use of this ultra-wide lens is found extensively in landscape photography but it is also pretty useful for automobile and architectural photography.
Pros
The sound that is made while focusing is almost negligible.
Good control on flare and ghost.
Cons
There is somewhat distortion in the images depending upon the focal length.
Conclusion
By following this guide, you can get your hands on some of the best Nikon D3400 lenses. If you ask me I'd personally recommend Nikon AF-S DX NIKKOR 18-200mm f/3.5-5.6G ED VR II Lens since it offers amazing versatility.