In this article, we have reviewed 11 of the best lens for landscape photography including Canon, Nikon, and Sony lenses along with a comparison table and a detailed buyer's guide to help you choose the best lens possible.
Landscape photography is one of the most loved and practiced types of photography across the globe. It is one of the principal types of photography that hasn't lost its edge since its inception.
Capturing different spectacles of nature around the world gives a different sense of pride to the photographer and that is why you will find most of the photographers working in this particular shtick of photography.
If anyone wants to store their gem of an experience in the pictorial form, they should go for landscape photography because it is a kind of photography that helps you recall the cheerful memories from the past just upon looking at the picture.
The best thing about landscape photography is that there is almost no human inclusion in the pictures and it is purely oriented toward nature. So you get that soothing feeling that is kind of nostalgic from the pictures.
The wholesome depiction of nature in the form of a picture is what drives most photographers to invest in this art of photography and trust me when you get into this type of photography, there's no way out because it constantly keeps you engaging with the beauty of nature.
Now one thing to keep in mind is that landscape photography isn't a singular form of photography and there aren't any limitations to it. Apart from natural things, there may be an inclusion of urban or rural areas as well.
There is a broad range of options when it comes to landscape photography. This unlocks a lot of possible ways to capture the images more effectively. You can get different cameras or other accessories to get the best shots of landscapes.
When it comes to lenses you will find that mostly wide-angle lens are used in this type of photography but with the introduction of modern lenses that are capable of performing multiple genres of photography, it is not essential that you must purchase a wide-angle lens.
Also with the introduction of the latest technologies in cameras and lenses that purely assist in landscape photography, there are a lot of options to choose from. Even the prices of modern lenses are on point so the selection is totally up to the user.
Today we are going to take a look at some of the best lenses that excel in doing landscape photography. Mostly Nikon, Canon, and Sony produce lenses that fit this genre so we are going to take their manufactured lens.
So these are the lenses that you should attach to your camera if you want to dive into the world of landscape photography.
10 Best Lens For Landscape Photography:
Best Canon Lens for Landscape Photography:
1. Canon EF-S 15-85mm f/3.5-5.6 USM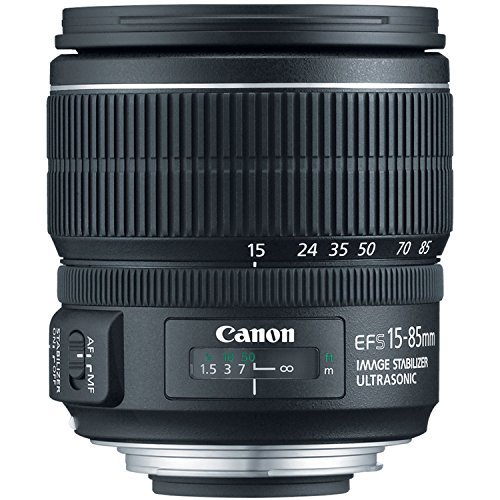 The very first lens in this list is from Canon which is a standard zoom lens. It has a focal length that ranges from 15mm to 85mm with an aperture from f/3.5 to f/5.6. If you are going on a trip along with your friends then this lens can become a good asset to your photography kit.
The lens is specially designed to capture the best landscape shots but its usage isn't only limited to landscape photography. You can also use it for portrait and architectural photography so there's versatility as well. Its effective focal length of 24mm offers a broad range of options and gives you a lot of freedom to capture beautiful shots from different angles.
The weight of the lens could be a problematic factor for some photographers because it is more than what you get for a zoom lens. But the good news is that the lens is pretty compact compared to some other zoom lenses so the compensations are made in this department.
The lens feels pretty solid in hand, though, the material used for it is plastic but since it is a high-grade plastic, the lens doesn't feel cheap by any margin. The amount used to cover the lens is made of metal, unlike most Canon lenses so there is extended longevity that you get in the lens.
Though this increases the weight of the lens considerably and as mentioned earlier the weight of the lens is more. The thing where its build quality lacks is the proofing against dust and water.
There isn't any provision within the lens to work under abnormal conditions and since landscape photography sometimes involves environments where dust and water are inevitable, this lack of provision can become an issue.
USM in the name of the lens indicates that the lens employs an ultrasonic motor for autofocus. This motor delivers astonishing performance in all the departments and keeps the focus smooth, fast, and accurate.
Apart from autofocus, the manual focus mode is also available within the lens which can be accessed by triggering the switch over the barrel. You can also manually override while still using autofocus mode.
There is also an image stabilizer in the lens which is a basic requirement when you are doing landscape photography but the stabilizer in this isn't that effective compared to lenses at a similar price.
Getting out-of-focus blur is one of the most essential parts of landscape photography and this lens doesn't disappoint in that section. Getting this nice bokeh is possible due to the circular shape of the aperture blades.
The quality of the bokeh isn't affected by different settings and you obtain almost the same quality for different kinds of shots. Also, there is very little substance of color fringes that drastically affect the blur. The sharpness in the images that you get from the lens is pretty good but some provision should've been given in order to minimize the distortion which is a lot.
Pros
The lens has a pretty solid design for its price.
The lens is durable.
More lens elements account for a more enhanced quality of the image.
Bokeh is uniform for almost all settings.
Cons
There is a huge problem of distortion in the image.
2. Canon EF 70-200mm f/4L USM Lens

Usually, people who've just started out doing landscape photography don't go out for lenses such as Canon EF 70-200mm f/4L USM Lens because of the huge focal length. But the professionals love these kinds of lenses because it offers a lot of versatility and getting images with experimental perspectives becomes easier.
This is one of the most suited lenses for landscape photography and if you desire that wide focal length, you should get your hands on this lens.
Talking about the build quality of the lens, it is really light in weight. But if you take a look at the material and feel it you will find that it is very solid and the material seems to be a hard one but actually while weighing, you will notice that weight is considerably low.
In addition to that, the lens is also compact, and compared to its similar variants that come at different apertures, this lens is considerably shorter in size.
In total, there are 16 elements in 13 groups within the lens in which one special fluorite element is added whose job is to provide extreme sharpness. Along with this, two UD elements are also there that ensure that color fringing is reduced. 8 bladed diaphragm in this adjusts the aperture and stops at f/32.
The autofocus in the lens is pretty good and works almost the same in all types of cameras. Only internal elements are moved while focusing so the noise created while it is in operation is much less. The manual focus mode can be obtained as well and along with that, there is a provision of manual override.
The bokeh you get from this lens isn't that bad but it isn't any good either. This could be a disadvantageous point because bokeh is a very important aspect when it comes to landscape photography.
As mentioned above that there is an extra element for enhancing the sharpness in the lens, the sharpness obtained from the image is of top quality and just what you would want in landscape photography.
This was one of the first lenses in this group to introduce image stabilization so you can't really expect much from it but it does its job well and gives sufficient compensation for the shakes that you experience while performing landscape photography.
Overall, I'd say go for the lens if you solely intend to use it for landscape photography but if you desire versatility, you should go for its other variants that cost more.
Pros
It is less costly compared to its variants.
It gives an optimum amount of sharpness.
Amazing build quality.
For a zoom lens, it is very compact.
Cons
The bokeh you get from this lens is moderate.
3. Canon EF 16-35mm f/2.8L III USM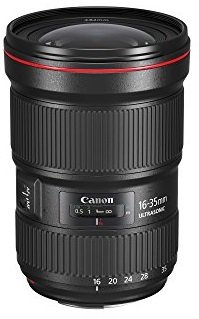 This is one of the best lenses in the popular L series by Canon with a maximum aperture of f/2.8 which is quite rare for a wide-angle zoom lens. The lens is very popular among professionals because of its aperture.
You see there are a lot of conditions in landscape photography where there is an abundance of light. Many times weather changes its course and it becomes a dark environment.
Capturing some good landscape shots becomes a nuisance in such situations that's why an aperture like this helps a lot and gets you the maximum amount of light, thus the quality of the image is enhanced. You don't usually find such aperture in lenses like these so it is really a plus point for this particular lens.
The aperture is not only a significant thing within the lens that enables it to withstand harsh conditions. Its build quality also contributes a lot to working in an environment that is not suitable for any kind of photography, let alone landscape photography.
The lens is made with a pretty solid material that offers commendable resistance against gloomy weather and if you attach the optional filter that comes along with the lens, you will get totally foolproof lens. The lens is packed perfectly and it doesn't allow any dust or moisture to enter it.
The circular aperture in this consists of 9 blades. It is talked about that achieving shallow depth of field is very difficult in wide-angle lenses, even professionals struggle to obtain shallow depth of field.
But this lens doesn't allow that to happen and helps you achieve shallow depth of field, courtesy of its aperture of f/2.8. It also enables getting out-of-focus areas more efficiently and gets you the softest backgrounds which can act as a nice addition to landscape photography.
For further enhancement of an image, there is an ultrasonic motor that does the job of straightening the deficiencies within the image. To operate the starts and stops more effectively, a high-grade CPU is embedded within the lens that does the job of operating characteristics of the AF motor.
It also controls the inner focus ring which is essential for obtaining proper focus ranges. In the end what you get is fast, accurate, and precise results.
To extend the durability of the lens, the fluorine coating is provisioned within it. It is applied on both the front and rear sides. This fluorine coating is so sensitive that it doesn't even let something as minor as fingerprints leave its mark on the lens. So there is no way for dust, water, oil, or any similar particles to enter the lens.
As far as performance goes, the lens produces optically balanced images. The sharpness you get is pretty good and almost remains uniform from the center-right up to the corners. The presence of vignetting is also negligible as compared to Raw images, though, it appears more than 16mm of focal length but apart from that, there is almost no trace of vignetting.
As for the bokeh, the 9-bladed diaphragms just as mentioned above gives a nice bokeh when you keep in mind that this is a wide-angle lens. But if you compare the bokeh to other types of lenses, it falls short.
Pros
The lens has longevity.
Autofocus works fine in this.
The lens is capable of working in harsh conditions.
Fluorine coating prevents harmful particles to enter the lens.
Cons
The lens can be expensive to some.
4. Canon EF-24-105mm f/4 IS II USM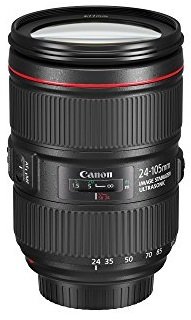 Next up we have an amazing lens from Canon that was designed to work for full-frame cameras. Every landscape photographer wishes to have versatility in his/her lens but it might be a difficult task to come across a wide-angle lens that works conveniently and also offers a wide range of options.
This special Canon lens is capable of extending your range and providing you with additional perspectives so that you can utilize your potential to the fullest extent. But apart from its versatility, there are other features as well that make it one of the best lenses for landscape photography, let's check them out.
The lens is built pretty sturdy, just touch it and you will realize the ruggedness of the lens. This kind of design is very helpful to absorb shocks and vibrations, thus increasing the sustaining ability of the lens.
In landscape photography, you go to different places to capture different natural scenarios so this build really assists a lot in maintaining the lens' strength to a considerable amount. Though many manufacturers don't pay much attention to this factor this is one of the essentials of landscape photography, so Canon has done a pretty good job in this department.
As the lens is resistant to shocks and vibrations you can expect it to be relatively heavier and larger in weight. It isn't really a botheration if you keep in mind that this is a wide-angle lens but today most photographers' requirements are compact and lighter lenses and this lens right here doesn't tick the boxes in that section.
Some major changes have been made in the lens compared to its previous variants. Everything is the same but the noise that the previous lens was producing is minimized to the extent that you can't even hear it.
While taking images, autofocus doesn't make any noise but it could create some noise when you are shooting a video. The only improvement that is made is for the noise, the speed of the autofocus doesn't show any changes to its predecessor.
The lens features a new optical design, so it is an obvious thing that its performance will be better. One of the things that were troublesome in the previous lens was that there were soft corners in the images but the optical build of this lens has overcome that problem and now it provides the sharpest of corners.
Also, the distortion in the lens is pretty low considering that this is actually a wide-angle lens.
Pros
It produces optically enhanced images.
Optimum sharpness, even at the corners.
Considerably less distortion.
Autofocus is very quiet in operation.
Best Nikon Lens For Landscape Photography:
1. Nikon AF-S NIKKOR 24-70mm f/2.8 ED VR Zoom Lens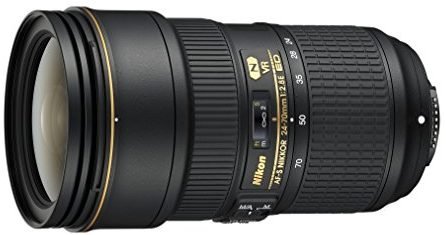 After Canon now we will take a look at some of the best lenses for landscape photography by Nikon. Just like Canon, Nikon is also one of the giants when it comes to producing accessories related to photography.
This time we have an amazing zoom lens with a focal length that varies between 24mm and 70mm along with a maximum aperture of f/2.8. So let's get into the review of this amazing prospect by Nikon.
Nikon doesn't really have much of a history when it comes to producing zoom lenses but when this zoom lens arrived in the market; it created a buzz within the world of photography, especially in the landscape genre of photography.
Although we are discussing lenses that are most suitable for landscape photography this lens right here can do other types of photography as well, thanks to its extended features. The factor of versatility is derived from its constant aperture of f/2.8 which works pretty well in most situations and provides enhanced images with optimum sharpness and color.
The number of elements in the lens is 20 which are divided into 16 groups. You won't find this many elements in any of the lenses, let alone zoom this but this thing right here is an exception.
One of the significant elements in this is the ED element whose job is to correct aberrations and provide the topmost quality to the image.
Nikon has taken care of the adverse effects of vibrations that hamper the quality of the image in this lens. Unlike its predecessor, this lens over here is equipped with the latest vibration reduction technology. The image stabilization technology that was introduced in this lens was met with positive reviews and many pros of the photography loved this special aspect of the lens.
The use of image stabilizers in this has enabled the lens to work even without a tripod so there aren't any nuisances of carrying a tripod whenever you are going out to capture some shots of nature.
With this provision, you can perform handheld photography without any worries about the quality of the image getting hindered in any way.
The section focusing on the lens also deserves some admiration. Nikon's trademark silent wave motor is used in this one as well and this motor makes sure that the operation of focusing is carried out smoothly.
Just as mentioned earlier, its aperture of f/2.8 acts as a supporting element to the autofocus in order to gather photos in low light conditions. It's also fast and accurate so you won't be disappointed with its overall performance.
The only problem that this lens has encountered is the amount of vignetting it produces within the image. Almost at all focal lengths, there are traces of vignetting.
So if you are the type of photographer who can't bear the slightest presence of vignetting, then this lens is not recommended for you, otherwise, it can become a great asset to your photography kit.
Pros
Reduced ghosting and flare because of nanocrystal coating.
It has highly stabilized vibration reduction technology.
The lens is versatile
Works pretty well in low light conditions.
Cons
Images suffer from vignetting.
2. Nikon AF-S DX NIKKOR 35mm f/1.8G Lens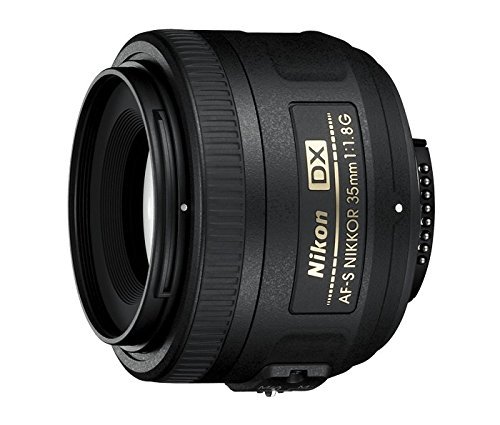 I know, I know. You might be surprised to see a lens with a fixed focal length getting recommended for landscape photography. I've already mentioned earlier that the standard for selecting a lens for landscape photography has changed and it's no longer limited to wide-angle lenses.
Nowadays, even prime or portrait lenses are capable of performing as well as zoom lenses and this lens is one of them. So let's see what exactly are the things that make it one of the top contenders in our list.
One of the major advantages that you get from prime lenses compared to zoom lenses is the reduction of size and weight. Since landscape photography mostly involves carrying a lens from one place to another, it is required that the lens should be compact in size and lighter in weight.
And since this lens fulfills both of these requirements, it can become an ideal choice for your landscape photography kit. The only concern you might get from the lens is that it is super expensive compared to other prime lenses and also since it has a fixed focal length, you don't get much versatility.
Though, its price falls in the same range as that of wide-angle or telephoto zoom lenses.
One of the great things about this lens by Nikon is its focal length which lies just in the middle. The 35mm is an ideal choice for any landscape photographer to capture some beautiful shots of the landscape and when you combine it with a maximum aperture of f/1.8, you get impeccable results.
This focal length actually helps in achieving a nice beautiful bokeh which is one of the essentials of landscape photography. As far as the elements go, it contains aspherical and ED elements that help in reducing flare, ghost, and aberrations.
Pros
Lens has a beautiful design and solid exterior.
It is compact and easy to carry around.
Autofocus is extremely fast.
Chromatic aberrations and vignetting are reduced.
Cons
The lens isn't versatile.
3. Nikon AF-P DX NIKKOR 18-55mm f/3.5-5.6G VR Lens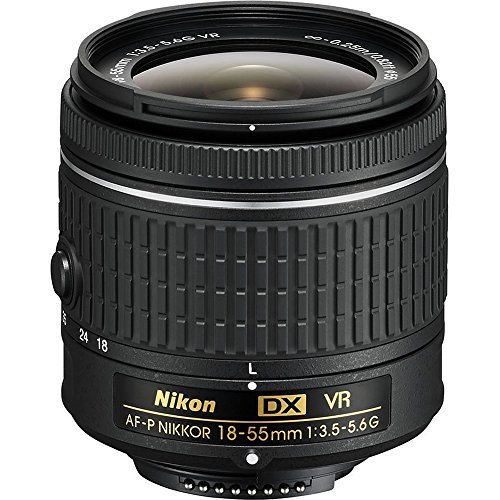 Most of the lenses that you've seen so far in the list are kind of expensive, so if you are looking for a lens that fits your budget then this is the one you should eye.
Nikon AF-P DX NIKKOR 18-55mm f/3.5-5.6G VR Lens is not only one of the cheapest lenses for performing landscape photography but also very compact and lighter in weight, so you are killing two birds with one stone. But obviously, if the price is this low there are going to be some limitations to this.
Just like the previous lens, this lens right here also includes vibration reduction technology for correcting the effects of shake. And also, since the lens is lighter and shorter in length, you can utilize it for handheld photography.
The technology of vibration reduction can be accessed by a switch just like autofocus and manual focus and even after being such a compact lens, the switches aren't located over the barrel so there is no way that settings will change without your aid.
Unlike other lenses of Nikon, this lens makes use of a pulse motor which is a type of stepping motor. Though it has its own perks but compared to a traditional silent wave motor, its performance isn't that astounding. Two aspherical elements are also located within the lens that helps in making the image optically stable.
The lens is also versatile so you can even use it for portraits or other similar types of photography. It incorporates comparatively lesser features but at a price that it makes up for that.
Pros
The lens is very cheap for a zoom lens.
Considering the price, its build quality is good.
For a zoom lens, it is compact in size.
Distortion is very minimal.
Cons
The lens doesn't have a premium feel to it.
4. Nikon AF-S Nikkor 28mm f/1.4E ED Lens
The last lens from Nikon on our list of best lenses for landscape photography is AF-S NIKKOR 50mm f/1.8G. This one is also a portrait lens just like the 35mm focal length one which was mentioned earlier and just like that lens, this one is also compact in size and lighter in weight.
Moreover, the lens is inexpensive so you don't really have to worry about your pocket.
The lens is cited as a travel companion and it is because of its size. You can take it up with you almost anywhere without any nuisances. It is so small that it can fit inside your handbag and it is built sturdy so it will take a long time for it to take any kind of damage. Though the exterior is made of plastic it has sufficient strength to withstand vibrations and other effects.
Also, there is a metal mount over it which provides further protection to the lens so there is extended durability there. But the longevity factor isn't as astounding as seen in other expensive zoom lenses.
Autofocus in this is quite accurate; in fact, it is even better than some of the prime lenses by Nikon that are more expensive. The focal length of 50mm is quite surprising so if you desire a lens that is inexpensive with top-quality autofocus, go for this particular lens.
The only problem you will face is that the autofocus is louder. Actually, it is louder than most lenses and when you shoot videos, it just becomes terrible.
If we take a look at its performance then you will notice that the sharpness it produces in the images is considerably good. There might be little softer corners in some focal lengths but it doesn't hamper the quality of the image.
Pros
The lens is extremely compact and light in weight.
Bokeh has tremendous quality.
The aperture of f/1.8 supports shooting in darker regions.
The lens includes a nanocrystal coating which completely eliminates flare.
Cons
Autofocus is relatively louder.
Best Sony Lens for Landscape Photography:
1. Sony 10-18mm f/4 G OSS
Now that we are done with Canon and Nikon, let's talk about Sony. Sony isn't that popular for producing camera lenses but some of their lenses have been the talk of the town, especially when it comes to landscape photography.
That's why, when we are talking about landscape photography, the inclusion of Sony lenses can be avoided. So the first lens by Sony in this list is Sony 10-18mm f/4 G OSS.
OSS in the lens indicates that the lens is equipped with Optical SteadyShot image stabilization. Just like vibration reduction or image stabilization technologies in Nikon and Canon, Sony has its own image stabilization technology by the name of Optical SteadyShot. There isn't much difference in this stabilizer compared to that of Canon or Nikon.
It does the function of correcting vibration shakes in a similar fashion but somehow the quality of this stabilizer isn't as good as that of Canon and Nikon, the reason being that it hasn't undergone the development like Canon and Nikon's stabilizers have.
A special feature in this lens includes a distance encoder which is only present in Sony lenses. This encoder is directly attached to the CPU.
The job of this encoder is to detect the position of the focusing mechanism in essence with the subject in hand and sends the signal to the CPU so that the flash that you deliver doesn't hinder the quality of the image. This comes in very handy when you are taking close-up shots.
Pros
The lens is less pricey than a wide-angle lens.
Special provision for accurate flash.
It offers good flexibility
The lens is super sharp.
Cons
Not suitable for low-light photography.
The image stabilizer isn't that good.
2. Sony 24-70mm f/4 OSS
Here's another Sony lens, and this time it is the one with a focal length of 24-70mm with a constant maximum aperture of f/4. The lens is pretty small actually and lighter in weight unlike most of the Sony lenses and has a nice exterior to it. The build quality is not disappointing and the strength of its body is sufficient.
Within the lens, there are 12 elements in 10 groups along with 7 blade aperture. Now you would think that the maximum aperture of f/4 won't do any good in a dark region but the autofocus is so good that it works equally well even in low light conditions, unlike the previous lens.
There isn't any sort of distortion within the image produced by this lens which is good news because generally, such low-end lenses suffer from the problem of distortion.
Bokeh too is good but not the best. As far as the vignetting goes, you will be surprised to find that it has almost no trace of vignetting even after being a zoom lens.
Moreover, the effects of ghosts and flare are second to none.
The use of this lens is not only limited to landscape photography, you can even use it for mild macro photography.
Pros
The outside of the lens is metal, offering it more strength.
Most of the image quality hampering factors are taken care of.
Autofocus is fast and silent.
It can work even in low light conditions.
Cons
The lens is a little expensive.
3. Sony 70-200mm f/4 G OSS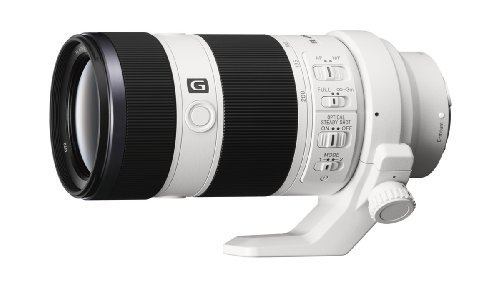 And the last lens in this list of best lenses for landscape photography is a pretty good-looking lens by Sony with a focal length of 70-200mm.
Now when you look at the lens you will realize that the lens is pretty longer than usual. It is longer than most of the lenses we've seen in the list so far but it doesn't really make it particularly heavy.
On the other hand, the build quality is extraordinary; in fact, it wouldn't be wrong to say that this lens has the best aesthetics out of all lenses on the list.
Sony's trademark Optical SteadyShot image stabilization is included in this lens as well which does its job finely. The bokeh isn't exceptional and the aperture of f/4 doesn't help it at all.
Also, some problems of color fringing might be encountered when you are shooting in bright light. But apart from that, vignetting is kept to a minimal amount, and chromatic aberrations are also reduced.
Pros
The lens is aesthetically pleasing.
All switches are easily accessible.
No problems with distortion.
Reduced vignetting.
Cons
Nothing worth mentioning.
Buying Guide For Best Lens for Landscape Photography:
So if you have made up your mind to dig into the world of Landscape photography and purchase the best lens for it, it's time that we take a look at factors that you should consider before making your purchase.
Focal Length
The most important factor when selecting a lens for landscape photography is focal length. Mostly wide-angle lenses are preferred for landscape photography with focal lengths varying from 14mm to right about 700mm.
The reason for getting a wide-angle lens is that they provide a broad field of view and a long depth of field which are basic requirements for landscape photography. The thing is that with a wide angle, you can encompass most of the things in the background in the image.
Sometimes even prime lenses are preferred for landscape photography because they come at a considerably lesser price and provide almost similar depth of field.
Build and Design
When going out for landscape photography, it is essential that the lens must be rigid and robust in construction, the reason being that you have to carry the lens to different places in order to get different shots of nature.
Unlike portrait photography where you don't need much portability, this factor is much more significant when it comes to landscape photography.
Moreover, the lens should be weather resistant because you never know what kind of situations may arrive while you are carrying out your photography session. It would be great if the lens is lighter in weight so carrying it around won't be a problem.
Aperture
Mostly wider apertures are preferred for landscape photography but sometimes a situation may arrive where you would need a kind of aperture that can produce quality images even in low light conditions. The selection is totally subjective and up to the convenience of the user.
Conclusion
By keeping the above points in mind you should select the most suited lens for landscape photography. All the above-mentioned lenses will perform exceptionally but if you'd ask me I will recommend getting Canon EF-S 15-85mm f/3.5-5.6 IS USM.