In this article, the 12 best lenses for Nikon D5300 have been discussed along with their user guide, key features, and drawbacks. You can pick the one according to your needs and go along the guidelines before you consider buying.
To any budding photographer, the importance of picking out the best tools and gadgets is of immense importance. The understanding of the mechanism and specific things for specific purposes are of immense importance and so in this article, the proper use of Nikon D5300 along with its best lenses for Nikon D5300 combinations in lenses have been discussed in elaborate detail.
For more of a professional approach, we have brought you several lenses that will be beneficial for you. If you get for example an 18-55 mm or 18-140 mm kit lens then the idea of getting something even better might cross your mind.
So we have brought you a whole group of products perfectly capable of catering to all of your needs.
Pick according to your needs and don't forget to go through the guidelines first.
Best lenses for Nikon D5300 you can buy
1. Nikon 35 mm f/1.8G AF-S DX
Among many lenses out in the market, Nikon 35 mm f/1.8G AF-S DX is small, provides great optical output, and is very much affordable. It has a large f/1.8 aperture and because of that the lens can gather light very well and is excellent for low-light photography.
You can use it for several occasions like, in a party, clubs, product shooting, capturing night images, etc.
While in action, it provides less blurred images and provides very sharp and high-quality images. There is another interesting feature and that is, it allows you to blur the background and all the other substances along with it, making your subject stand apart (this is also known as shallow depth of the field).
This is an easy and effective way to make your images look like that of professionals. This lens is perfect for portraits, taking casual shots, wedding photography, low-light images, indoor images, product shooting, etc.
Except for wildlife, the length can cover up almost anything and with the combination of the f/1.8; the combinations of the shots look absolutely marvelous. This lens is available on amazon.com and you get it delivered almost within a day.
Pros
This lens is great for capturing images in low lights and indoors.
It comes in cheap and with a 10days replacement guarantee from Amazon.
Can blur background images, good for professional uses.
Cons
Cannot capture distant images.
Bad for wildlife photography.
2. Nikon 50mm f/1.8G AF-S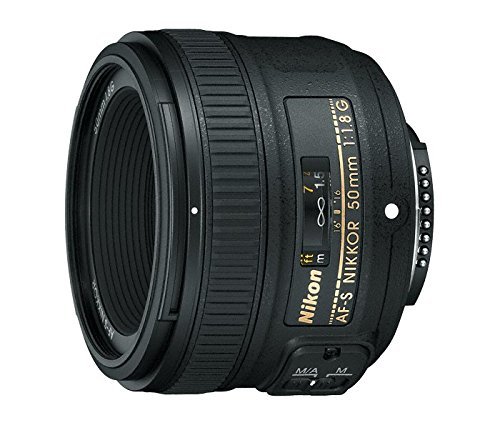 This is one of the best lenses for the Nikon D5300, an updated version of the old model 50mmf/1.8 D, which although remained one of the best-selling models, could not autofocus properly on several bodies like in D5300 as it has no Af motor. This modified version, of course, resolves those issues and works perfectly in autofocus.
This lens is very much akin to the last one, 35 mm, and features the same aperture, that is why this lens too is great for capturing low-light images but as it has a slightly longer focal length, the blurring of the background looks more soothing.
In case you like capturing portraits and providing a shallow depth in your images.
This one is the go-to model for you. Although slightly bigger and heavier, the model is very compact in design and almost perfect for those who like traveling and prefers prime lenses. Like the last model, this one too is great for low-light images, indoor shooting, pubs, clubs, blogging, travel, wildlife, etc.
Pros
Great for capturing low-light images, perfect for indoor, and product shooting.
You can do wildlife photography with this one.
Good for shallow-depth images.
Cons
Slightly bigger and heavier.
3. Nikon 40mm f/2.8G AF-S DX MICRO
Nikon introduces their macro lenses as micro and since their arrival in the market, macro lenses and their photography got a lot cheaper. The 40 mm is excellent for product shooting, big, capturing portraits, and even for casual photography.
The ideal macro lenses have a 1:1 ratio, which is known as 1x magnification. This basically means that the camera cannot zoom in like other marketing garbage. It has glass elements inside of it which provides the actual image of the products as they appear in reality.
This lens is specifically designed for Dx cameras like D5300 and for this very reason, the Af quality is of the very best.
Its focusing is very quick and precise which helps in capturing moving objects. The lens has the closest focusing distance which is 6.4 inches. This lens is especially subject-oriented and for professionals who are working with macro lenses.
Pros
This macro lens is great for capturing small and moving objects.
It provides the ideal image of the product.
Have a very good shutter and focus speed.
Provides excellent AF quality.
Cons
Cannot be used on all occasions.
Specifically designed for Macro objects only.
4. Nikon 85mm f/1.8G AF-S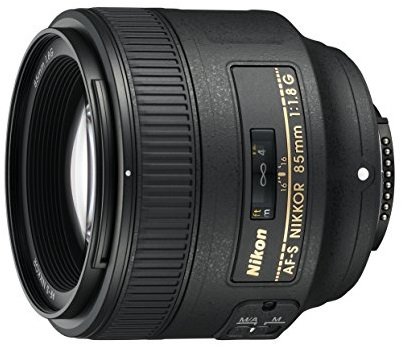 The Nikon 85mm is also another one of the best lenses for the Nikon D5300. This model is very good for street photography, wedding, portrait, concerts, etc.
This lens provides an all-round performance with sharp images, superb picture quality, radiant colors, and shallow depth effect, this lens is simply one of the halls of fame from Nikon.
The focal length is perfect for capturing things from a distance where you cannot or do not want to get in front of your subjects, like in a concert or at weddings. 85 mm is also perfect for capturing faces.
While wider lenses tend to distort the facial features, the 85 mm is perfect for the job if taken from some distance. Like the other two prime lenses described above, this lens also features a large opening, so this one too is great for capturing images from some distance.
Pros
Excellent for capturing images from a distance.
Good for low-light photography.
Takes accurate snaps of faces from some distance.
Can be used in concerts, weddings, street photography, and even can be used in the cricket field, wildlife, etc.
Cons
Cannot provide macro images.
A picture from a smaller distance is problematic.
5. Nikon 55-200mm f/4-5.6G ED IFAF-S DX VR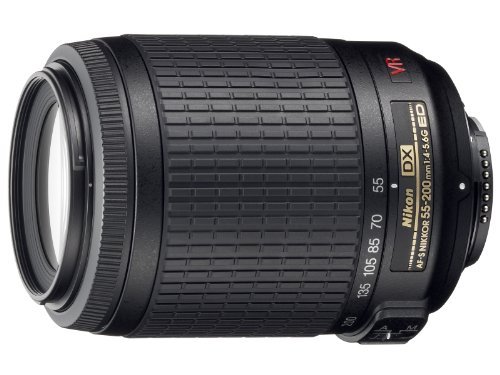 Among all the specific models of Nikon, this one is specially designed for photographing animals or sports on a low budget. Paired with the lens kit, 18-55 mm, one can cover wide, cover, and telephoto ranges, so basically you can capture anything with this one.
This is light and very compact, it has an amount made up of plastic as found in all low-priced lenses and although feels solid, is not like expensive lenses. At a considerably cheap price, the images it provides are mind-blowing. It can zoom up to 18-55 mm.
Along with good AF speed and image quality, this model is a pretty good bargain. It is quite good at capturing outdoor activities like sports, animals, fast-moving objects like planes, etc. This is not great for lowlight images or indoor products though; and if you must, raise the ISO speed at all costs.
Pros
This comes in cheap and provides overall all-around performance.
Good for capturing wildlife images and fast-moving objects like planes, cars, sports, etc.
Cons
Because of its price, the durability is a bit less.
Low-light images are a bit dull.
6. Nikon 18-140 mm f/3.5-5.6G ED VR AF-S
This is also an all-around model like the previous one, but, this one, is much more versatile and of much better quality than an 18—55mm kit lens.
It provides almost 100 mm more zoom, which simply means that not only you will be able to capture wide and standard images but you'll also be ready for telephoto.
Not only this device is perfect for general photography, but this is also suitable for traveling, capturing scenic beauty, etc. The image quality, quality of the colors, and contrast all have been improved compared to the model 18-300mm.
Generally, more zooming results in worse quality of the picture but here one is missing 160 mm on the telephoto end. Now in case you care to pay twice the money and go for the zooming option then, of course, you can go for the model, Nikon 18-300mm f_3.5-6.3 ED VR AF-S.
This is basically for overall uses and for beginners, this is a great gadget.
Pros
The zooming function is quite spectacular.
It provides all-around performance when it comes to outdoor photography.
Affordable price with great durability.
Cons
Quite bad for indoor photography.
The product shoot is to be avoided with this one.
The low light function is quite poor.
7. Tokina 11-16mm f/2.8 AT-X Pro DX II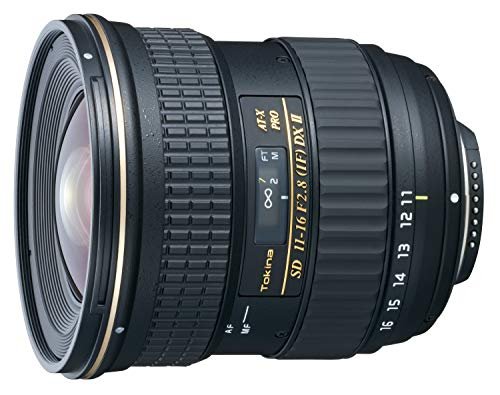 This one is a bit different from the earlier ones as it tends to come from a different origin. Now, Tokina, although not very famous or popular in the photographic world, but their product Tokina 11-16mm f/28pro DXII is one of the best lenses for Nikon D5300 and is cheaper than anyone of those earlier ones.
This also has a big aperture so low-light images are very clear and of better quality than the earlier ones. Like the previous models, the shape of this one too is built like a tank, and u can feel it as solid in your hand. The aperture of this lens is f/2.8 so low light image captures is beyond your imagination in this one!
If you turn your ISO high, you'll have absolutely no problem capturing images in pubs, clubs, indoors, etc. Nikon doesn't have any such lenses at this range that provides a wide angle, let alone an f/2.8 wide-angle zoom.
It fits on the Nikon D5300 as a football fits in the feet of Messi. This camera is best suited for an outdoor, landscape, pictures set in low light, etc.
Pros
The cheapest lens for Nikon D5300
Best low light capturing gadget.
Both picture quality and the colors in the pictures are top-notch.
It provides wide-angle zooming facilities.
Solid inbuilt.
Cons
Not suited for wildlife photography.
Bad for capturing fast-moving objects.
8. Nikon AF-S FX NIKKOR 50mm f/1.4G Lens
This lens is a must-have for a standard portrait and everyday pictures. The 50mm focal length which is equivalent to 75mm in DX format allows the subject of the picture to stand out from its background giving it a magnificent look.
The fast f/1.4 aperture allows for capturing stunning pictures with a shallow depth field. There is a high chance that the AF-S NIKKOR 50mm f/1.4G may become your favorite lens.
This AF-S NIKKOR 50mm f/1.4G is easy to carry because it is lightweight. You never know whether it is going to be a sunny day or gloomy, so this is easy to carry in your camera bag along with other items. It is travel-friendly. Also, it can capture the low-light situation with excellent quality.
This AF-S NIKKOR 50mm f/1.4G is great for shooting indoor or outdoor pictures, be it portraits or food, or nature. The 50mm focal length adds a natural perspective to your picture.
The super-integrated coating enhances transmission efficiency and offers superior color consistency and reduces flare. The AF-S NIKKOR 50mm f/1.4G's aspherical lens element virtually eliminates coma and other types of aberration even at the time of the shooting at the widest available aperture.
For fast, accurate, and quiet autofocus Nikon's silent wave motor does an amazing job so that all of your portraits can be sharp. This silent wave motor technology converts traveling waves into rational energy to focus the optics. This enables extremely accurate and super quiet high-speed autofocusing.
The Nikkor lenses can be switched from automatic to manual mode. With virtually no lag time and by simply turning the focus into the lens, fine manual focusing is possible to achieve. The aspherical lens helps in reducing coma and aberration.
Pros
Ideal for traveling, events, and general photography
It has a superb optical formula and focus.
Can work in a low-light situation
Enables fast and accurate autofocus
Cons
The lens is not zoomed able
Unparallel autofocus
9. Nikon 70-300mm f/4.5-5.6 ED IF AF-S VR NIKKOR Zoom Lens
This is one of the best lenses for Nikon D5300 and its high power high-performance telephoto zoom with VR image stabilization lens. It allows capturing better handheld photo shooting with ED glass.
This high-power telephoto Zoom-Nikkor lens works as a picture angle performance of a 105-450mm lens on 35mm SLR.
It has got two Nikon extra-low dispersion glass elements that deliver superior optical performance for both digital and 35mm photography. The ED glass minimizes the chromatic aberration which in turn contributes to super contrast and provides resolution performance. The entire zoom range focus is as close as 4.9ft.
This lens also has a silent wave motor which helps in fast and quiet autofocus. It also switches quickly between autofocus and manual focus. Vibration reduction is a mechanism that is engineered specifically for each VR NIKKOR lens. This enables handheld shooting at up to 4 shutter speeds.
If it was slower, it would have resulted in dramatically sharper still images and video capture. The internal focus provides fast and quiet autofocusing without changing the length. This retains the subject's working distance through the focus range. Its internal focus provides fast and quiet autofocusing without changing the length of the lens.
This retains the subject's working distance through the focus range. The convenient use of circular polarizing filters is provided by the non-rotation front element. The nine-blade rounded diaphragm opening makes the out-of-focus elements more natural.
Pros
Good for handheld photos and videos.
The two low extra dispersion glasses deliver superb optical performance.
It has fast and quiet autofocus
Cons
Minimum chromatic aberration
10. Sigma 18-35mm F1.8 Art DC HSM LENS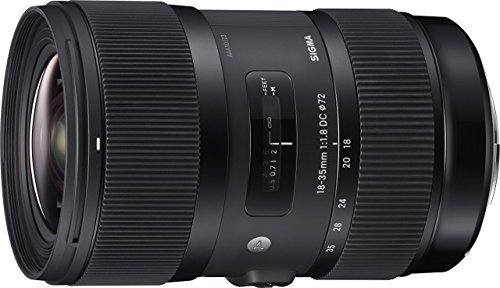 The Sigma 18-35mm is a revolutionary product. It is the first wide-angle to standard zoom lens to achieve a large aperture of 1.8. It is specially designed for APS-C-sized sensors. The sigma 18-35 mm 1.8 translates to 27-55mm on a 35mm camera. Sigma has a long history of lens innovation.
The 18-35mm F1.8 Art DC HSM incorporates a wide glass modeled aspherical lens and at the same time special low dispersion glass to compensate for aberration and to capture the widest angle.
That's why this lens is good for taking a wide range of pictures. Internal focus and zooming allow more functional usage.
The 18-35mm is great for landscape, portrait, still, photos, snapshots, casuals, and close-ups. The hypersonic motor (HSM) mechanism enables smooth fast and accurate autofocusing. It has a Thermally Composite Material which helps in reducing the size and weight of the lens but it increases its durability.
The new global vision design works compatibly with the Sigma USB dock to make it customized. The 9 blades' rounded diaphragm creates a beautifully blurred background. This is considered a new benchmark in photographic history.
Pros
First wide-angle to standard zoom lens to achieve a large aperture of 1.8.
It incorporates both wide glasses modeled aspherical lens and at the same time, special low dispersion glass to compensate for aberration and to capture the widest angle.
The global vision works compatibly with the Sigma USB dock for customization.
Captures beautiful blurred background pictures
Cons
Has an adjustment problem between micro and macro lens
Now, you are in luck for today as we have brought two bonus descriptions of lenses that we think can be crucial for you in your career and in understanding the Nikon D5300. Go along with them and hopefully, you will find them interesting…
11. Sigma 150-600mm 5-6.3 Contemporary DG OS HSM LENS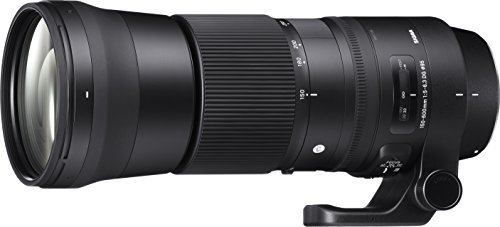 The Sigma 150-600mm 5-6.3 contemporary DG OS HMS was created around the concept when the maximum probability meets the utmost image quality in a variable aperture hyper-telephoto zoom lens.
It is very lightweight and compact. Its zoom can handle any long-reached photographic situation one may encounter.
Sigma has used modern technology for birding or wildlife and motor photography. This 600mm contemporary is updated with a quiet and optimized Hyper Sonic Motor and a new optical stabilizer.
The optical stabilizer has an accelerometer that improves panning photography both horizontally and vertically. This lens also touts a new zoom lock switch that can be locked for any focal length and a new manual override is incorporated for improving focusing control.
This lens allows for maximum customization such as firmware updates and adjustment to the focus limiter.
Pros
Good for wildlife and motor photography
Modern technology is being used
Cons
The customization mechanism can sometimes create trouble
12. Sigma 30mm F1.4 art DC HSM LENS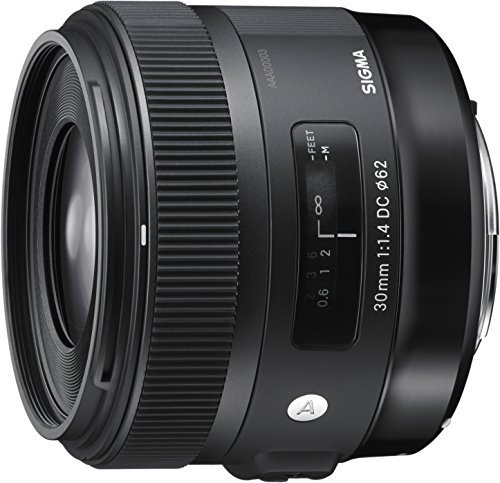 This is used especially for art and culture which means people who possess a passion for photography, its ideal for them. The large aperture standard lens provides an angle of view. This 45mm on a 35mm camera is a must-have for artistic purposes on an APS-C format digital DSLR.
This offers an angle view of bright F1.4 aperture and an angle view that is extremely close to that of human vision. This lens is equipped with updated technologies.
It has Hyper Sonic Motor, a super multi-layer coating, and a design featuring Thermally Stable Composite Material (TSC). The HSM allows for capturing accurate, quiet, and autofocus pictures.
The super multi-layer coating reduces the flare and ghosting, while TSC reduces expansion and contraction in the internal lens barrel. It has a rear focus system that prevents focus-dependant variation in aberration. This keeps the quality of high-level images throughout.
As the barrel remains unchanged, this enhances balance and stability which is helpful for the photographer. Optimized autofocus archives smoother focusing. This has a magnification ratio of 1:6:8 and the 9 blades rounded diaphragm helps to take blurred background pictures.
Pros
Great for artistic purposes
Equipped with the latest technology
Maintains high-level images throughout
Balanced stability for the photographer
Cons
Highly priced than its counterparts.
The Best ones Among the Lot
In this discussion, every single lens has its own distinctive quality and for a professional, each one carries its special value and those priorities cannot be substituted for other facilities. Yet if I am to pick a general one for indoor products, the best lenses for Nikon D5300 will be Nikon 85mm f/1.8G AF-S.
This model provides a Steller performance in low light, product shooting, portraits, and in shallow depth effects. Given its focal point, it does not distort the images and gives a real-life effect to its products.
This is one that is definitely for the professionals. The next one on our list is Tokina 11-16mm f/2.8 AT-X Pro DX II. This model is simply impressive and the sheer facility it offers at such a low price is beyond belief.
It offers wide-angle zooming where no Nikon camera provides wide-angle at that range, to begin with. Its big aperture is perfect for clear and low-light images. It is sternly inbuilt and provides a very healthy overall performance.
Availability
All the best lenses for Nikon D5300 which have been discussed in the description are available on amazon.com Amazon made it easy for millions of dreams to avail of anything in a few clicks, whether in an emergency situation or in some distant village.
Many of the lenses come within 1-3 years of the warranty period and a 10 days Amazon exchange period.
In case you had received a product that is in any way damaged, or not functioning, or if you had received a different product, Amazon makes it easy for you to easy exchange steps. However, if the damage had been done by you in any sort of way, then it does not fall in the warranty measurements.
Amazon certainly deserves big credit for achieving such a landmark trade and for the beautiful customer service it provides. Not only it has created thousands of jobs in many countries but also it helped in reaching many places which weren't possible before.
Through e-commerce, amazon has connected people from all over the world and, if you have any queries over the matter of choosing your product or its functions, you can simply log into Amazon.com, go to the Q and A section, and post your question and someone will answer your question.
To summarise the discussion, Nikon D5300 is one of the best cameras of the Nikon d5000 Series and put together with its lenses, it is good enough for professional uses. Over the last decade Nikon and Canon have been fighting to gain the number 1 spot in the DSLR market and both, carrying their distinctive qualities, have gained a tight spot.
Canon is a bigger worldwide company that sells various products. Apart from Cameras and its lenses; it sells, printers, certain electronic devices, etc. But, Nikon solely focuses on its sole purpose of making products for Photography and its contemporary sector.
Their philosophy of staying in the business comes from an entirely different side. As time progresses, more and more revelations are changing the photographic world. Along with the ideas, the gadgets are changing and so is the mode of photography as such.
But wherever it may go from here on, every moment in history is as important as the earlier or the later moments. So, it is very crucial to try and leave your dent; if you are an artist of this sort.
The important factors will always lie in the essence of the journey, loving every single step and mistake of it. And Nikon D5300 can be a hell of a sidekick for you.