In this article, we have reviewed the 10 best lenses for wedding photography including the Canon and Nikon lens along with a comparison table and a detailed buyer's guide to help you choose the best lens possible.
Wedding photography is quite unique as a combination of various photography genres. If you are a professional wedding photographer who aims to deliver a complete product for a wedding, you certainly need lenses that allow you to capture special moments without much trouble.
Though, artistry and creativity are important, having the best lens for wedding photography is essential as it allows you to get close to the action without causing any disruption to the moment. Be it capturing a candid picture or stunning portraits of the bride and the groom, the right lens paired with a good camera body will help you capture the event in detail.
We in this article bring to you the best Canon and Nikon lenses for wedding photography. A detailed buyer's guide too has been included to help you make an informed buying decision.
So, let's get started!
Best Lens For Wedding Photography:
Best Canon Lens for Wedding Photography:
1. Canon EF 35mm f/2 IS USM
If you are looking for a sharp lens with great image stabilization, the Canon EF 35mm f2 IS USM is a great pick. The lens has great features and is the best lens for wedding photography. The lens has a fast focus and is very accurate, even when the light conditions are low.
The fast and moderate ultra-wide-angle lens is a perfect fit for Canon DSLR cameras. The lens has a Super Spectra Coating, a circular aperture, and an ultrasonic focus motor. The lens is lightweight and quite responsive and hence easy to carry around.
The image quality of the lens is quite good, and the chromatic aberrations to are controlled well.
The lens also includes a stabilizer that helps photographers to get extra clear shots, even when indoors. The lens is also ideal for handheld shooting and can be used without the use of a flash and the shutter speed limit in such cases is 1/30 second. When the exposures are long, there can be chances of a little blur.
The lens has a plastic body but that does affect its overall performance. If you are looking for a good lens for wedding or reportage photography, this one is a good buy.
Pros
Awesome image stabilization even in low-lighting conditions
Has a minimum focus distance of 0.24m
Cons
Bokeh is not of great quality
2. Canon EF 135mm f/2L USM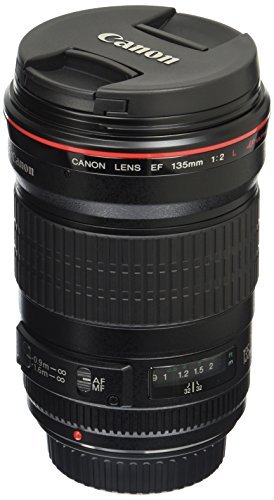 If you are looking for an ideal wedding lens, your search ends right at Canon EF 135mm f/2L USM. One of the best among the L lenses, the 135mm Canon lens is a true wedding lens that also has a good number of fan clubs.
Known to be the best portrait lens, the Canon EF 135mm provides excellent sharpness and accuracy, and photographers who have used the lens feel that it is near impossible to find a lens similar to this. The image quality provided is excellent too!
This lens though is ideal for wedding photography, it can be used for portraits or shooting outdoors. The user has to move at least 3 meters away from the subject if the person has to be captured full-length.
Hence, the lens cannot be used indoors unless there is enough room to move around.
Although that can be a problem, the major advantage of the Canon 135mm lens is its sharpness, which is natural. The lens also delivers images that have amazing detail and great contrast.
A few photographers might find the range of this lens to be boring, but with the image quality it provides, one would certainly be surprised as to how well the frames can be captured, just by moving your body.
Pros
Bokeh is wonderful
An excellent lens for wedding photography
Very smooth focusing
Amazing sharpness
Cons
Needs a short shutter speed
Autofocus does not work quite well in poor lighting conditions
No image stabilization
3. Canon EF 24-70mm f/2.8L II USM
The Canon EF 24-70mm f/2.8L II USM is an excellent professional-grade zoom lens that can be paired with the APS-C and full-frame DSLRs from Canon. The lens features a fast aperture of f/2.8 and has super spectra coatings, a nine-blade circular aperture, and an ultrasonic focus motor.
The autofocus of the lens is quick and silent and the lens is ideal for wedding and reportage photography.
The Canon EF 24-70mm f/2.8L II USM is an L series lens from Canon and has a standard zoom. The lens can look a little big and bulky and is a little heavy at the same time. The lens has a wide focus ring, with hard stops on both ends and this makes it easy for the users to set the focus at infinity.
The autofocus of the lens is quick and it only takes about 0.15 seconds for it to lock on the subject. With impressive Bokeh and controlled chromatic aberrations, this is one of the best lenses for wedding photography. The super spectra coating prevents the loss of contrast and reduces the flare.
If you have a good budget and can afford a good price tag and if you really do not mind the lack of stabilization, the Canon EF 24-70mm f/2.8L II USM is a highly recommended lens. The standard zoom lens delivers the best when used with the full-frame DSLRs from Canon.
Pros
Excellent and rich image quality
The focus ring is very comfortable
Fast aperture
Quiet and quick autofocus
Cons
Does not have an image stabilizer
4.Canon EF 70-200mm f/4L is II USM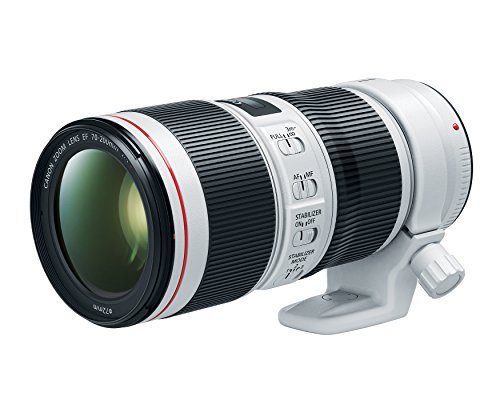 It was back in 2018 that Canon made up its mind to simultaneously upgrade two of its popular telephoto lenses that had a focal length of 70-200mm. One of the most important improvements that the brand aimed to upgrade is the image stabilizer.
The Canon EF 70-200mm f/4L IS USM is one such upgraded lens that now has an optical image stabilizer. The very first interchangeable lens from Canon now has a 4-stop image stabilizer. This makes it easy for photographers who wish to handhold the lens as the image blur is reduced.
The lens is also ideal for low-light shooting conditions and the user need not have a tripod or a flash to achieve amazing results. The lens uses the finest optics from Canon and is resistant to dust and moisture, compact, and maneuverable at the same time.
The L series lens is excellent for wedding photography and can also be used for wildlife and travel assignments.
The autofocus of the lens is fast and near silent, thanks to the use of ring-type USM that uses ultrasonic frequency vibrations. Users can easily switch from autofocus to manual in no time.
The lens provides excellent image quality, is lightweight and the price is quite good. If you are on the lookout for a quality zoom lens for wedding photography, this is one lens you should give a try.
Pros
Excellent sharpness
Very low chromatic aberrations
Has a very effective stabilizer
Ultrasonic focus mot
Optical image stabilization
Cons
Distortion is quite visible
5. Canon EF 16-35mm f/2.8L III USM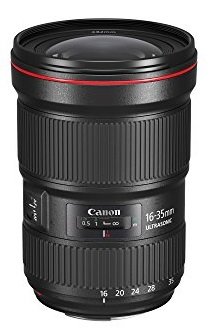 The Canon EF 16-35mm f/2.8L III USM is an ultra-wide zoom lens, perfect for professionals who are into wedding photography. The lens uses the well-known ultrasonic motor to provide quiet, continuous, and smooth autofocus. The subwavelength coating and the Air sphere coating help reduce the ghosting and the flare.
The lens also has a total of 9 diaphragm blades and these provide smoother Bokeh. It is a weather-resistant lens and is also used for landscape and architecture photography.
Also, the lens is not big and bulky. The lens weighs about 790g and works well with professional-grade cameras like the Canon EOS 5D Mark IV. The build quality of the lens is excellent and it feels quite solid in one's hand.
The lens though is made of plastic and has enough features that provide resistance to vibration, shock, and weather elements too. The focus ring is comfortably wide and comes with a rubberized and rigged grip band.
The autofocus feature of the lens is worth a mention. The Autofocus is quick and takes only 0.10 seconds to lock on a subject.
The Canon EF 16-35mm f/2.8L III USM is an outstanding lens that is a little expensive. The lens will certainly appeal to wedding, and landscape photographers who are looking for a well-built and weatherproof lens that is also an excellent performer.
If you are looking for a fast lens for hand-held and low-light work, this is the one to consider.
Pros
Fantastic image quality
Almost no chromatic aberrations
Impressive Bokeh
Easy to handhold
Quiet Autofocus
Best Nikon Lens For Wedding Photography:
1. Nikon 24-70 mm f/2.8G ED AF-S
If you look at it, the Nikon 24-70 mm f/2.8G ED AF-S, model is a spectacular one for reasons more than one. You can use the versatile pair of the lens across all kinds of mind-blowing photography. Be it portraits, landscapes, or panoramas. The multi-faceted pair of lenses covers it all.
If you are into event management, you can use the lens to take photographs from varied angles.
Let us now take a look at some of the salient features attributed to the Nikon 24-70mm model.
The aperture of this particular pair of lenses measures f/2.8. The aperture value remains constant. In other words, the aperture value does not exceed f/2.8, even while zooming. You gain experience with spectacular state-of-the-art optics with this amazing model.
Both amateurs and professionals can get exceptionally sharp, concise, and contrasting images with the all-new Nikon 24-70mm f/2.8G ED AF-S model. This way, photographers working in varied conditions can have fun photo shoots, with this one.
The older model on Nikon 24-70 mm f/2.8 was completely re-designed to suit the present-generation photographers. The lens and the optics were completely remodeled for superior performance with extra coverage on the wide end.
The 15-lens window comprises 11 groups, 3 of which are ED. These are glass elements that reduce chromatic aberration. This way, you can experience increased sharpness.
Are you aware of the fact that zoom lenses are a great choice for taking portraits? The f/2.8 zoom model lens can get a little expensive too. With this aim in mind, Nikon developers designed the all-new Nikon 24-70mm f/2.8G ED. This is a great pick for DX as well as FX shooters.
This way, you get a supersonic quality on Zoom that can be used in low light as well as outdoors. You can use zoom lenses for exotic genres of photography.
The Nikon 24-70mm f/2.8G ED is a portable one. You can carry it everywhere. In other words, you can just be on the move in a hassle-free manner. Are you keen on taking those lovely portraits? The 24mm lens gives you an aperture wide enough to capture group photoshoots.
Do you want to focus on lovely creations with designer interiors?
You can do so in a vibrant manner, with the portrait lens.
Do you want to take a closer capture of the subject? Then just twist the zoom lens taking it to 70mm. This way, you can completely isolate the creation and bring it to closer attention. The best part is, despite reducing the zoom length; the f/2.8 aperture remains constant throughout your photo shoot.
This is across its entire zoom range. This amazing feature substantiates its price.
The all-new Nikon 24-70mm f/2.8G comes to you with solid build quality. The construction design is a sturdy one for you to use across domains. You get a faster, more reliable AF system even in low light. The reduced chromatic aberration of this pair of lenses is therefore exceptionally top-class.
For all the superlative features, you get with this brand; it is definitely worth going the buy.
Pros
Excellent image quality
Silent Wave Motor
Nano Crystal Coat
Quiet and Quick Autofocusing
Dust and moisture resistance
Cons
The lens is slightly heavy
2. Nikon 85mm f/1.8G ED AF-S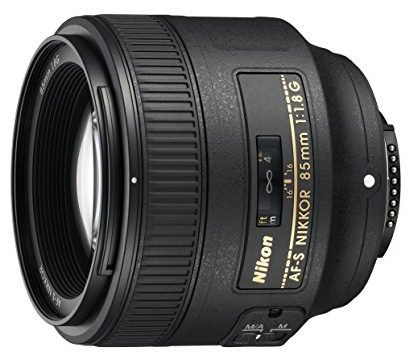 The Nikon 85mm f/2.8G ED AF-S is a model that has taken over its predecessor. The previous version of the lens was in production since 1994, while the new 85mm f/1.8G version comes to you with more enhanced features. The AF-D model had an optical design comprising 6 optical elements in 6 groups.
The latest version comprises 9 optical elements in 9 groups. The glass inside the 85mm f/1.8G might look as if the equipment weighs heavier. But in reality, the glass component weighs 30 grams lesser.
The new 85mm model works efficiently on DX as well as FX cameras. DX refers to the cropped sensor while FX refers to the full-frame sensor kit brought to you by Nikon. On a DX sensor, the lens is equivalent to 128mm. This way, you get a fabulous range of taking portraits.
However, this model of lens takes a little longer, when you want to indulge in other forms of photography.
The recently introduced prime lenses of Nikon come to you with a solid build. The Nikon 85mm f/1.8G AF-S is designed using a plastic exterior and has a metal mount too. Changes have also been made to the optical and barrel design of the lens.
The Nikon 85mm f/1.8G ED AF-S is widely recommended for taking different types of photography. This model is an excellent option for taking wedding photo shoots. The sharp lens gives you fantastic coverage when you want to take those lovely portraits. Here, the bride's face is being focused upon most of the time.
You can also be taking stunning photo shoots during the nighttime. Close-ups are highly recommended while you take photo shoots of sports events. The quality and sharpness of this model on the lens are top-notch. The all-new Nikon 85mm f/1.8G is also an affordable one, over the f/1.4 version.
As the Nikon 85mm f/1.8G ED AF-S seamlessly works on DX as well as FX frames, the portrait quality becomes a spectacular affair. Even when you stoop down the camera a little bit, the depth of field appears shallow. At the same time, the focal length remains longer.
The Nikon 85mm lens also helps you shoot at two speeds simultaneously. This magical aspect of the pair of the lens makes bokeh and background portrait photo shoots look fabulous as well.
Pros
Nikon Silent Wave Motor (SWM)
Fast Accurate Autofocus
Sharp and Clear Images
Easy switch between manual and autofocus mode
Super Integrated Coating (SIC)
Cons
Pronounced focus shift
Ghosting and Flare
Delay in taking indoor photo shoots or street-light photography
3. Nikon 35 mm f/1.8G AF-S DX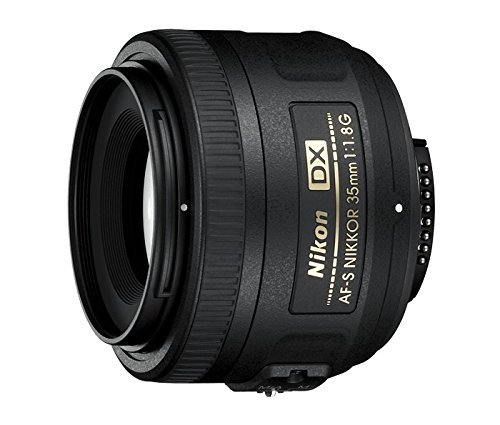 The previous version of this particular model was the professional Nikkor 35mm f/1.4G version. But professional photographers never wanted to spend $1500 on a pair of lenses. They wanted more inexpensive and lightweight models. So on 6th January 2014, Nikon introduced its next version which is Nikkor 35mm f/1.8G ED.
The pair of the lens was not only cheaper as compared to the f/1.4 model but was also designed light-weight. The compact model of the Nikkor 35mm f/1.8 model, therefore, went on to become an instant hit.
But photo shooters started looking for a pair of lenses that fully supports full-frame shooting. This gave shape to yet another sophisticated model on the lens. The Nikon 35mm f/1.8G AF-S DX was finally born.
The brand new Nikkor 35mm f/1.8G AF-S DX is the most affordable pair of lenses. It comes to you with superb image quality. You get faster autofocus too. Have you been using an 18-55mm kit and want to go for a change? Are you opting for prime lenses? Then opt for the 35mm variants as these lenses are top-class.
The constant f/1.8 aperture makes sure, the portrait pictures come out with a professional look and quality. You have two important features that add to the same – these lenses come to you with a shallow depth of field and lovely choices in selecting the bokeh.
Again, the color, sharpness, and picture quality, you get with this pair of lens, is mind-blowing. You are able to cover multi-faceted aspects of photography with the brand-new Nikon 35mm f/1.8G AF-S DX model.
Close-ups, night-time, portraits, kids or pets having fun and wedding photography, these lenses cover them all. You get a whole new set of styles to indulge in.
The brand-new model ideally supports full-frame cameras. The DX cameras on versions up to D500 are taken care of. Once you mount the camera, the field of view equals a 50mm lens. This happens mainly due to the 1.5x crop factor.
The amazing feature provides ample room for taking casual portrait pictures in a wonderful manner. You can also cover other areas covering the subject.
The latest Nikkor 35mm f/1.8G AF-S DX model comes to you on a budget-friendly line. The range of f/1.8 lenses comes to you with other astounding features as well. Some of these include sharpness, optical fibers, color rendition, and micro-contrasting abilities. These are features that not only justify the price but also help you with superb photo shoots. Up to the town!
The f/1.8G lenses add attractive value addition to the already well-established chain of Nikkor lenses.
Pros
Nikon Silent Wave Motor (SWM)
Inexpensive
Works with a full-frame camera in FX mode
Extremely versatile
Internal and silent focusing
Cons
Vignetting levels are slightly high
4. Nikon AF-S Nikkor 20mm f/1.8G
A compact and affordable lens from Nikon, the Nikkor 20mm f/1.8G is an ultra-wide-angle prime lens that is more than perfect for wedding photography. It has a Nano Crystal coating that reduces any reflection and also has Nikon's well-known Silent Wave motor which provides very quiet focusing.
The lens also has a total of 13 elements in 11 groups and this includes two ED glass elements and two AS elements and provides a 0.2m focusing distance. The lens is compact and lightweight and is hence easy to carry around.
The construction of the lens is excellent and quite advanced for an ultra-wide-angle lens. The Extra-low dispersion elements are used to increase the contrast as well as the sharpness. The additional two AS elements used correct spherical aberrations if any.
This lens lacks the feature of vibration reduction and the control present on the barrel of the lens is the focus mode switch that can be used for the MA and M settings. The accuracy of the autofocus of the lens is quite impressive and works well in every light condition.
If you are looking for a good-performing lens for wedding photography, this is the one to choose. The lens certainly appeals to those who love to try the combination of shallow depth of field and an ultra-wide-angle lens.
So, get it and give with a try as the lens certainly delivers what it promises.
Pros
Compact and lightweight
Innovative Silent Wave Motor
Ultra-wide view for excellent image quality
Brilliant low-light performer
Cons
Does not have vibration reduction
No protection against dust or moisture
5. Nikon AF-S FX NIKKOR 105mm f/1.4E ED
A beautiful lens that is a top performer, the Nikon AF-S DX Nikkor 105mm f/1.4 ED is a combination of the excellent sharpness and features of the 85mm f/1.4G lens. The lens when introduced was the very first 105mm lens with a large aperture.
The Nikon AF-S DX Nikkor 105mm f/1.4 ED is a telephoto prime lens that is ultra-fast and can be used with full-frame DSLR cameras from Nikon. The lens has 14 optical elements from a total of 9 groups. It also has a silent wave motor that ensures quick quiet autofocus.
It also has the Nano Crystal Coating of Nikon that keeps flare and ghosting at bay.
The lens is a little heavy and weighs about 985 grams and has a length of 10.6 cm. The lens is big but has excellent build quality. The Nikon AF-S DX Nikkor 105mm f/1.4 ED is dust and moisture-resistant and works well with sealed camera bodies.
Photographers who have to work in dusty locales or in bad weather conditions can opt for this lens.
The Nikon AF-S DX Nikkor 105mm f/1.4 ED has the Silent Wave Motor, which provides silent autofocus. Also, one can instantly and manually override the focus mode in no time using the focus mode switch.
The Nikon AF-S FX Nikkor 105mm f/1.4 ED is an excellent short telephoto lens that delivers amazing quality images. If you have the budget and do not mind having a heavy lens as a part of your gear, this is a must-buy.
Pros
Excellent build quality
Chromatic aberrations are less
Superb Bokeh effects
Amazing image quality
Cons
No Vibration Reduction
Does not include a focus limiter
Focusing is not instantaneous
Now that we have learned about various lenses from Nikon and Canon that are ideal for wedding photography, let us now learn a little about the features you need to look for in one.
The buyer's guide to buying the best lens for wedding photography will help you make the right choice. So, let's get started.
Buying Guide For Best Lens for Wedding Photography:
Zoom or a Prime Lens
A wedding is a one-time event and hence photographers should be well prepared for almost anything. Photographers can use a zoom lens to capture a quick and adorable moment without having to change the lens. A zoom lens allows you to be prepared can capture an excellent shot, anytime.
Though prime lenses are widely used for wedding photography, they are mostly chosen by experienced photographers. If you are a beginner you might not want to start with a prime lens.
Using a prime lens is not easy in the beginning and one needs to know to position themselves and move with full confidence.
If you wish to buy the best lens for wedding photography, you can choose one that is a combination of both the lens. You can include a few zoom lenses and prime lenses as a part of your great. While this is not budget-friendly, this is something you need to have if you are starting out as a professional. Another option is to use an f/2.8 zoom lens.
Photographers who want to be secure can choose zoom lenses. Having both lenses will also help you to capture awesome shots in almost every situation.
The Image Quality
If you are a wedding photographer or a beginner who is trying to build your portfolio, you certainly need to have a lens that provides the best image quality in every situation. Never opt for cheaper or unbranded zoom lenses as they are not sharp.
While having great talent is important, having a great lens in hand can help you when you are shooting a wedding. And, this holds true when you have to shoot indoors or in low-light conditions.
It is important you choose a lens that has a large aperture and a good autofocus feature. You can also choose lenses that have a few glass elements as they have very minimal issues with aberration, ghosting, and flare.
When shooting a wedding, you need to choose a lens of the highest quality. Save till you can get a good lens as it is a one-time investment and you would be covering a one-time event in a couple's life.
Aperture and Image Stabilization
As we said earlier, a great lens has great features but it also comes with a price tag. A wedding can take place indoors or outdoors and can happen at any time of the day. So as a wedding photographer, you need to be prepared with lenses of f/2.8 or even bigger.
By choosing a lens that has a bigger aperture, you can very much blur the background and can help you isolate the subject from the rest of the background. If you are shooting indoors, you might have to increase the ISO, but some cameras can get a little noisy when done so.
By using a lens of f/2.8 you can shoot with ISO 1600 instead of increasing it to 3200.
Another welcoming feature most lenses have these days is image stabilization. You can choose the lens that has optical image stabilization and such lenses are made available by Nikon and Canon as well.
While it is possible to get started with just one lens, experts suggest having at least a set of 3 lenses to ensure the successful shooting of a wedding. Every wedding is different and so is the situation hence the choice of lenses is also individual.
To capture high-quality and interesting images photographers need to have the best lenses and which ones to choose are up to the photographer to decide.