In this article, we have reviewed the 10 best cameras for wedding photography along with a comparison table and a detailed buyer's guide at the end to help you choose the best camera possible.
Being a wedding photographer is not an easy task to accomplish. The job not only requires expertise, ability, and persistence, but one needs to deliver wonderful pictures that flawlessly catch each feeling, each cheerful minute, and every detail of the bride and her groom on their D – day.
While skills and the unique style of a photographer do matter, having a well-equipped camera can undoubtedly come in handy.
There are a wide variety of cameras available that are made exclusively for wedding photography. Wedding photography is undoubtedly demanding, and this is one of the reasons why photographers need to have a camera that not only meets their expectations but exceeds them.
Photographers can choose from full-frame DSLRs as they are fast and provide excellently sharp and rich images.
We bring to you the best cameras that help you capture every minute detail during a wedding. So, let's get started!
Best Cameras For Wedding Photography
1. Canon EOS 5D Mark IV Digital-SLR Camera
If you are looking for a stunning all-rounder camera, it is time you learn the features of the Canon 5D Mark IV. An excellent performer, the camera is just perfect for those shots that are to be taken from a distance during the wedding. The camera features a 30MP sensor which is definitely the best bet for wedding photography.
It not only looks astounding; it feels that way, as well. The camera is well-built, and one can feel the quality the moment it is held in the hand.
There are around 60 local focal points that accompany Optical Image Stabilization (OIS) at the time of taking pictures. Furthermore, once in a while, there's a need to knock up the ISO for a wide range of on-the-spot reasons.
Fortunately, the EOS 5D MARK IV performs well in low-light conditions as well. It's altogether superior to Mark III and that is what makes it the top choice for several wedding photographers.
One of the best features of this camera is the 4K video capture, and it also comes with an all-new upgraded autofocus system. The camera also has a touchscreen, and the weather sealing is improved too.
If you are looking for one versatile camera, look no further than the Canon EOS 5D MARK IV!
Pros
An ISO mark of 100–32000
Continuous shooting
4K video
61 AF focuses
Cons
No picture adjustment
Fixed screen
2. Canon EOS 5DS Digital-SLR Camera
Capturing the right shot at the right time is essential for wedding photography. This makes it important to have a camera that is quick and helps you capture the moments without any hassle. Canon 5DS is one such performer that allows capturing the moments, thanks to the fantastic features it has.
The Canon 5DS is an extraordinary camera body that is just perfect for wedding photography. It has a huge full casing DSLR sensor and can help capture mind-blowing 50.6MP pictures. The built-in optical viewfinder is another excellent feature of this gadget.
The camera can be combined with some of the best lenses available for wedding photography to capture stunning, clear, and crisp images.
Furthermore, shadow retrieval is recognizably better when compared with past Canon cameras; however, that is not all. The camera is easy to handle when you are using a tripod, and one does require quality focal points to take complete advantage of it.
Known to be of the highest resolution cameras from Canon, the autofocus functionality of this camera body has been upgraded for enhanced performance. The camera works well for landscape photography and fashion photography as well!
Pros
EOS scene recognition
Fine detail mode
Anti-glare
Intelligent Viewfinder II
Cons
No remote
No picture adjustment
Heavy
3. Canon EOS 6D Digital-SLR Camera
The Canon 6D isn't the most astounding full-frame camera that this brand makes yet it's a good pick, especially for beginners. It can absolutely deal with wedding photography as per a review shared by numerous skilled shutterbugs. One of the major concerns is the provision of just one SD card space.
If you are into wedding photography as a hobby or have just started out, this wouldn't be of much concern. Let's now dig deep into its features!
The camera has a quiet screen mode. It might appear to be a little detailed, yet it's really an appreciated element. The Canon EOS 6D has a decent Low Light ISO which makes it a perfect fit when you need to click some pictures in low-light conditions.
Standard 6D 20.2MP full-outline CMOS DSLR camera has stood the trial of time. It's been available since September 2012 and has been used by a number of photographers since then, who have loved its performance.
The camera is budget-friendly but has a solid build and superb ergonomics and grip. So, if you are looking for a wonderful camera that provides excellent image quality and has a really good balance of specifications, this is the one to choose.
Pros
Weather fixed body
Long battery life
Face recognition
Cons
No articulating screen or contact screen
No picture adjustment
4. Nikon D750 FX-Format Digital-SLR Camera
There is no doubt in saying that photographers are always loyal to a brand. But, that doesn't stop them from trying some excellent cameras from other brands.
If you are loyal to brands like Sony or Canon but are willing to consider the best-performing cameras from different brands, the Nikon D750 FX-Format DSLR is a must-try.
The Nikon D750 feels great in your hands and fits like a well-custom-fitted glove. This is one of those few cameras that certainly lure you to take your photography skills to the very next level.
One of the best features of this camera is its smaller body. It's well-adjusted and absolutely feels not as much as its 1.65 lbs. It's likewise a camera that offers substantially more than excellent ergonomics. When used with the right lenses, you will be able to capture sharp and clear pictures with ease.
The low-light capacity is another major addition, as photographers will now be able to shoot even in low-light conditions.
Well, it also helps to know the lenses you can use along with this camera body, isn't it? All things considered, no two photographers or shoots are ever equivalent. The two pieces of the lens that will never disappoint you are the Nikon 85mm f/1.8 and the Sigma 35mm f/1.4.
It's featherweight at 1.6 lbs. and feels lighter than it is. The camera has great high ISO execution. It's particularly useful for catching shots when the light conditions are adverse. Not every camera comes with weather sealing, but this one does.
Another feature that is worth a mention is the tilting screen, which can easily be flipped to capture those stunning moments with ease. The camera has a face-detecting feature as well, which is highly helpful when you are taking pictures of people.
The camera includes two card slots, which is a must for photographers these days.
Pros
Weather fixed
3.2″ tilting screen
Face location centering
2 capacity openings
Cons
The LCD screen is small
No touchscreen
5. Nikon D850 FX-format Digital-SLR Camera
Nikon presented their D850 DSLR back in August 2017 to succeed the more established D810. It's a phenomenal camera for expert wedding photographers. What Nikon has conveyed here is an ideal mix of features every photographer looks for in a perfect camera.
You get high-resolution images, the choice to change the size of the basic record, and an astounding tilting touchscreen.
Centering is a breeze with the 153-point AF framework. The autofocus of the camera is impressive and helps to capture some excellent shots without much noise. This is especially helpful when you have to capture some candid moments during a wedding.
The quality and ease of use can be enhanced by combining the camera body with some excellent lenses, which are perfect for wedding photography.
Gifted wedding photographers are genuine craftsmen. Give them a Nikon D850, and they're professionals with an ideal device. They can undoubtedly capture extraordinary shots that are near natural. With the best possible D850 good focal points, the picture quality is breathtaking, and recognizably better is the sharpness.
Commentators likewise like the splendid iPhone-like touchscreen tilting presentation and the useful area of the ISO button.
If you are looking for one of the best cameras for wedding photography and are an ardent fan of Nikon, the D850 is a must-have. Do check out the detailed specs and you will for sure not get disappointed.
Pros
Weather fixed
Tilting LCD touchscreen
Great in low light
Focus cresting
Cons
No picture adjustment
Heavy
6. Nikon Df Silver FX-Format Digital-SLR Camera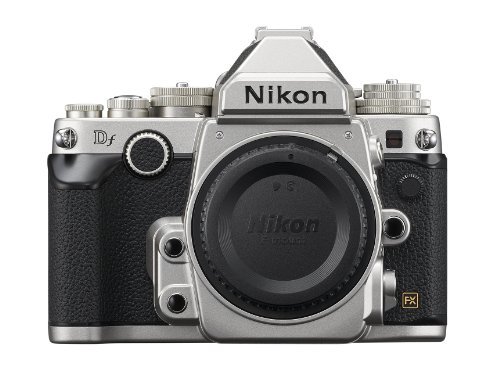 The Nikon DF has a retro style to it that still interests a lot of photographers. Though not stylish with its looks, the camera works and functions admirably. It doesn't have the visual ergonomic intrigue of present-day cameras; however, all isn't as it appears.
When you lift this camera body, it feels light and agreeable in the hands, and in no time into a delight, you would love to deal with.
The Nikon DF DSLR is a weatherproofed camera, and this feature makes it perfect for carrying along when you need to shoot in bad weather conditions. Be it outdoor or beach weddings, you need not worry about the damage the dust and the wind can do to your camera.
Though the camera performs very well, it might a little time for beginners to get used to its features and its make of it. Be that as it may, when you begin to shoot with the Nikon DF, you will find no reason why you'll never need to put it down.
Nobody purchases the Nikon DF without giving it a thought as the camera does cost a bomb. The individuals who do get their hands on one of these retro cameras find that it has a couple of excellent features. The way the camera performs in low light and at high ISO overwhelms even the most experienced photographers.
It might be an oldie, but the Nikon DF with a weather-sealed body is worth every penny spent. While some consider it the photographer's camera, the features worth mentioning are its sensor and the retro controls it has.
The camera also has a face detection feature, which comes in handy while shooting weddings. When used in ideal conditions and with the right lenses, photographers can easily expect shots up to 1400.
Pros
Weather-fixed
Face location
Good battery life
Top LCD
AF miniaturized scale change
Cons
Quirky controls
Max shade speed
No video
7. Sony Alpha 99II Digital-SLR Camera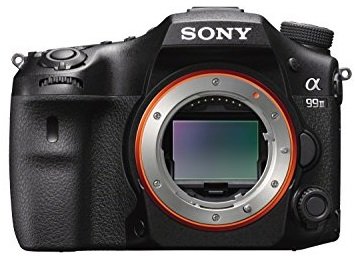 Sony presented the Alpha A99 II DSLR in September 2016 with a Sony/Minolta Alpha focal point mount. Furthermore, with around 140+ local focal points to look over, there's no deficiency of glass.
This is a decent all-around camera.
It performs well as an apparatus for road photography, sports, scenes, weddings, and representation. It's genuinely lightweight, and its ergonomic structure makes it simple to deal with.
One thing that astonished me was the picture quality at ISO 400. Just the most basic eye would see the contrast between ISO 100 and 400 pictures. That is a valuable feature for weddings specifically. The ISO gives you a chance to expand the shade speeds without compromising on the quality.
It's particularly helpful for catching those quick and natural pictures during those wedding minutes.
All great wedding photographers do know the advantages of picture editing. The 42.4 MP sensor of Sony Alpha a99 Mark 2 gives you a chance to print the pictures directly and also hold on to the marvelous detail. All of this can be achieved without much editing.
It's a worthy pick for weddings and occasion photography as well. Glancing through the surveys, we can see that the Zeiss 24mm F2 and Sony 70-200mm F2.8 G2 are the best lenses that go well with this camera body.
The individuals who love the Sony Alpha 99II cannot stop raving about how great the camera is. Known to be one of the best cameras for wedding photography available online, the Sony Alpha 99II is worth every penny of your investment.
Pros
5-pivot picture adjustment
Articulating screen
Face discovery
2 capacity openings
Cons
Complex menu framework
Low battery life
No touchscreen and a substantial body
8. Sony A77II Digital SLR Camera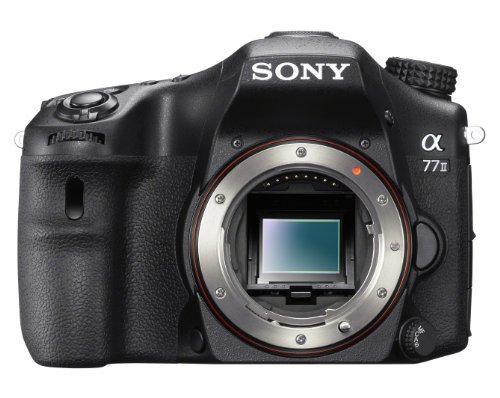 Weddings can go on for longer durations, and if you need to cover a wedding and a reception, you can expect to stay there longer than you expected. The lightweight and excellent performer Sony A77ii makes it a perfect device for longer shoots.
Though the camera cannot be compared to those from Canon or Nikon, this particular one is filled with excellent features photographers cannot ignore. The solid form and ergonomics make this a breathtaking camera for dynamic occasions.
There are a couple of impressive features that make this an incredible camera fit for a wedding photographer. You have a high 24MP sensor, excellent viewfinder, and picture adjustment. Weather sealing is another appreciated feature of this camera.
There's no place you can't position the tilt and swivel LCD screen. It's surely helpful for the more inventive photographer who likes to experiment with a couple of creative shots in a wedding portfolio.
Not every person concurs that the Sony A77II has enough enhancements over the A77 (mark one). Others are quite happy with the new upgrades and are satisfied with what the camera offers.
The camera is quite affordable and semi-professional. Hence, this is not only perfect for professional photographers but can also be had by those who have just started their photography journey. Some users have used this camera body with some excellent lenses and have stated that this is one of the best APS-C sensor cameras.
There are heaps of genuine remarks amid the high applause as well.
The build of this camera is quite robust, and it can easily withstand a few accidental knocks. The camera feels very comfortable and is easy to use as well. One of the best features of the Sony A77II is the image quality it provides.
The Sony A77II is a weather-resistant camera that includes a premium-quality aluminum body and has excellent sealing near the buttons and the main dials. If you are in search of a true workhorse that is ergonomic and quite capable, we assure you that your search ends right here.
Pros
Solid construction
Tilt and swivel LCD screen
Weather-safe
Cons
Complex menu framework
One card space
9. Pentax K-1 Full Frame DSLR Camera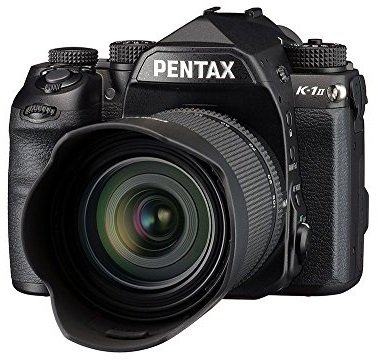 My penultimate pick is another striking DSLR. The Pentax K-1 sports a huge full-casing sensor working in the optical viewfinder and has the feature of picture adjustment as well. Its ergonomics and ease of use add further to its allure.
The K-1 resembles the K-3 at first look and feels truly comparative as well. Clearly, there are a couple of contrasts. Pictures are enormous and are stunningly sharp, and essentially marvelous when combined and clicked using the right lens.
The camera can look a little complicated at first and can be hard for beginners to understand the features. But one can get used to it in no time. Just play around with the features for about half a day, and the camera feels like a characteristic expansion to the hand.
While the camera looks gracious and stunning, the addition of new dials makes the LCD screen a little smaller. This is not much of a concern when compared to the amazing features the camera has. Well, we can't have everything, can we?
It may not be the most famous camera here but glancing through the online audits, we discovered a lot of positive remarks, over 95%. The ergonomics are likewise satisfying; with numerous clients saying it's a delight to hold and is quite easy to work with.
The camera has the "at your fingertips" function and the settings dials. These let you select various options with ease without wasting any time. The camera has an all-metal construction, but it makes it a little heavy as well. If you intend to use this for a longer duration, you better have a tripod handy.
The camera, like the others on this list, has a good weather-sealed body. If you are planning to shoot outdoors, you can pair this up with some weather-sealed lenses, and you are all good to go. Another worthy feature of this camera is its articulation system.
Several users have actually moved up to this model from K-3. Others have taken a leap after using cameras from brands like Nikon, Sigma, and Canon. Though Pentax K-1 is not the latest model in town, it is for sure loved by many photographers to date, and hence it still continues to sell.
Just get online, and you will for sure find some irresistible offers on this one.
Pros
Weather fixing
Articulating screen
Face discovery
2 capacity openings
Cons
No touchscreen show
Heavy body
10. Fujifilm X-T1 16 MP Mirrorless Digital Camera
My tenth and last pick is the Fujifilm X-T1. It has a normal 16MP goals sensor and a spending sticker price. It's an extraordinary camera in case you're simply plunging your toe into wedding and picture photography.
Wedding photography can be a little challenging when compared to other styles of photography. You need to give your best with the best gear in hand as you need to capture moments from the big day.
Also, with regards to shooting on an enormous day, there are no dress practices. Hence it is important that a wedding photographer needs the correct devices to take care of business.
Fujifilm X-T1 16 MP is a good mirrorless camera that performs well. As there are no mirrors included, this particular model is lighter when compared to the other DSLRs on the list. It has a very quiet shooting mode as well, and a WYSIWYG viewfinder.
The lower cost of this model is another factor that motivates wedding photographers to purchase this. If you are on a budget and are looking for a decent full-frame camera, you can opt for the Fujifilm X-T1 16 MP without a second thought. The X-T1 has been used 2 years longer than the X-T2, and that is uplifting news for purchasers.
Professionals can pair this up with some prime lenses to capture the perfect shots.
With excellent build quality, the Fujifilm X-T1 16 MP comes with a 3" screen that tilts and hence enables you to capture images from various angles. This feature comes in handy when you are using a tripod as well.
Pros
Ergonomic plan
Lightweight
Tilting screen
Weather-safe
Cons
No picture adjustment
Low battery life
No Touchscreen Display
How to choose the best camera for wedding photography?
Choosing the right camera can be tricky, especially when you have to shoot a wedding. Wedding photographers have a lot of pressure as they need to capture the pure essence and magic of the most special day in the couple's life.
This is one of the reasons why it is important to choose a camera that is reliable and of high quality. You need to have the perfect gear that enables you to capture and deliver the best, whatever the location or the light condition may be.
So, how do wedding photographers pick the camera that will go with them from the preparing shots to the supporter hurl?
As a photographer, it is important to know what you require in the camera you are looking for. Mentioned below are a few factors that will certainly help you make the right choice by helping you to pick the wedding photography camera that accommodates your style – and spending plan.
The Sensor
What might be compared to film, a computerized camera's sensor decides the nature of the pictures or possibly works close to the focal point to decide picture quality. There are picture quality factors that you can't see from a rundown of tech specs alone.
So, it certainly helps to give it a thought about how good the sensor of the camera is before going ahead with the purchase. The bigger the sensor, the more light it can accumulate from a solitary shot.
Full outline sensors are seemingly the most well-known among wedding photographers. They are enormous enough to catch bunches of light and bokeh, yet not as huge or costly as medium-configuration cameras.
Full-edge sensors are what could be compared to shooting 35mm film.
Photographers can also pay attention to the sensor design and choose according to their unique style.
The Resolution
While the sensor size of the camera highlights the image quality, buyers also need to pay attention to the resolution or in simple terms, the megapixels. Megapixels are important, and an image with a high megapixel count will provide flexibility during crop function.
Such pictures can easily be printed on a larger scale with ease.
If you are looking at low-light shots, it is good to choose a camera with a lower megapixel count. It is important to choose a camera that has the right balance of all features.
Autofocus
Wedding photography is different from landscape or portrait photography as it involves subjects that move.
Hence, it is important to choose a camera that has quick and accurate autofocus. You can just go through the specifications of the camera to know more about the autofocus feature it has.
Performance in low-light conditions
Wedding photography can also include low-light conditions. So, the camera you choose should provide excellent support when shooting in low-light conditions.
Buyers also need to check for the ISO performance of the camera. There are some reliable cameras that come with noise reduction even when used at high ISOs.
The Speed
Does the speed of the camera really matter? Well, it does. Imagine you had to capture the moment when the bride walks down the aisle and wants to capture the very moment she smiles, looking at the groom. This is when cameras with a good shutter speed come in handy.
Along with this, you need to have a camera that has quick and quiet autofocus.
The Size
Wedding photography can be daunting at times, especially when you need to carry the equipment for hours together. Hence, it is important to choose a camera that is lightweight and easy to hold. Remember that tripods cannot be used in every situation.
So, you certainly need to have one camera that is light in weight and smaller.
The Price
This is one of the most important factors you need to consider before choosing the best camera for wedding photography. It helps to have a budget in mind before you start exploring options. You need to know if you intend to use it occasionally or as a professional.
A pro wedding camera can cost anything between $1000 to $3000 and can be a little expensive if you are looking only for the best.
User Interface
This is one of the important aspects to consider a good user interface will allow the users to make any changes with ease. There might be various kinds of settings and situations photographers encounter, and hence, it is important to choose a camera that provides needed manual control.
Dual SD cards
Cameras that come with two SD card openings prove to be useful. You can compose similar records on the two cards to stay away from a very common blunder causing each wedding photographer's bad dream: losing the pictures.
Battery Life
Wedding photography cameras are used for shooting throughout the day, and hence you need to pay attention to the battery life of the camera you are planning to purchase. There are DSLR cameras that have come with excellent battery backup there are others that include an additional battery.
Make sure you check for any extras you might receive when you purchase the camera.
Final Thoughts
Wedding photography is demanding work that requires a superior DSLR camera that is worked to meet as well as surpass the photographer's needs as far as speed (to catch those significant minutes that can never be rehashed) and picture quality.
All things considered, full-outline DSLR cameras, like the Canon EOS 5DS Digital-SLR Camera is the best and most consistent alternative for wedding photography.
Because of its quality sensors, full-outline cameras produce the keenest and most nitty-gritty pictures. This is totally significant in wedding photography, where flawlessness is absolutely critical.
So, choose the best cameras for wedding photography and transform regular photo shoots into something unique and interesting!