When it comes to finding the Best Point and Shoot Cameras under $300, it is all about trying to find the best balance possible.
Today, the Point and Shoot Cameras are taking up the largest segment in the digital photography market. They are designed to be affordable and offer you a simple way to take great images with higher stabilization.
You just need to click the shutter button to allow the camera to automatically adjust the shutter speed, aperture, focus, and light sensitivity.
As compared to the DSLRs, the Best Point and Shoot Digital Camera offers interchangeable lenses, more manual controls, larger image sensors, and more. Since they are compact in size, they can easily slip into the jeans pocket.
With so many models in the market today, it becomes quite challenging to find the Best Point and Shoot Cameras under $300.
But, below is a list of some great camera models which are worth buying. Just have a look at the models and the buyer's guide.
10 Best Point and Shoot Cameras under $300:
1. Canon Powershot ELPH 360 HS
Canon PowerShot ELPH 360 HS is the PowerShot Series by Canon that comes with a long zoom and packed with many new features that are available at such a lower price.
With 12X zoom ability, this point-and-shoot digital camera has got the equivalent of a focal length of around 25-300mm.
This feature enables the users to take images from a slightly broad-angle focus to ordinary telelens. The camera comes with a larger aperture that ranges from f/3.6 to f/7.0 and to support the users the camera has got integrated optical image stabilizer.
Canon PowerShot ELPH 360 HS comes with many new features and filters like "Creative Mood". Rather than transferring the images to Lightroom first, you can share them directly.
It comes with built-in Wi-Fi, and it allows you to control the camera remotely via its dedicated Android and iOS apps.
The burst rate of the camera has been upgraded, and now it can shoot at a rate of 7.2 frames per second. This is something helpful when it comes to shooting some sports or doing wildlife photography.
The battery life of the camera is sub-par it lasts only a few hours with a single charge and this is something that disappoints the users.
Moreover, the low light photography with the camera is also sub-par, and the internal noise reduction system will smoothen the image too much at the ISO settings of 3200.
Besides, all these factors the camera is very reasonably priced and is worth investing in. The long zoom ability and higher image stabilization and other factors make it a good choice.
Pros
Faster and Optimal Performance
Built-in Wi-Fi for Direct Transfer of Images
Decent Image Quality
Fits into a Pocket Because of Compact Size
Cons
Sub-Par Battery Life
No Touch Screen Display
2. Canon PowerShot SX620 Digital Camera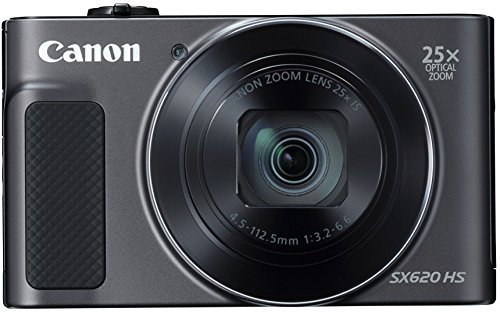 Canon has excelled in the domain of the best point-and-shoot digital camera with the launch of the latest and upgraded models of digital camera. One such model is Canon PowerShot SX620 Digital Camera which is a boon in digital photography.
With minor updates and beefing up with new features the budget digital camera, Canon PowerShot SX620 Digital Camera has been launched.
Canon has not upgraded the sensor size as it remains the same as its predecessor, but the CCD type has been changed and it is replaced with the latest CMOS Sensor. This is the sensor with an average size in this category. Canon has included a new optical zoom in this model which is around 25X optical Zoom.
Despite its increased zoom capacity, it doesn't get darker in the long end, and this is a great factor. To support the image quality, it comes with an aperture of f/6.8.
The burst rate of the camera has been updated with a 2.4 fps burst. It is not a fast-speed burst mode in this price range indeed. But, the model helps you to get the speed needed across all the models. As long as modes are concerned, the camera comes with manual models that are rear at this price point.
At this price range, buyers would love to have an auto mode to select the exposure settings. This camera might not be the good travel zoom on the market today, but it is the Best Budget Digital Camera.
Don't expect any miracle with this camera, but you can expect good value and versatility with this camera.
Pros
Powerful 25X optical zoom
Built-In Wi-Fi
SMOS Sensor for Clear Images
Capture Spectacular 1080p Full HD Video Recording
Larger 3-inch LCD Screen
Cons
Charging of battery is not through USB
Wi-Fi Setup is complicated
3. PANASONIC LUMIX FZ80 4K 60X Zoom Camera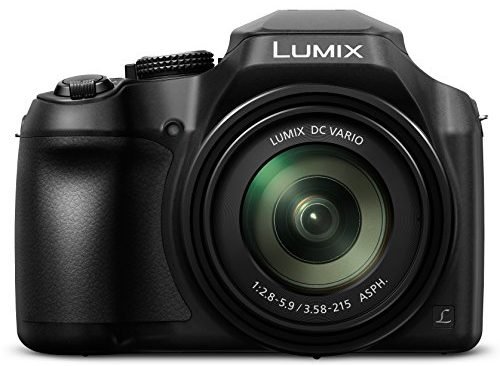 Mixing multimedia recording versatility with longer zoom abilities, the PANASONIC LUMIX FZ80 4K 60X Zoom Camera comes equipped with an expansive 60x zoom lens with higher resolution for stills and 4K video recording functionality.
With a higher 18.1MP higher sensitivity MOS sensor, the camera has a higher level of sensitivity of ISO 6400 for working even in low lighting conditions.
It comes with a ten fps shooting rate and has the ability to UHD 4K/30p video recording at the speed of 100 MBPS. The camera's 4K functionality can be extended for still applications, and this allows for 30 fps shooting with 8MP and the ability to make use of the Post Focus for selecting specific points of focus after the shooting is done.
This kind of image asset has been complemented by the Lumix DC Vario lens that comes with a 20-1200mm equivalent focal length range combined with POWER OIS to reduce the appearance of camera shakiness for sharper shooting with hands.
To optimize the performance of PANASONIC LUMIX FZ80 4K 60X Zoom Camera, it has been attributed with an ergonomic body design that includes both the 1.166, electronic viewfinder for eye-level monitoring and also 3.0" 1.04, dot touchscreen LCD display for the intuitive controlling of the menu and shooting settings of the camera.
The camera comes with built-in Wi-Fi which allows the users to connect the device with a PC or TV for video sharing and viewing. For 4K video recording, the camera uses the MP4 file format, and it records videos with 2840×2160 pixels.
It can record 4K videos with 30 fps and can cover up to 60 fps in Full HD format.
Pros
Powerful 60X zoom lens with wide-angle setting and ultra-tele function
Affordable camera for photographers
18MP photo resolution and supports 4K video recording
Cons
The small sensor produces noisy images
Video recording with 1200mm even when using a stabilizer system
The fixed LCD screen on the back
4. PANASONIC LUMIX DMC-ZS60S 4K Point and Shoot Camera
Pocket-sized and compact variants like PANASONIC LUMIX DMC-ZS60S 4K Point and Shoot Camera are becoming a top choice for most photographers. It comes packed with a more extended focal range and maintains the same point-and-shoot style body design.
But Panasonic has integrated a variety of features in this model like the 4K capture technology. Photographers or vacationers how to want a high-zoom camera without any interchangeable lens camera must give a try to this model.
Despite the affordable pricing of the camera and impressive features, this camera has a smaller sensor that can take some best quality images beyond imagination.
The camera body design has clean lines and textured grips. The exciting feature of the camera is that it comes with Leica Vario Elmar 30X zoom with 24-720mm built-in optical image stabilizer to reduce the blur at longer ranges.
PANASONIC LUMIX DMC-ZS60S 4K Point and Shoot Camera come with an aperture range of f/3.3 wide and an f/6.4 telephoto lens. So, the images in the low light condition are noisy indeed with this camera.
The camera has a control ring at the base of the lens for manual focus and other functionality. The camera is designed to deliver you 5-axis image stabilization, a faster lens, a weather-resistant body, and more.
On the front panel, there is the built-in, and autofocus-assist lamp, and the top deck comprises the main mode dial, stereo mics, shutter button with zoom toggle, power key, and the video record button.
At the rear panel, you will find the fixed 3" LCD display with 1 million dot resolution.
Pros
Leica Lens with 30X Zoom
Compact Size
Post Focus and 4K Photo Modes
4K Video Recording
Cons
Poor low-light performance
The small sensor works best in daylight
Sensitivity is good for only 800
5. Canon Powershot SX530 HS 16MP Wi-Fi Super-Zoom Digital Camera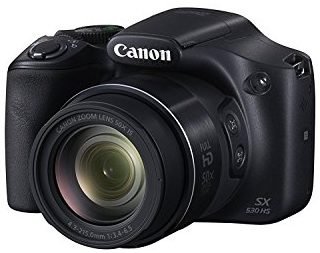 If you are looking for a great zoom on a budget, then giving a try to Canon Powershot SX530 HS 16MP Wi-Fi Super-Zoom Digital Camera would be a practical move indeed.
It is a well-rounded camera with fantastic zoom capabilities as it combines an expansive zoom lens along with higher resolution imaging sensors, extensive sharing capabilities, and more. PowerShot SX530 HS is a convenient and versatile point and shoots digital camera designed by Canon.
The camera comes with 16MP of the high sensitivity CMOS sensor and a DIGIC4+ image processor that is paired together to form the HD system. This capability of the camera allows the users to take notable images with higher clarity, especially in low-light conditions.
The camera comes with an amazing 50x optical zoom capability and 4x digital zoom. So the tricky far-away shots will not be a problem anymore.
Apart from the 16MP of the sensor, the camera combines an intelligent image stabilizer along with a higher burst rate. Moreover, it comprises a 3" inch LCD screen at the rear panel for viewing of the images. It comes with the ability to capture images in 1080p resolution and supports HD video recording as well at 30 frames per second.
The camera is also designed to support Wi-Fi connectivity and NFC connectivity. This allows the users to quickly capture images and shares them on tablets and Smartphone with ease.
The camera is backed by a new Advanced Zoom Framing Assist Function which helps the users to capture and track the subjects with precision. It has higher-speed autofocus and a DIGIC 4+ image processor.
Pros
50X optical zoom and 4X digital zoom
Intelligent IS and Advanced Zoom Framing Assist Function
Backed by Canon DIGIC 4+ Image Processor
Record videos with 1080p resolution
Cons
Above-average dim light images
6. Kodak PIXPRO Friendly Zoom FZ53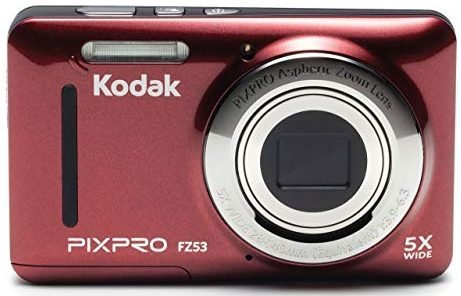 If you are just a casual photographer looking for Best Point and Shoot Camera Under $300, then Kodak PIXPRO FZ53 is the best choice indeed. This is the camera model that comes with an attractive design, and many amazing features.
With this camera, you get a 5X zoom lens which is quite impressive indeed. It is a lightweight model and compact too, so it easily slips into your pocket for causal outdoor shots.
The camera supports out-touch HD video recording with its 28mm wide-angle lens and with its 16MP of SSC sensor, you can easily capture pictures with real-life clarity and contrast. The 5X optical zoom of the camera helps you to get right in the middle of the action.
It allows you to capture everything without having to take back a step and it is supported by a 28mm wide-angle lens and can capture 720p HD videos and view the captured images on its 2.7 inches LCD screen.
Kodak PIXPRO Friendly Zoom FZ53 has a higher optical zoom in a slim-fitting design, and you can grab handy images with a 28mm wide-angle lens.
Users will be amazed by the performance and capabilities within the friendly zoom of the camera and thanks to its 16MP CCD Sensor that lets you do more like enlarge, zoom in, and crop your favorite shots without compromising on the quality.
The camera also comes with auto-detection settings which make all the difference in the images. You merely need to select ON to engage the Smile, Face, and Blink detection on the camera, and relax with fun without worrying to miss the perfect shot.
Pros
Cheapest model
Enables 2.6 fps continuous shooting
Very less image noise
Wider aperture lens
Cons
Lacks Wi-Fi Connectivity
Takes longer to focus on the subject
7. Sony Cyber-shot DSC-W830 20.1 MP Digital Camera
Photographers would agree with the fact that it is never easy to capture images with higher detailing. But, this is not the case with Sony Cyber-shot DSC-W830 20.1 MP Digital Camera as it comes with all features required for detailed pornography at an affordable rate.
Sony DSC-W830 is a compact-size, pocket-friendly point-and-shoot camera that comes with features like a 20.1MP sensor, ZEISS lens with 8X optical zoom, optical SteadyShot image stabilizer, and fast autofocus.
It allows you to capture beauty and moments effortlessly with its high-resolution 20.1MP sensor that works with built-in autofocus for clearer, sharper, and finely detailed images.
Users can zoom in with its 8x optical zoom and capture the scenes in razor-sharp clarity using the advanced ZEISS lens integrated into this model.
The best part of the Sony DSC-W830 is that it can stitch together automatically the high-speed burst of frames to create the best panorama shots capturing the entire scene.
The Sony DSC-W830 is designed with 720p MP4 movie mode which can allow you to shoot 1280×720 high-resolution movies at the speed of 30 fps which is the standard format when working with a PC.
The shutter speed is clocked at 1/10, and it can work well with the 8x zoom feature.
Pros
Sweep panorama mode allows you to be creative
Higher shutter speed clocked at 1/10
720 MP4 compatible HD-quality videos
Built-in flash to work optimally in low-light conditions
Cons
Connectivity Issues
The picture quality sometimes lags
8. Panasonic Lumix DMC-ZS60 Digital Camera
Panasonic Lumix DMC-ZS60 is the best travel digital camera that comes with solid image quality throughout its zoom range. Panasonic has recently upgraded this model and added 4K video onto its already solid camera.
The camera sports an amazing 30X optical zoom with a 1/2.3" sensor. The sensor is optimally combined with 3cm macro mode which makes it is the most versatile camera.
The camera has a smaller sensor which makes it more of a consumer-type camera it offers manual modes and RAW shooting for creative control, and its simpler automatic modes are still available in the model.
But, the biggest upgrade in the camera is the addition of 4K video recording with 15 fps. The camera can also record 1080p videos at a smooth 60 frames per second.
Panasonic Lumix DMC-ZS60 Digital Camera has the 4K capability that can create amazing 4K stills with burst mode and it can shoot images as fast as 30 fps. The camera comes with an optical image stabilizer that keeps the images sharper throughout the zoom range.
Apart from the powerful zoom, the camera is dependable for general photography in good lighting conditions. The camera comes with an 18MP chip measuring 6.17×4.55 mm which is not too large and the images start looking mottled beyond ISO 400 sensitivity.
Pros
The powerful 30X zoom lens
Touchscreen LCD
Compact and Solid Design
Cons
Lacks in low light performance
Unimpressive 4K video with wobbly distortion
9. Nikon Coolpix L340 20.2 MP Digital Camera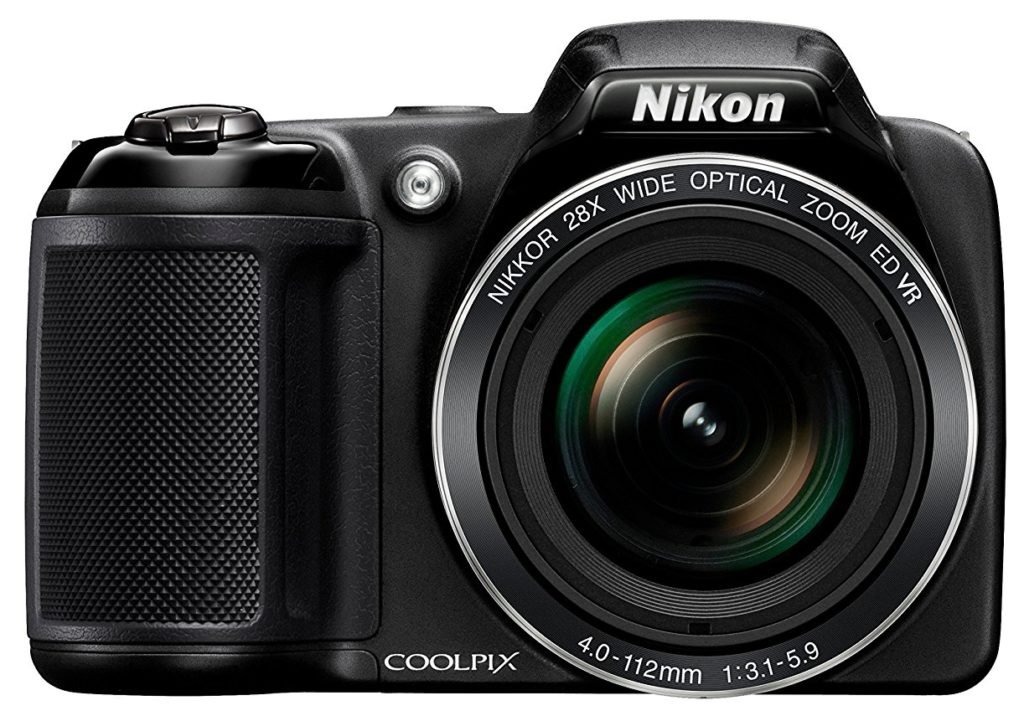 Nikon Coolpix L340 is an affordable digital camera for perfect point and shoots sessions. It is the camera designed as the upgraded version of L330, and hence you will see many new upgrades with this model.
The camera comes with a powerful 28X optical zoom and 56X dynamic fine zoom with a focal length of 22.5 – 630mm.
The camera is backed by a 20.2 MP sensor that is capable of capturing images as it has a higher light sensitivity of ISO 1600. The camera can be used for recording videos as well in 1280×720p HD resolution. The camera comes with six different special picture effects to customize the shots as per your needs.
Some of the other unique and amazing features of the Nikon Coolpix L340 are Smart Portrait Mode, scene-detecting automatic mode, and more. The lens of the camera can soften the skin and even warn you if someone blinks while capturing images.
Nikon Coolpix L340 is a compact-size camera weighing only 430 grams, and it comprises a chunky design, rear thumb rest, and larger rubber hand gripping. Although the camera is designed like a bridge model, it is more like a compact point and shoots snapper.
The camera has controls that are restricted to the essentials like self-timer, scene modes, macro mode, video recording, flash mode, and more. It comes with a 3" LCD display that offers great viewing of the images and videos captured.
Pros
Higher battery life that allows 370 shots with a single charge
3" LCD screen for better viewing
Capable of recording 1280×720 HD videos
The chunky design allows firmer gripping.
Cons
The screen has limited viewing angles
Lacks in the rechargeable battery pack
10. Nikon COOLPIX B500
Nikon COOLPIX B500 is the best point-and-shoot digital camera which comes with an amazing 40X optical zoom and 80X digital zoom to maximize and enhance the optical performance. You get a 3-inch 921K dot tilting LCD screen that allows you to view and take excellent photos from different angles.
Another great feature of the camera is that it is controllable remotely with a tablet or Smartphone.
It comes with 16MP 1/2.3" BSI CMOS Sensor. It has built-in Wi-Fi and NFC connectivity and it also supports Bluetooth connectivity which allows you to share your photos and videos. Because of its 7.4 FPS and ISO 6400, you can enjoy continuous shooting with the camera.
The best thing about Nikon COOLPIX B500 is that it comes with multiple zoom options for capturing faraway images. This camera has the best optical zoom capacity as compared to all other models out there. Moreover, the camera sensor is combined with the NIKKOR f/3.0-6.5mm ED lens, and the zoom range extends to an impressive 40X with a dynamic digital zoom function which is actually double that range.
The camera is capable of capturing Full HD 1080p videos at 30 frames per second. All these points make Nikon COOLPIX B500 a versatile camera at this range which is perfect for continuous shooting because of 7.4 fps and ISO 6400.
Moreover, the camera goes all the way long to deliver you 18 scene mode and the full angle LCD display which can tilt and make it easier to compose shots and also to track the recording of the videos.
Pros
Powerful 40X Optical Zoom with Dynamic Digital Zoom Function of 80X
Multiple Connectivity Options
18 Scene Modes
Supports continuous shooting
Cons
Poor performance in dim light conditions
Buyer's Guide – Best Point and Shoot Camera under 300!
Capture Action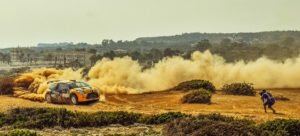 When it comes to shooting moving objects, the Best Point and Shoot Camera Under 300 offers some assistance indeed. They come with an autofocus feature that locks to keep the sharper focus on the object.
The other Small Digital Camera models come with a capacity of continuous shooting mode which allows the users to capture several images per second.
Looking for a faster shutter speed is the niche bonus because it will enable you to freeze moments in time.
Level of Detailing in Photographs
The sensor size of the camera directly impacts the level of detailing in images. This is the reason why you see grainy photos when it is captured with your Smartphone. The Smartphone comes with a smaller sensor size which is barely the size of a little finger.
But, the Best Point and Shoot Camera under 300 comes with a nice upgrade and the best models have the full-frame 35mm sensor which can make a massive difference in the image quality.
Focal Length & Zoom
Here Focal Length tells the users about the field of view and it is usually explained as a 35mm equivalent value, while zoom explains how far the lens of the camera can reach.
If two cameras have 5X zoom with the ability to cover 28-140mm and 28-120mm respectively, then the latter model can capture better images in tight spaces, while the former would be the best for offering the longer telephoto lens.
But, the pitfall with the Best Budget Camera with 35mm focal length is that it struggles in framing shots when many people in tight spaces.
LCD Display Resolution & Size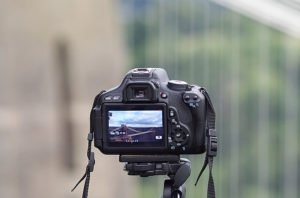 Almost all Good Cameras for Photography come with an LCD screen to review and frame the shots. But, the quality of the display must be optimal. You must choose the Best Point and Shoot Camera Under 300 that comes with a display of at least 2.5 inches, but a larger one would be better.
In regards to the resolution of the display, 230K dots would be sufficient. The Best Compact Camera with 460K or 921K dots would provide the best performance when you are shooting outdoors.
There is also other Best Digital Camera Under 300 dollars which are designed with an articulating screen that rotates 360 degrees, thereby enabling you to take angle shots.
The high-end models even come with a touch screen that restricts the physical control of the camera.
Image Stabilization
Optical image stabilization works to compensate for the shakiness of your hands while capturing images. The Best Point and Shoot Camera Under 300 must have an optical image stabilizer which is useful for such shots.
Unless you plan to shoot on a tripod, it is a crucial factor to consider. Almost all Best Camera Under 300 dollars come with an optical image, and hence you won't find any difficulty in locating one.
Light Performance
Another factor to consider while finding the Best Point and Shoot Camera under 300 is the light performance of the camera. ISO is the factor used to measure the sensitivity of the camera to light. The amount of light passing through the sensor of the camera is maximized when it is increased in the ISO setting of the camera.
The Best Compact Digital Camera is the one that comes with higher ISO settings because it will allow you to shoot blur-free images even in low light conditions.
But, you also need to understand the fact that higher ISO settings mean increased image noise.
HD Video Capturing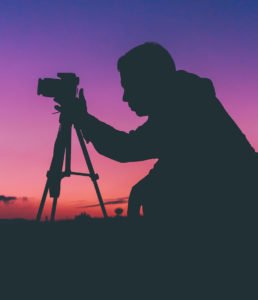 The Best Point and Shoot Cameras under $300 have the ability to capture images and record videos. But, what is essential to look at is the ability of the camera to record HD videos.
Some of the Best Pocket Camera models come with an HDMI output port which allows you to enjoy HD video playback on the larger screen of your PC or TV.
You need to check if the camera has a built-in microphone and enables you to zoom the video while recording.
Above all, the most important factors that you are required to check while searching for Best Point and Shoot Camera under 300 are zoom range, megapixels, resolutions, connectivity options, video recording abilities, and ISO range.
It is very hard to locate the perfect match for every buyer. But for their assistance below is the list of top-rated and Best Compact Cameras for point-and-shoot. Have a look at the review of some models below.
People Also Read:
Best Mirrorless Cameras under $400
Best vlogging cameras under $300
Best Cameras for Fashion Photography