In this article, we have reviewed the 5 best Mirrorless Cameras under Rs.40,000 in Indiaalong with a comparison table and a detailed buyer's guide to help you choose the best camera possible for your needs.
The cameras that are coming these days are getting better each day and the features that you will get will help you in taking shots in a better way.
Everyone relies on DSLRs these days and no one can deny the fact that it can seem quite bulky at times. Thanks to the mirrorless cameras, the size has got significantly compact and it is nothing less of a boon for travelers.
If you are also searching for a high-quality camera, we are here to help you with some of the best mirrorless cameras under Rs. 40000 and we are going to discuss every aspect in detail for your reference.
Even though these mirrorless cameras have become more compact, the picture quality and the overall user experience have significantly gotten better. If you are finding yourself in a dilemma of choosing the camera that fits your requirements, we will also provide you with a detailed buyer's guide in the latter part of the review.
Our team of experts has handpicked these cameras and put their focus on providing some of the budget options that you can purchase without worrying about the interface and the overall ease of use.
5 Best Mirrorless Cameras Under Rs.40,000 in India:
For people who are out in the market searching for the perfect camera that can fulfill all their requirements, we have the right bite for you.
Without any further ado, let's dive in a bit deeper and have an in-depth look at some of the best options that are on sale right now.
1. Sony Alpha ILCE 6000 Mirrorless Camera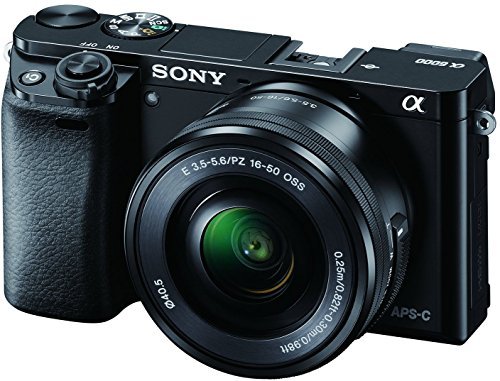 Yes, you may find it a bit above the ₹40,000 mark, you must get this if your primary concern is to get a top performer. We have added on top because of the range of features it has to offer. The compact build and availability of all the necessary features will give you an enhanced overall experience.
It is one of those cameras where you will be able to attach an external mic and place it right on the camera. Due to its smaller form factor and aesthetic design, there are quite a few vloggers that start shooting using this camera.
The picture quality that you will get here will be crisp and it will also be able to capture quite a detailed shot. The APS-C sensor coupled with a faster AF mechanism will allow you to capture the shots in full focus and this combination will also be quite helpful when you are shooting in burst mode.
Users will get a 16-50mm lens packaged in the box and it will be more than enough to start exploring the camera's full potential. Let's weigh the pros and cons for your better understanding.
Pros
The lightweight build of the Sony Alpha 6000 will allow travelers to move easily. It will slide anywhere in the backpack quite easily.
Sony's very own Bionz image processing engine will capture as many details as possible. It is capable of delivering some amazing results in terms of sharpness.
The burst mode will shoot up to 11FPS and thanks to the high-end AF, it will keep the subject in focus.
The LCD display present on the camera can be tilted according to the angle you are comfortable with.
Cons
There is no USB Type-C port and it can be a deal breaker for a lot of people.
2. Fujifilm X-T100 Mirrorless Camera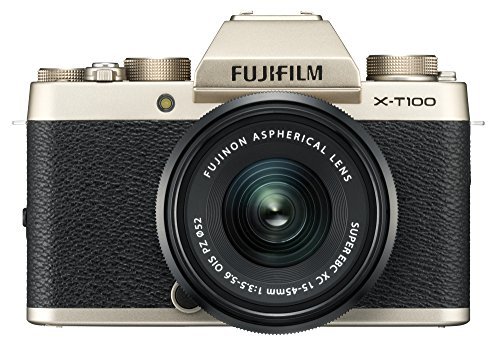 Fujifilm is successfully able to provide a range of automatic features that will include quick autofocus and a lot of manual controls. The Champagne Gold color of the mirrorless camera will give it quite a premium look where the camera will offer high-quality images and videos.
The camera sensor will be 24.2 MP where Fujifilm has managed to provide true colors, all thanks to the APS-C sensor. The camera interface will offer you a wide range of filters where it will allow you to capture the pictures and videos in an artistic way.
Fujifilm X-T100 will also come with a scene recognition feature that will help users in getting the best-suited settings. However, users will be able to get manual control whenever needed. If you have an XF/XC lens, it will be fully compatible with this mirrorless camera.
Pros
The camera from Fujifilm offers quite a swift sensor in terms of shutter speed and autofocus.
The battery backup of the camera is also one of the best in the segment, Fujifilm X-T100 will be able to capture up to 430 shots on a single charge.
Users will also get connectivity features like Bluetooth and WiFi that will allow users to transfer captured pictures and videos in moments.
The screen present on the camera is the LCD one and it can be tilted in 3 ways to get the best view. Having the tilt capability makes this camera one of the best mirrorless cameras under Rs.40,000.
The sensor size is also big enough at 24.2MP where it will be able to capture good results.
Cons
Fujifilm has not included any microSD card in the package.
Users will need some time to get a good hold of the camera in terms of grip.
3. Sony Alpha ILCE5100L Mirrorless Camera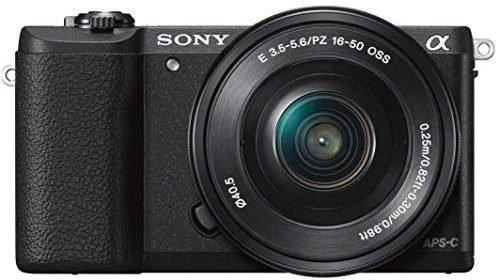 Moving ahead, Sony is one of the best performers when it comes to getting top-notch picture quality. The sensor size is also good enough that the 24.3MP lens will capture the details significantly.
The camera also comes equipped with the Bionz image processor which will allow you to crop the picture without losing any data. The camera sensor will allow you to get the best AF in the segment where the camera will have a total of 179 AF points.
The brand has also put its focus on nighttime photography where the ISO settings range from 100 to 25600. This ISO range will allow you to get the best possible results where you will not see any grainy images in low-light photography.
As it's a mirrorless camera, Sony has managed to provide quite a compact design and users will get to have a very firm grip.
The burst mode will also produce amazing pictures, all thanks to the best-in-class AF. Coming to the battery, the Sony camera is capable of shooting up to 400 shots and up to 30 minutes of full HD video recording.
Pros
The camera can record up to full HD 1080p where it will be able to capture quite detailed shots.
The 3" display of this Sony camera will give you quite a clear view of the frame that you are going to shoot.
The camera is also a very good option for travelers as it's just 281 grams and it will not add any bulk to the luggage.
There will also be all the connectivity features that you will need to transfer the captured pictures and videos.
Sony is also offering a brand warranty of 2 years and the after-sales service of the brand is also quite impressive.
Cons
The video recording time is limited and Sony should extend it for at least 1 hour.
4. Fujifilm X-A7 Mirrorless Camera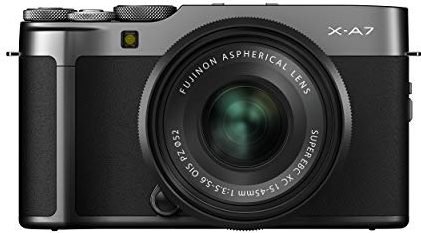 With a very minimalistic and simple design, Fujifilm is again on the list with its other offering that fits right under the said budget. The USP of the camera is its compact design and users will be able to get quite a firm grip when it comes to holding a camera and shooting for long hours.
The APS-C size sensor having 24.5MP will allow you to capture crystal clear shots with high details.
The mirrorless technology has allowed Fujifilm to give it a very lightweight build and it will be quite easier for photographers to carry it around. The LCD screen of 3.5" can also be tilted and it will give you the flexibility to get the difficult shots easily.
The video recording supported by the camera goes all the way up to 4K and it is also capable of having an exceptional AF mechanism.
However, there is one thing that you must keep in mind is that you will not get any viewfinder on this camera and you will need to use only the screen to frame your shots.
Pros
The burst mode of this Fujifilm X-A7 is capable of shooting up to 6FPS. The end results are more than expected in terms of quality, all thanks to the advanced AF.
The sensor size is big enough at 24.5MP where it will be able to get a good amount of light, especially at night.
The video recording on this Fujifilm camera can go all the way to 4K 30p. It will be able to capture detailed shots with true colors.
The display is fully touchscreen and the camera comes with minimal physical buttons.
Cons
The absence of a viewfinder can be a big deal-breaker for a lot of photographers out there.
5. Panasonic Lumix G7 Mirrorless Camera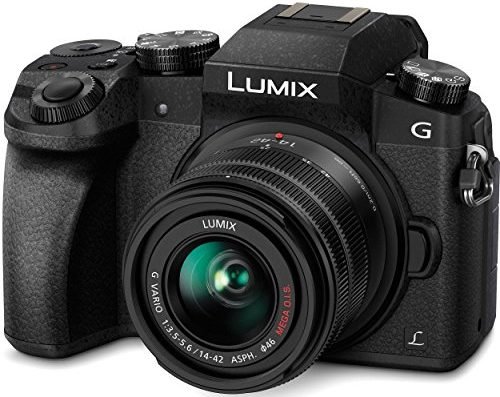 If you are into photography or videography that has some quick movements, the most important feature that you will need is a fast shutter. In this list of best mirrorless cameras under Rs.40,000, we have managed to slide in this Panasonic camera that is capable of providing high shutter speeds.
The camera comes with a smaller sensor of 16MP when compared to its counterparts. However, you will not be able to point out any kind of compromise in terms of picture quality. Lumix G7 is one of the best performers when it comes to autofocus and the camera is also equipped with a 3" touch panel.
The pictures that are captured are at the highest resolution of 6K where the overall experience will be further enhanced by the advanced AF mechanism. The top resolution in which the camera records videos will go up to 4K.
The camera also comes with an in-build 5-axis image stabilization.
Pros
Panasonic Lumix G7 also offers quite good slow-mo videos where users will be able to shoot at 180FPS.
The AF speeds on the camera are also top-notch and you will also get significant help while shooting burst mode.
The camera is also capable of shooting amazing shots with crisp details at night time. The package will include a 14-42mm lens with the camera.
The compact form factor of the camera will allow you the photographers to carry it easily without any hassle.
There will also be a good amount of connectivity options and you will also get a range of ports.
Cons
The USB port on this camera is 2.0 and if you are going to use it for data transfer, it will not be as quick as you expect.
Buyer's Guide to Choose the Best Mirrorless Cameras Under Rs.40,000:
Everyone starts their search by going for the "best camera", it's a blunder that you are making. The camera or any device for that matter that you are planning to buy should be perfectly fit for you and it may not be the one that suits everyone.
You will also need to hold the camera physically in the hands that you are going to buy.
You can reach any local store to experience the look and feel. Here are some factors that you will need to look for and by narrowing down your search to these factors will help you choose a better pick.
User Interface
The mirrorless camera that you are planning to buy should come with an easy interface. If the camera that you are buying has a complex interface, it will not add up to the user experience.
Assuming the search for one of the best mirrorless cameras under Rs.40,000, it is most probably for beginners and a complex interface will make things much more difficult.
Shutter Life
Every camera, be it a DSLR or a mirrorless, is prone to having dirt and dust. A camera sensor is a very sensitive part and it's the user's responsibility to keep it cleaned.
If you are wondering, the best way to get it cleaned is to reach a service center and get it professionally cleaned. If you aren't familiar with the process, there are very high chances that you will end up getting it damaged.
Weight
The weight of these professional cameras is generally on the higher side. However, thanks to mirrorless technology, the brands have managed to fetch down the weight significantly.
It's the factor you must pay close attention to while making the purchase.
Connectivity
In terms of features, the camera should be able to come equipped with wireless connectivity features. The photos and videos that you are capturing should be transferred wirelessly in a hassle-free experience.
For this to happen, the cameras should be equipped with Bluetooth and Wi-Fi for seamless transfers.
Size
If you are planning to buy a camera, the most important factor that you just can't ignore will be the camera size. You will have to experience it yourself as you will hold the camera in your hands physically.
We recommend this especially if you have smaller hands and it will become quite difficult for you to operate.
Battery Life
When you are out in the world capturing the best moments, you need to get a camera that can last hours. If the camera that you are carrying isn't able to make it when you need it, it will not be worth it.
Winding it up: Our recommendations
We are living in a world where it has become quite difficult to gather with friends and family very often. Hence, when the time comes and everyone comes together, you just need to have the right equipment to capture those moments.
After going through the list of some of the best mirrorless cameras under the Rs.40,000 price point, we hope that you can come to a decision.
If you are finding it difficult to choose one for yourself, we are going to recommend two from the aforementioned review that can fit anyone's basic needs.
The first one is the Fujifilm X-T100 camera. This camera has one of the best sensors in the market and is equipped with all the tech features to enhance the overall user experience.
Another one you can choose is the Panasonic Lumix G7 4K camera. The camera sports a 3" LCD touchscreen that will help you in setting up the configuration quite easily. It will save you from juggling around the physical buttons.
Our team wishes you all happy shooting!
Whys and Whats!: FAQs
Is the battery life improved on mirrorless cameras?
When we compare the mirrorless cameras to the conventional DSLRs, battery life takes a hit. This is due to their smaller size factor.
Are the mirrorless cameras also full-frame?
Yes, you will find a range of mirrorless cameras that come with full-frame sensors. However, it will be quite difficult for you to find under Rs. 40,000 price tag.
Do these cameras come with full manual mode?
Yes, the manual controls that one will get on a DSLR will all be present on these mirrorless options.