In this article, we have reviewed the 10 best cameras for Macro Photography along with a comparison table and a detailed buyer's guide at the end to help you choose the best camera possible.
Are you an enthusiast photographer?
No matter if you are a professional or a newbie in this area; the most important aspect that keeps you going is the passion and the eagle's eye to capture the most fascinating moment.
If you are keen on capturing minute-to-small objects in a 'larger-than-life manner, you should possess one of the Best Cameras for Macro Photography.
It can be the beauty of nature, a technological wonder, or even a beautiful person; these things would inspire you to click the best of your snaps. The capabilities of the camera you use would assist you in creating wonders. Therefore, it is vital to choose the right camera for your macro photography sessions and expeditions.
It is important to note, that point-and-shoot cameras can be ideal for this application, as you can zoom to the exact object conveniently.
Here is a list of Macro Photography cameras available on Amazon.
10 Best Cameras for Macro Photography
1. Sony Cyber-shot DSC-RX10M3 20.1MP Digital Camera
Specifications & Features:
This camera comes with a large-aperture zoom lens. The lens size is 24-400 mm. This is a 20.1-megapixel camera with a stacked CMOS sensor & DRAM chip. You can avail of 4k movie recording with no pixel binning.
So, there is no chance of merging the charge on the adjacent pixels, ensuring the best picture quality.
The camera weighs just over 1 kg and measures 13 X 9.5 X 13.3 cm. With its minimum focal length of 8.8 mm, you can optimize the distance from which you can shoot. The camera comes with additional features like auto-focus and self-timer as well.
This camera requires a lithium-ion battery and comes with a rechargeable battery pack, AC Adapter, USB micro cable, shoulder strap, lens cap, lens hood, and several other accessories.
Design, handling & other parameters:
This camera comes with a long focal length. This helps the photographers to attain an optimum distance for shooting the smaller objects. This is an important benefit as it simplifies the handling of macro photography sessions.
You can easily shoot 4k videos with this camera. This increases the video quality and the videos shot through this camera look great even on large-sized screens of various devices. This is the advantage of better visibility.
The built-in viewfinder further simplifies the composing of the best macro photograph. This can be an effective tool to get the proper zoom for every snap you take and every video you shoot.
The large 1-inch sensor allows you to easily make out the resulting picture or the frame of the video you are shooting. This feature makes this camera more suitable for macro photography.
The size of this camera is considerably larger. This can cause some limitations in handling the camera in difficult-to-access areas. The camera may not be as handy as expected for many enthusiast macro photographers.
Pros
Long focal length
4k video shooting enabled
Built-in viewfinder
1-inch sensor
Cons
Larger size
The screen is not touch-sensitive
This camera may seem to be on the expensive side for beginners.
2. Fujifilm X100F 24.3 MP APS-C Digital Camera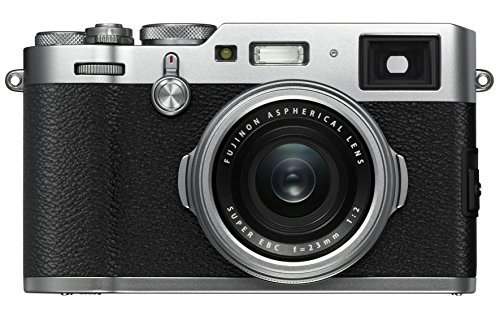 Specifications & Features:
This is a 24.3-megapixel camera for the tremendous resolution of pictures and videos. This camera is loaded with an APS-C sensor with no optical low-pass filter.
This camera provides wonderful experiences for photographers as it can be used for macro photography as per their desire to capture the minutest particles conveniently.
The most important advantage is the upgrade of the focus points. You can make effective use of the 8-way focus lever for attaining 325 different focus points. The possibility of focus points has been doubled compared to the previous model of this brand.
The super FBC 23 mm lens helps you to get a clear view of the smaller objects from an optimum distance. So, even if you don't wish to disturb a living creature on a branch of a tree, and get its closest snap, it can be possible through this camera.
The camera measures 12.7 X 7.5 X 5.2 cm and weighs near to ½ kg.
This comes with a lithium-ion battery that lasts for up to 390 shots. This splendid battery life helps you to use it for prolonged photos and video shoots outdoor. This camera can be remote-controlled with a smartphone as well for added convenience.
Pros
This Fuji camera comes with built-in Wi-Fi
With its 325 focus points, you can get 1.04k dots LCD resolution and 1920 X 1080 maximum video resolution
It offers manual focusing, manual exposure, and RAW shooting as well.
The built-in viewfinder with 2360 dot resolution
Face detection focusing
Tremendous battery life up to 390 shots.
Cons
The camera doesn't have a touch-screen
You don't get an articulating screen
It is tedious to stabilize the image
The camera doesn't come with environmental sealing
3. Panasonic Lumix DMC-FZ2500 20.1 MP Digital Camera
Specifications & Features:
This is a 20.1-megapixel camera that provides tremendous resolution. You can get the maximum vertical resolution of 3648 pixels.
You can achieve 20 X optical zoom with a magnificent shutter speed of 1/4000 seconds. This camera is designed for fascinating imaging performance. The camera can be used to shoot 4k videos at a good speed of 30 frames per second and is also capable of taking 4k pictures with excellent resolution.
This camera is supported by the RAW image as well. With a size of 13.5 X 13.8 X 10 cm, this camera weighs 966 grams. This is provided with a lithium-ion battery without any liquid contents.
So, there are no chances for spillage and other service issues with the batteries. This can be a great advantage for photographers that prefer traveling for long durations for their expeditions in search of beautiful natural macro photographs.
With a screen size of 3 inches, it is easier to determine the proper frame for shooting videos and taking snaps as well. With an aperture of 2.8, beginners and pros can adjust the light reaching the sensor in coordination with the shutter speed.
This feature helps to enhance the image quality to a greater extent.
This camera is touch-screen equipped. So, you can truly enjoy your photography sessions. Though the price of this camera is on the higher side, this can be a good deal as the features and capabilities of the camera make it worth investing in.
Pros
This is a rugged camera, that offered several physical controls
Its high ISO performance makes this camera one of the best choices in its class for the excellent image quality you can attain.
It comes with a versatile zoom lens. So, it is easier to capture every detail of a small object during your macro photography sessions
The camera offers considerably faster and more precise auto-focus. This saves you time and also enhances your creativity while taking the snaps from an optimum distance from the object.
The camera offers unlimited 4k recording as well.
Cons
At the telephoto end, the performance of the auto-focus feature may suffer a bit;
Due to the lack of UHS-II support, the buffer clearing can be slower
At various focal lengths, the lens creates soft corners
4. Nikon Coolpix A900 Camera
Specifications & Features:
This can be a budget-range camera that enables you to record high-definition sights and sounds at a resolution of 3840 X 2160/30p. This 20.3-megapixel camera comes with a 1 /2.3 inch CMOS sensor. Inbuilt Wi-Fi and several manual controls can be other features that add to the user-friendly operation of this camera.
The manufacturers have loaded this device with various features that make it a better choice for macro photography compared to smartphones. It is a compact camera, providing various features that are ideal for macro photography applications.
This 35 X optical zoom camera can be easily slipped into the pocket of your jeans or trousers. So, this is ideal for passionate travelers or enthusiasts that like to combine traveling with some other adventures as well.
Of course, you may miss the larger size of the sensor offered in some other cameras of a similar class. So, there can be some limitations to the low-light performance of this camera. So, it may not be the best choice, if you are looking for a device to accompany you on holiday.
You can strike a balance between a compact camera and a camera offering a tremendous optical zoom of 35 X, making it one of the best cameras for macro photography. The design of this camera may seem like a box; still, it is quite stylish as well.
So, you can expect an optimal appearance of your camera when you take it out to click some snaps or to record a video.
This camera offers a combo of manual and semi-automatic controls. This can be a benefit when it comes to the precision of the frame and the lighting source when you record a video or take a picture.
You can make effective use of semi-automatic features such as aperture priority and shutter priority to enhance the quality of your pictures and videos shot through this camera.
Pros
You can get a long zoom compared to the size of the camera
This is a pocket-friendly and compact version
The tilting screen and SnapBridge are some other features that enhance the performance of this camera.
The price of the camera is budget-friendly compared to the overall features
Cons
The camera is not offered with a touch-sensitive screen
There is no viewfinder, so there might be limitations while focusing on the target object
Low-light performance needs some improvements
5. Samsung WB350F 16.2 MP Smart Digital Camera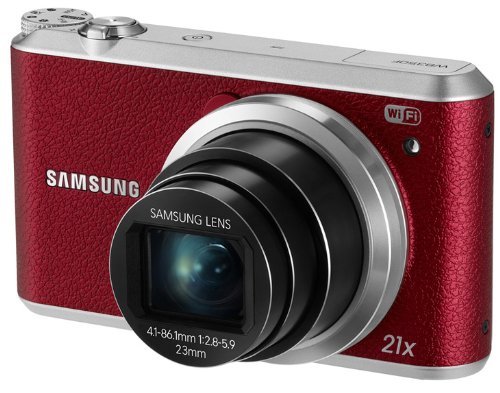 Specifications & Features:
This is among the smart cameras for enthusiasts that wish to share their macro photography pictures on social media. The built-in Wi-Fi allows you to share images and videos instantly through various social media platforms.
You can get a 21 X optical zoom that allows you to shoot from a considerable distance. This is the feature that is very essential if you are looking for a camera for macro photography options. The 1080p HD video offered by this camera can add spice to your portfolios and also commercial projects.
The size of this camera is 11.4 X 2.5 X 6.5 cm. This weighs merely 277 grams. Thus, this is a compact camera that can be carried easily in a pocket. The lowest storage space requirement can be a great benefit, as you can expect a power-packed performance of this camera.
This Samsung camera comes with a 3-inch touch-screen. So, you can get a bright image playback with better control options. This enhances the overall ease of using this camera for long durations, taking several pictures, or shooting many videos in a row.
The Samsung camera is loaded with many smart features as well such as social media upload, email facilitation, photo beam, Direct Link, Mobile Link, Auto-backup on a PC, and much more.
So, the features add to the convenience, when it comes to creating campaigns and presentations using your photographs and videos from other sources.
This camera is provided with accessories such as a wrist strap, USB Cable, Power adapter, Lithium-ion battery (EA SLB 10A/WW), 4GB Card, and case as well.
It is also provided with a remote viewfinder to assist you with proper framing of the images and videos while using this camera for macro photography applications.
Pros
Provided with built-in wireless & NFC connectivity
Touch-screen equipped
Better image stabilization
Panorama shooting
Manual focus& exposure
Compact camera with great features
Cons
The external flash shoe is not provided
Articulating screen, built-in viewfinder, face detection focusing, and RAW shooting features are not available
The maximum sensitivity offered is ISO 3.2
Screen resolution of 460 dot, which is quite on the lower side
6. Canon EOS M100 Mirrorless Camera
Specifications & Features:
This is a 24.2 megapixel, stylish Canon camera offered with a CMOS sensor. It comes with a bit depth of 14-bit. This camera has built-in Wi-Fi, Bluetooth, and NFC connectivity options. Thus, it is easy for you to share videos and pictures on the net through email and on social media networks as well.
This can be an ideal choice for enthusiasts that are looking for their first replacement for the compact camera or smartphone to enhance the quality and capability of their macro photography.
This camera comes with an interchangeable lens and thus it is quite user-friendly as well.
This Canon camera has a tilting 3-inch LCD & an intuitive touch-screen. This brings a great deal of convenience to controls. This feature makes this product stand apart from the competition in this class of cameras. Its 15-45 mm Canon lens offers better-zooming capability through manual controls.
This model is launched in the market in 2017. This camera measures 3.6 X 10.9 X 6.6 cm and weighs 304 grams. So, it requires very less storage space and can be easily carried for your outdoor photo sessions. Its 24.2 megapixel enables you great zooming and you can get a maximum of 4000 pixels vertical resolution.
Its 3 X, digital and optical zoom, and the 3-inch screen would make it convenient for you to focus on the target object during macro photography projects.
So, this can be one of the Best Cameras for Macro Photography. This camera offers good resolution and various other features suitable for the application.
The EF-M lens mount through the lens adapter would be an added feature. With a sensitivity of 100-25,600 ISO, you can expect the most eye-catching videos shot from this camera.
The DIGIC 7 image processor makes this a great choice for capturing the smaller objects that are crucial in macro photography.
Pros
This is a great option among compact cameras with its lightweight and considerably smaller size
This camera provides better wireless connectivity. So, it is easy to share the work with personal and professional contacts online with the same device
Similarly, the files can be easily shared with the other connected devices as well.
The responsive touch-screen can be a great addition to this model
This camera is ideally built for the entry-level and intermediary macro photographers
Cons
The controls provided are very basic. So there are limitations compared to semi-automatic controls
The camera doesn't support a viewfinder. So, it can be tedious to manage the frame of a picture or a video being shot through this camera
There is a need for a much more powerful guided user interface
7. Kodak PIXPRO Astro Zoom AZ421-RD 16MP Digital Camera
Specifications & Features:
This Kodak camera comes with a 16-megapixel focus. It offers a magnificent optical zoom of 42 X. So, the beginners and the intermediary passionate macro photographers would love to have this. It operates at up to 400C and up to 90% humidity.
Thus, it is capable to operate in tough working conditions as well.
It is loaded with face-detection zooming technology and has to fill flash and slow-sync flash as well. It has a 3-inch LCD screen for a better view of the target object. You can be sure regarding the distance, lighting source, and overall view of the object you are shooting from an optimum distance.
This is a bridge-type digital camera designed for medium to advanced photography levels. This is among the best cameras in the Astro Zoom range released by Kodak in the last few years. The controls and operation of this camera are easily understandable.
It offers considerably great results with minimum effort. Some of the added features offered by this Kodak camera can be automatic face detection zooming, optical image stabilization, panorama, and precise object tracking.
Additionally, the pictures taken using this camera can be edited conveniently. So, your portfolios and projects would include the best snaps of the smaller objects when you are using this camera for your macro photography projects.
Kodak Astro Zoom AZ421 comes with a 24 mm wide-angle lens. So, it is easy to take quality photographs at wider angles. Due to the wide angle, you can enjoy better and more space while taking photographs of the landscapes.
Again, you can make effective use of the panorama feature to capture a wide area into one single wide snap.
Are you passionate about taking photos of the target objects from long distances? It is vital to maintain the stability of the camera physically and focus on the target object properly.
With the 42 X optical zoom offered in this camera, it would be easy for you to take the snaps from a long distance and still grab the attention of the viewers on your target object properly.
Pros
You can get clearer and brighter images using this camera compared to the competition. This enhances the customer's attention to your images in any project or campaign.
This is compact and easy to handle
The latest optical image stabilization technology enhances the image quality and your macro photography can be taken to the next level due to the clarity of the photographs
The wide focal range enables you to take the best quality photographs from different distances
It provides better video quality as well.
Cons
The autofocus feature is not satisfactory compared to the expectations
The operation of the camera is slower in some respects
It has a comparatively heavy body and thus becomes difficult to handle.
8. Olympus TG-5 Waterproof Camera
Specifications & Features:
The glamorous-looking Olympus camera comes with a 12-megapixel focus and a large image sensor. This helps in reducing the operational noise and improvement in its low-light performance as well. Its 35 mm lens comes with bright F 2.0 high-speed.
This camera offers a wider focal length and thus it can be perfect for macro photography. It offers a focal length of 30 to 100 mm and has a special super macro mode. This helps you to capture the image of a distant smaller object precisely and conveniently.
This is the camera ideally designed for sustaining adverse working conditions. So, if you are an adventure lover and looking for a camera that can be a part of your belongings in the backpack while moving for an expedition or trip, this can be the right choice for you.
This camera measures 11 x 3.3 X 5.3 cm and weighs 250 grams. This comes with a 4k UHD 2160p resolution. So, you can get clearer and better images with this camera. Its unique action track sensor system can be helpful to capture moving objects from a considerable distance.
Thus, your next macro photo session would be a fascinating experience if you have this Olympus camera with you.
This camera also offers tremendous features such as microscope mode for excellent zooming in, the nighttime live composite mode that enables you to take clear pictures in low light, zero-lag pro capture mode, and raw capture as well.
So, it can be a great addition to your passion for photography, if you wish to create a mark through the pictures you capture.
The camera also comes with various useful accessories such as the compass, temperature sensor, and GPS-enabled field sensor system. This camera is offered with a good battery that would last for up to 340 shots and help you to sustain its power during long working hours.
It offers a 50-minute video recording under standard JEITA testing, and if you are not using Zoom and other controls, you can shoot continuously for about 110 minutes. You can record videos repeatedly for about 29 minutes once the battery is charged.
The camera offers better resistance to environmental factors as well. This is a dust-proof camera and remains waterproof up to 50 feet of depth as well. Its sturdy body can sustain a load of 220 lbs and can sustain a freezing temperature of 140F (-100C).
The camera has a 3-inch widescreen for a better view of your focused object. Thus, you can easily control the intensity and quality of the picture or video while shooting.
These features would make this camera a great choice for enthusiast macro photographers.
Pros
This is a water-proof camera for 50 feet and drop-proof as well for a height of about 2 meters.
This is a dustproof camera and can operate at the lowest temperature range of -100
This has a low-noise 12-megapixel sensor
You can shoot high-speed Full HD 4k videos through this camera
It has a unique in-camera focus-stacking feature
Cons
This camera may fall prey to lens flares
This camera provides a poor C-AF on movies
It doesn't have a panorama mode
9. Ricoh WG-30 Waterproof Digital Camera
Specifications & Features:
The Ricoh camera is offered in a durable design for sustaining adverse working conditions. It can capture better images in various lighting conditions due to its sensitivity range of ISO 125-6400.
It looks sturdy and is practically sturdy as well; as it can sustain shock from a height of 1.6 meters, a temperature of -100C, and water up to 45 feet in depth as well.
This camera is truly amphibious. This is comfortable in the water and even above it. So, you can practically take this camera almost anywhere you want. This enhances your capabilities when it comes to macro photography, as you can also capture beautiful creatures underwater using this camera as well.
This camera measures 12.2 X 3 X 6.1 cm and weighs 190 grams. So, this is pocket-friendly and can be carried in backpacks as well. This camera has a 5 X optical zoom and offers a maximum resolution of 1080p.
It has a fixed LCD viewfinder and thus you can easily take control of the direction and angle of the image being shot.
It has a revolutionary digital microscope mode. So, you can easily capture the close-ups of distant objects from a considerable distance. The 5 X optical zoom allows you to shoot the target object from a distance and this feature makes it ideal for macro photography.
This camera can be a great companion of yours on trips and adventures. You can enjoy being close to nature and also capture magnificent images of the beautiful elements through this user-friendly camera.
It has a 2.7-inch wide LCD screen. So, if you wish to adjust the views, outdoors, the brighter screen can help you with that. This camera is compatible with wireless Air Cards.
So, you can easily share your images through social media or to other devices for further editing and processing as well.
This is a rugged camera designed for extreme sports, everyday adventure, and also for macro photography. You can utilize the features that make it sustainable in all different conditions and also make effective use of the focal length and zooming of fascinating pictures of the smaller creatures and objects, adding spice to your adventures.
For macro modes, the camera has a neat trick on its sleeve. You can focus closer on the target object using this specially designed mode. It is important to note, that this mode can be effective when you are at a distance from the object.
If you try to take a picture of a closer object, there might be some issues with lighting.
Pros
This is the perfect camera for your outdoor adventure or a holiday.
This has a dedicated macro mode that allows you to take closer views of an object.
This avails a great macro shooting performance as well.
This is a compact camera with lightweight yet tough construction
It offers wide choices in shooting mode. So, you can get videos at different focal lengths with the desired accuracy of details.
Cons
It has sluggish autofocus. So, you cannot really rely on the autofocus feature while taking pictures from different distances.
It doesn't come with a Zoom rocker
The overall styling and ultimately the physical or aesthetic appearance of this camera is not that attractive.
10. Sigma DP1 Quattro Compact Digital Camera
Specifications & Features:
This is the camera designed for the 3D feel in the images through its sensational resolution. It also comes with a precise gradation of the details, glorious colors, and an eye-catching, real feel of the image.
So, if you are an enthusiast photographer willing to make the most out of adventures and vacations, this should be the choice.
This is part of the digital camera family, emphasizing the 'art' hidden behind your images and videos. So, if you wish to showcase your vision and talent through the images and videos you shoot during your free time, or even as a professional, this camera should be the best selection for you.
This camera measures 8.6 X 16.3 X 6.6 cm and weighs 1.36 kg. This camera comes with a resolution of SD VGA 480p and also has a fixed LCD viewfinder. So, you can take clear and brighter images using this camera during macro photography attempts.
This supports varied focal lengths with its 3 X optical zoom.
This camera offers, highlighted artistic expressions, and can be ideal for daily adventures as well. This camera can be fantastic for the overall fundamental performance from an artist's point of view.
So, if you are keen on adding an artistic touch to your macro photography and creating wonders through casually taken images on the go, this can be the best camera for you.
Sigma DP1 is a creatively redesigned compact camera with a fixed lens. In fact, this is the camera that we can expect to see in the modern digital era with its classic looks and glorious features.
Though it cannot be carried in your pocket, it can be a must-have if you are fond of macro photography based on real-life experiences on the go.
Pros
This can be considered a discreet camera for street and travel, macro photography even when it has a considerably larger lens
The camera is designed with properly placed, user-friendly controls
Compared to its lower sensitivity of ISO 100-400, it produces a great-quality images and videos
Its design is totally unique and so the camera stands out of the crowd of the competition in the compact camera class
It offers better color reproduction through proper editing of the images.
Cons
This camera can be slow in operation
No image stabilization offered
The RAW conversion software provided is outdated
No built-in EVF or add-on option is availed
No built-in flash and video support.
Conclusion
We have now the technical considerations for choosing the Best Cameras for Macro Photography. We have also seen some of the digital cameras designed for the application.
It would be vital to strike a balance between the aesthetic appearance of the camera, the technical features it offers, and of course the cost as well.
The Olympus TG-5 Waterproof Camera is offered with a dedicated macro mode. Some other cameras also come with digital microscope modes that help you to zoom precisely to the object you are targeting.
If you are ready to compromise with the price part and your priority would be the excellent technical features; then Fujifilm X Series X100F 24.3 MP APS-C Digital Camera could be an optimum choice.
It has an 8 points lever lens offering 325 focus points. This can be a better option too for macro photography as you can adjust the focal length and capture the most glorious images through this camera conveniently.
So these were the 10 best cameras for macro photography. Choose the best according to your needs. if you have any questions, feel free to ask in the comment section below.