In this article, we have reviewed the 7 best tripods for macro photography in the market along with a comparison table and a detailed buyer's guide to help you choose the best tripod possible for your needs.
Real-life macro photography relies a lot on tripods. For some seamless shots, those huge camera lenses need to be supported over a trusted tripod. A tripod is one of those accessories without which you cannot do it.
If you are planning to do some macro photography off late then do consider investing in a suitable tripod.
Macro photography involves high magnification work, so a good tripod can create the difference between normal images and exquisite images.
A perfect tripod can be the best partner for your macro lenses for multiple reasons:
Reduce the blurriness in the image that arises due to the shaking of the camera lenses. Macro lenses are difficult to operate single-handedly. Hence there arise various mechanical jerks while dealing with it. Placing it on a tripod can reduce the problem.
Not all spots are accessible with a camera, especially with a macro lens. If you use a tripod instead, you can rotate the tripod or its head and easily reach out to every nook and corner for some amazing shots.
If you are using long shutter speeds then shooting by hand-holding not only becomes difficult but reduces image quality at the same time.
Make proper adjustments such as white balance, aperture, shutter speed, etc. without changing the position of the camera. You can capture even the smallest objects with your macro lens if you use a tripod.
You can get along some superb focusing techniques with a valid tripod. It enhances the depth of focus as well as clarity.
Best Tripods for Macro Photography
1.

Manfrotto 055 Aluminum 3-Section Tripod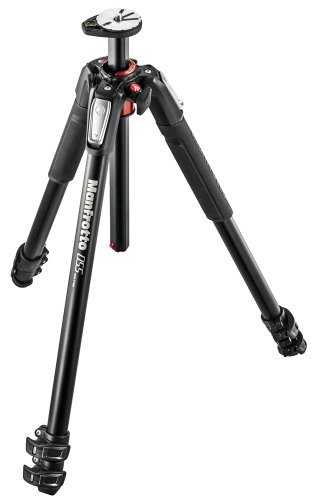 In the world of tripods, Manfrotto is a celebrated name. The tough performance and customizable design are some of its distinguishable features. It is highly stiff with its quick power locks ensuring maximum stability of the camera lens.
This is a heavy-duty tripod that can easily bear camera weight up to 9kgs. For accessing those corners and most crucial locations, 4 varied leg angles, comes at hand easily. This professional 055 tripod is revolutionary in the world of a 3-section aluminum tripod, with an unmatched level of stiffness.
The feature MT055XPRO3 has a 90° column, which allows the column to be extended vertically or horizontally smoothly. Manfrotto was the first brand that had incorporated this amazing feature of a horizontal column within a tripod adding to the overall handling of the tripod.
This makes the Manfrotto tripod support cameras practically at any position.
You can easily switch between horizontal and vertical columns. This can be done even with the camera attached and is not at all a clumsy process. The legs are also fast to extend and adjust.
The single-handed and easy opening of all leg sections is possible by virtue of QPL levers in contrast to normal levers, QPL locks provide extra support and rigidity Ergonomic leg angle selectors allow positioning freedom. This QPL lock scores are high as compared to traditional twist locks in terms of both rigidity and ease of use.
Precise framing is obtained by a bubble level built into the top of the center column. The bubble level can be rotated freely. This is more of a mobile studio unit.
There is a highly functional easy link attachment, you can connect the tripod to photographic accessories like the LED lights and reflectors and get going with your amazing shooting experience.
This tripod features unique and fast leg angle selection, which helps for hassle-free setup of the leg sections.
It is also available in carbon fiber variation which gives it a lighter weight for easy portability. Photographers from all over the world has reviewed it as the best tripod for macro photography.
Pros
90-degree column adjustment and 4 varied leg angles help immensely in setting the tripod in any desired angle
2 years warranty
Increased functionality due to the easy link attachment
Highly secure in terms of setting the camera owing to the quick power lock system
Can support heavy cameras up to 9 kg
Cons
The heavyweight reduces portability
2. Vanguard Alta Pro 263AB 100 Tripod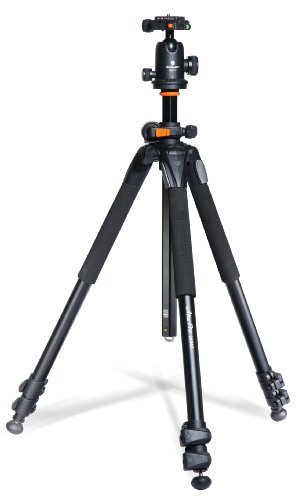 It is one of the best tripods for macro photography and wide-angle shots. It is one of the most flexible tripods for macro photography. The design and functionality have been made such that it can be used by both amateur and expert photographers alike
The weight of the tripod is 2.4kg. it has a normal height but you can adjust the height over a wide range. Extend it whenever the object is at a height and fold it whenever you need to carry it anywhere
The Vanguard Alta Pro is well-suited for low-angle photography. The central column which is hexagonal in shape is highly mobile and you can set it at any angle between 0 to 180 degrees. There is a Multi-Angle Central Column system that allows you to move the central column in various vertical and horizontal positions, making macro-photography easier.
There are 3 different leg angles that can be easily set up. The aluminum alloy and carbon fiber legs can be set up at three different angles.
These are 25°, 50°, and 80°. Along with these easy-release buttons and flip-twist locks are also provided which help with the easy setting of the camera. It has a magnesium die-cast canopy and quick-flip leg locks.
This tripod features non-slip, spiked rubber feet. This makes it easier and safe to use the tripod on any uneven surface. You can set the 3 leg sections individually at respective heights. It comes along with a removable hook which can be a great option for hanging your camera essential kit.
So you can move along with your personal studio.
The Instant Swivel Stop-n-Lock System adds to security by holding the camera in place. For controlling fine tunings, you can use the 360-degree rotatable fluid-like ball head with smooth locking knobs.
This tripod from Vanguard comes with special vibration and shock controllers for seamlessly uninterrupted photography sessions.
Pros
Makes low angle photography extremely convenient
Can support camera weight up to 15 pounds
Comes with 2 year's warranty
A carrying case is provided along with the tripod
Cons
Flimsy in nature and hence subject to lots of twists and vibrations while shooting
3. Benro System Go Plus Aluminium Tripod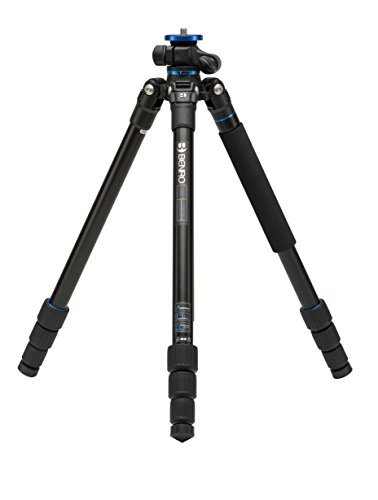 This is one of the best tripods for macro photography, especially at low levels. With the effective features of a travel tripod, it combines the flexibility of a travel tripod.
It is a perfect blend of rigidity and versatility making it suitable and according to people's choice, it secures a fairly high place in this list of best tripods for macro photography.
Built of aluminum and having a carbon fiber finish, this tripod is portable and sturdy both at the same time. The aluminum makes it lightweight and easy to carry whereas the carbon fiber gives it the sturdiness of a compact tripod.
It is constructed of aluminum tubing featuring magnesium and aluminum alloy built up. The material is completely dust and moisture-resistant which makes it a perfect choice for outdoor photography.
The most attractive feature is the versatile 180 degrees rotatable central column. The design is chic and highly functional. The center column can be locked at any specific position across the arc. The center column has three leg angle settings.
It features a quick leg lock system for improved stability. It weighs only 3.5 pounds and can bear a maximum load capacity of 22.1 pounds.
It has stainless spiked and regular screw-in rubber feet. By virtue of these features, you can set it across any terrain. The portability can be enhanced by folding the legs and wrapping them around the central column. The height can be adjusted anywhere between 14 inches to 60.6 inches.
The tripod is compatible with almost all System Go accessories. Hence by choosing any kind of tool you want; you can literally turn this tripod into a mini Photoshop workstation.
It comes with a high-quality padded carrying case. You can easily convert it into a monopod. So in places where a tripod cannot be set up properly, you can always go for the monopod.
Pros
Versatile 180 Degree center column allows unlimited camera positions
Quick leg lock system improves stability
Integrated Monopod makes it doubly functional
The foldable travel design makes it a portable and compact tripod
Compatible with the System Go accessories turning the tripod into a portable workstation
Cons
Lacks a ball head which makes it difficult to rotate the head of the tripod
4. Gitzo Lightweight Series 1 Traveler Carbon Fibre Tripod
The Gitzo Carbon Fibre tripod is one of the most premium and lightweight tripods on this list. it has 6 layers of coating which makes it resistant to all types of mechanical scratches hence making it ideal for outdoor macro photography. It has carbon exact tubes and reverses folding legs.
The mobility of the tripod is enhanced with the Archetype ball head and compatibility with various plates. This ball head allows smooth movement and employs special features for 360-degree spanning.
There is a tungsten disulfide coating on the ball head which makes smooth gliding of the ball head possible. It features an absolutely redesigned G-Lock mechanism which makes the tripod much more rigid, and stronger.
Safer locking and faster operation are possible through this G lock system. This lock type has a very unique gravity locking effect –the greater the load is applied on the vertical legs; the greater strength is shown by the locks.
The center column can be tilted and safely locked at all possible angles. The G lock type used in this series is a traveler-type g lock system which ensures safety in a reduced size.
The legs of the tripod can be individually locked and fixed at an angle ranging from 0° to 90°. The amazing fact about this tripod is that it weighs only four pounds but is capable enough to carry a load of 26 pounds on it offers impressive torsional rigidity. There is a screw knob lock that keeps the ball head firmly placed in its position for straight horizons in your picture.
There is a built-in, retractable ballast hook which is spring-loaded and situated at the bottom of the center column. This helps to hang stabilizing counterweights like sand or water bags.
Upon full extension, this tripod can attain a height of six feet. This feature not only increases the versatility of the tripod but also helps immensely in shooting in various conditions, especially during macro photography. A shoulder strap is attached making it easy to carry the tripod.
Pros
The presence of Removable rubber leg tips helps you to move in for spiked feet whenever needed.
Easy handling and cleaning
Vibrations are diminished and head locking is improved with the help of redesigned bolts and upper discs
Anti-Rotation Leg (ALR) System helps in moving the tripod quickly and easily
Enhanced stability due to the grooved nature of the central column
Cons
Time-consuming leg setup
Not suitable for heavy outdoor use
Little expensive
5. Dolica AX620B100 62-InchProline Tripod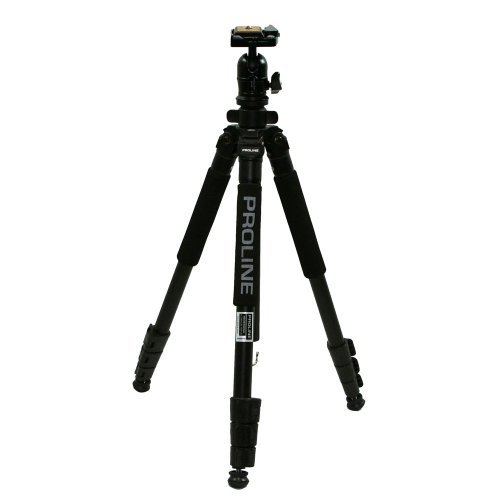 It is a premium-quality Aluminum Proline tripod. It can effectively support weight up to 13.2 -pounds. Dolica's tripod is aptly constructed for both indoor and outdoor photography.
It is a professional product from Dolica and is compatible with all kinds of point-and-shoot cameras and digital SLRs. inclusion of superior features like ball head bubble level and quick release plate. It has a 90 degrees vertical platform.
It is extremely versatile and perfect for shooting at various angles like a Standard-wide angle, semi-wide angle, and full-wide angle. The ball head has a single lever locking mechanism. So you can practically set the tripod at any angle
Amazing stability even in bizarre conditions is ensured with the Quick release leg locks and non-slip rubber feet which are equipped with retractable spikes. It comes in black color. You can shoot panoramic angles equivalent to 360 degrees horizontal frame with this tripod.
The center column has a reversible leg-locking system. This column also has durable flip-leg locks.
There are closed-cell NBR grips. You can adjust the leg at 3 different positions with adjustment locks. It also possesses counterweight hooks to stabilize the tripod.
The integrated bubble level and compass are simply awesome. Setting it up and adjusting is very easy. It is one of the most affordable tripods on the list.
At an affordable price, it has some unique features. So, if you are low on budget yet want something more than just good this would definitely be one of the best tripods for macro photography which you can invest in.
Pros
Extremely lightweight- only 2.9 pounds
Can support heavy cameras up to 13.2 pounds
Comes with a carrying case
Cons
Needs to be balanced with a counterweight to operate properly
6.

BONFOTO B690A Lightweight Aluminum Tripod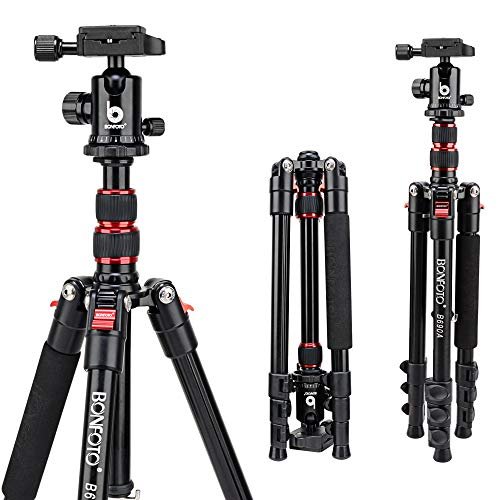 In terms of excellent engineering skills, if something has to be attributed as the best tripod for macro photography, then this is it. Excellent features suited for professional photography are incorporated into this tripod.
Under the flagship of Bonfotto, this tripod holds its head high on the basis of some superb reviews from experts. This is a professional-grade tripod that is designed for all types of DSLRs and other smaller cameras
Constructed out of lightweight aluminum, this tripod is highly portable. 360-degree horizontal swivel and 90-degree vertical platform with a 3-way head allow you to take photos at any angle. Double telescoping center columns are featured in this tripod.
Change in the design and usage of the tripod depending upon the position of the legs that is whether they are folded or extended is an amazing feature.
An extra hook for counterweight stabilization is provided. The weight of the tripod is only near to 1.18 kg. you can carry it anywhere easily.
The full-length height of the tripod is 55 inches but upon compact folding, it can be reduced to 14.5 inches and hence can be easily accommodated within the carrying case that is provided along with it.
Though it is compact, it can be well extended to 53 inches at a maximum which is enough to suffice for macro photography
The ball head has amazing functions. These functions can be mostly divided into two broad classes, the panning function, and the ball joint function. With the help of this ball head, you can practically set your camera at any desired angle.
Amazing bubble level and compass help to take steady reliable shots. The panning function is also superb and gives no room for complaints
Owing to the fantastic screw-secure clips and quick-release mounting plate, the tripod can be set at any place. Attachment and detachment are easier than ever. The tripod remains firmly attached to the ground surface which reduces every chance of accidental fall-off.
Owing to its versatility it can be used effectively to capture 360 panoramic views. The twist mechanism which is used to tighten or loosen the legs is awesome. This cuts off the disadvantages of traditional clamp-fixing mechanisms.
For close-up ground-level shots, you can turn the central column upside down. The detachable ball head screw is extremely good for meeting all the probable shooting conditions. The fact that the whole tripod is a complex assembly of various segments ensures that you can always arrange it as per your requirements.
Almost every part is detachable. With a proper setting and an appropriate DSLR, this tripod can be used for setting up cinematic setups.
Pros
Lightweight and portable
Highly customizable
Suitable for various shooting conditions
Comes with a carrying case
A great option for close-up shots.
Firm and secure
Compatible with a huge range of cameras
Cons
This tripod cannot be converted into a monopod.
7.

ZOMEI 75″ Tripod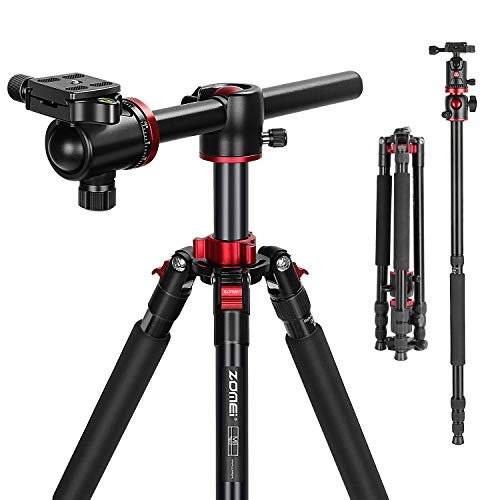 This professional tripod is made of aluminum alloy and is perfect for both indoor and outdoor photography.
It weighs 4.5 lbs. but can support cameras weighing up to 17.5 lbs. The high-quality anodized aluminum alloy that is used to build this tripod is sturdy and robust enough to go through all kinds of situations.
This tripod features quick flip leg locks which help to adjust it at 3 angles: – 25, 50, and 80 degrees respectively. It has a bottom hook for counterweight balancing. It has a universal ball head design suitable for wide-angle panoramic shooting.
This tripod has a superior level of compatibility with all kinds of cameras be it DSLR or anything else.
It comes with a bubble level and a quick-release plate. With the help of the transverse central column mechanism, you can get along with low-level shooting. The height of the tripod can be adjusted anywhere between 24.8 inches to 75.6 inches.
With the 90 degrees ball head, you can shoot invariably at any angle. The leg adjustment locks are one of a kind. You can fold the tripod and convert it into a far more compact one that will easily fit in any place.
It is an excellent space saver.
Pros
360-degree panoramic shooting possible
Portable
Adjustable ball head
You can change the height according to your own choice
Excellent leg secure locks.
Can be easily converted to a monopod
Moderately priced
Cons
Cannot work well without counterweight stabilization
Conclusion
No tripod can be the best tripod for macro photography, because each of it has its own set of advantages and disadvantages. But definitely, there are a few factors that allow some tripods to score high over others.
The first of these factors is definitely versatility and flexibility. Outdoor photography is filled with challenges and exposure to unexpected situations. In such circumstances, your tripod must always be ready to face challenges sternly.
From the above reviews, we came to the conclusion that the Manfrotto 055 Aluminum 3-Section Tripod is the best tripod for macro photography.