In this article, we have reviewed the 10 best tripods for wildlife photography in the market along with a comparison table and a detailed buyer's guide to help you choose the best tripod possible for your needs.
Clicking some amazing wildlife shots requires not only a good camera or lens but also a great tripod. There are many factors that you need to keep in mind while selecting a suitable tripod for wildlife photography.
The first factor you need to understand is that wildlife photography occurs in rugged Terrain when Nature is at its worst. You cannot sit down in a comfortable shooting room for wildlife photography and your tripod needs to be customized accordingly.
A best-suited tripod for wildlife photography must be lightweight so that it can be carried easily from one place to another, and must have enough provisions for high-level portability. In spite of being lightweight, it should be stable and durable.
Tripods used for wildlife photography should be such that they can be easily fixed in different types of surface areas. It should be able to stand tall and strong even in windy situations. The weight of the tripod should be low but it must be able to carry high-weighted cameras.
The tripod must also be compatible with a wide range of cameras. It should provide provisions both for Wide Angle photography and point and click shots. You must be able to set the camera at great heights as well as in times of need it must be able to fold it short.
The material used to build the body should be strong robust and studied to provide great durability and long-lasting life.
Keeping all the factors in mind here is a list of the 10 best tripods for wildlife photography. You can definitely have a look at these before you make your choice for buying.
Best Tripods for Wildlife Photography
1.

MeFOTO

Globetrotter

Carbon Fiber Travel Tripod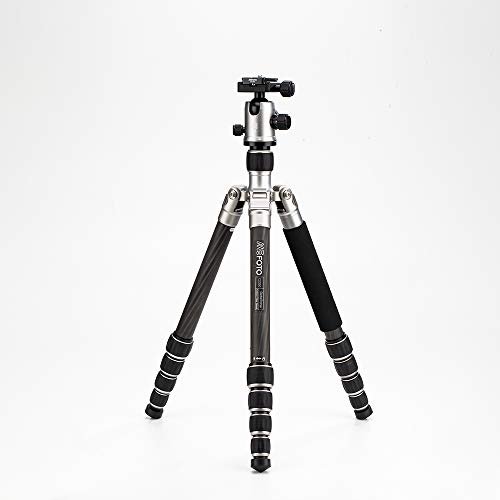 It is a multipurpose tripod and it can be folded up as a monopod anytime. It is made up of carbon fiber or aluminum. It is available in 2 colors that are Black Or Titanium.
You can pair it up with literally any kind of camera for example a DSLR for the camera with a zoom lens. The release plate is Arca Swiss Style. It features a dual Q series ball head. It is portable because it has a fully functional shoulder strap and a carry case.
You can give the tripod a compact size of 16.1 inches just by inverting and folding back the tripod legs. If you screwed it together with the removable Centre column and tripod legs you can easily convert it into an effective monopod.
The leg sections are five in number and extendable in nature which gives you of versatile height range between 16.1 inches to 64.2 inches. Weighing only 6.4 LBS it is highly convenient to be carried to different places.
The flexible leg angle position helps you to shoot at any angle and on any type of surface. It is well suited to function properly in any weather condition moreover it is dust resistant. It has a special rubberized locking grip which helps to set the tripod on any kind of surface quickly and also prevents any kind of fall-off and unwanted slips.
For a firm grip, it uses the anti-rotation and twist-lock system. The integral bubble level prevents head movements. The pan and headlock are separate. With the help of this, you can fix your camera at any possible angle.
You can also have a 360-degree panoramic photographic view and it comes with a 5-year warranty
Pros
Versatile
High degree of movement
Long warranty Period
Easily portable
2. Manfrotto MT190XPRO3 Tripod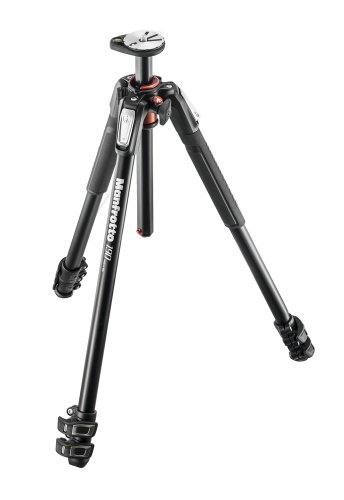 It is a 3 section tripod with horizontal columns and vertical columns as well. It uses a 90° Centre column mechanism. With the help of this, you can extend the column to normal.
The horizontal column can also be extended up to a large range. This makes the Manfrotto Mt 193 perfectly suitable for Wide Angle photography and videography.
The mechanism of horizontal columns can be used for compactness. You can easily switch between the vertical and horizontal columns without any disassembly. You can do the switching even with the camera attached. There are power lock levers attached to each leg section. This helps to adjust, extend, block, and unblock the leg sections.
With the help of QPL Levers, you can achieve single-handed grips of the leg locks. It also provides much more rigidity and stability to the tripods than the primitively designed levers.
The legs are ergonomically designed and that is why you can get the flexibility of movement at almost all possible angles. The freedom of movement is at maximum. For the framing to be precise there is a bubble level at the top of the center column.
You can easily position your camera head anywhere with the help of the freely moveable bubblehead. It helps to get excellent shots around the horizon. You can connect photo accessories like LED flashlights or reflectors with the Easy Link Connector on the top of the tripod.
With so many unique facilities this is definitely as one of the best tripods for wildlife photography.
Pros
Horizontal and vertical column mechanism
Power lock and QPL Levers
Easy Link Connector
Bubble level
Cons
Load capacity is below other tripods
3. Induro CLT103 Tripod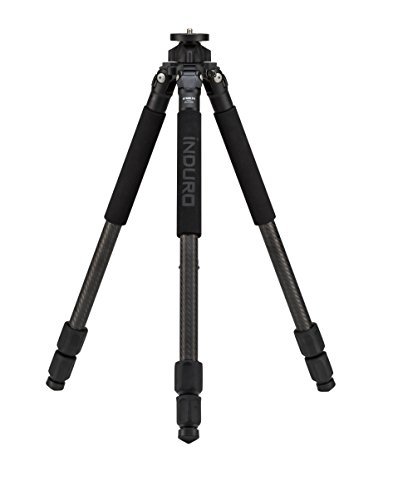 Wildlife photography exposes the photographer to a number of situations that can be very challenging sometimes. And this lightweight tripod is perfect to use in almost every situation.
It has got a perfect blend of traditional tripod design and modern stealth carbon 9x weave fiber. It has a cross-braced magnesium alloy spider with a wide stance. To ensure maximum stability it uses the concave leg angle locks.
You can move the grooved column in any vertical position with the center column lock. Stainless steel Spikes and Rubber feet increase their functionality. The shoulder strap and carrying bag make it easily portable.
It is well-built and has a strong and robust body. It can carry weight up to 30.8 LBS which means what kind of cameras light or heavy can fit in properly. Its own weight is 2.8 LBS going to the material that it is built up, this adds to the portability factor of this tripod.
Pros
Hard anodized aluminum top plate
Added tool kit with spiked feet
Carrying case included
5 years warranty
Cons
At a greater leg angle, the legs often end up being crooked
4. Manfrotto MT055XPRO3 Tripod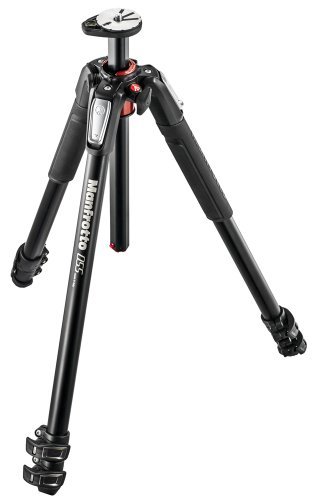 It has a 90 Centre column mechanism Like The Other Manfrotto tripod. So you can extend the vertical length. You can also extend the horizontal coverage which will help you to shoot at wide angles.
You can capture the Horizon properly be it height-wise or width-wise. For precise compactness, the top of the tripod is housed in the horizontal mechanism of extension. You can swap between horizontal extension mode of vertical extension mode even without unmounting of the camera, with perfect ease and comfort.
Modifications require no disassembling and the orientation is perfect. It possesses a 520 HD pro video head and Flat base. This makes the tripod perfect for shooting videos. All types of DSLR cameras and camcorders can be easily associated with the tripod and along with all their accessories.
It possesses a 3/8" female thread. Adjustable tilt drag help to adjust the tripod head with a lot of other photo tripods. It features a sliding quick-release system. This adds to the secondary security of the tripod.
It uses bridging technology and a spring-loaded counterbalance. For improved stability of the tripod, quick power levers are used. The quick power lever system is also seen in the other Manfrotto tripod models. This helps to quickly lock the tripod anywhere and does not makes the shooting surface a hindrance for amazing pictures.
You can powerfully lock each section with minimum movement during shooting. Strong and powerful leg angle selectors help the tripod stand to be positioned anywhere with Freedom and stability.
The easy link connector at the top helps to integrate a lot of accessories like LED flashlights with the tripod. The improved bubble level helps in easy framing and precise Positioning.
Pros
An effective horizontal and vertical control mechanism
Easy link connectors
Quick power lever for Greater stability
Bubble level for improved framing
Perfect for shooting 520 HD pro videos
Cons
Nothing worth mentioning.
5. Oben CT-3561 Tripod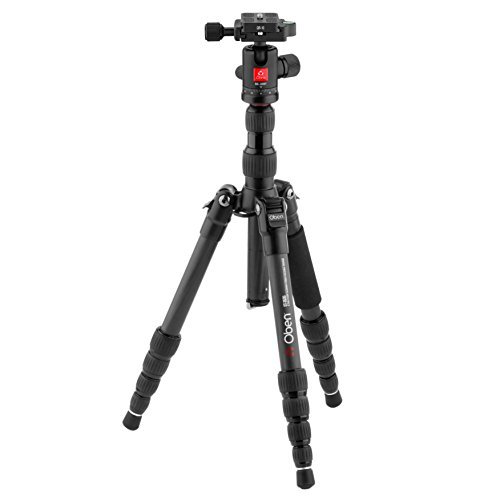 This is a folding-type tripod which means you can fold the legs in the head and carry it anywhere. You can fold the legs up to 180° such that the head becomes hidden in between the two leg sections.
You can easily reduce the height of the tripod so that it becomes easy for you to shoot and make it supportable as well. It is provided with a long column section but according to your requirement, you can replace a long column section with a short section.
The head and short sections can be directly attached to the chances this improves the versatility of the tripod. 24 degrees, 55 degrees, and 80 degrees are the angles at which the legs can be attached independently. This provides large angular positioning freedom for setting up the tripod.
The camera and associated accessories wearing a total weight of 8 kg can be supported on the tripod. It has a maximum height of 163.3cm. When you convert it to a monopod then the height is around 171.7 cm. The weight of the tripod is 1.4kg.
This makes it highly portable.
It has a ball-type head. It also has a quick-release system. It has a 2 × bull's eye type of bubble level. The Carbon fiber material makes it strong and robust as well as keeps the weight at a minimum.
It has a reversible type of head attachment fitting. There are four leg stages and Five leg sections. Twisted leg lock type. You can spread the legs independently. Though the spike leg system is present there is an absence of the retractable feet system.
There is an absence of a center brace. A grooved, Reversible, non-rotating type central column is present.
Pros
5 years warranty
Padded carrying case with tool clip and 2 hex keys
Arca type quick release plate
Panning locks
Detachable legs
Cons
The ball head is not up to the mark.
6. ProMaster Professional

XC525C Tripod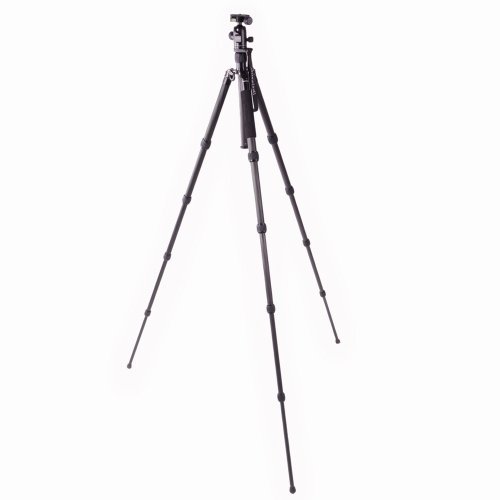 This tripod is a sectional tripod and is composed by assembling five sections together. The legs of the tripod are made up of carbon fiber. Each leg is constituted of 9 layers of carbon.
You can extend the height of the legs up to 5 feet. It has a maximum working height of 150 centimeters without the ball head. The minimum working height is 45.7 centimeters. Before you flip the reversible column you can change the height up to 6 inches. Tripod weighs 6 kilograms.
It has a folded length of 40 cm. The diameter of the leg is 25 mm. The weight of the legs is 2 pounds. Colleagues can be folded up to 180 degrees which makes it versatile and easy to carry. It has a spring-loaded weight hook system.
The ball head can be easily rotated. It is versatile and has high functionality. This tripod can be used as a monopod anytime you wish it has a built-in system for conversion to a monopod.
The head is Arca Swiss compatible. It is lightweight and compact. It can also carry heavy-weighing cameras. There are twisted leg locks.
Pros
Inbuilt monopod
Light and compact
Versatile and easily foldable
Highly functional ball head.
Cons
The twisted leg locks are not up to the mark
7. Vanguard Alta Pro

263AB Tripod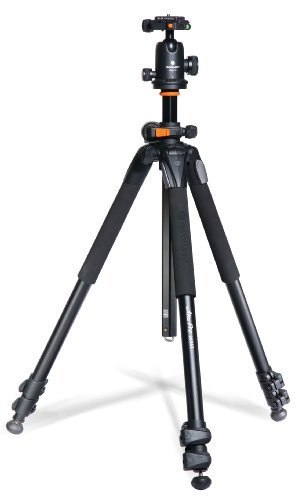 Flexibility is the most attractive feature of the new Vanguard Alta Pro tripod. It facilitates setting the camera and shooting at varied angles. This makes it highly versatile allowing it to be used in all types of shooting conditions. It also sets the benchmark in terms of the stability of the tripod.
It has a hexagonal-shaped central column that can be moved from 0 to 180 degrees with ease. You can set the legs at 25 degrees, 50 degrees, and 80 degrees. It also comes with easy quick-release buttons.
It is available either in the Carbon fiber material setup or aluminum material setup. It has an anti-shock ring. It comes with a magnesium diecast canopy.
The central column is multi-angle in nature which means you can set your camera at any angle. This gives you the opportunity to shoot at what you want. You want you can also take a wide-angle in your photo frame.
There is the availability of flip and twist locks. Nonslip and spiked rubber feet are an added advantage that you get.
When using this tripod you don't have to carry any other kitbag with you this is because you have a removable hook that you can associate with the tripods to hang whatever camera accessories you need. There is a swivel stop and lock system. This secures the central column in a stable position.
The ball head can move 360 degrees. It has smooth lock knobs. You can control fine-tuning functions with this tripod. It also comes with a carrying case.
Pros
Hexagon shaped Central column
Magnesium diecast canopy
Anti-shock ring
Swivel stop n lock
Rubber feet with retractable spikes
Cons
If you use a pan head the tripod won't fit into the case
8. Davis & Sanford TR654C-36 Tripod
The salient feature of this tripod is its lightweight and portability. In spite of being light in weight, it is highly stable. It helps you to shoot in any kind of region and rugged terrain.
It has three independent leg angles. It has rubber and spike feet. The legs are made up of eight layered Carbon fibers. Can be coupled with any type of camera whether it is a DSLR, Mirrorless, zoom lens, or point-and-shoot.
Disassembling the tripod is possible at any time and in any situation which helps in quick transportation and easy storage. It has a maximum height of 65 inches and a minimum height of 9 inches. Quick twist-type leg lock.
Support cameras up to 12 pounds. The weight of the tripod in itself is 3.2 pounds. It has a dual control type ball head. Attaching and removing the camera is now far easy with the Arca Swiss Compatible Quick Release Plate.
It has a calibrated base and ball friction knob. The two bubble level helps to set up the tripod comfortably in every situation. The tripod features an easy glide Centre post. This tripod is an onslaught of popularity because it is highly versatile and easy to be carried from one place to another.
You can achieve various types of shooting Heights with the help of this tripod. There is an attached bottom hook for extra stability.
Pros
Highly versatile
Extremely stable and functional
Can work in various shooting heights
Compatible with different types of cameras
Easily portable
Cons
The central column is not very stable
9. Gitzo GK2542

Tripod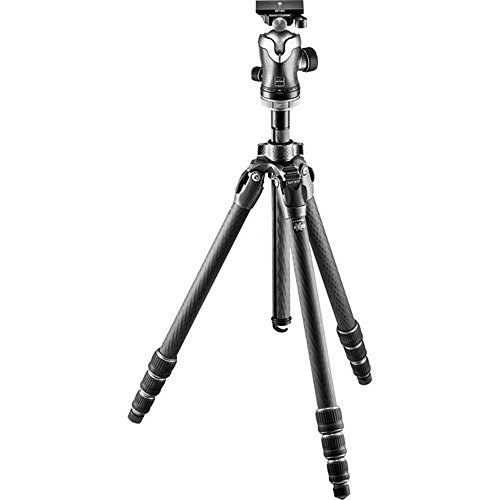 This tripod comes from a mountaineer series that clearly shows that it can be used for shooting in all types of terrains. The tripod is made up of carbon fiber. It features carbon exact tubing.
The lower leg sections are made up of high modulus Carbon fiber. This increases the diameter of the lower leg sections. The improvised leg adds to the rigidity and stability of the tripod. You can extend the height up to 70.9 inches.
This means that whenever you need to shoot at a greater height, you can set your camera with the help of the new Gitzo GK2542 tripod. This is very portable because you can fold it up to 27 inches for the sake of transportation.
It has 3 Centre ball heads. It weighs 5.4 Pounds only which means it is light enough for you to carry.
Pros
Lightweight and compact
Portable
Rigid leg sections
Exact carbon tubing
3 center ball head
10. Feisol Tournament CT-3442 Tripod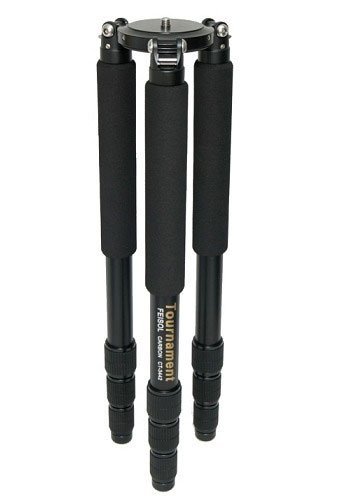 The high-grade engineering design and materials that have been employed to build this tripod are unmatched. Feisol Tournament has its own brand name and stands solo with pride in the world of wildlife photography.
The body is constructed of a 7075 aluminum alloy frame. This makes the body of the tripod highly resistant and stable. The leg sections are composed of specialized carbon fibers which give them durability.
It has a rapid anti-leg rotation Technology. The folding-type legs can be folded up to 180 degrees which makes the tripod perfect to be carried from one place to another. It has an 80 mm diameter. The tripods weigh only 2.31 lbs.
Maximum functionality and minimum weight to carry is the key feature that distinguishes this tripod from others. It has 25 degrees, 50 degrees, and 75-degree preset leg angles. The 1.1-inch leg tube diameter enhances the contact surface area and helps to set the tripod firmly.
The whole body is fixed with stainless steel screws. The mobile Central column ensures risk-free and Secure operation
Pros
High-grade engineering layout design
Finest quality of buildup material
High-level security and stability
Fully functional leg sections
Comes with an attractive tripod-carrying bag
Cons
Setting the screws for the central column is a little bit tricky.
No tripod head included
Conclusion
Keeping in mind the features essential for wildlife photography tripod, the budget, the durability and all other important factors two best tripods for wildlife photography which have also been on the top list as per customer reviews are:-