In this article, we have reviewed the 10 best GoPro cameras along with a comparison table and a detailed buyer's guide at the end to help you choose the best camera possible.
Are you looking for a sleek, small, and highly functional camera? If yes, it is time you check out the best action cameras from GoPro. The brand has indeed changed the way we see the world and has introduced the best cameras that can accompany you on your next vacation.
If you are trekking or taking an underwater drive, just use the best GoPro cameras to capture all the adventure, like a pro.
The best GoPro cameras are simple and can easily deal with the wear and tear you toss at them. These little yet tough gadgets do pack a punch and offer excellent quality video and sound at a sensibly economical cost.
You can use these to film a skydiving film or an adventurous kayaking video or use it to shoot a car race – the uses of these cameras are many.
GoPro has launched various models in recent years and choosing the best among them can be quite overwhelming. Hence, we are here to lend you some advice on which action camera to choose and the factors you need to consider while choosing one.
Let us have a look at the ten best GoPro cameras, their features, the pros, and cons, and understand which serves your needs the best.
And if you are in a hurry, then take a look at the comparison table below:
10 Best GoPro Cameras
1. GoPro Max
The GoPro Max is the best example of the Next-Gen action camera. If you are in search of a 360-degree action camera, this is the one to choose. GoPro shows its efficiency with the new action camera, which enables users to transform a 360-degree video into dynamic footage using in-app editing.
The camera performs well even in low light conditions, and even an amateur can use the device to capture stunning videos and images. Launched with an all-new app experience, users can now use the device to create clips that would look stunning even on a large flat screen.
What's more?
The action camera also comes in handy if you have a blog or a vlog. The 360-degree cam makes it a perfect device for vlogging. The camera features a lens on either side and has a 16:9 screen. The size of the GoPro Max is compact like the other models and comes with a sturdy, yet attractive matter rubberized body.
The record and the power buttons are placed on the top and left, respectively, and the battery flap is located on the right. The camera also has the popular flip-out arms for mounting placed near the base and has six microphones on its body.
Once you slide open the slot provided for the battery, you find the slot for a MicroSD card and a compartment for the battery. The action camera uses a 1600 mAh battery, which lasts longer when used moderately.
The GoPro Max has 16:9 when compared to the taller screens of the GoPro Hero 8 versions. Though it does not come around as the sharpest, it is a touchscreen and has great responsiveness.
The camera offers various customizations for pre-shooting. If you are a beginner, you can choose from the four lenses available – the 13mm, the 16mm, the 19mm, and the 27mm. GoPro Max also has the feature of "HyperSmooth Image Stabilization," which ensures the videos are unshakable, whichever mode the camera is being used in.
For the battery provided, the camera can be used for about a day's shooting, but you might want to pack a few extras if you have plans to use the 360-degree capture.
The GoPro Max is an excellent action camera that is not only easy to use but includes some advanced features like 360-degree capture, image stabilization, and an awesome touchscreen.
Pros
Excellent vlogging cam
360-degree camera
HyperSmooth Max image stabilization
Cons
A little expensive for beginners
Does not include the 4K 16:9 capture option
2. GoPro Hero 8 Black
Hero 8 Black from GoPro is an excellently updated version of its predecessor and includes a number of features that make the users extremely happy.
With features like advanced stabilization, improved microphones, and enhanced apps, the Hero 8 Black is an action camera that is easy to use even in fast-paced situations. The camera features a live stream option that lets users share the videos immediately.
As Hero 7 Black is one of the best cameras available in the market, GoPro hasn't made many changes to the Hero 8 Black but has added a few tweaks in its hardware and software, providing an excellent user experience.
The GoPro Hero 8 Black is much slimmer and has excellent shockproofing and includes a foldable mount and a microphone that is wind resistant. All these features make your videos look stunning when in action. It is said that GoPro has plans to release a number of new accessories called "Mods" for their professional users.
When it comes to the hardware and software, the Hero 8 Black makes use of a GP1 chip and includes a 12 MP sensor, similar to that of the Hero 7 Black. The software has been rewritten to improve the performance of the battery and the processor. Such an upgrade has provided Hero 8 Black with amazing stabilization capacity that complements other functionalities like TimeWrap and HyperSmooth.
The action camera uses HyperSmooth 2.0, which now provides three stabilization modes, namely the On, the High, and the Boost.
A well-known photography feature of GoPro, TimeWrap has been upgraded with the use of new software. Apart from the Wide, Linear, and Digital lenses available, the Hero 8 Black now has a "Narrow Lens" that helps capture close-ups of people or when capturing footage.
If you are looking for a high-end professional action camera that is filled with features and is durable at the same time, the GoPro Hero 8 Black is the one for you. While it does come with a price tag, it is worth the spend.
Pros
Excellent digital stabilization
Durable built-in mount
Enhanced microphone
Time-lapse modes
Cons
Low light performance is not impressive
3. GoPro Hero7 Black
If you are looking for an excellent action camera that has set a benchmark for the other cameras in the segment, it is time you choose GoPro Hero7 Black. The Hero Black7 from GoPro is an action camera that suits the requirements of one and all.
This version has improved image stabilization and includes some of the best features, most of which cannot be ignored. The Hero7 Black's primary selling point is the introduction of HyperSmooth, a great new picture adjustment innovation that offers very smooth and steady streaming, even when you are holding it by hand.
A few users might be disappointed that the Hero7 is much similar to Hero6, but the actual experience of using this device remains unmatched. The Hero7 still has the 12MP sensor and a wide-angle lens, but it also includes many additional features that make it more powerful.
One of the best features of this action camera is the HyperSmooth, which is a video stabilization feature that is said to be equivalent to a gimbal. This feature can be used by users when they are shooting at a rate of 30fps and in 4K. Another feature of Hero7 is TimeWarp, which allows the user to capture a video in a time-lapse shooting mode without the need for a tripod.
The action camera also features 12 voice commands like "GoPro take a photo" or "GoPro start to record video," etc. Users can also observe that the Audio performance has also been enhanced in the new version.
SuperPhoto is another feature of Hero7 that helps capture the best photos. The camera also implements "multi-frame noise reduction" when shooting in low light conditions.
Users of Hero7 can adjust various things like white balance, sharpness, ISO range, and more. This is the very first Hero model that has the feature of live streaming.
So, if you are looking for a feature-rich, tough, and waterproof camera to film your next adventure, this is the one to choose.
Pros
Excellent 4K video output
HyperSmooth
TimeWrap Feature
Amazing Voice order
Live Streaming
4. GoPro Hero 6 Black
If you are looking for the best GoPro cameras that are available at the best price, you certainly need to consider the GoPro Hero6 Black. GoPro Hero6 Black is a powerful camera that is loved by many, thanks to the upgrades it received.
The Hero6 helps you to capture the best videos in high resolution and in slow motion. The camera can be used to capture 4K images and transfer them to your phone in no time.
The tiny and very durable Hero6 is loved by its users for its faster speeds. One of the main reasons GoPro cameras are popular is due to the fact that the picture quality is much better when compared to our smartphones and other devices.
The best feature that makes Hero6 the best when compared to other action cameras in the market is the use of the "custom chipset" of GoPro which was named as GP1 processor. This processor allows the user to use the camera to shoot 4K videos at a smooth frame rate of 60 frames per second.
Users can also use this action camera to shoot slow-motion videos that are of high definition and look natural at the same time. The makers have made a slight change to the design of the camera, but it looks very much like its predecessor, the Hero5. The camera is not only discreet but comes with a stylish logo on its front.
The device is durable and quite compact but feels great in hand.
Hero6 is waterproof, and users can actually use it to shoot underwater, thanks to the Super Suit housing that provides excellent protection. The device has a very sturdy plastic frame that can be used with various camera mounts.
The overall design is light, and its impressive features cannot be ignored for sure.
Pros
Superb 4K video
Waterproof
Enhanced Image Stabilization
12MP stills
Option of RAW shooting
5. GoPro Hero5 Black
If you are looking for one fantastic all-around action camera, your search ends with GoPro Hero5 Black. The device is extremely powerful as it is an upgraded action camera that comes packed with some excellent features.
The camera is often called a "high-performing monster," and it includes a touchscreen display, single-button control, and voice activation. Users who have used this camera for a long have confirmed that capturing both images and videos is painless.
It can be said that Hero5 Black has been designed with the utmost care. The camera is compact and can be compared to the size of a matchbox. This GoPro highlights a two-inch touchscreen on the back, making changing settings simpler. GPS catches your area, and the activity camera presently uses video adjustment for nailing rich smooth shots.
This is the best camera for you if you do not mind spending about $100 on an action camera but are looking for excellent video quality and its ease of use. Increasingly experienced picture takers can likewise dig into the photograph settings to adjust the brightness, picture sharpness, and ISO.
Similarly as with all GoPro activity cameras, the Hero5 Black associates with a cell phone application for remote control, picture sneak peeks, and video playback. There is also a miniaturized scale USB, small-scale HDMI, and a micro-USB port for the users.
The camera is waterproof and can be used without any worries at a depth of 10 meters. The device does not even have a protective encasing. A small lens covers the front of the camera, which is removable.
All these features enable you to use the camera with ease, even when you are swimming or snorkeling.
The Hero5 Black includes a wide range of image filters, all of which are included in the lens that covers the camera. The filters can be used to switch between land-based and water-based shots with just a twist.
The action camera also includes various other notable features like the voice-activated button and the Quick Key USB C port. The SD reader helps users easily transfer or download images or videos to an external device.
The Hero5 Black is an excellent device that is a must-have if you are looking for a compact and classy action camera.
Pros
Simple Design
Voice Activated
Big Battery
Waterproof
Quick Key USB C port
Micro SD card reader
Aerial filming solution
Cons
Touchscreen is a little fiddly
6. GoPro Hero 2018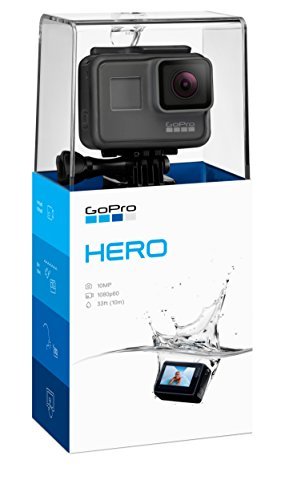 This camera should not be mistaken for past cameras basically called 'GoPro Hero,' which we'll review later in this article. This model was new for 2018 and is intended for the beginner GoPro client, with voice control and a touchscreen for simple activity.
It shoots Full HD video at 60fps and can catch 10MP stills with an excellent rate of up to 10fps. For regular shots and occasion recordings, this is all that anyone could need.
The no-fuss model was launched, keeping beginner and intermediate users in mind. The camera has a very simple design, which makes it a must-have if you are a beginner. It comes with a rubberized matt finish like its earlier versions.
The device like other GoPro devices is waterproof and can be used under 33 m deep waters. This model features an LCD display on the front, a touchscreen, and a two-button interface. The device can be easily operated using Wi-FI or HDMI, Bluetooth, or the USB C port.
As mentioned earlier, the device is an intermediate model and hence does not include any advanced features. Users can shoot high-definition videos at 1080p, and the device misses the 1440p mode. The device does not even offer advanced shooting rates like in Hero5 or Hero6.
The image stabilization on the device is decent, and it is easy to transfer images and videos. Though the images can slightly lack finer details, the output is quite impressive.
If you are looking for a user-friendly and wallet-friendly action camera from GoPro, you certainly need to explore the striking features of this amazing action camera – The Hero 2018.
Pros
Very simple application
Easy to use
Provides excellent High Definition Footage
A decent camera for beginners
7. GoPro Fusion
GoPro Fusion is undoubtedly one of the best action cameras introduced by GoPro. The camera is not only sleek and compact but includes some fascinating features that are loved by its users.
The product design of GoPro Fusion connects you directly with the brand. The device has an impressive matte finish in grey and includes a two-button interface with a front-view LCD.
The only major difference between GoPro Fusion and Hero5 and Hero6 is the touchscreen display. The Fusion model does not have a touchscreen display.
The camera is lightweight and can be mounted easily, thanks to the stable and sturdy mount located at its base. The GoPro Fusion can also be attached to another camera from GoPro. The device comes included with a selfie stick and an efficient mini tripod.
One of the most attractive features of GoPro Fusion is the 360-degree camera. The camera fits well in the mold provided and can be used to capture different shots from various angles. Users can also use the device for underwater shooting, for stills, portrait photography, and more.
The device can be used in waters that are about 16 feet in depth.
The GoPro Fusion can be used to capture impressive videos and pictures, helping you to take your passion to a different level altogether. Videos can be shot for about 57 minutes and use the 5.2 K resolution for clarity and sharpness.
Two 32 GB memory cards can be used with the device, providing you with ample space to store your images and videos. Few users have complained that the device switches off after an hour or so due to overheating.
If you are looking for an action camera with some superlative features, the GoPro Fusion is a must-check. Available at a low cost, the camera is worth every penny spent.
Pros
Excellent 360-degree action camera with
Perfect for shooting underwater
Easy to mount and use with accessories and GoPro cameras
Cons
Problem with overheating
No touchscreen
8. GoPro Karma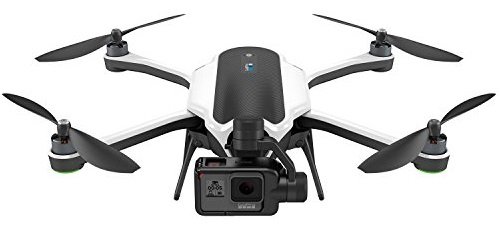 The all-new GoPro Karma stands out from the rest of the action cameras in this list, and it is for a reason. The action camera which is shaped like a drone is a quadcopter that can even fly. Let us dig deep into the fascinating features of GoPro Karma.
This is a fantastic action camera that is well combined with a drone. The stand-alone kit that comes included with the camera can also be attached to Hero4 as well.
It is truly amazing to see an action camera unfold itself when used with a helicopter mount. The camera can be used to capture videos and excellent images from the top as it flies.
GoPro Karma can be named as an excellent gimbal, and thanks to the three-axis propellant, the camera is always well-oriented when being flown. Even when the drone dips or dives, the camera mounted remains still, well-poised, and is always in sync with its horizon.
If you wish to capture some Aerial shots or videos at high altitudes, this is the one to choose.
The video capture of this GoPro is commendable, and users can shoot videos at a 4K resolution at a rate of 30 frames per second. Users can also choose from other options like 1080p at a rate of 120 fps or 720p at a rate of 240 fps.
The GoPro Karma is an excellent action camera that is well-suited to capture some natural ad stunning photographs and videos. Thanks to the "drone effect," users can easily add a linear view to their pictures and videos and take their photography skills to the very next level.
Pros
Adjusted controls
Excellent action camera
Truly versatile
Short flight time
Cons
Beginners have had issues with the ease of use
9. GoPro Hero 5 Session
If you are looking for an action camera that has excellent video quality and includes 10 MP still imagery, the tiny Hero5 Session is the one for you.
The camera offers beautiful and crisp images and videos, making it one of the best cameras from GoPro. The camera looks a lot like the Hero5 Black, but is pretty much simple, both internally and externally.
An affordable action camera, the Hero5 session does not include a touchscreen but yet is power-packed with various other features. GoPro certainly understands its audience and hence introduces various cameras with similar features at different price ranges.
Hero5 Session allows users to capture 4K videos at a rate of 30 fps and includes amazing options like ProTune, voice control, and easy connectivity to a smartphone. Though there is a slight difference in quality when compared to Hero6 and Hero7, it is hard to spot the same.
The camera does not include a rear screen or an interchangeable battery, and this is one of the reasons why many prefer Hero5 or Hero6 Black over this model.
The action camera looks more like a small cube and has two buttons and a flap on the side that has the slots for USB and MicroSD. Though it looks like one small rubber cube, it can handle a lot of wear and tear compared to its expensive counterparts.
It can be a little hard to move the menus around as the screen is tiny, but all get well once you get used to it. Many users have found the right settings for images and videos and have used them for all their shots.
The camera can be easily tethered to a smartphone, and this can be used to solve interface issues, but it also shows an effect on its battery life. If you travel a lot, it always helps to carry a power outlet to easily charge the camera.
ProTune is an excellent feature of this action camera. It can be used to adjust the color settings, the ISO limits, the shutter speeds, and more. All of these can be done using the application provided, which as per a few users is quite time-consuming.
The Hero5 Session is a perfect action camera for those who are looking for complete control over the images and video they capture. The camera is light in weight and is portable when compared to other GoPro cameras.
Pros
Portable and quick
Top notch 4K video
Excellent video quality
Waterproof
Voice initiated
One-catch controls
Cons
Poor battery life
Controls can be challenging for beginners
10. GoPro Hero 4 Black
A high-end action camera from GoPro, The Hero 4 Black is known for the video performance it provides, and it's sleek and compact design.
This is a version that is slightly old, and hence can be hard to find one, except online. The size of the camera is about the size of a matchbox but you will be stunned to know that it can easily capture a video at 4K resolution at a speed of 30 fps.
The action camera lacks a screen, and it can be hard to check the output on the camera. But, users can easily connect it to their smartphone or a laptop to check the images or the live capture. The camera can be connected to any smart device using Wi-Fi.
Whatever rate you use, the lens can be used with a 170-degree view, helping you to capture almost everything in the frame.
The Hero 4 Black also includes Bluetooth support and provides the feature to tab the best footage while shooting itself. If you compare the camera aesthetically, the box form, as well as the dimensions, look similar to that of Hero 3+.
So, the waterproof housing is the same for this version as well. But, once the user starts to use the device, he/she can find significant changes that have been made to the design – all of which make a huge difference.
GoPro Hero 4 Black can be carried with ease, thanks to its sturdy and durable body, and of course its compact size. The camera can be used to shoot high-quality footage and can be mounted on almost anything. The mount design is simple and very sturdy and does move or shake when shooting.
The action camera includes an in-built microphone that captures the noises well. If you wish to have a more clear voice, you can connect a microphone using a USB cable. The battery life of the device is decent, and it can be increased if you switch the Wi-Fi off when not in use.
Overall, Hero 4 Black is an excellent action camera, which is well-suited for beginners.
Pros
4K video at 30fps
Very fast Wi-Fi connectivity
Excellent mounting system
Cons
Does not include a screen
No option to zoom
The startup of the device is slow
Buyers Guide to Purchase the Best GoPro Cameras
If you are an adventure junkie, you certainly would need a portable action camera that can be easily mounted. Hand-held cameras are hard to use, and this is one of the reasons why many prefer compact action cameras to capture their next big experience.
GoPro has an amazing range of action cameras, and this list will help you figure out which one to choose.
So, let's get started!
Durability
Action cameras as small and very compact and most of them have plastic bodies, which can make them delicate. The cameras from GoPro are sturdy and waterproof and hence can be used underwater as well. Make sure to choose a camera that is durable and can work in almost every weather condition.
The Mounting Choices
You certainly want to go hands-free when you are on an adventure, and hence you need to check the mounting options of the action camera you are choosing. You need one that can be easily mounted on your cap or your bike. There are a few that can be used with drones as well.
It generally pays to discover how the mounting framework will function before settling on a final decision. You will need to know the techniques on how you can brace, or cement to keep the mount set up.
You will also need to know whether the mount is fixed in one position, or if you can tilt it and turn it when needed.
Sharing
You certainly would want to share your adventure with the world, and the action camera you choose should let you do the same. Many activity cameras have worked in Wi-Fi so you can make your inactive companions envious, or motivate them to create their own adventure or fun videos.
Most of the action cameras have a voice control included and can be easily connected to a smartphone or a computer via USB. So, choose one wisely.
The Applications
The action cameras as we all know are compact. Some models come with a touchscreen to handle the applications, and some do not. Choose a camera that makes it easy to edit and share the video/image.
You also need one that allows you to change the settings before you start shooting. If you do not have any budget limitations, you can opt for a GoPro camera that has a stunning touchscreen.
GPS
You can opt for surfing in Maui or taking part in the Boston marathon or going biking in the hilly areas of Moab, and it certainly helps when you have a GPS-powered action camera.
A GPS-empowered camera can consequently label recordings with exceedingly significant geological subtleties so that you can recollect precisely where you were at the point at which that event occurred.
The Resolution
You always need to focus on the specifications of the action camera and the resolution it provides is an important factor to consider. The commonly used resolutions are HD at 1920 x 1080 pixels, or Ultra HD 4K, which uses fourfold the number of pixels to make a similar picture.
While 4K is amazingly sharp and clear, however, it has cons. A 4K film is more diligent to alter and occupies much more space on your memory card. A few cameras will include resolutions like 720p at 120 fps, as well.
The Shooting Modes
If you are in for an advanced action camera, you can choose one that offers additional shooting modes that help you capture stunning and lifelike videos. Make sure you go through the specs of the camera and choose only if it offers you all the controls you need.
Hands-free and Voice Control
A number of action cameras come with an option for voice control that enables you to perform various actions without the need to touch.
There are a few models that also include a remote control that can be on a wristband, head protector, handlebars, or chest. The remote controls might not work when you are underwater and can be used only when you are on land.
The Battery Life
This is one of the most important factors to consider. As you will be carrying your action camera when on an adventure, you certainly need to have one that has long-lasting battery life and includes an option to replace the battery when needed.
The Final Verdict
The HERO5 Black is at present the most progressive activity camera from GoPro. It provides excellent video and image quality and is packed with excellent features. The HERO5 Session offers somewhat lower picture quality than the HERO5 Black, however, it joins a portion of its uncommon highlights.
The HERO5 Session is the smooth, easy-to-use starter camera that shoots up to Full HD 1080p goals. Every one of these cameras has worked in Wi-Fi and Bluetooth that enable you to combine them with the GoPro App for playback, editing, and sharing.
Now that you are aware of the best GoPro action cameras get online and choose the one that can be your best companion on your next adventure.