In this article, we have reviewed the 10 best cameras for architectural photography in the market along with a comparison table and a detailed buyer's guide to help you choose the best camera possible for your needs.
If you are into architecture photography then you know very well that it is not an easy task to accomplish. Clicking photographs of architectural marvels around the city or even the world requires skill and precision.
You need to take check the lighting, be sure of the angles, and most importantly use a camera that would capture the monument or building in the most efficient manner. This is the case for every genre of photography that literally exists in today's time.
Therefore, it is always recommended that before you purchase a camera for any genre of photography you are into, make sure you do your research and then decide on the product. You must always use a camera which will go hand-in-hand with your photography skills.
So, today we will be talking about the top cameras which are the best options that you have when it comes to architectural photography. We have reviewed 10 different cameras in detail which will help you to understand which product will be the best for your budget.
Without further delay, let us have a look at the Best Cameras for Architectural Photography in 2023.
10 Best Cameras for Architectural Photography:
1. Canon EOS 80D Camera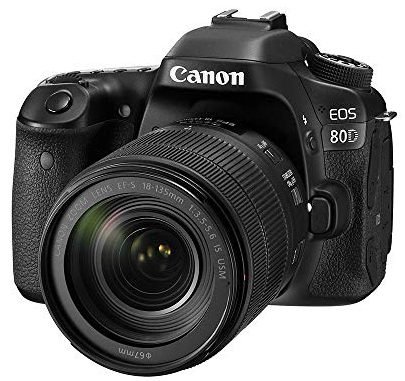 Canon is undoubtedly one of the most popular and reliable manufacturers of a professional camera and it's accessories for decades now. If you want to take this genre seriously and do not have a serious constraint on budget, then the 80D is a top choice.
The Canon 80D replaces the EOS 70D as its true successor. It is well built, has ergonomic controls, and advanced optical abilities. The image quality is brilliant and allows you to capture every detail of any monument or building that you have insight into.
Features – first things first, the new Canon EOS 80D has been integrated with a 24-million-pixel sensor that is superb and fills more color, and produces sharp images. Coupled with the Dual Pixel CMOS AF sensor the camera tends to perform in a much better manner than the 70D and produces images that are subtly balanced in their saturation and brightness levels.
The camera runs on the Digic 6 processing engine which is one of the most efficient and fastest processors available in the market. The sensor and processor work together to bring a native ISO of 100-16,000 and can be expanded up to 25,600. The continuous shooting speed is fast and the camera does not stutter while doing so.
That makes it one of the quickest to capture 110 JPEGs or 25 raw files in a second. It also comes with an improved Viewfinder which allows autofocus in a more efficient manner. Canon has termed it as the Reflex Mode System and it has a 45AF point which accurately captures an object in front of it.
Performance – in overall performance the Canon EOS 80D performed really well. It never hesitated to capture clear, vivid, and mesmerizing picture quality even in low light conditions both in and out of a property.
The Dual Pixel CMOS AF technology allows the sensor to function with more versatility as it can now capture more light from the surrounding and create a beautiful picture without much noise.
The availability of the Anti-flicker system allows us to get stable shots and predictable exposure as well. The Autofocus system works really well in real-life conditions and therefore you will have no problem in capturing monuments or other marvels.
However, there is a slight noise when the ISO expands beyond the ISO 16,000 mark.
Pros
24MP sensor and powerful processor
The fast and very efficient AF system
0-inch touchscreen panel
Comes with different software features
Cons
A complex AF system takes time to master
Comes in APS-C format and not full frame
2. Sony Alpha a6000 Mirrorless Camera
When it comes to mirrorless cameras, Sony has some of the most advanced and sophisticated products in their lineup. The Sony Alpha a6000 is one of the best mirrorless cameras that you can purchase for clicking architectural photographs. Sony has always received great praise for manufacturing excellent low light color and the a6000 is no less.
The camera is affordable even for amateurs in the genre. It also comes with a 16-50mm lens. This mirrorless device has 179 AF points which allow it to track and accurately capture different objects and its compact size also helps a lot in the process.
Features – the Sony Alpha a6000 comes with the company's powerful Bionz X Image Processor. It allows the device to function more effectively and render images like never before. The color reproduction and overall clarity in the image are superb due to the processor and the 24.3 MP APS-C CMOS sensor.
The sensor has received a brilliant upgrade from the previous generation's 16.1MP sensor and now helps you to capture much better quality images. This is even more beneficial when you are into architectural photography because you may need to zoom into subjects a lot more than others.
The new sensor has also been revamped with the ability to support Full HD+ 1080p shooting at 60fps. Users will also be able to use different software features like Intelligent Scene Recognition and Face Detection benefits as well. The former helps to modify the settings and renders the image according to the overall light exposure and dynamic depth available.
The latter, i.e. Face Detection helps to capture all the people in one frame and sharpens all the faces for more clear images.
Performance – the a6000 is truly one of the affordable and Best Cameras for architectural photography in terms of performance. The ISO range is native to 100 – 6200 but if you want, you can expand it up to ISO 12,800 as well.
To click more detailed and beautiful architectural images, you can choose between the different presets which have been included – Landscape, Vivid, Clear, or Monochrome. The automatic white balance works decently and helps to produce sharper images with the right color accuracy.
If you use the camera for a few days, you will understand that the a6000 has the fastest AF speed among most of the other APS-C format cameras. The Metering system is good as well, with nice exposed images, and therefore shooting architecture under low light is not a problem.
Pros
Small and compact size
Excellent Autofocus system
Sharp and vivid images
Several modes for different purposes
Cons
No touchscreen panel
The screen is not fully articulated
Not many lens options
3. Canon EOS 5DS R Camera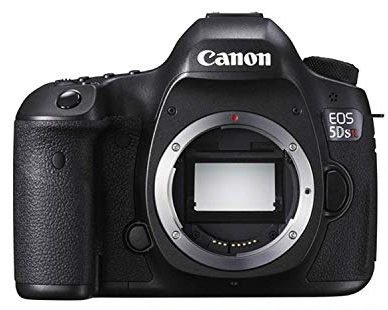 The Canon lineup of cameras has some of the best devices for architectural photography in the market. The Canon EOS 5DSR is one such example. The 5D lineup has helped Canon to bridge the gap between professional and amateur photography requirements.
It is a premium camera and is one of the most expensive on this list but you get what you pay for, right? The device promises to enhance your photography skills to a whole new level. The sensor comes with 50.5 million pixels and captures some of the most phenomenal details on any architectural shot you click.
Features – the Canon 50DSR comes with a brilliant 50.6MP CMOS sensor which helps you to capture more details and get higher levels of color accuracy in every frame. The sensor has been masked with the Low Pass Filter which allows it to eliminate more noise than ever before.
So you can get smooth and sharp images every time. Canon claims that this filter also helps to alter the focal plane and provides better support to the sensor in low light conditions. The camera is powered by the Canon Digic 6 processor which helps you to get faster processing speed and much better rendering than most other DSLRs in the market.
The native ISO ranges from 100 – 6400 and you can expand it to ISO 50 – 12,800 as well. Unlike the 5D Mark III, the 50DS comes with a 5Fps of continuous shooting ability rather than the former's 6Fps. There are 252 AD points that work accurately to make sure that you capture every detail.
It also has the Fine Detail Scene feature that helps to capture more accurate architectural photography from now on.
Performance – The Canon 50DSR performs exquisitely in real-life scenarios. The pictures captured on this device are one of the sharpest we have ever seen and there is an excellent balance between the brightness and contrast levels that provides a more soothing image resolution.
The 252-zone RGB+IR metering system offers better exposure and rendering to the pictures you click and the images seem to be more active. Even at low lighting conditions, the AF system manages to track and focus on the subjects quickly. The buffer clears almost immediately within a second and thus you can capture more images more accurately.
There were incredible detail and high-resolution sharpness in each of the pictures which we clicked. It is undoubtedly one of the Best Cameras for architectural photography.
Pros
Full frame sensor with incredible detail
Excellent AF system and white balance
Brilliant metering system
One of the best pixel density
Cons
No built-in WiFi integration
Heavy and bulky
4. Nikon D800E Camera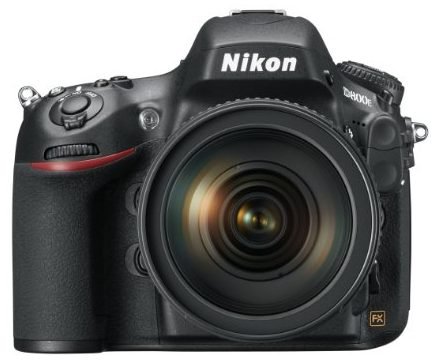 The Nikon D800E is a budget-friendly and reliable camera for architectural photography. This is the successor to the Nikon D700. The camera is packed with different features which are really important when you are out to capture monuments and buildings.
The 15.3MP DX-format capture mode allows sharp and refined pictures and also comes with 51 AF points. The device is also able to shoot Full HD+ 1080p videos and in different Fps like 30, 25, or 24 fps. It has some more revamped features like the improved processor, AF system, and the Metering system.
Features – the Nikon D800E runs on the EXPEED 3 processor which brings more efficiency and smooth functionality to the camera. The chipset also produces a better refresh rate and faster buffer speed that creates excellent quality images and quicker accuracy. The D800 has a 36.3MP sensor which consists of 51 AF points.
The Autofocus system is one of the most accurate we have seen in a device of this segment and with the chipset renders an image very quickly. There are 12 million effective pixels which is enough to reduce the noise in the images. The ISO levels can be expanded up to 25,600 if you want with the native ISO settings ranging from 100 – 6400.
Performance – the Nikon D800E tends to perform really well when it comes to real-world scenarios. The camera efficiently captures most of your images of buildings and architecture with ease and the sharpness in the pictures is good.
Due to the high pixel count, the images have a good balance in the contrast levels but the dynamic range suffers due to the same. The camera comes with the Multi-Cam 3500 FX Autofocus system and it is efficiently angled to focus and capture objects clearly even when they are in motion. Even in low light conditions, we experienced good pictures with less noise and decent sharpness.
This camera will provide good support to amateurs who are new to the genre but professionals can use it as well.
Pros
There is excellent detail in the resolution
Dynamic range is exclusive
The quick and efficient AF system
Good low-light pictures
Cons
JPEG HDR mode only
Soft corners in some images
Vignetting could have been improved
5. Sony Alpha A7R III Mirrorless Camera
One of the top competitors for architectural photography in 2020 is the Sony Alpha A7R III. The camera not only sets the bar high for every mirrorless device in the market but it also has amazing features under the hood. With some welcome boost to the system, processor, and especially the sensor, the camera is able to provide better-quality images.
The device may not be very budget-friendly for some users but delivers what it promised on paper. The body is water-resistant which doesn't allow the accumulation, of dust, and moisture in the lens. This makes the body weatherproof.
Features – the Sony Alpha A7R III has a lot of different features which makes it worth the money you pay for. The camera comes with a 42.2MP CMOS sensor that captures bright, vibrant, and well-balanced pictures with the right levels of contrast.
The camera features a 3686 Electric viewfinder and a 3.0-inch tilt-angle screen for better control. The device is powered by the BIONZ X image processing engine which is one of the most efficient chipsets in the market. Due to this new chipset, the overall performance of the camera has increased by 1.8x in processing speeds.
Another interesting feature of the camera is the Zeiss T* Coating. This has been introduced to help prevent light leaks and ghosting to great levels. Did you know the Alpha A7R III also supports 4K (3840 x 2160 pixels) video capture? Well, we were surprised as well.
Performance – if you look at the different aspects of the camera, the Sony A7R III is a true performer in most of them. The camera had a brilliant and efficient BIONZ X image processing engine that delivers quick rendering. If you are a newbie and want to practice clicking stable images, then the 5-axis optical image stabilization system will help you a lot.
Due to this system, the camera can click stable and stutter-free images with less noise. The device is able to maintain an impressive level of detail in the pictures that you click. The ISO 100-32,000 is expandable to 50-102,400 and manages to deliver clear and vibrant images and also perform well in low light.
Maintaining low noise levels in one such area where the camera performs phenomenally well than most other devices. So you will have no issues with clicking pictures in low light. Due to such amazing performance, the camera is on our list of Best Cameras for architectural photography.
Pros
Brilliant 10fps shooting at 42.2MP
Excellent 5-axis image stabilization
Fast autofocus system performance
Great low-light images with less noise
Cons
Touchscreen controls are limited
Battery life could be improved
6. Panasonic Lumix DMC-G7 Digital Camera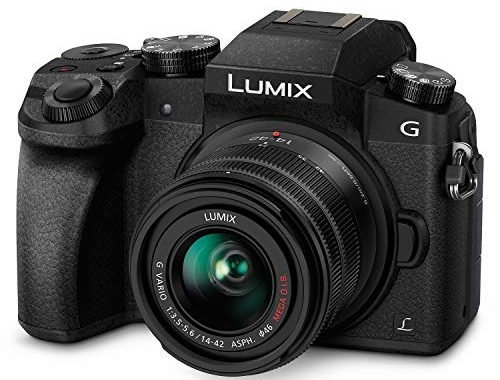 Now that we talked about some of the most premium and exclusive DSLRs that can be used for clicking architectural images, the Panasonic Lumix DMC-G7 brings affordability to the users. The DMC-G7 is a budget-oriented yet performance-packed camera that you can consider purchasing.
It comes with a significantly large body construction which is sturdy and robust, along with best in class viewfinder system. The G series of the Panasonic lineup has already proven it to the users that their DSLR can offer performance and efficiency like other rivals like Nikon and Canon.
Features – the Panasonic Lumix DMC-G7 is feature-rich and has all the important features which a photographer needs to click an architectural marvel. It comes with a 24.2MP full-frame CMOS sensor that functions effectively in low-light conditions as well. The sensor also manages to keep a large portion of light leaks and ghosting out from the images and produce good-quality images.
The camera runs on the Venus Engine and has a sensor-based image stabilization system which helps to capture quick and stable images. The OLED EVF with 5.76 million dots is one of the brightest we have ever seen and certainly the most efficient in this segment.
The camera is also able to capture 4K UHD 3840 x 2160 resolution video without much hassle. The 3.2-inch touch-sensitive panel provides more flexibility and user benefits while clicking pictures.
Performance – the Panasonic Lumix DMC-G7 is packed with different features and benefits that the users can enjoy. The most promising of them is the excellent details in the images with very low noise presence. The buffer time is also incredibly low which allows you to capture quick images.
The high-resolution 96MP mode works pretty well and the users can get very clear and vibrant images without any tilt towards a particular tint of color. However, in some cases and while capturing very bright colors, the images can seem to look a bit over-saturated. So that needs to be corrected during the post-processing.
The Dual I.S. system also works well to enhance the sharpness and overall clarity of the architectural pictures.
Pros
One of the best EVF
The excellent image stabilization system
Very solid and robust build
Buffer depth is quick
1080p Full HD+ video quality
Cons
Large and decently heavy body
Different minor ergonomic issues
The focusing system is behind rivals
7. Fujifilm X-T3 Camera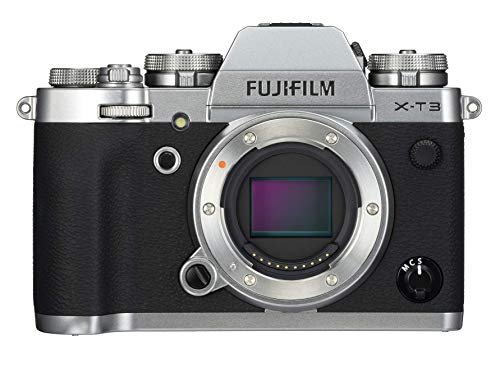 Fujifilm is not very behind in the game of cameras and especially when it comes to the genre of architecture. The company has made a great impact by launching the Fujifilm X-T3 which strengthens their X-T lineup even more.
The camera comes with a plethora of improved features – robust build quality, a new sensor, revamped autofocus, and video recording ability has also been upgraded. The camera comes with an 18-55mm lens. It can be a good addition to your photography bag.
Features – the Fujifilm X-T3 comes with an improved 26.1MP back-illuminated sensor on which the company has worked to make it more perfect. The device comes with the brand new 4th-generation X-Trans CMOS sensor that is able to maintain a maximum aperture of f/1.
The brand new sensor has the native ISO settings at 200 and has been powered by the X-Processor 4. The new processor along with the 425-point AF system ensures that the users are getting top-notch performance in terms of picture quality and video reproduction. So you can get high-quality sharpness and seamless clarity in the images. The camera can also shoot 4K 3840 x 2160 resolution video.
Performance – the 26.1MP X-Trans CMOS 4 version is decent with good functionality and incredible performance in some of the important fields. The camera tends to control noise reduction really well and the pictures, even the ones captured in low light, have improved huge improvement.
The sensor has set the limit for ISO 12,800 and this allows you to get high-quality images. The new processor works side-by-side with the sensor and captures versatile and powerful images that have a good balance of brightness and saturation levels. Thanks to the Metering system, the color accuracy, and dynamic depth are now more mesmerizing and realistic.
Even when you capture 4K videos on this camera it tends to perform greatly. So all in all, the images are pleasing, and also due to the quick AF system, the videos come out nicely as well. If not the best, it is surely one of the Best Cameras for architectural photography.
Pros
High level of build quality
New X-Trans sensor with less noise
Quick autofocus system, with strong tracking
Great response
Cons
Viewfinder fringing is noticed
EV compensation dial
8. Nikon D3500 Camera
Beginners who want to make their mark in the genre of architecture photography, need to check out this affordable and entry-level DSLR by Nikon, the Nikon D3500. Available at a pocket-friendly price the D3500 is a budget-oriented solution to your photography needs. It comes with two lens kits too.
Not everyone can adopt complex DSLR functions and systems, therefore why not begin with the basics? This camera offers good 1,550-shot battery life and has some other good features that justify the price it is available.
Features – the Nikon D3500 comes with APS-C sized sensor which tends to perform well in good light conditions and has a mediocre performance in low light. The optical low pass filter has been eliminated from this device so that the camera can produce more efficient and realistic images for the users.
The ISO range of the camera is from 100-25,600 but that does not improve the dynamic range. It supports burst shooting at 5Fps and the 11-point AF system helps to capture the subject quickly. However, it struggles a bit when it is in motion.
At this price tag, you cannot expect a camera to support 4K 3840 x 2160 video recording but the D3500 comes with Full HD+ 1080p video quality without any hassles. It has a 3.0-inch display that is fixed to its place and button controlled.
Performance – since the camera has a burst shooting mode of 5Fps, it is not particularly recommended for users who shoot a lot of action. But for architectural photography, you can use it efficiently to capture good images. The Nikon D3500 metering worked well when we tested it and we were rather impressed with it.
It was able to deliver the right level of exposure and rendering to the images and produced good color tones as well. The Auto White Balance was proficient as well and coped well even under artificial lighting.
But the low light conditions did not let the camera function to its maximum and faced some issues.
Pros
Affordable and budget friendly
Good 1,550-shot battery life
Compact and easy to carry
Good metering system
Cons
Touchscreen control is absent
Mediocre low-light performance
9. Canon EOS 77D Camera
We are almost at the end of our article for the Best Cameras for architectural photography and this is our second last product of the day. Even though it does not bring a whole new set of features or miraculous results, it does not fail to impress the users especially when you are into architecture photography.
It has a touchscreen control panel, a sophisticated AF system, and much more, all of which contribute to a smooth and premium user experience with the EOS 77D.
Features – the EOS 77D has been manufactured with the 24.2MP APS-C CMOS Sensor that brings better quality pictures and promotes efficient levels of color tones. The sensor allows the creation of cleaner and much higher-resolution images even at higher ISOs.
The camera has a 3.0-inch vari-angle touchscreen that can be used to change and modify the different in-built settings of the camera. One new feature which further enhanced the camera's performance in the real world is the DIGIC 7 image processor.
This is Canon's brand-new processor and is the true successor of the very successful DIGIC 6. This new chip brings a native ISO of 100-25,600 and moreover, this new processor is said to improve the quality of the AF system. The Wi-Fi and NFC connectivity come in handy with this.
Performance – just like some more top-range DSLRs in the Canon lineup, the Canon 77D is equipped with 6fps burst shooting. It has a good battery life that extends to 600 shots. The menu and settings UI is simple and clean with nice colors and subtle animations which makes it convenient to use.
The 7560-pixel RGB+IR metering sensor works really well and sports the required exposure in the right place and manages to control the number of light leaks. But in very high brightness and contrast scenes, the camera can tend to get confused at times.
The Ambient Auto White Balance mode can be used profusely while clicking pictures of buildings and other monuments to ensure a good balance between the brightness and saturation levels. The 24MP sensor renders and adds brilliant detailing to the images and covers plenty of highlights and shadows but balances them really well. We were quite surprised, to be honest.
Pros
The good 45-point AF system
AF with Live View
Touchscreen control panel
High detailing and dynamic range
Cons
Build quality could improve
No 4K video capture
Only 95%ofdualrom EVF
10. Sony Alpha A7 Camera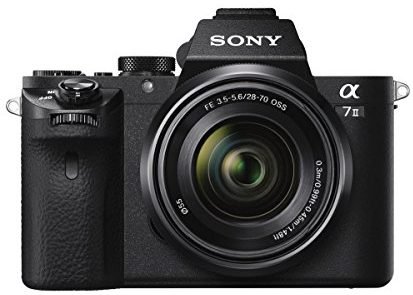 On our last product of the list, we have a brilliant Sony DSLR that can be a game-changer in the mid-segment cameras available in the market. The Sony Alpha 7 is deemed to be Sony's effort to compete, with counterpart, EOS 77D.
The camera has some amazing features which you cannot miss if you want versatile photography benefits while shooting different architectural features. It is a fantastic device for whoever wants to practice and master the art of using a camera for architectural photography. This camera can be used by both amateurs and professionals.
Features – the Sony Alpha 7 comes with a 24.3 million pixel sensor and functions efficiently to make your images look more vivid and subtly balanced. The new and improved Bionz X processor has been claimed to be 3 times more efficient than its previous generations. Sony has also worked on the Autofocus system and claims to have modified the AF algorithm for better efficiency and speed.
The camera comes with the brand new Sony's Hybrid Autofocusing System which brings proficiency to a whole new level. The camera has a dust and moisture resistance build quality and also sports Wi-Fi and NFC connectivity.
Performance – the Sony Alpha 7 performs magnificently in most of the scenarios we tested it. Be it an overexposed senary or a low light lane, the camera seems to tackle most of the situations proficiently. More importantly, when we tested it for architectural photography we were impressed with the amazing level of detail it brought to the images and we could literally zoom in on the details.
The colors are perfectly refined and balanced between warm and cooler tones. They are punchy without being oversaturated and the brightness levels are also decent. The Metering system deserves a mention as it works fine and delivers the results that every user would expect.
The Dynamic Range Optimiser can be used to bring balanced exposures in scenarios you think is a bit tricky to manage.
Pros
Full frame sensor
Improved Bionz X processor
Dust and moisture resistance
Tilting screen for better maneuvering
Cons
No touchscreen feature is available
A limited number of lens
Buyer's Guide to Choose the Best Cameras for Architectural Photography:
So here are the top 10 Best Cameras for architectural photography that you can purchase in the year 2019. All these products are tested extensively to make sure that our review provides you with the perfect insights so that you can choose which products suits your needs the best.
Which camera should you purchase for architecture photography?
Since there are several kinds of cameras available in the market for architectural photography, it can be tricky for you to choose the right product at the right price. Pursuing architectural photography is a different game altogether and requires not only great skill but the right set of cameras as well.
So here are some cameras which you can choose to purchase if you want to master this genre.
APS-C DSLRs – these come with almost all the functionality of a full-frame DSLR but carry out the work with a cropped sensor. That is why different factors like focal length, ISO, and noise levels are impacted severely. Even though you need to compromise on these aspects a bit, they can produce brilliant results nonetheless if you can use them in the right manner. They are also much more affordable and budget-friendly.
Full Frame Mirrorless Camera – many professional photographers use full-frame mirrorless cameras for architectural photography. These are considered to be high-end devices that require training and skill before you can use them with perfection. They offer an incredible dynamic range and extraordinary details in every picture you click. However, they are mostly very expensive and require knowledge before they can be put into use. They also deliver the most versatile aspects like brightness, color tones, dynamic depth, etc.
Full Frame DSLR – these are the traditional yet some of the most powerful and advanced cameras available in the market. A full-frame DSLR can produce miraculous results when coupled with the right lens and used in the correct manner. These cameras are able to deliver proficient and sharp images that have nicely balanced color tones that soothe your eyes in the best manner. These are available in different budgets and you can purchase them accordingly. You can see massive details and a field of depth in their pictures.
So here are some of the different categories of cameras that you can purchase for clicking architectural images. All the different categories have their own benefits and you need to choose the right category according to your experience, skills, knowledge, and preferences.
Have a look at our complete article and get to know in detail about the Best Cameras for Architectural photography.