In this article, we have reviewed 7 best cameras for filmmaking on a budgetalong with a comparison table and a detailed buyer's guide to help you choose the best camera possible for your needs.
The equipment used in filmmaking is getting much better and if you are planning to buy one, you must do a good amount of research before picking the one.
For a camera enthusiast, there are certain features that are must-have such as the resolution, easy functionality, better grip, compatibility with different lenses, etc.
The popular brands are introducing many powerful cameras and it doesn't matter if you are a beginner or a pro, a little practice will give you the ability to control and operate it quite easily. If you have stepped out to find one of the best cameras for filmmaking on a budget, we are here to help you with some options that might just fit in with your requirements.
As we are making some serious advancement in the tech world, the cameras are also improving and you are now able to get 4K cameras in the budget segment.
The most important aspect of the camera that you are buying specifically for filmmaking should come with a bigger sensor so that you don't have to face any issue shooting in the low light.
7 Best Cameras for Filmmaking On A Budget:
Before we go into the reviews, it's very important for you to understand that there is no 'best camera' that you can buy. You will need to weigh down all the options along with the pros and cons of choosing the one that fits your requirements.
Let's dive into the reviews and we hope that this will help you in making the decision.
If you're in a hurry, then take a look at the comparison table below to get an idea of the best cameras for filmmaking on a budget:
1. Fujifilm X-T30 Camera – Best for Low Light Filmmaking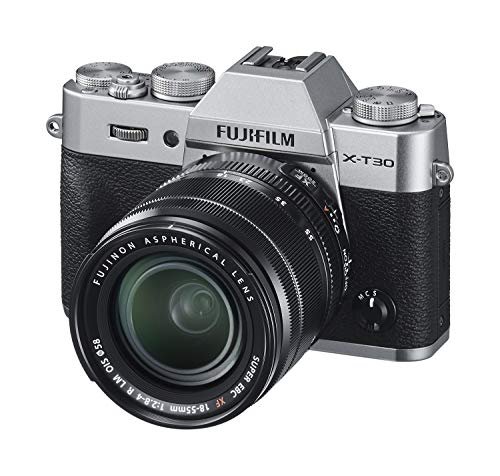 The brand has introduced the professional version X-T3 earlier and now, this one is kind of a smaller variant where it is more in the affordable segment.
The big brother is quite bulkier and the materials that are used in this camera are very heavy-duty, whereas this one has quite a smaller form factor but the company has managed to retain the picture quality. On the sensor front, the camera sports a large 26.1 MP which will help you in capturing much better low-light shots.
The video output that this camera has to offer comes very near to the more professional and sturdy X-T3. The camera comes with one downside that can be a big one for a lot of people and that's you will be able to shoot in 4K for only 10 minutes.
However, the quality of this Fujifilm X-T30 on 1080p is exceptional and you will be able to make it even better in post. The smartphone comes with an enhanced auto-focus where you will not need to struggle while shooting.
The layout of the camera is not very practical and most importantly, the joystick for the AF can be placed at a much better place.
Pros
The primary reason for adding this camera to the list of 'Best Cameras for Filmmaking on a Budget' is its capability of exceptional video quality.
The auto-focusing on the camera will be very reliable and the speed will also be quite fast with the 425-point PDAF.
The ISO on the camera will also come with a wide range of 80 to 51200. It will be helpful in shooting in the low light where it will retain the quality.
The camera comes with a very retro design and it is also quite ergonomic to hold it while shooting.
Cons
There is no image stabilization in the camera and it will give you blurry images if you are not holding it carefully.
The 4K recording is only supported for up to 10 minutes continuously.
The users may face some handling issues where the buttons will be pressed accidentally.
2. Panasonic HC-WXF991-K – Best 4k Filmmaking Camera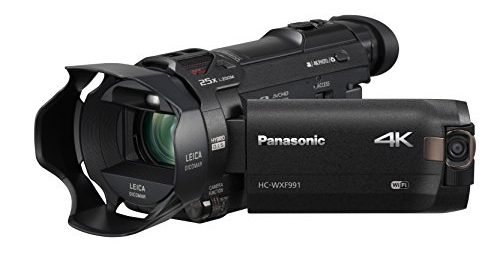 This model from Panasonic comes at a lower cost than its flagship brother VFX990-K where the major specifications are the same but there are some tweaks done by the brand for the cost-cutting purpose.
The camera sensor used in this camera is an 18.9 MP unit, where among a range of modes, you will also get the 4K option.
This Panasonic offering is also capable of shooting static pictures up to 25.9 MP. However, the features that you will find on the more heavy-duty professional variant such as dolly zoom is missing on this one.
Panasonic is offering the smooth slow-motion which is carried forward from the premium model. The feature that you will miss on this camera is the lack of XLR input. It is replaced by a mini microphone port that you can put in.
For those who are wondering which will be the highest mode you will get, the answer is it will be Ultra HD with the resolution of 3840×2160 pixels at 25 frames/minute.
You will also get to install the Panasonic app which will enhance the features and functionality significantly.
Pros
The video quality of the camera is quite good where you will not need to do much in post-processing.
The Panasonic app provided by the company will help you in getting 3 more angles using smartphones.
The controls that you will get on this camera are kind of self-explanatory and you will be able to understand them very easily.
Though the dolly zoom function is missing on this camera, you can shoot quite stable shots handheld.
Cons
The biggest deal-breaker of this camera is that there are no XLR inputs. You will not be able to put the lightings and accessories of your choice to use.
HDR could be a bit better at this price point.
3. Canon Pro XA11 Camera – Best Overall
This one from Canon comes with a full package that you can need to film a movie. The design and build of the camera are also quite compact where you will get all the features in a very clean and easy layout.
Though the highest resolution provided by the camera is up to 1080p, you will be able to make a 3-hour long movie on a 32 GB SD card. For longer recording sessions, Canon has provided you with 2 card slots so that more footage can be shot without swapping the cards and interrupting the footage.
Compared to its predecessor, the camera comes with some significant improvements that you will witness in terms of low-light performance. You will not even necessarily need any tripod or mounting bracket, as the image stabilization on this camera is quite reliable and premium.
Canon has answered the users through this updated variant where the AF system is significantly improved and you will get sharper and better results in the low-light as well.
The reason that it's added in the top 3 in the list of 'Best cameras for filmmaking on a budget' is because of the sensor's capabilities of shooting a wide dynamic range. There will be 2 XLR input ports so that you can attach the microphones and lightings.
Pros
This Canon filmmaking camera comes with a much better auto-focusing system where the output that you will get is extremely crisp and sharp.
The low-light performance of the camera is quite good and you will be able to shoot without needing to tweak much in the post, thanks to the wide ISO range.
The XLR inputs will definitely be helpful when it comes to professionally using a film camera.
The night-vision is significantly improved by integrating the IR lights in the camera itself.
The touchscreen of the camera is quite good and you will be able to use it very efficiently.
Cons
The highest resolution that you will get on this camera is 1080p and you will not be able to enjoy 4K recording.
There will be no memory card included in the package.
4. Sony Alpha A6500 Camera – Best Image Stabilization
When we are talking about filmmaking, Sony can never be missed. There are many features and settings that the brand has to offer which gives you wide use scenarios.
This Alpha A6500 is introduced by Sony only half a year after the official release of Alpha A6300 and the successor came with some very significant upgrades.
In the previous versions of the Sony Alpha series, there used to be no image stabilization, Alpha A6500 sports a built-in image stabilizer. It is highlighted due to the reason that this 5-axis integrated gimbal is brought from the premium segment Alpha 7.
The camera comes with a sensor size of 24.2 MP with APS-C tech. The camera is not only capable of shooting high-res videos but it also captures sharp and noiseless static pictures.
The auto-focus mechanism used by Sony is the 4D one where it focuses on the object in a fraction of a second. This feature comes quite handy while getting the shot of some moving object, e.g., sports. The AF sensor comes with a whopping 425-point PDAF.
You can also capture pictures in the burst mode where the speed offered by Canon is 11 fps, a big improvement from Alpha A6300.
Pros
The company improved the buffer capacity on this camera and you will now be able to shoot 307 JPEGs or 107 raw files.
The AF on this camera is exceptionally improved and you will not need to go through any effort in getting the perfect shot.
As we discussed above, the camera comes equipped with image stabilization that will give you much better shots.
The highest resolution in which you can shoot on this camera is 4K and the provided ISO range can go all the way up to 51,200.
Cons
There is no headphone port that you will find on this camera and it can compromise the audio quality.
The screen that is provided here doesn't go very bright and you may face problem shooting in direct sunlight.
5. Nikon D7500 Camera – Best Shutter Speed
For the camera enthusiasts out there, the camera options are quite limited. If you are searching for a camera that is capable of performing heavy tasks without many efforts, this one from Nikon can be a very good option for you.
There are various features that are there to help you with easy controls and the camera sensor that is used in this camera is Nikon D500's 20.9 MP one equipped with APS-C CMOS technology.
The picture and video quality of the camera are top-notch where it will be able to capture most of the details. As the camera is equipped with Nikon's own Expeed 5 mechanism that will allow faster image processing.
There is also a low-light filter put in place so that the camera sensor can fetch as much detail as possible. With the brand's older variants, the touchscreen that you will get on these cameras will not be the ones that you can tilt, however, the Nikon D7500 can be tilted accordingly.
The screen size on this camera will be a 3.2" panel. The 4K videos on this camera will be recorded at an FPS of 30, 25, and 24 pixels. The camera will be able to record for 29 minutes and 59 seconds.
Pros
The sensor that is used on this camera offers quite a fast shutter speed where you will be able to capture actual candid shots.
The auto-focusing that is provided on this camera is quite fast where you will not have to struggle while shooting.
The screen provided on this camera can be tilted and it will actually be very helpful in shooting from different angles.
If you are going to try burst shooting, the camera is capable of shooting at 8 FPS.
Cons
The screen that you will get on this camera will not be very high-resolution and you will need to look through the viewfinder.
There is only one SD card slot available which can be limited sometimes.
6. Canon G7X Mark III – Best Compact Camera
When it comes to compact cameras, there are various options that you will get from Canon. The brand is known for its exceptional camera quality that it has to offer and the primary use of this camera is seen in the vlogging genre by a range of YouTubers.
The camera is focused on giving the best recording experience, especially in the selfie mode. The screen will be tilted 180-degrees upwards where you will be able to easily see yourself while shooting.
The G7X series of the camera is vlogger's favorite and this latest addition will come with 4.2x zoom where you will get the focal range of 24-100mm. There are various modes that you will be able to find on this camera and there is one feature that will make this camera stand out is the 4K video with an uncropped frame.
You will also get various other video and picture mode in full HD mode.
Pros
There is a 3.5mm jack on the camera body which you will be able to use for better audio monitoring along with microphone input.
The screen can be tilted all the way upwards, allowing you to see what you are filming in the selfie mode.
The design language of the camera is pretty compact where you will get to carry it quite easily.
The camera also has the option to shoot in the raw format along with setting the camera to manual input.
Cons
If you are going to shoot in manual mode, you will not be able to set the highest resolution to 4K.
7. Sony FDR-X3000 – Best Budget Filmmaking Camera
When it comes to the bigger cameras, Sony uses its own BOSS technology and now in this FDR-X3000, the same 'Balanced Optical SteadyShot' is used to give users the best possible shot. It is the action camera that you can easily use by getting it mounted at any place.
The movies by this camera can be easily shot by placing it on your forehead using a strap or by placing it on the chest. The aspect ratio provided by the camera will be 16:9 where the Zeiss Tessar lens is installed.
If you are going to shoot in 4K resolution, the FPS will be 30 frames, and if you are going to shoot at 1080p, you will be able to shoot up to 120 FPS. If you are a cinematographer and want to get a cool time-lapse, you can set it to time-lapse mode at 4K resolution.
Pros
The audio and video quality provided by this action camera is top-notch and that's the very reason it is added as one of the best filmmaking cameras on a budget.
The BOSS tech used by Sony will offer a very stabilized and sharp picture with integrated OIS.
The battery life of the camera is quite long-lasting where you will be able to shoot for a much longer duration.
The layout of the camera is quite simple and you will be able to find the features very easily.
Cons
The remote control that you will get with the camera will not be very high-res and it may get difficult to get the shot.
Features to look for the best cameras for filmmaking on a budget – A short guide
As you must have known by now, there are various options that are there in the market and it's quite a task to choose one for yourself. We believe that if you know what to look for in a camera, it will become much easier for you to choose the perfect fit for you.
Let's dive into the pool of features and pick the most important ones that your camera should have.
Design Language
The camera that you are picking up for filmmaking projects should come with all the external devices' support that will allow you to have better controls.
A filmmaking camera will have a bit bigger size than your conventional DSLRs and hence, you will get more accessory support as well.
HDR
This is one of the primary features that the best cameras for filmmaking on a budget should also have. Having a good dynamic range on your camera will mean that it will be able to record highlights and shadows without losing any detail.
Video Formats
When it comes to working with or post-processing the recorded videos, there are various software applications that people work on. All the applications support different video formats and the camera should be capable of recording in multiple formats such as ProRes, DNxHD, raw shooting, etc.
Colour Reproduction
A filmmaking camera should be capable of producing real colors. When it comes to DSLR/mirrorless cameras, the recording is limited to 8-bit depths whereas the cinema camera will be capable of shooting up to 14-bit depths.
It will record colors in great detail and you will find it significantly helpful in post-processing.
Coming to the outcome: Our top picks!
When it comes to getting the footage that you will need for your film, it's very important for you to have the best equipment. Filmmaking is not an easy task and you will have to be very careful while shooting so that you get the perfect shot.
Choosing the camera that fits your requirements is quite a task and we understand that even after going through the list of 'Best cameras for filmmaking on a budget', you may not be able to decide which one to pick. We are here to ease everything out for you with 2 recommendations.
You can pick any one of these based on your budget and you will not get to complain about anything.
The first one is the Canon Pro XA11. Here, you will get the highest resolution of 1080p and the camera will be equipped with a very good AF system and much better low-light video shooting.
The second one you can opt for is the Sony FDR-X3000 action camera. The camera is capable of recording up to 4K resolution and all these features come at a premium price point.
These two cameras are capable of giving you the best experience and you will be able to shoot any kind of film that you want to. It's time to finally wrap it up with some FAQs to clear some further questions.
FAQs: Some common bits…
Which memory card should I choose?
The memory cards that these cameras will use come in different specifications where the most common ones are SD and CF cards. Some expensive cameras like URSA use C-Fast cards that start around $200.
How will the audio be recorded?
It's up to the filmmaker how he/she/they want to add the audio file. Recording the audio in a separate setting can be the best choice if you put convenience and quality on priority.
Can I see the live footage on another screen?
Yes, and you should have an external screen set up so that you don't end up missing little things while shooting. Having an HDMI port on the camera will help you significantly in getting the shoot easily.