In this article, we have reviewed the 10 best slow motion cameras in the market along with a comparison table and a detailed buyer's guide to help you choose the best camera possible for your needs.
Can time be slowed down? Science would say no. But with a perfect slow-motion camera, the answer would be Yes.
The technology behind this is that the frames are captured at a speed much fast than it is played back. This style of photography has not only become popular in film making but also used to capture natural images. But the most important use of slow-motion cameras is in reviewing Athletic performances and deciding winners for the game.
You can bring about a lot of artistic effects by the slow-motion cameras. It is widely used in sports broadcasting. Slow motion photography can be achieved either by over cranking or time stretching. Slow motion photography is also used in action films to bring about a dramatic effect. Any action can be shown in great detail with slow-motion cameras.
Most people do try out capturing some slow-motion pictures through Smartphones and they are also a number of apps that have evolved to facilitate slow-motion photography.
But nothing can beat the image quality of renowned slow-motion cameras. If you are a novice in this field and looking for some expert tips to plan out your buying of a slow-motion camera then here is something you can check out.
Here is a list of the best slow motion cameras in 2022 that has been formed as per functionality and customer reviews:-
10 Best Slow Motion Cameras in 2023:
1. Sony RX 100 V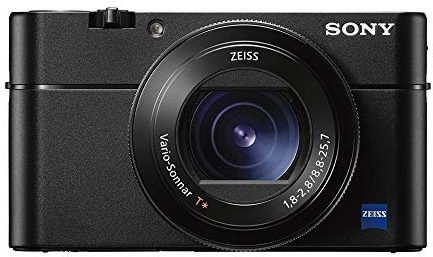 Sony RX 1000 V has the world's fastest Autofocus speed. It is one of the best slow-motion cameras on the market. The shooting speed is also high. It features ZEISS VARIO SONNAR T* LENS. The lens has a large aperture (f/1.8- 2.8).
It has a 35 mm equivalent zoom. The defocused bokeh background effect can be applied effectively. Sharpness is increased by the incorporation of two aspherical lens elements. The revolutionary premium quality T* coating effectively reduces the flare and ghosting. Due to the minimized diffraction of light, there is no unwanted effect.
The image quality and clarity are restored at maximum. The fast hybrid autofocus system brings greater speed and performance in compact areas. The features of focal-plane phase-detection Autofocus and contrast-detection focus are brought together in this single piece.
It has a Phase detection autofocus point of 315 which imparts the property of wide coverage.
It covers about 65 percent of the image area of the sensor. So even if the object is moving at high speed and in variable directions, you can trace it with a high degree of precision. For steady and error-free tracking performance throughout the 24-70mm range of the lens, the high-density tracking AF technology of Sony is employed.
Objects moving at a high speed can be also accurately shot with High-Density Tracking Autofocus Technology. This camera is best suited for continuous and clear focus. EXMOS RS STACK BACK Illuminated CMOS sensor helps to shoot constantly at a full 20.1 MP resolution. It has a front-end LSI with the BIONZ X image processing engine which helps in continuous AE tracking.
Minimization of shots between viewfinder blackouts. It allows up to 24 fps shooting. You can achieve a shutter speed of 1/32000 sec shutter speed. 4k movie recording with a high frame rate and super slow motion.
The camera is sensitive enough. It works amazingly well in low light. It works in reduced noise. Optical Steady Shot image stabilization minimizes the blurring of the image.
Pros
It has a high-speed anti-distortion shutter.
35mm zoom format
Premium quality T* coating
Wi-fi connectivity
Retractable viewfinder
Cons
Adobe Camera Raw does not support this Sony format.
2. Panasonic Lumix FZ 1000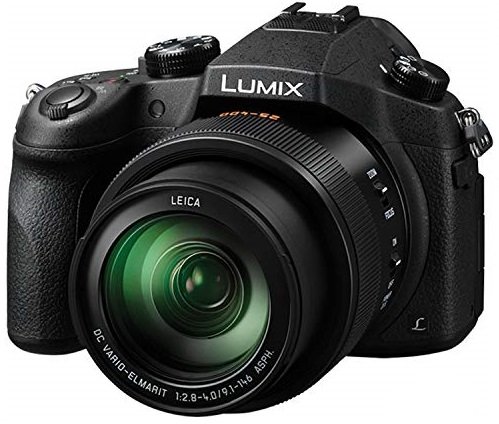 Panasonic Lumix FZ 1000 is perfectly suited for well-defined Ultra resolution images and videos. The images are captured in smooth and continuous slow motion. Slow Motion can be captured in Ultra HD 120 FPS. For enhancing the image creativity there is the unique option of switching between the video mode and the still photography mode.
Hybrid photography of an 8-megapixel equivalent can be done using this camera. The sensor is 1 inch and has beautiful depth and warmth features. Supports up to 16 X optical zoom. It has a 1-inch 20.1-megapixel highly sensitive MOS Sensor. With ISO 12,800 – 25,600, you can capture the image with the least noise.
It features deep focus and Shallow depth of field. It uses the LEICA DC VARIO ELMARIT LENS. F2.8 to F4.0 helps to blur and increase the brightness of the image. The lens is made up of 15 elements in 11 groups. Faster focusing is achieved with a linear motor-integrated focus system. Features depth from defocus technology.
The hybrid Optical Image stabilization technology comes with 5-axis stabilization. So no issues regarding the 0haziness of the image due to shaking of hand or tripod. You can easily control the shooting Features like zoom, and autofocus through a smartphone or tablet. You have To simply connect with the WiFi and you are all set.
You can also practice app-enabled image sharing. 3cm minimum focusing distance helps to capture vivid Macro Shots. You can add various artistic filters to make the image look far more attractive. You can also shoot beautiful panoramas with the Panoramic photo options.
It gives the ultimate image quality and is excellent for all kinds of clicks but especially slow-motion pictures.
Pros
Excellent DC VARIO ELMARIT LENS
Minimum focusing distance of 3cm
5-axis Optical Image stabilization
Unique filters and creative capture modes
Excellent for 4K photography and videography
Well suited against harsh weather conditions as it is dust and waterproof.
Cons
The playback speed is slower than other camera models.
3. Canon PowerShot G16
Canon PowerShot G 16 is one of the best slow-motion cameras. It has inbuilt WiFi and a 12.1 megapixel CMOS Sensor. It has a DIGIC 6 image processor. It has an ISO range of 180-12800. It has 5X optical Zoom.
The f/1.8 lens helps to focus well even in low light. EOS caliber speed helps in continuous shooting with ultra-high resolution. It has a high-speed Autofocus system. To prevent blurring of the image due to camera shaking, intelligent Image Stabilization is employed in the camera.
You can add a lot of finishing effects to make the images look better. You can shoot some brilliant pictures during the nighttime with the star shooting mode. This camera is compatible with a number of Canon accessories and speed light flashes. With the help of built-in Wi-Fi, you can share images Or videos. You can shoot the videos in MP4 format.
With the Canon Camera Window app that you can easily have in your Android ios phones, you can upload images from anywhere. Video capturing achieves an all-new dimension with 1080 p Ultra HD video recording for video recording it can capture up to 60 frames per second.
The battery life is also quite decent. You can easily continue with 350 shots without any issues. It has a strong robust build and is also dust and water-resistant. You can even achieve desired blurred background effects.
There are excellent reviews regarding this product. Not just because it comes under the flagship of Canon, the great functionality and versatility is responsible for the popularity of this camera.
Pros
Built-in Wi-Fi
Intelligent Image stabilization system
CMOS Sensor
Image and video capture at 60fps
5X optical zoom
Digi 6 Image processor
Cons
Nothing worth mentioning.
4. GoPro Hero 7
GoPro Hero 7 allows you to click some amazing WDR photos. It has a rough and sturdy exterior. Being dustproof and waterproof in nature you can carry it easily for outdoor shoots.
The touch screen is highly functional and helps to achieve great control. Excellent for shooting 4K time-lapse videos. The picture quality comes out to be amazing. The functionality and strength of the camera exterior are completely in contrast with its small portable size. Many capture modes are available.
A unique feature is that you can control the functioning of this camera with the help of voice commands. Actually silver is quite waterproof and hence this camera is perfect for adventurous trips. You can capture excellent quality 10-megapixel images with this. The pictures reflect a perfect blend of bright light and shadows.
For clicking about 15 photos in one second you can use the burst mode. With the new video stabilization option, you can bid farewell to the hazy images due to shaking of hand or tripod. So you can click pictures of objects in motion easily without any problems. You can even click in perfect vertical orientations with this camera.
An effective photo timer is featured in the camera. Go, a pro hero is a renowned name for slow-motion shooting. It is one of the best slow-motion cameras. Not only the outer build but also the versatile functionality and easy-to-use features make it top the priority list. Speed tracking has now become easier with GPS stickers. It comes with a one-year warranty.
With this camera, you can shoot up to 60fps in both still photography and videography. Resolution settings and energy consumption determine battery life. You can shoot in various modes by just sweeping through the screen. With this camera, you can actually freeze every moment.
Every single moment comes out crisp and perfect. You can add a micro SD card to store more videos internally.
Pros
Robust exterior
Photo timer
Many modes to choose from while capturing the image
You can add GPS stickers to your photos
Effective burst mode for a greater number of shots per second.
Cons
The battery life is not at all satisfying
The low-light pictures don't turn out to be perfect
5. Sony Alpha A7S Mark II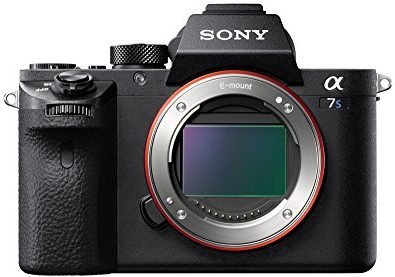 This camera has a hardy and robust get-up. It has 5 axis image stabilization system to allow smooth motion of the camera in 5 directions. This will also prevent any kind of haziness and blurred image that could have arisen due to the shaking of the camera or tripod. This digital camera is compact.
It features excellent low-light photography and the image comes out to be clear and crisp. You can incorporate a lot of focal settings according to the lighting conditions. This can be achieved by the smart auto-adjust system. You can click with ease yet the image quality is unmatched. An image is not always shot perfect but it can always be made perfect with this camera.
Under the legendary flagship of Sony, the alpha Mark II excels at capturing both stills and videos. It has a high-speed Autofocus system. It has low noise capability. It is ultra-sensitive due to an ISO Range of 4096002. It has advanced S-Gamut and S-log picture profiles. It can capture 120 P ultra-high-resolution videos.
It is reviewed as one of the best slow-motion cameras because of 5X slow-motion videos. 4K video recording with internal memory storage is amazing. It has a full-frame mirrorless interchangeable lens. The 5-axis stabilization is 14-bit RAW in nature. High-speed Autofocus is possible even while 4K video shooting. It features a full pixel readout.
There is no pixel binning and line skipping. There are no jaggies due to ultra-high resolution even in 4K videography. You can also shoot in a format of 35mm. 4:2:2 uncompressed video recording is possible. It has 169 autofocus points So a highly clear image is possible. It uses the BIONZ X image processor.
With a tilting LCD monitor navigation has become easier. It has a built-in Wi-Fi system. So sharing images has become much easier with this camera.
Pros
5-axis image stabilization
Built-in Wi-Fi
BIONZ X image processor
Full frame camera
3-inch tilting LCD Monitor
Cons
The range is quite high and can't be easily afforded by novices.
6. Panasonic GH5S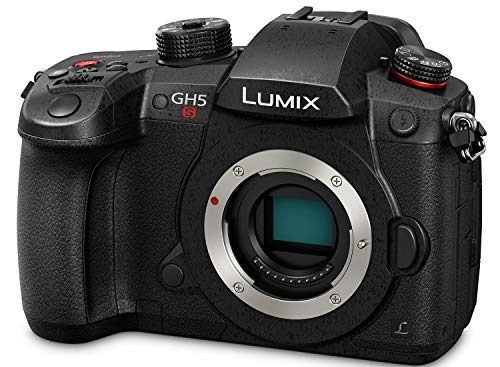 Due to its DFD ( Depth From Defocus) technology, this camera is capable to capture even swiftly moving objects. It can capture 8 fps burst shooting. This model can achieve an outstanding result while still and video shooting in extremely low light conditions at even to the level of -5EV.
This has an inbuilt 20x zooming capacity which can focus even a tiny object. Panasonic GH5S can attain the best image quality and sensitivity due to its dual Native IOS technology and with the beast Venus engine which gives details to color and beautiful texture expression. It can shoot 4:2:2 10-bit 4K 60p/50p High Dynamic Range video without any hassle.
It never misses a shot due to its ultra-high-speed 4K photo mode at 60fps. It can freeze even fast-moving objects at 8-megapixel resolution during burst shooting of still photos. Different aspect ratios can be set manually in this device like 4:3, 17:9, 16:9, 3:2, etc. This device can let anyone record video at a 10x slower speed at 240 fps FHD resolution.
The model is capable of supporting dual SD cards which can provide longer capacity for recording and shooting stills. The magnesium alloy full diecast armor makes the body of the camera really light and its splash-proof, dustproof, and freezeproof design can't prohibit any professional photographer to shoot in extreme conditions.
Large OLED LVF( live viewfinder) with a 3680k dot provides a unique experience for clicking the perfect frame even in very bright light conditions. Also, a high-resolution LCD rear monitor gives vibrant and soothing picture quality.
Pros
It comes with an inbuilt dual SD card slot which gives more space to record large videos and a large number of photos
With Bluetooth 4.2 or Wi-Fi ( 5GHz), anyone can connect it to a smartphone, laptop, or tablet for easy access to photos and videos. Also, shutter and other settings can be controlled with the LUMIX app from Android/ ios.
Splash-proof, freezeproof, dustproof, and light design make this camera easy to handle and unique.
This model supports a wide range of applications like television, DVD/ Blu- ray, digital cinema production, etc.
Cons
There is no in-built flash gun.
The sensor of this camera is not satisfactory for high-edge photography.
7. Casio Exilim EX-F1
Casio Exilim EX-F1 is claimed to be the world's fastest digital camera with CMOS shift image stabilization. This camera can record high-speed serial picture recording capacity of up to 60fps in burst mode. Also, it's capable of recording video up to 1200 fps with FHD recording.
This camera features a 6-megapixel CMOS sensor which helps to capture photos even in almost dark conditions and gives a vibrant and stunning effect to captured photos. This camera has an inbuilt 12x zoom. 7.6 cm TFT color display ( super clear LCD) which is very bright and large enough in its section.
The camera is capable of capturing wide-angle photographs. It is of very little weight which makes it light as well as easy to handle. With the flash continuous shutter in this device, it is possible to take ten consecutive photos with flash with a speed of up to 5 photos per second so hardly any moment can be missed.
To give photos and videos unique touch, EX-F1 comes with 26 adjustable pre-settings for a wide range of situations. To watch captured pictures and videos on a bigger screen the camera can be connected to a television, projector, laptop, or desktop with an HDMI cable. Also, images or videos can be transferred via the SD card.
Pros
With 6 megapixel CMOS sensor and serial picture recording up to 60 photos per second can capture any moment in slow motion even in semi-lighting or dark conditions.
It is capable of 1200 frames per second FHD recording.
About 26 adjustable pre-settings options are present to give pictures and videos high details and unique touch for the best shot.
Three auto bracketing modes are present for white balance light settings and live focus.
Cons
It is not the best camera on this list.
The model is not compatible with Wi-Fi or Bluetooth.
It is not highly recommended for indoor low-light conditions.
8. Canon EOS 7D Mark II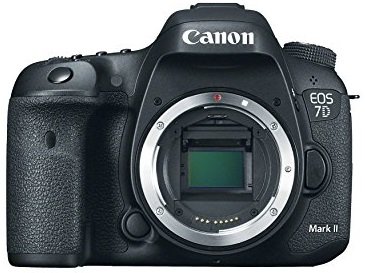 Canon EOS 7D Mark II digital SLR camera is one of the best slow-motion cameras. With an ergonomically designed body, it features a refined APS-C-sized 20.2 megapixel CMOS sensor. It has a dual DIGIC 6 image processor. It can shoot up to 10 frames per second. It has dual slots for both SD and CF cards so that space is not a problem while still or video shooting.
The model features 65 points all cross-type AF that helps in stabilize autofocus in any direction. Also, f/2.8 and EV-3 sensitivity help to capture superb photos and help in keeping consistency in focus even in dim light. To capture multiple fast subjects large zone autofocus helps a lot in this device.
Full HD 60p videos can be shot without any question.
Dual Pixel CMOS AF helps in autofocusing even fast-moving objects without hassle. The remote control can be attached to its remote control terminal for hand-free shooting. Headphones can be attached to the headphone terminal to monitor audio while video shooting.
Canon EOS 7D Mark 2 features an advanced mirror vibration control technology that helps in shooting speedy objects with brilliant image quality. The shutter can shoot at speeds up to 1/8000sec speed. The magnesium alloy body names the camera light in weight and weather resistance making it easy to use under any circumstances.
This model is compatible with the optional Wi-Fi adapter for a convenient Wi-Fi connection. Also, built-in GPS can record latitude, longitude, and latitude data to share the location. It is a very robust model. The flagship of the Canon, it features some of the best-inbuilt features.
The image processor and lens is well suited for capturing slow-motion
Pros
2 megapixel CMOS sensor is vigorously helpful for gorgeous images
It features dual SD & CF card slots so that space can not be an issue.
Advanced mirror control system for focusing on moving subjects quickly.
Built-in GPS helps in sharing location.
0-inch clear view 2 LCD monitor is helpful for bright and clear viewing.
Cons
There are some issues with autofocusing. Sometimes the autofocusing betrays the photographer.
9. Sony Alpha a6500
With extended continuous shooting capacity without any drop in shooting speed, it is hard to miss a decisive moment. There is hardly any display lag during live-view continuous shooting of 8 fps.
A very accurate gyroscopic sensor in this device makes the images very stabilized and makes the shutter speed 5 times faster. With Sonnar T*FE 55 mm F1.8 lens anyone can get premium-quality photos. The focusing point can be shifted from one point to another by swiping over the LCD touchscreen.
The Sony Alpha a6500 model can extend its sensitivity up to ISO 51200 with reduced noise. The 24.2 megapixels APS-C Exmor CMOS sensor with Bionz z x processor give some mind-boggling saturation to its photos and videos even at low light conditions. Fastest autofocus of 0.05 seconds with 425 phase-detection autofocus points it is very easy to capture fast-moving objects.
4K resolution video recording is possible with this device with full pixel readout and no pixel binning. The shutter speed of the device can go up to 11 FPS for a smooth without lagging experience. This device features Wi-Fi and NFC for wireless transfer of photos and videos without any hassle.
Pros
Sony 24.2 MP APC-S Exmor R CMOS sensor with BionZ X processor makes images and videos a very colorful and vibrant event at very low lighting conditions.
The focus point can be changed manually with a hand on the LCD screen.
4K resolution video recording is supported in this model.
Wi-Fi in NFC is included for wireless and fast data transfer.
Probably the best price camera in this price segment.
Cons
There is no headphone jack for audio output.
10. Sony RX 10 IV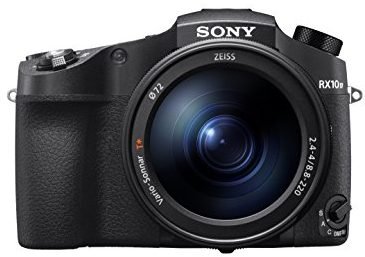 The last camera on our list of best slow-motion cameras is Sony RX 10 IV. This camera has the world's fastest autofocus acquisition speed of 0.03 seconds with a zoom range of 25x. It is one of the best-selling slow-motion cameras in the world.
This camera features optical image stabilization technology developed by Sony itself which gives the camera mind-boggling image stabilization during still and movie shooting especially in low light conditions or at the ultra-telephoto end of the zoom range up to 600 mm. This features up to 24 fps continuous shooting with full AF/AE tracking.
The world-leading 0.03-s2 AF speed is made possible by the 20.1 MP 1.0 type Exmor RS CMOS image sensor that provides for fast, accurate autofocusing of all times and that's why it doesn't miss a move. It has 315 phase-detection AF points. It covers about 65% of the frame.
This camera uses the ZEISS Vario-Sonnar T*24-600mm 7 F2.4 – 4 high magnification zoom lens. This lens can achieve excellent contrast and sharp image in every shot. This lens has an extremely wide angle for the ultra-telephoto range. It uses an advanced BIONZ X image processor.
There are advanced features that improve image quality by enhancing resolution and minimizing noise. It depicts, in reality, Iris's variety and subtlety. The fast hybrid AF makes autofocus more speedy and accurate. Ultra-high-resolution 4K movie (QFHD: 3,840 X 2,160) recording with no pixel binning and full pixel readout ensures footage with resolution. It satisfies professionals.
Its performance is amazing in low-light conditions. It also features touchpad autofocus which makes this device reliable for focusing on the desired object.
Pros
Fast hybrid AF for 4K movie recording which can be controlled manually by touchpad autofocus.
ZEISS Vario- Sonnar T*24-600 mm F2.4-4 large aperture high-resolution high-speed zoom lens.
24 fps continuous shooting with full AF/AE tracking.
Advanced BIONZ X image processing engine for superior detail reproduction and noise reduction
Cons
Pop-up flash cannot act as a wireless controller for off-camera TTL flashes.
There is noise when it is zoomed in high-end 100%
Buyer's Guide to Choose the Best Slow Motion Cameras:
Here are the factors that you need to keep in mind before buying a slow-motion camera:
SHUTTER SPEED
Shutter speed is popularly called the exposure time of a camera. It is the time for which the shutter of the camera remains open and allows the sensor to be fully exposed to the light. Which is measured in multiples of seconds. Fast-moving images required a low shutter speed.
For pictures that require a very high frame rate per second shutter speed is very important. Our brain cannot distinguish between images if it is greater than 30fps. So if you shoot at a speed higher than this and then play it back in a 30fps timeline, a slow-motion image can be obtained.
Accordingly, the shutter speed will determine how many times slower the image will be than in real-time. 60fps or greater shutter speed can produce ideal slow-motion pictures. Shutter speeds up to 240 fps are available and definitely would be far better but 60fps is the minimum requirement.
FRAMES PER SECOND
How Many frames are being captured per second is an important determinant for slow-motion photography. Every second a huge number of frames can be captured. People do think that it is only the frames per second that matter that is higher the number of frames better it is. But that isn't much the case.
You do need to have an appropriate mechanism for slowing down as well. Choose a camera that can at least capture 60 fps. Something less than that is not going to work anyway.
LIGHT
Good slow-motion cameras need to be shot in good lighting conditions. The faster the shutter speed is the greater is the light needed for capturing clear images. You can opt for cameras that have added lighting aids. Or you will have to choose the correct shutter speed.
FOCUS
Choose a camera with good points in Autofocus. It is advisable not to choose a camera with a very shallow depth of field. The camera must also have a highly sensitive autofocus system. It should take less time to focus on.
RESOLUTION
The number of horizontal lines that a video has from top to bottom is called the resolution. So when you hear about a high resolution that indicates a greater number of lines in the video. This will improve picture quality when broadcast.
The resolution comes in a lot of ranges. 1080p is the actual high definition. That is considered a standard now. A new concept in the field of resolution is the 4K Videography. The image looks extremely realistic in this resolution.
Many cameras these days come with the provision for 4K videography. When broadcasted this gives an amazing look. Especially when broadcasted on large screens like television or cinema screens, 4K pictures stand out really well.
SENSOR
Full frame sensors and crop sensors are the two types of sensors that come associated with modern-day cameras. Each one has it's own advantages and disadvantages. It all depends upon the kind of effect that you want.
If you want a large scape image then a full-frame sensor is better whereas if you want a precise click then, of course, the crop sensors are better. Sensors are available in different strength types and sizes. There are many cameras that have the provision for an interchangeable lens.
You can opt for one of that as it would be a better investment for sure. You can have a full-frame or crop according to your need but one thing is to be kept in mind that crop sensors only go with crop bodies full-frame sensors can go with any type of camera body.
ISO
Always choose a camera with a high ISO range. A greater ISO is responsible for making the camera much more sensitive. The more sensitive your camera the better it will be able to capture the details of the image and depict the same in the printable form or slow motion form as well.
Many ISO ranges are available. You need to have a close look at the ISO factor before making an investment in the camera.
MEGAPIXELS
It is an effective determinant of how clear, sharp, and crisp the image will be. The more the better.
THE EDITING SOFTWARE
Please remove the misconception that a camera slows down the picture and creates the slomo for you. Computer software does it. Many cameras do include this slow-motion feature but many are devoid of it. There is much premium-quality software that is available to slow down your footage effectively.
WEATHER SEALING
The camera should be well suited to function appropriately in all weather conditions. It should be dust and splash resistant. Must have a robust, strong, and sturdy build.
IMAGE STABILIZATION
Often due to mechanical jerks of the hand or tripod, while clicking pictures, the image gets blurred and turns out to be hazy. The camera you choose must come with an effective image stabilization system.
It should provide free movement in all directions as well as have an inbuilt mechanism to counteract any unevenness in the image. There should also be an effective way to reduce vibration and prevent the graininess of the image.
Wi-Fi Connectivity
The camera you invest in should have proper Wi-Fi connectivity. You must be able to share pictures and videos from it whenever you feel like it.
Also if you are one who travels a lot and shoots while traveling you do need to have some effective sharing options. If you can synchronize your camera with your cell phones or laptops then you can easily control the camera from your smartphones.
You must keep in mind the purpose of the use of your camera. Accordingly, you must choose the features and proper characteristics of the camera.
The camera should be lightweight, compact, and easy to carry. A portable camera earns many points in popularity.