In this article, we have reviewed the 9 best cameras for fashion photography along with a comparison table and a detailed buyer's guide, in the end, to help you choose the best camera for fashion photography.
Finding it hard to choose the right camera that is affordable and perfect for fashion photography?
Well, we certainly feel that advice from expert photographers can be of great help. In this post, we will look into a brief review of the best cameras for fashion photography.
Fashion photographers need to consider several factors before they choose the right camera. You need to pick a camera that is lightweight and compact so that it makes it easy for you to carry it to fashion shows.
You also need to take the battery life of the camera into account along with the possibility to use different lenses with it.
Let us now have a look at the best cameras for fashion photography.
Best Cameras For Fashion Photography
1. Canon EOS-5D Mark III
If you are looking for an excellent camera that matches your skills as a fashion photographer, the Canon EOS 5D Mark III is a must-have.
One of the most popular cameras used for fashion shootings, the 5D Mark III, comes with a full-frame CMOS sensor and has an image resolution of 30.4 megapixels. All these features help you achieve excellent image quality.
The weight of the camera is less, and one can easily hold it by hand for a longer duration without any hassle.
It's easy to carry and to use when shooting. The pictures taken are very clear and sharp, whatever ISO settings you use. If you need a camera to capture the stunning features of your models, this is the one to choose.
The focus of the camera is worth a mention, and it works excellently even when the light conditions are bad. This makes it ideal for shooting in low-light conditions or at night.
One of the features of the camera that is worth a mention is the ability of its viewfinder, which can be used to adjust the metering, the driving modes, and the autofocus.
This comes in handy when you have to change the light conditions quickly when working on a fashion show.
The camera works perfectly when paired with the Canon EF 50mm f/1.2 L USM lens. It provides a very soft blur and comes with a wide aperture.
Pros
Viewfinder is excellent
Comes with moisture protection and with a magnesium case
Amazing autofocus settings
HDR mode and two memory card slots
Multiple Exposures
Cons
The HDMI signal is not clear
2. Nikon D7100
An excellent camera for commercial photography, Nikon D700 comes with a 24.1-megapixel DX-format image sensor and is completely weather sealed.
The salient features of this camera include full-time autofocus with manual control, and it comes with an ISO range of 100 to 25600.
The camera uses an "EXPEED 3 image-processing engine" and has a 51-point autofocus system as well.
The Nikon D7100 is quite similar to the earlier model from the same brand, D7000.
Though it might look like an upgrade from the earlier version, one can find a good number of improvements made, which make this one of the best cameras Nikon has to offer.
The camera has a 24.1-megapixel sensor that provides high-resolution images. Photographers can use high ISO to obtain quality images, and there is absolutely no noise from base sensitivity when increasing the ISO range from its minimum.
Users can also take advantage of the RAW format, and the color, exposure, and white balance are reliable and quite impressive.
Another surprising addition to the D7100 is the 1.3X crop mode, which helps increase the reach of the lenses you use.
It also helps to widen the autofocus coverage and thus increasing the shooting speed as well as the buffer depth. This comes in handy when you have 60i or 50i movies to record.
The focus feature of the camera needs a mention. It is very fast and accurate and works well even when the light conditions are poor. The color rendition of D7100 is excellent too, and you will be surprised to see that you can even capture the textures and complex designs of the outfits.
The camera control, however, is designed to keep experienced photographers in view and hence it can be a little hard for a beginner to get the hang of it.
The camera can be paired up with the Nikon AF S NIKKOR 85mm f/1.8G for an added advantage as it helps when you are shooting in low light conditions. The camera, when used with the lens, can be perfect for close-up shots or shooting.
Pros
Excellent image detail
Quick autofocus
Very high burst speed
Advanced ergonomics
Cons
Control options can be hard to understand for a beginner
The white balance and the ISO buttons are provided on the left side
3. Canon EOS 7D Mark II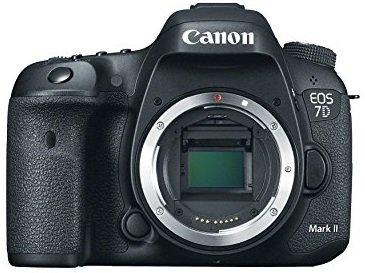 An excellent DSLR camera, Canon EOS 7D Mark II is known for its amazing auto-focusing system and its viewfinder. The camera comes with an APS-C sensor and has an outright speed that makes it an excellent choice for fashion and wildlife photographers.
The camera has a similar layout to the 5D Mark III, but it is a perfect choice if you are looking for a complete kit. The 65-point autofocus is indeed an excellent feature that provides very high performance even with higher ISO.
With a 10fps shooting and metering system, the camera is a must-have if you are serious about photography and wish to take your skills to the next level.
EOS 7D Mark II has a 20-megapixel sensor, but the dual Digic 6 processor helps you take amazing pictures even in low light.
The camera can also be used for video shooting as there are features included like a variety of frame rates, manual exposure, and good control of compression rates.
It gets hard to believe when we say that the EOS 7D Mark II has an excellent burst speed and photographers can use ten frames per second to capture stunning images of the models –both in the studio and outdoors.
The strongest feature of the camera is its autofocus which covers the complete frame actually.
The autofocus is pretty quick, and hence the camera can be easily used at shows to capture images of models when on the ramp.
If you are looking for the perfect camera to assist you on your fashion photography journey, this is the one to choose. The ideal lens you can choose when working with this camera is the Canon EF 85mm f/1.2 L II USM.
Pros
Fine and advanced control settings
Excellent burst speed
Excellent battery life
Optical viewfinder
Cons
The screen does not rotate
No touchscreen
4. Nikon D3300
A perfect camera for fashion photography, Nikon D3300 not only offers excellent portrait features like bright and vibrant colors but also adds even skin tones to the images you capture. Expert photographers who have used the camera have absolutely no problem with red-eye even when shooting using flash.
The Nikon D3300 is often seen as an entry-level camera but comes included with a huge sensor, which comes in handy if you have to capture images for billboards or large prints.
The focusing is pretty fast, and the camera boasts an amazing shutter response. Photographers can concentrate just on the shooting process and need not worry about the lack of time to capture the desired frame.
The camera can be used with Nikon 18-55mm f/3.5-5.6G ED, a perfect lens that covers various focal lengths and is ideal for wide angle or portrait shots making it one of the best cameras for fashion photography.
Pros
Very user-friendly camera
Excellent battery life
Auto mode feature perfect for starters
Good image quality
Cons
Might need an additional adapter to use Wi-Fi
Just one SD card slot
UI is not perfect
5. Canon 5D Mark II
If you are looking for a camera that assures excellent picture quality, Canon 5D Mark II is always recommended. Several photographers who have used the lens have vouched to have captured the clearest photos using this camera.
The 5D Mark II can be used to capture excellent-quality images at all ISO levels.
The device provides sharp images too, which is an added advantage when you are in the fashion industry, and you need to capture images in a large format. Though an excellent performer, the camera does take a little time for adjusting the settings.
It is only required when you have to work in a studio, but you need not adjust the settings when you are at a show. But this is just a drawback you can ignore if you need rich and sharp pictures that are perfect to be printed on a large canvas.
The camera body can also be paired with a wide variety of lenses like the Sigma 85mm f/1.4 DG HSM Art lens, which is known for its Bokeh and sharpness.
Pros
Provides excellent shots even when the ISO is high
The autofocus is fast and very accurate
Has an electronic level function that makes sure that the camera is horizontal
Battery life is excellent
Cons
The monitor cannot be rotated
Does not include an autofocus backlight
Does not have a built-in image stabilizer
6. Canon EOS 70D
Think of a professional, high-end camera and you cannot stop raving about the Canon EOS 70D. The 20.0-megapixel camera comes with a CMOS sensor that operates perfectly with the DIGIC 5+ image processor it has.
This is one powerful combination that helps you achieve HD images that are incredibly detailed and have boasts superior clarity. Capturing the expressions, the clothes, and the textures on the outfits is a part of fashion photography, and it can easily be achieved with the Canon EOS 70D camera.
It not only helps you get the best and sharp shots, but it makes it all look attractive and bright. This is one of the reasons why it is called as praiseworthy equipment perfect for fashion photography.
The Canon EOS 70D has an accurate and ultra-fast autofocus system that helps you capture quick and sharp shots that look lively. The camera is also known for its 100-12800 ISO range which can easily be expanded to 25600.
This feature makes it ideal to be used in any shooting condition. With such a camera on hand, you need not worry about low image quality.
If you are a beginner but believe you have the skill and the budget, this is the camera you need to choose. If you wish to add a lens to the camera body, you can opt for Canon EF 24-70mm f/2.8L II USM, which is popular for its optics and professional build.
Pros
The camera body is well-guarded against dust and moisture
Has a two-axis monitor that comes in handy with Live View modes
Impressive functionalities and excellent touchscreen
Useful prompts are included on the screen
Cons
The camera only has one memory slot
The battery discharges quite fast
Does not have an image stabilizer
7. Canon Rebel T7i
The Canon Rebel T7i has a super-fast processor and comes with a 24.2-megapixel sensor, both of which aid in quick operation and enhanced sensitivity.
The ISO of the camera is excellent, and it can be extended to about 51200. Photographers can get the best and most clear shots even when the ISO is high, and the light conditions are low.
The camera has an optimized autofocus system, which makes it perfect for shooting moving models. Hence, this can be carried to fashion shows with confidence.
The device has a built-in optical viewfinder which makes it easy to check the shot before the shutter is released. This eliminates the need to take more pictures. These are the features that make the Canon Rebel T7i one of the best cameras for fashion photography.
Pros
Has an excellent dynamic range
Has 45 autofocus points
Beginner photographers can make use of the Screen assistant mode
Has both Wi-Fi and Bluetooth modules
Cons
Does not provide great frame coverage when using the viewfinder
Does not have the feature to set up white balance manually
8. Sony A9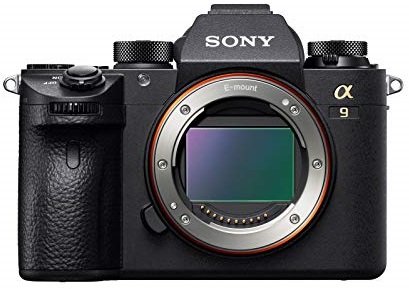 If you are planning to add revolutionary equipment to your existing photography gear, it is time you check the Sony A9.
An excellent camera, ideal for fashion photography, the full-frame Sony A9 comes with a multi-layer CMOS matrix and included memory. One of the biggest advantages you can expect from such a breakthrough model is the speed it offers when using burst shooting.
The camera is highly capable and can reach about 20 fps when in full resolution, where autofocus and metering for every frame can be tracked. This is one feature most fashion photographers enjoy when shooting at fashion shows.
The viewfinder of the camera is impressive, and it enables the users to capture lively and realistic shots, without any delays. The camera is durable, and the body is made using metal and is resistant to dust and moisture.
When it comes to shooting, the camera does help capture amazing details and offers excellent color rendering.
The distortions are quite less, and the colors look vivid and very rich. Photographers can use the Sony FE 85mm F1.8 lens along with the camera body to produce some outstanding background blur effects.
Pros
The camera body is moisture-proof and dustproof
Has a five-axis stabilization system
Quiet and swift autofocus
Captures details when used at low or medium ISOs
Cons
Battery life is a little low
9. Nikon D610
If you compare the camera to Nikon, this is one camera that catches your eye. The Nikon D610 has excellent features, and it is an amazing performer. The camera is known for its accurate white balance system, has a very faster frame rate too, and can be considered one of the best cameras for fashion photography.
Photographers who often shoot at fashion shows and do not want to disturb their audience can choose this camera as it has a silent shooting mode.
One of the biggest advantages of this camera, other than the speed and its accuracy is the image sharpness and clarity. The strong feature of the camera is color rendering, and this is possible due to the inbuilt sensor.
Photographers can capture the best quality images, at ISOs and even in low light conditions without any noise and hassle. If you have been looking for a camera that does not cost a fortune and is still apt for fashion photography, this is the one to choose.
The camera body can be paired up with the Nikon AF S NIKKOR 85mm f/1.8G telephoto lens, which boasts of high-speed aperture and has an impressive focal length.
Pros
Durable body
Full-frame matrix
Very quiet shooting mode
Cons
The camera is a little large when compared to other models on the list
The interface can be complicated for beginners
So these were the top 9 cameras that are the best Cameras for Product Photography. All the cameras have been checked and tested by experts and their performance is described in a detailed manner.
So you can read the reviews and get to know which DSLR will suit your needs the best.
Things to Consider While Buying the Best Cameras for Fashion Photography
Fashion photography can be termed as an art form, which is interesting and unique. While there are different kinds of photography and various fields in which it can be explored, media or fashion is one of the best ways to connect with people.
Unlike other styles like landscape photography or portrait photography, capturing pictures of models is not an easy task. You need to pay attention to the angles and the expressions of the models or actors.
The very first thing you need for fashion photography is a camera, but if you are confused about which one to choose, our buyer's guide will for sure come to your rescue.
Let us have a look at a few tips that will help you choose the best cameras for fashion photography.
Pick the best DSLR
The very first thing you need to invest in is a DSLR camera. There are a number of variants available for purchase online today, each of which is known for its unique functionality.
Before you pick one, learn all about its functionality and read the manual to know it is ideal for fashion photography.
If you are a beginner, taking advice from an expert or your mentor will come in handy.
Full Frame or Cropped Sensor
It is important to get a very clear view of the subject in fashion photography, and you need the right camera to obtain that.
If you use a cropped sensor, the frame size gets reduced, which results in a low-quality picture. Though one can use lenses to improve the image quality, the results are not impressive.
If you wish to obtain a clear and sharp image, you can choose full-frame cameras. If you are a beginner, you can start with a basic camera and a lens and invest in a good camera body as you grow.
Zoom Range
When choosing the best camera for fashion photography, you need to pay attention to the zoom range. It is important to create some space between the camera and the subject to capture a stunning image.
The best range you can look for is 70mm and 20mm, and you can opt for a camera that has a lens of 70-200mm f/2.8 L as it helps to capture objects that are at a distance.
Megapixels
Megapixels are very tiny tiles that increase or decrease the sharpness of the image. They can make the image blurry or excellently sharp.
If you wish to obtain a sharper image, you need to choose a camera that has more megapixels. You need a camera that can easily capture the minute details are textures, expressions, and backgrounds.
The Focus System
When choosing a camera for fashion photography, you also need to check its focus system. A few models have fewer autofocus points, and when it comes to fashion photography, you need to choose one that in the range of 15 – 30 AF points.
If you have a camera that has a value of more than 30, it is indeed an added advantage. It is also important to note that the shooting environment also determines the quality of images.
The Flash Sync
If you shoot in a studio or if you use strobe lights, the result can depend on the speed of the flash sync.
When in fashion photography, you need to have a camera that has a swift and slow flash speed that can easily coincide with the lighting kit you are using.
ISO Range
Though not a must, having a camera with a good ISO range can always come in handy.
The lowest value of ISO is 100, but you can choose one with a higher ISO as it can help you regulate the light setting so that it works well with the aperture chosen.
Battery Life
Fashion events can last from a few hours to a whole day so the equipment you have should be able to accompany you throughout the event. Though most of the events are of lesser duration when compared to photo sessions, it always helps to have a camera that has long battery life.
The guide can help you choose the best cameras for fashion photography and which in turn plays an important role in you becoming a good fashion photographer.
Just start from the basics, and you can keep experimenting with the camera and investing in new camera bodies and lenses.