In this article, the 10 best lenses for Canon 200D have been discussed along with their user guide, key features, and drawbacks. You can pick the one according to your needs and go along the guidelines before you consider buying.
A primary requirement of a photographer is that his kit should be as compact as possible. I mean nobody wants to carry a big and bulky camera with them wherever they go to shoot something right?
So the solution is kind of a camera that caters every need of a photographer, let it be novice or professional along with the compactness. But these days it is difficult to come across a camera that is smaller in size but at the same time offers features that of cameras of big sizes.
One of those cameras is Canon 200D which is what we are going to talk about today.
There are a lot of factors one looks into while purchasing a camera but the price is one of the most dominant factors so regardless of epic quality of camera one can't buy it if it's out of his pocket range. So Canon 200D also takes care of that by offering very minimal price compared to some other cameras that offer relatively similar features.
As a result along with the compactness, you get that budget-friendly aspect with it as well. If you do the market survey you will realize the kind of rare gem that Canon 200D is because its almost impossible to get such a camera that is both lightweight and compact, along with a lower price.
Now coming to its features, this handheld camera is just like any other phenomenal camera by Canon. Don't let its size distract you from the mighty features that it possesses and this small package has a lot to offer than you can imagine. For the starters, the camera is made totally touchscreen which eases in operating cameras and corners away from the nuisances of using buttons for the matter.
Then there is APS-Sensor and Dual Pixel CMOS AF which offers a lot of support for image enhancement and stabilization. It is also a great asset if you are kind of a guy who loves shooting videos or doing vlogs. Actually the camera is highly versatile and can give its high potential for every kind of photography.
If you get this camera then you won't really have to rely on different cameras for doing different kinds of work because this right here is the total package. All you have to do is change the lens and get into your photography shtick.
So here are some of the best lenses that you can mount on your Canon 200D camera and capture some of the amazing stuff that is out there.
10 Best lenses for Canon 200D you can buy
1. Canon EF-S 35mm f/2.8 Macro IS STM Portrait Lens (Best for Macro Photography)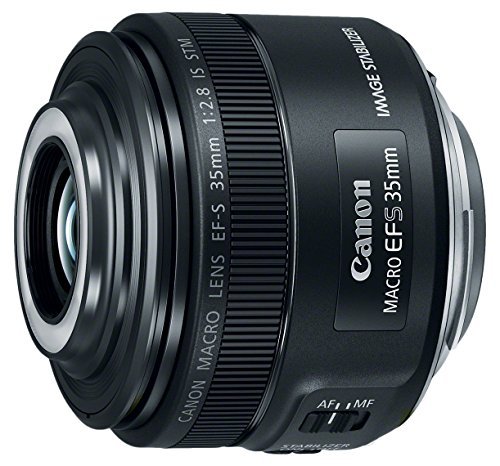 The very first lens in our list of best lenses for Canon 200D is inclusion by Canon itself. Before we get into the features, one thing you should know is that this lens right here is one of the bangers when it comes to macro photography.
A lot of professional photographers recommend using this lens if you are going out to do this particular type of photo-shoot. Because of the complexity of macro photography, it is really difficult to come across a lens that is fully functional for this case but this lens right here breaks a lot of barriers and provides you the platform where you can hone your skills when it comes to macro photography.
The focal length for this length is fixed 35mm and the aperture of f/2.8 which is just what you would expect from a macro type lens. One of the things that make it a dominant macro lens is the feature of built-in macro lite within it. This feature actually expands a lot of options for you by allowing you to modify the details of your newly captured images at the micro-level.
For instance, it bright-up the images that are taken in darker regions and enhance the details of the image. Furthermore, it also allows you to magnify the image to a pretty huge extent without harming any quality of the image.
This proves to be a pretty vital aspect as in macro photography details are very important but sometimes it isn't possible to fully capture every glimpse of the image so an external enhanced like macro lite saves a lot of work.
Now that since this is a handheld camera you will have some problems of shaking that can extensively hamper the quality of your image and in macro photography, this kind of problems occurs because of the distance at which you are shooting so a feature is required that can compensate for this undesired shake and luckily there is one in this lens.
Hybrid image stabilization is used in this one which pertains to the shaking of the camera. So the great thing about this particular function is that unlike other shaking compensation techniques this one has a relatively larger range of detecting shakes and eliminating them at the same time.
Pros
It is an ideal choice for macro photography.
It uses a very effective image correction method.
Works pretty well even for moving subjects.
Image stabilization is good.
Cons
It doesn't have auto-focus.
2. Canon EF-S 55-250mm f/4-5.6 IS MK2 Telephoto Lens (Best for Wildlife Photography)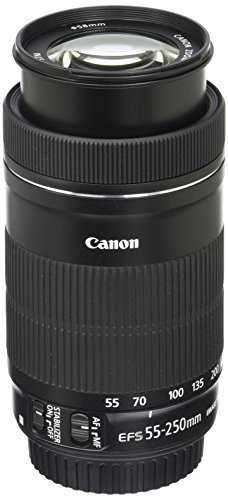 Next up we have this beautiful telephoto lens by Canon itself. As you already know that Canon 200D is an extremely compact camera so the addition of another compact lens will prove to be a quite stupendous combination. This lens right here could become a part of that amazing combination since it is really small in size and to its advantage, it is less costly.
It could be very useful for photographers who have just started doing photo-shoots. Although it is cited as a lens most suitable for beginners, it doesn't take away the fact that it can still capture some cool photos in broad daylight and even some pros have been delighted by the quality of the image it produces.
The build quality of the lens is actually pretty neat, unlike some low-end lenses. It isn't exactly premium but it does give an aesthetically pleasing impression. Most of the material used over the lens is plastic so it adds the lightweight factor to the lens. The plastic used isn't really much reliable but it is rigid enough to sustain some loads.
Autofocus works fine in a condition where there is an abundance of light but you will have to face some uncertainties while shooting in areas where there is a scarcity of light. As far as image stabilization goes, this lens utilizes Canon's exclusive image stabilization technology which gives 4 stop gain.
There is also a provision of automatic panning detection by which stabilizer gets shut off whenever you are taking photos of moving subjects and that too automatically.
The distortion in this is something that you will have to deal with because there isn't any inherited feature that can account for distortion produced within the image. Chromatic aberration is almost negligible in this one but it is only possible when image corrector is enabled.
As far as the bokeh goes, you are going to get top-most quality of it with the help of this lens. So overall it's not really a bad lens, in fact, for the price for which it is available, you can't really miss it.
Pros
This lens delivers bokeh of the highest quality.
Internal reflections are eliminated.
It is extremely cheap.
It is beginner friendly.
Cons
Lens isn't really much durable.
3. Canon EF-S 10-18mm F/4.5-5.6 IS STM Wide-Angle Lens (Best for Interior & Architectural Photography)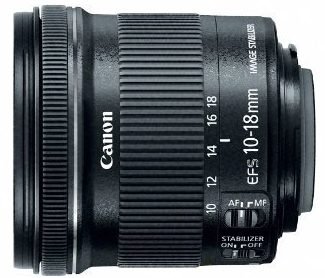 Here's another lens from Canon and this time it is a wide-angle lens with the focal length ranging from 10mm to 18mm. Just like the previous lens this one right here is also a gem for people who have just gotten into the Wide-angle photography.
But even if you are on an intermediate level it will still do the job of the pro-esque lens for you. As it is beginner-friendly you will find it a much lesser price compared to some of the best wide-angle lenses out there.
One of the significant things about this lens is its feature of using auto-focus during the shooting of the video. You don't really find such features at such a price of the lens so if you are an enthusiastic video shooter, you will find this feature quite helpful. Noise reduction is also done quite effectively by using a stepper motor that eliminates the noise produced while auto-focusing.
The use of this lens is not only limited to wide-angle photography. With this focal length, you can perform different photography types like portrait photography or even macro photography to some extent. The use of the material in this is just fine and you can't really expect a lens of this price to have the exterior of metal.
Its polycarbonate plastic but it isn't any less in strength. Of course, compared to metal it doesn't stand anywhere but the lens ultimately becomes lightweight by using such material which results in ease of carrying it. Even after using such material and such price the feel that it offers is soothing. It has a really nice color which is pleasing to the eyes so it is quite attractive.
For handling the effects of chromatic aberrations there is a UD element along with 3 other elements that do their respective function. These elements are coated in order to enhance the quality of images and provide exceptional brightness.
There is also a 7-bladed circular aperture diaphragm whose job is to provide a nice bokeh.
Pros
It is user friendly.
Easy to carry around.
A great choice for video shooting.
Comparatively lesser price.
Cons
You have to be extra careful while using lens because it is vulnerable to impacts.
4. Canon 18-135mm STM Zoom Lens (Best for Landscape Photography)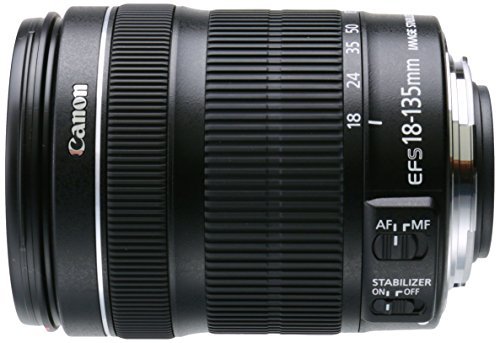 Cited by many as one of the best zoom lenses available out there, Canon 18-135mm STM is just the type of lens you should upgrade to if you are looking to move onto the next bigger phase of photography.
Actually, by adopting this lens, you can broaden your photography skills because there is a lot this lens offers and the kind of versatility that you will receive from this will just hone your skills at different genres of photography. Landscape, portrait, architectural, sports, and some similar types of photography can be done while you have this lens.
One of the best things about the lenses that Canon produces is that the weight of the lens is pretty less. If you compare them with lenses of Nikon, you will find that Canon lenses are mostly compact and offer almost the same features. Again in this lens weight isn't a nuisance creating factor and since the filter mount is plastic, its portability is automatically increased.
The camera lens has both manual and autofocus modes. It might be quite difficult to get accustomed to manual focus but once you've mastered it, you will find a new world of exploration. Meanwhile, autofocus in this is pretty neat and with the use of stepper motor, the functioning of autofocus is really smooth and doesn't create much noise or vibrations.
The effects of vignetting and chromatic aberrations can be fully compensated but they are reduced to some extent. In a zoom lens, you can't really do much about these effects but this lens does its job handsomely and corrects most of the vignetting and chromatic aberrations within the image.
The effects of ghosting and flare in this are almost negligible. It's obvious that you don't really face such effects when it comes to zoom lenses but still, in some considerable amount, such effects are observed in some zoom lenses. Nevertheless, such problems don't occur in this lens so you don't really have to worry about that.
In addition to this, the lens always gives nice bokeh.
Pros
No effects of ghost and flare.
For shooting video, it is an ideal choice.
It is compact in size.
Both auto and manual focus modes are available.
Cons
The effects of distortion can be minimized.
5. Canon 50mm F/1.8 STM Portrait Lens (Best for Portrait Photography)
As Canon's one of the best selling lenses, there is no way one can look over this amazing masterpiece by Canon itself. A gem for portrait photographers and a jewel for professionals, this lens is everything one could ask for.
Unlike some previous lenses, this lens makes the use of metal mount so there is a considerable increase in weight but none of that matters when you are holding one of the best lenses of all time in your hands. So let's start the review of this astounding product.
So the lens has a fixed focal length of 50mm with angle of view as 46, 27, and 40 for diagonal, vertical, and horizontal respectively. This actually gives you a lot of options and leaves a lot of space for your creativity and gives you a chance to organize the subject as per your perspective.
Again the lens features both autofocus and manual focus mode. Here's the tricky thing about this lens. While using auto-focus there is a creation of sound but it depends on where you are using the lens. Compared to some previous lenses the sound in this lens is more so it isn't really desirable for macro photography.
But it isn't too much that it will cause a nuisance to the subject and since its portrait lens, it doesn't really affect the performance of the lens. Besides that, the lens is actually pretty smooth in functioning and works just fast enough to get the image of the highest quality.
One of the best things about using a portrait lens is the ability it gives to brighten up the images. The light-gathering ability of such lenses is just phenomenal and in this lens, there are no exceptions. So even if you are rooting for night photography, you can always keep this portrait lens by your side and get fascinated by its aperture every time you use it.
The good news about this lens is that chromatic aberrations are well within limit otherwise for portrait lenses there are a lot of problems related to aberrations. The coating on elements is also done pretty neatly in order to get the highest quality of bokeh as well as the overall quality of the image.
Pros
It has superb build quality.
Optical performance is top-notch.
Chromatic aberrations are within limits.
Aperture has amazing light gathering ability.
Cons
There are problems of creation of noise while focusing.
6. Canon EF 70-300mm f/4-5.6 IS USM Zoom Lens (Best for Wildlife Photography)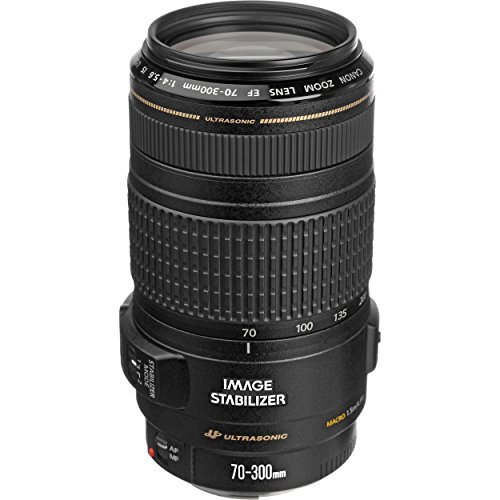 Here is another zoom lens in this list and again this time it is by Canon. The Canon has kind of set a trademark when it comes to designing lenses. Most of their lenses are really compact in size as some of them would even fit in your pockets (that is just an exaggeration but you get what I am trying to say).
This lens right here isn't anything different and trust me it is so small that you would love to carry it around with your camera wherever you go and since this is a zoom lens, it opens up a lot of paths for creative photography.
So this lens uses a third-generation image stabilizer which is convenient as well as unique. This image stabilizer makes the use of a gyroscope sensor that detects the vibrations. Now, this input data is utilized to move the elements within the lens in such a way that the path of light is changed and as a result, the effects of vibrations are compensated.
This feature is actually quite helpful when you are doing handheld photography and since the lens is compact, you wouldn't want to carry a tripod with you everywhere you go.
Focusing on this is good and when you compare it to the previous variants, it has been enhanced to a greater extent. The speed of the autofocus is increased to a certain degree but it still isn't up to the standards of Canon, it does its job pretty well though. But the great thing about its autofocus is that it's very accurate and along with that there is almost negligible sound when you are focusing or defocusing.
The sharpness of images that you get from this lens is pretty good but the only thing is that you must select the proper aperture for a given focal length, otherwise your efforts will go as waste. Distortion is still a problem in this as it is in most of the zoom lenses.
Pros
The lens is compact and somewhat cheaper.
The image stabilization is exceptional.
Great asset for handheld photography.
Sharpness you get is well balanced.
Cons
The images suffer from the problem of distortion.
7. Tamron Auto Focus 18-270mm f/3.5-6.3 VC PZD All-in-One Zoom Lens (Best for Real Estate Photography)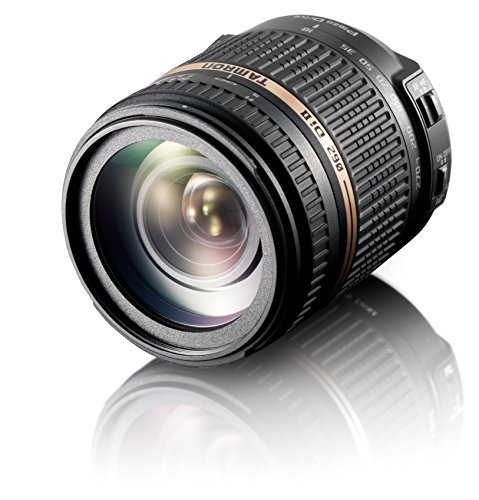 The first non-Canon inclusion in our list for best lenses for Canon 200D is Tamron Auto Focus 18-270mm f/3.5-6.3 VC PZD All-In-One Zoom Lens.
Tamron as we all know is one of the biggest manufacturers of camera lenses and one word that comes to mind while talking about Tamron is "Quality" and that's exactly what you will get from this lens if you ever think about mounting this beautiful lens onto your Canon 200D camera. So let's see what this lens has got.
Now, this lens is an ideal choice for handheld photography.
Why you ask?
Well, you see the vibration compensation technology used within it isn't something you come across every day. What I am trying to say is that it sits right at the top among the quality vibration reduction technologies. This is actually courtesy of three special steel balls that are used within the lens.
These balls move swiftly and without making any noise and compensate for any kind of vibration that is encountered. Moreover, it also eliminates the need to use flash in low light conditions which is a big plus if you talk about zoom lens.
Other features for the lens include low dispersion glass which is pretty much there in every Tamron lens. The function of this element is to reduce chromatic aberrations and it does to an admirable extent. For enhanced optical performance, it uses an internal focusing system. In addition to that to keep the images locked there is a provision of zoom lock feature which is an exclusive feature of Tamron.
Autofocusing in this is pretty cool, in fact, it is probably the best among the lenses we have seen so far. This is only because of the Piezo Drive Ultrasonic motor used in this lens. The noise reduction with this is fantastic and moreover it is compact in size compared to some conventional ultrasonic motor.
It actually works on the principle of the standing wave which has resulted in this reduced size.
Pros
Focal length has amazing range.
Camera shakes are effectively eliminated.
Zoom lock feature prevents undesired motion of barrel hence avoiding the nuisances faced by non-required zooming.
Optically superior and produces images of higher quality.
Cons
Autofocus is comparatively slower.
8. Canon EF-S 60mm F/2.8 Lens Macro Lens (Best for Portrait & Macro Photography)
This time in our list of best lenses for Canon 200D we have a prime lens of Canon EF-S 60m F/2.8 lens. This inclusion of Canon is built with a solid design that signifies the quality of the Canon brand.
The metal mount is used for this which adds extra strength to the lens and also gives it a nice premium look. It also has a short back focus design in which distance between lens and sensor plane as reduced as much as possible in order to prevent the collision with the rear mirror.
One of the best things about this lens is the resolution it offers. You will get a good amount of resolution both at the center and at the corners with just the correct amount of sharpness for most of the aperture. Moreover, despite being used in different apertures, there is almost no presence of color fringing which is a valuable advantage for such type of lens.
Slight issues of light falloff are still there but their presence isn't that hampering because it is mostly at corners and since there isn't any variation in the focal length of the lens, the problems of distortion are almost negligible. Besides this, the effects of ghosting and flare are also minimal providing you the topmost quality of an image.
Pros
It employs an internal focusing system.
Ghosting and flair are extensively eliminated.
The look of the lens is premium.
Even after having metal mount, it is lighter in weight.
Cons
It is a bit uncertain to use lens in low light conditions.
9. Canon 100mm F/2.8L Macro Lens (Best for Macro Photography)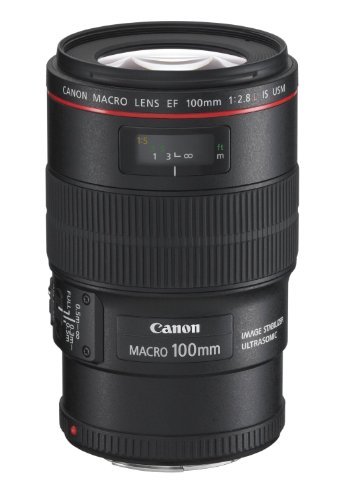 In the world of macro photography, Canon 100 F/2.8 L lens is a force to be reckoned with. It wouldn't be wrong to call this epic lens as one of the best in the game. There is everything within the lens that one could ask for. Especially designed to get the best shots of macro subjects that are still as well as moving, this lens is built to make your photography experience worth remembering.
The L in its name indicates that the lens is from L series of lenses by Canon. The lenses in this series are mostly praised for their design and their resistance to various conditions. Similarly in this lens very high-grade materials are used which makes it resistant to different weather conditions and this is a very basic requirement for macro photography.
Although the lens is preliminary used for macro photography it is also an ideal choice for taking portrait shots and there are a lot of reasons for that. The very first is its image stabilization technology which is specially designed to adjust the light and details as per user's convenience and in addition to that, it also eliminates chromatic aberrations right from the ground.
Also, you get to have a nice beautiful bokeh while you are using it for portrait photography.
The ultrasonic motor used in this is super smooth in operation. Unlike some other motors, it doesn't make any kind of noise. The noise produced while focusing is so small that a fly wouldn't hear it and since in macro photography you have to take images of life forms that may get distracted due to noise, this motor turns out to be pretty helpful.
There is also a feature for limiting the focus for a particular distance so the speed can be further enhanced.
Pros
The design of the lens is top tier.
The ultrasonic motor is very silent in operation.
The lens can be used for both portrait and macro photography.
Resistant to various conditions.
Cons
IS makes some noise while shooting video.
10. Canon EF 17-40mm f/4 L USM Wide-Angle Lens (Best for Landscape Photography)
The last lens in this list is Canon EF 17-40mm f/4 L USM which is a type of wide-angle lens. Just like the previous lens, this one too is from L series lenses from Canon. So you can expect its design to be extremely top-notch as well as resistant to various types of environments.
With its build quality, it is sure to make an impression wherever you go and since this is a wide-angle lens, you have a lot of options for taking photos.
Optically the lens is superior to most of the lenses. There are three aspherical elements present in the lens that is used to element most of the undesired effects like ghosts and flaring. The elements used are precise and also nicely coated to prevent internal reflections.
The department where lens really stands out is its autofocus. The ultrasonic motor in this is responsible for accurate, fast, and smooth focusing of the lens. The best thing about this autofocus is that it works equally well even in the regions where there is a scarcity of the light. Manual focusing is also there, all you have to do is press the switch and you are good to go.
The quality of bokeh needs some enhancement. It's not exactly bad, you can say that it's just average.
Pros
Lens has relatively lesser price.
Build quality is supreme.
Lighter in weight.
Good durability.
Conclusion
So there are varieties of lenses that can be used for Canon 200D as mentioned in the list. Personally I'd recommend getting Canon EF-S 55-250mm f/4-5.6 IS MK2 because it offers a lot of versatility.