In this article, we have reviewed the 6 best lenses for car photography in 2022 along with a comparison table and a detailed buyer's guide to help you choose the best lens possible according to your needs.
Car photography can be quite interesting and the journey becomes exciting when you have the right gear in your bag. If you need to take pictures of amazing cars as a hobby or as a professional, there are a few aspects you need to consider as all you need to focus on is taking a "first-class photograph".
Getting that professional shot is not as difficult as many think – all it requires is the best camera and best lens for car photography, some thought, a little patience and time, and a few tricks.
Well, as experts suggest, there is no point even when you have the best camera if you do not have the best lenses to make the best use of it.
So, it is always good to invest your money in buying good lenses than buying good cameras. A good lens can be kept indefinitely but the bodies need to be changed often after using them for a year or two.
If you are not looking for expensive lenses in the market, you can still get a basic idea of the lenses you can use for car photography. So, let's get started.
Best Lens for Car Photography
1. Canon EF 16-35mm F4L IS USM
The EF 16-35mm F4L IS USM is the very first of the ultra-wide L series lens launched by Canon and has a feature of image stabilization. The lens also features two impressive Ultra-low dispersion elements and a super spectra coating that helps in reducing the flare of the ghosting.
The lens comes with a fluorine coating on its front and on the rear elements which protect it from dust, and water.
Some of the other excellent features of the lens are the ultrasonic focus motor, a circular aperture with nine blades, and very silent and high-performing autofocus. With such amazing features, the Canon EF 16-35mm F4L IS USM is a perfect lens for automotive and landscape photography.
The Canon EF 16-35mm is a professional L series lens with an ultra-wide zoom and it is not too big or does not look bulky and is not heavy at the same time. Though priced a little high, it has excellent build quality and certainly is one of the best premium lenses from Canon.
The lens feels quite solid when you hold it, and the outer barrel, as well as the filter thread of it, is made of plastic. The focusing ring is very wide and comes with a rubberized grip band, but it does not include an aperture ring. The lens also has a distance scale which comes in handy when you have to click some images outdoors.
The lens offers excellent Image stabilization and this can be easily activated using the on and an off switch that is provided on one side of the lens. If you have a camera body that supports the IS technology, the lens can also be used to detect the intentional panning movement and it automatically switches to the Panning IS mode from the normal mode.
The lens also has a wide focus ring which helps when you have to set the focus at infinity.
The autofocus is quick and it only takes about 0.15 seconds for it to lock on to the focused subject. Though a very capable lens, photographers often shy away due to its price.
If you are looking for a lightweight lens that is responsive and comes with image stabilization, this is the one to choose. The lens controls the chromatic aberrations well and has a very impressive Bokeh.
Pros
An excellent wide-angle zoom lens
Great image quality
Impressive Bokeh
Cons
Vignetting
A little lack of sharpness
2. Tamron SP 35mm F1.8 Di VC USD
If you are looking for a decent wide-angle lens, you can opt for Tamron SP 35mm f/1.8 Di VC USD. The lens is a good one for beginners who are looking to buy the best lens for car photography as it has been and is being used by a number of car photographers.
The Tamron SP 35mm f/1.8 can be used along with full-frame cameras from brands like Canon, Sony, and Nikon.
The maximum aperture of the lens is f/1.8 and uses the VC or the Vibration Compensation technology to provide excellent image stabilization. The autofocus operation is also very quiet; thanks to the use of an ultrasonic focus motor.
The lens boasts of moisture-proof protection, which improves its durability. The minimum focus distance of the lens is 0.2m and has a maximum reproduction ratio of 1:2.5.
The Tamron SP 35mm f/1.8 is one big and bulky lens and it measures about 8cms and weighs 480gms. The lens can be used over a small APS-C body but it matches well with full-frame cameras from Canon or Nikon.
The build quality of the lens is excellent and it feels really solid when you hold it, thanks to the use of a metal outer barrel along with a filter thread. The lens also comes with an on and an off switch which helps to turn on the VC, which offers amazing image stabilization.
It also comes with the feature of Di VC USD which provides a very silent auto-focusing.
If you are looking for an affordable alternative to the existing lens from Nikon or Canon, Tamron SP 35mm f/1.8 is the one to go for. This is affordable and comes with features like image stabilization and excellent weather sealing.
Pros
Lighter than its rivals
Appealing price
Offers a good image quality
Cons
Has barrel distortion
A few notable optical issues
3. Sigma 100-400mm F5-6.3 DG OS HSM
The Sigma 100-400mm F5-6.3 DG OS HSM is one compact and lightweight telephoto zoom lens that works wonders when paired with full-frame DSLR cameras.
The lens increases the focal length effectively and comes with a rounded 9-blade diaphragm. This feature helps to create a blur around the out-of-focus areas. The lens also includes optical image stabilization and a hypersonic motor that helps with the silent functioning of autofocus.
Some of the other features worth a mention are the inclusion of a zoom lock switch, a manual override option that can be activated using the focus ring when autofocus is in use, and the impressive water-repellent coating provided on the rear and the front lens.
The lens also includes a dust and splash-proof construction.
The lens is very lightweight and weighs about 1160 Gms and measures about 18.2 cm, which makes it compact and easy to carry. The lens feels at home when mounted on a full-frame camera and this is the one you can easily hold on to for a long time. The lens also extends a bit when zoomed from 100mm to 400mm.
The build of the lens is exceptional and it includes a plastic shell and uses both plastic and metallic parts for construction inside. The optical elements too are made using high-quality glass and include 4 SLD glass elements, which help reduce the color fringing and any chromatic aberrations if any.
When it comes to the features, the Sigma 100-400mm has all that you might expect from a professional zoom lens. The lens also has a feature of vibration reduction which can be activated by the OS switch located on the barrel of the lens.
The OS system provides two options, one of which can be used to click amazing pictures of moving subjects. This is one of the reasons why the lens is used for car photography.
Pros
Affordable price tag
Lightweight and easy to use and carry around
Decent auto-focusing
Effective built-in optical image stabilization
Cons
The manual focus override does not work well or as expected
Vignetting is seen when the aperture is wide open
4. Nikon AF Nikkor 50mm f/1.8G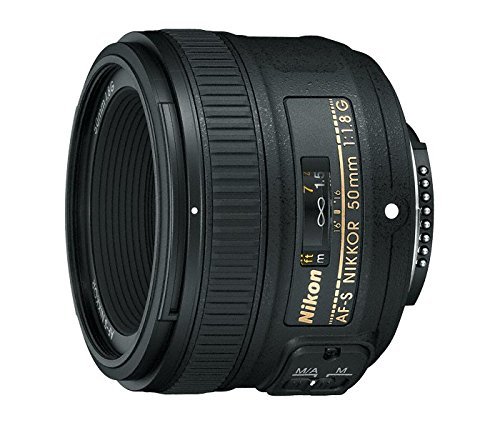 The Nikkor 50mm f/1.8 G is one of the best 50mm lenses launched by Nikon. The lens includes a silent wave motor and uses an all-new optical formula that has seven elements in six groups which include an aspherical element.
The Nikkor 50mm f/1.8 G also has the feature of full-time manual autofocus override and a lens mount that is weather sealed and an iris diaphragm that has seven rounded blades.
The Nikkor 50mm f/1.8 G weighs about 187 gms and is a lightweight lens that can be well balanced on the Nikon D700 digital SLR camera. The lens also feels great and the outer barrel and the filter thread are made of plastic. It has a sufficient focusing ring, which is rubberized and is ridged.
The Nikkor 50mm f/1.8 G is a G series lens and hence does not have an aperture ring. This should not affect photographers unless someone wants to use it on a very old camera.
The Nikkor 50mm f/1.8 G does not include the feature of vibration reduction nor does not have the focus limiter, but the only control that is placed on the lens barrel is the focus mode switch that uses both the M/A and the M settings.
The lens is completely sealed for both moisture and dust and is a great pair to similar sealed cameras. This is what makes them ideal to be used in various dusty locales. The Nikkor 50mm f/1.8 G works as an excellent companion to any Nikon camera be it big or small.
The lens is not only lightweight and affordable; it is indeed a winner when it comes to the optical segment. The center sharpness of the lens is impressively wide and the lens is sharper too.
Pros
Aspherical lens element
Exclusive Nikon Silent Wave Motor
Optimized for edge-to-edge sharpness
Lightweight and Sharp
Cons
Negligible geometric distortions
Slight vignetting
No aperture ring included
Slightly expensive
5. Canon EF 70-200mm F4L USM
Compact and lightweight, the Canon EF 70-200mm is power-packed with a wide range of features and is a must-have if you are into car photography.
A telephoto zoom lens, the Canon EF 70-200mm has the feature of image stabilizers and also includes the impressive "Air sphere coating" which helps to reduce flare and ghosting.
Both the front and the rear elements have fluorine coatings and the barrel looks great in a pale grey shade.
The number of switchable IS modes, which was two earlier has now been increased to three with this model. The lens provides excellent image quality and also has a reduced focus distance.
The new upgrade of this lens has a quality fluorite glass element included along with two ultra-low dispersion elements, all of which help improve the contrast and the sharpness and also reduce the color fringing.
The Canon EF 70-200mm is a lightweight zoom lens that has amazing build quality. The construction is robust and comes with extensive features like weather seals, and more, which are just perfect if you need to shoot outdoors. The fluorine coating repels grease or moisture and makes it easy to clean the lens.
The autofocus is fast and very effective and the image stabilization feature is just up to the mark. Both the sharpness as well as the contrast are good and work as advertised even when used with a wide-open aperture at f/4.
This is one lens that performs without any flaws and also delivers a beautiful Bokeh. So, if you have the budget, just go for it.
Pros
Smaller than the earlier version and hence easy to carry
A completely redesigned optical path
An all-new image stabilizer
The very fast autofocus system
Stunning sharpness and contrast
Cons
The tripod mount ring for the same can be expensive
6. Canon EF 70-200mm F2.8L IS II USM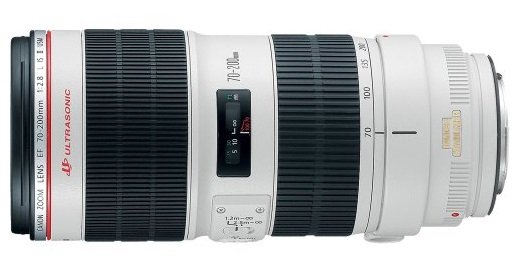 The Canon EF 70-200mm F2.8L is an excellent lens that has been around for a decade now and has seen a number of upgrades over the years. Known to be the best of the lenses in the market, the new upgrade provides the lens with an all-new coating that helps reduce flare and ghosting.
The lens is known for its excellent focal length and when a Canon EF 1.4x teleconverter is added, all you can expect is a very high performance. One can easily create a very useful focal range of about 140-400mm when the aperture is f/5.6.
The lens shows very few levels of chromatic aberration and the Bokeh fringing can be controlled well using a lens of this kind.
Apart from the above mentioned, the lens has many strong qualities to boost which include a high performance when focused against bright light sources and very little amount of vignetting is seen. The build quality is outstanding and very sturdy, thanks to the metal body and the weather sealing of the entire unit.
If you wish to obtain a highly impressive performance, all you need to do is to pair it with a professional camera. Such a combination will help you keep up with the fastest action even when the light conditions are low.
The lens also has "4-stops of image stabilization" which is just what you need if you plan to shoot in dim light conditions.
Overall, it can be said that the Canon EF 70-200mm F2.8L still stands strong, even after many years, and is one outstanding lens that you need to have to capture some excellent pictures of cars.
With the excellent build quality and robust features, you really cannot ask for more.
Pros
Excellent build quality
Great image quality
Image stabilization
Now that we learned about the best lenses available for car photography, let us have a look at some of the tips that will help you make the right choice. With a plethora of options available online, it certainly is not easy to choose one among them.
So, read through our buyer's guide that will help you understand what you need to look for when buying the best lens for car photography.
Buyer's guide for the best lens for car photography
Do you want to figure out what the best pair of lenses that suit automobile photography? If yes is going to be your answer, this is something you need to primarily understand. You need to learn the nuances of how you call your best shots while driving the car.
This way, you can roughly estimate the aperture length you are looking for. You can figure out whether you require an ultra-wide lens or a zoom-in lens. You can know the brightness or the shutter mode with which the camera operates.
Then your search for the right DSLR for car photography becomes easier. At the same time, we will also be letting you know some of the primary factors that impact your photoshoots.
Getting inside-out
If you want to take the best photoshoots in town, you will definitely have to think differently. Visualize the scene as how you see it from a car window. You can re-create a similar scene in your photo as well. You have the outside image of the car. Getting this perfectly timed can be challenging.
Then you have mountains or hotels popping outside the car. You can have a blurred background. Else make it sharper using a higher aperture. In other words, you can have a sharper background with a blurred foreground.
Either way, it is your imagination that makes the real difference. Sigma 8-16mm f4.5-5.6 DC HSM is an ultra-wide lens for Nikon cameras. You get a wider angle aperture with this one.
Shooting at the eye-to-eye level- a strict no-no
This is a blunder most amateurs tend to make. They try shooting pictures based on what they view by standing in front of the car. It might be the most natural setting, but that is not the best angle the car is viewed.
So you can go high or go low. You can use a ladder for taking pictures shoots at higher angles. Else hold the camera high above your head and then click the picture. You get a woo effect for sure. Tokina AT-X Pro 12-28mm f/4 DX is a great pair of lenses that is an all-rounder.
Use stylized techniques
Great pictures come with precision, accuracy, and timing. If you try taking a picture of a car from the parking lot, there is nothing exciting about it. Think of stylized techniques to make the photos look surreal and incredible.
Say, for example, you may want to take a picture of a car driving through a forested area. Here throw light on the tall trees covering the background of the car. Make sure, that not an inch of road space is visible in the focal area. This way, you get an exclusive picture of the car/limousine amid redwood trees.
The stylized effect can be a captivating one indeed. Canon 70-200mm f/2.8L IS II can be a fascinating pick for getting your portraits perfectly timed.
In this buyer's guide for the best lens for car photography, we have come up with lenses that suit the afore-stated conditions. You will need to figure out the kind of pictures you need from a superlative degree and then invest in buying the right pair of lenses.
Let us know and have a look at some of the most common queries car photographers have.
FAQs related to Best Lens for Car Photography
What are the different lenses I need to start with?
Choosing the right lens plays an important role in almost every kind of photography. If you are a beginner in car photography you can choose lenses that are compact and lightweight and are prime lenses. You can choose a 20mm ultrawide lens and 50mm wide lens and a large lens which is 100mm.
What lens do I need to use for a sharp background and foreground?
Well, if you wish to have an impressive and bright background and foreground, you need to choose lenses that have an aperture of about f/14 to f/20. You also need to make sure that the ISO is low as it reduces the amount of grain in the final picture. The best way you can do it is by using longer exposures.
What is the best way to control the depth of field?
If you have been into photography for a while, you should be aware of "Bokeh". This technique is often used by professionals to highlight the subject. You can set a high aperture and boost the shutter speed to achieve it.
So, you need to choose a lens that provides you with both options.
If you compose it well, you not only get a stronger image but will be able to add a unique artistic flair to it as well.
So, now that we have learned about the best lens for car photography, it is time you do your homework and chooses a lens that works best with your skill level. All you need to do is to put a little thought and a little effort and you will be able to create images that you will always be proud of.
So, pick the best lens and click some shareable and the most memorable pictures of the wonderful machines.