Landscape photography is loved by beginners as well as professional photographers as they not only enjoy traveling and exploring new horizons but the time one gets to enjoy amidst nature can be truly amazing.
The camera a photographer uses is one important tool that helps capture the best landscape shots, but the lenses used also play a bigger role. Landscape photographers need to pay attention to the focal length of the lens.
There are photographers who just do wonders with almost any lens, choosing a wide-angle lens will allow you to capture the right essence of the natural wonder and your picture speaks for itself.
Landscape photographers often use a full-frame camera like a Sony A7 or a Sony A9 as they need not worry about crop factor, but there are a number of options for shooters who have an APS C Sensor Sony camera.
Sony has time and again introduced amazing lenses that can be used with their e-mount camera series. If you are really feeling overwhelmed with the options available online, well, not to worry. Just browse through the list of best Sony lenses for landscape photography and choose the one that suits your requirement perfectly.
Best Sony Lenses for Landscape Photography
1. Sony 10-18mm f/4 G OSS (APS-C)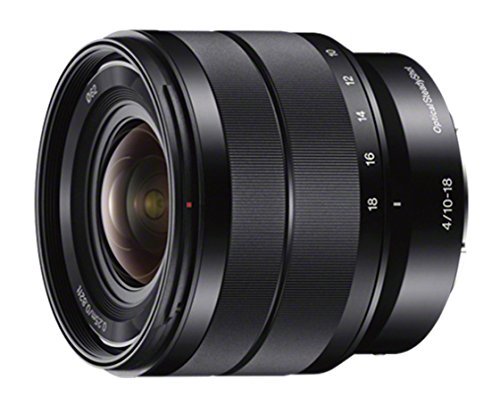 If you own an APS-C Sony camera and are passionate about landscape photography, look no further than the Sony 10-18mm f/4 G OSS lens. This is one of the best lenses that has the widest zoom and suits the APS-C Sony cameras flawlessly.
The aperture of this lens remains at f/4 and is fixed and this is one standard feature of every Sony zoom lens. Though f/4 is not considered to be the right aperture to shoot in low light conditions, this works better than the f/6.3 or other lenses under $1000.
Landscape photographers who love to shoot cities or wide places or love to take quick shots while traveling will love the lens's field of view. The autofocus is quite quick and also be used for shots when you are on the go. But, this lens does not suit sports shooters.
The lens is not only light but also solid and strong and is made using metal. The lens controls the distortion well but the vignetting still has to be corrected a little. The lens has a minimum focus distance of 0.25m and takes about 62mm filters.
The Sony 10-18mm f/4 G OSS is just perfect for shooting landscapes and can also be used to shoot indoors as well. If you are shooting in low light conditions, you can try raising the ISO to get clear pictures.
One of the best features of the lens though is the OSS, which improves stabilization. If you have a camera that does not have this as a built-in feature, this lens can be used to get extra stabilization.
Pros
Very detailed images
ED Glass
Aspherical lens elements
Distance encoder
Lens hood included
Cons
A little high on the price
2. Sony 16-35mm f/4 ZA OSS
The Sony 16-35mm f/4 ZA OSS lens is very sharp and is quite versatile and can be used to shoot all kinds of landscape situations. These are designed to work with Sony cameras that have a full frame. If you like to use a wide zoom lens than the primes, you cannot find a better lens than this, at such a decent price.
The contrast, the color, and the sharpness of the lens are known to be great but some might find the corners to be a little soft when compared to the others. This holds true when you are using a lens above 28mm.
As per the specifications, the lens boasts AA or advanced aspherical along with 3 ED elements that control the distortions and aberrations. The lens also has a T coating which helps to reduce the flare as well as the ghosting. The lens does show slight signs of vignetting and a little distortion can be seen when it is used under 20mm, but such flaws can easily be corrected if required.
The weight of the lens is about 518 Gms which is not bad for a zoom lens and this fits perfectly on all the Sony A7 cameras. The minimum focus of the lens is about 0.92 ft but it does not really do the work for close-up shots. The lens works fine with street and landscape photography and also excels at group shots.
The aperture of the lens is fixed at a length of f/4 and this is one standard feature of all lenses from Sony. If you mostly work outdoors, this is the lens you need to go for.
Pros
ZEISS T (T star) coating
Image Stabilization
Dust and moisture resistance
Cons
Not ideal for videography
3. Sony 18-105mm f/4 G OSS
If you are looking for an all-around lens from Sony, the 10-105mm f/4G OSS is just what you are looking for. This also happens to be the very first G lens that is created for the Sony E mount cameras. The lens is quite versatile and can be used to cover about a 6x zoom range and has a fixed aperture of f/4.
The lens is also known for its complex formula as it uses about 16 lens elements. The lens is lightweight and weighs about 427 gms. The lens is about 11 cm deep and this makes it a little bigger when compared to other lenses from the same brand. The build quality of the camera though is very decent.
The 10-105mm f/4G OSS has the control of the power zoom on the left side and this adds to the smooth zoom action and works best when shooting a video. A focus ring is placed in front of the control, which too can be used for zooming. The focus ring is wide, without any hard stops, but this at times makes it hard to set the focus at infinity.
The Sony 10-105mm f/4G OSS is quick when it comes to auto-focusing and it only takes about 0.2 seconds to lock on to the subject you are trying to focus on. It also has an in-lens motor which makes it perfect for HD movie shooting as well.
The lens has a plastic barrel but the lens mount is made of metal and hence it is sturdy and strong. The lens is well suited for landscape photography and video work, thanks to its broad focal range and the power zoom function.
Though the lens looks big and is a little heavy for a few, it can still be used with a number of smaller Sony cameras.
Pros
High performing lens
Optical image stabilization
Fast autofocus
Pocket-Friendly Price
Cons
A little bigger in size and some find it a heavy
4. Sony 24-70mm f/4 OSS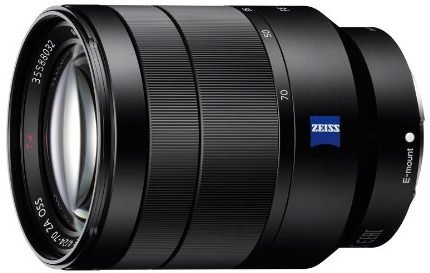 The Sony 24-70mm f/4 OSS is a lens that provides the perfect range for various kinds of photography. Be it landscape or portrait or even traveling photography, you will for sure not get disappointed with the picture outcome.
This is one lens you can carry along as an all-around choice but it is more suitable for indoor shooting as it has a fixed aperture of f/4. Though the lens is not bad for landscape or indoor photography, one can easily go ahead with this.
If you are willing to spend a little more, you can as well choose the 24-70mm f/2.8 just for 1 stop larger aperture.
Landscape photography is outdoors and you hardly have trouble with dim light. If you shoot outdoors at night or if you are into astrophotography you can choose a lens with a wider aperture as you need as much light as you can get. Lenses with smaller apertures are used by many photographers as they provide a bigger depth of field.
The image quality of the lens is extremely terrific and you can expect some sharp images. The corners might appear soft at some lengths, but the overall performance of the lens is very solid. Photographers can at times notice a little distortion or vignetting when shooting at 24mm or 35mm.
The autofocus too is fast and very quiet and this is certainly an added advantage. The lens also has the OSS which comes in handy with the stabilization of the images and is a must when you have spent a lot of time outdoors and are tired.
As conclusion, it can be said that this lens is a good buy due to its versatile range. While it will not really blow you away with the performance but it still is a solid performer and is available at a pocket-friendly price.
Pros
Anti-reflective coating to prevent flare
Circular aperture
ED Glass
Cons
Few complaints about edge sharpness
5. Sony 24mm f/1.8 Zeiss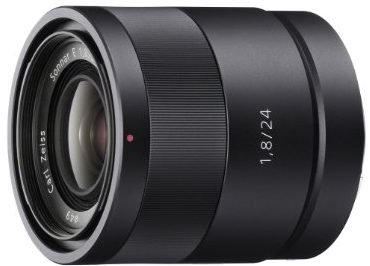 If you do not wish to spend a lot on the zoom lens and instead prefer to use a prime lens, the Sony 24mm f/1.8 is the best pick. The bigger aperture and sleek design make it a perfect lens to choose for landscape and outdoor photography.
This is a premium lens designed especially for compact system cameras from Sony. The lens does not have an OSS like the other zoom lens but has a depth of field of 24mm which enables you to shoot with long shutter speeds and still get amazing results.
If you are using a camera that has an in-built stabilization option, you really have nothing to work about at all.
The lens is sharp and the images taken using it have very rich colors and contrast. You can use the lens at f/1.8 as well but the sharpness at the corner is the best when you stop down a little. The lens has a quick and quiet autofocus, which does not give any trouble when shooting in dim light conditions.
The Sony 24mm f/1.8 weighs about 225 grams and has an alloy body and excellent build quality. Overall, this is one lens that is compact, lightweight, and easy to use with both manuals as well as autofocus.
Pros
Sonnar optical design
Seven aperture blades
Direct Manual Focus
Fast operation, smooth, and very quiet
Cons
The lens is expensive
Image Stabilization is not available
6. Sony 35mm f/2.8 OSS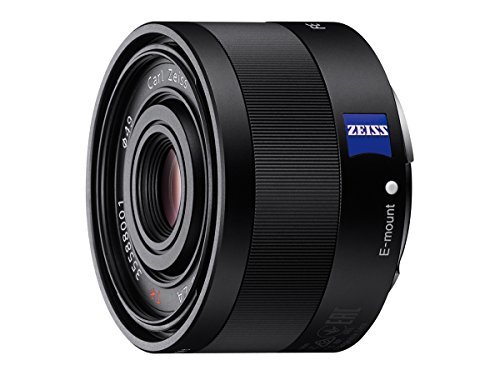 If you are into landscape photography for a long, you would certainly know that a 35mm length is the most preferred by many. This holds true when you need to take some street shots of nature portraits. The Sony 35mm f/2.8 OSS is a small and simple lens that is easy on your pocket too.
A number of photographers often compare the Sony 35mm f/2.8 and the 35mm f/1.4 but the latter not only costs you more but is quite heavy when compared to the f/2.8 model.
If you plan to shoot at night or in low light conditions you can opt for 35mm f/1.4 as it has a much bigger aperture but you can do more than fine with f/2.8 when it comes to landscape photography. The lens also works perfectly for indoor shooting and wedding photography as well.
Sony 35mm f/2.8 includes seven diaphragm blades and the lens can be used for just anything – be it indoors, event, or even for casual shooting.
The Sony 35mm f/2.8 OSS is much lighter and is compact and provides sharp images and has 2 stops smaller aperture when compared to the f/1.4 version. So, it is time you make a choice and choose one that suits your requirement.
Overall it can be said that the lens is a gem and is designed just for mirrorless cameras. The Sony 35mm f/2.8 OSS just outperforms the other 35mm lenses with ease.
Pros
Has a bright and wide aperture of f/2.8
Provides an outstanding optical performance
Dust and moisture resistant
7. Sony 70-200mm f/4 G OSS
A telephoto zoom lens, Sony 70-200 mm f/4 G OSS was first released in the year 2014 and was one of those few telephoto lenses that were good to be used for professional use. Like the 70-200mm from other brands, this too stands out when it comes to performance. The lens has a quick autofocus and delivers top-notch image quality.
The lens is compact too and is much lighter when compared to the f/2.8 version. Being affordable and lightweight made this one of the best Sony lenses for landscape photography.
The lens has a total of 21 elements in about 15 groups and the elements include super ED, Advanced aspherical elements to name a few. It also has an optical Steady Shot image stabilization option, and the 9-blade diaphragm creates a blur over areas that are out of focus, and this does look attractive.
The "dual linear autofocus system" provides a very precise focus and the Super Nano AR coating on the lens protects from flaring and glare. The lens is resistant to dust and moisture as well.
The reach of the lens is quite versatile and hence it is just perfect for landscape photography and for portraits, concerts, and more.
Photographers will have to increase the ISO when shooting indoors and the lens does not rotate or even extend when you are zooming or focusing manually. This is really good if you want to use filters. The minimum focus of the lens is 3.15 feet.
Overall, the Sony 70-200 mm f/4 G OSS delivers amazing sharpness and is weather tight as well.
Pros
Fast and reliable autofocusing
Provides outstanding sharpness
Excellent build quality
Built-in image stabilization
Intuitive manual focusing
Cons
Large size
Constant f/4 aperture
Best Sony Lenses for Landscape Photography – Buyer's Guide
Let us know and learn a few tips and tricks that will help you choose the best Sony lenses for landscape photography. Did you ever hear the rule that you need to first buy a good lens first and then a suitable camera?
Well, this is important and is followed by some as the lenses are the critical elements when it comes to photography and there is no reason why a photographer would want to invest in an expensive camera and use some kit lens.
So, let's understand some basics and know the general rules when it comes to selecting the perfect lens for landscape photography.
The Focal Length
The very first parameter you need to decide on is the focal length of the lens. Many people often think that the lens they need for landscape photography needs to be a wide-angle lens but let us burst this bubble now – you might as well need a mid-range zoom lens and a good telephoto lens.
Some of the best landscape pictures are taken using a telephoto lens, but if you are a starter you can opt for an "all-in-one" lens and can continue to buy better lenses once you gain some experience.
Wide-angle lenses too can be used and are still used for landscape photography as they allow the shooter to capture almost everything they get to see. Lenses that are less than 20mm are known to be extremely wide-angled and those in the range of 20mm – 35 mm are known to be wide.
If you want to isolate a subject or shoot animals or flowers that you encounter on trips, you can use telephoto lenses. The choice depends on your style and you can get yourself a telephoto lens if you have already tried and used a wide-angle one.
The Sharpness of the Lens
The image that you intend to take needs to be quite sharp when you view it. You also need to examine the edges of the image in the frame as they can appear to be blurry when compared to the center. Even the focal length of the lens affects the sharpness of the image too.
More often the lenses are less sharp near the edge and hence you can first try the f/8 or the f/11 and check the close as well as the distant objects. Compare the sharpness at the center and off the center.
Do the same with the f/2.8 lens and you will find that the center is razor-sharp. So, choose the lens based on the image sharpness it provides.
Weather Protection
When you are shooting outdoors, you can experience rain or wind, or even a heavy breeze, and the lens you are using needs to survive such harsh conditions. So, make sure you choose a lens that has a protective layer or a filter attached to the glass on its front.
While many tend to ignore this, a well-protected lens not only lasts longer but provides striking images as well. If you already have a lens that does not have weather protection, you can still protect it using hoods or just a plastic bag.
The Aperture
Well, this is one of the most important factors to consider when it comes to choosing the best Sony lens for landscape photography. Landscape photographers do not shoot at f/2.8 but instead choose to shoot in the range of f/5.6 and f/16.
So, you really need not worry about having a lens with the biggest aperture. If you shoot even after the day ends, you can still use a lens that has a smaller aperture and comes with the feature of OSS. If you want to use the lens for more than landscape photography, you can choose f/2.8 which works fine in low light as well.
If you are into astrophotography, you can choose prime lenses that have an aperture of f/1.4 or f/2.8.
The Filter Radius
Well, are you planning to use filters? Well, if you are using any filters, you need to consider the filter radius and also need to buy extra filters if needed.
For example, a number of lenses are wide and hence require special holders or just a particular filter and the overall cost to secure them all can at times seem expensive. So, calculate well ahead if you need filters and purchase the lens accordingly.
FX Lens or a DX Lens
Well, not every lens is the same. Some lenses are just perfect for crop cameras and the names of these have the letters DX in them. If you are using the DX lens on a full-frame camera, you will only see the portion of the photo that you see in the viewfinder and in the final shot. The rest of the frame just remains black.
You can thus use an FX lens that will work great with DX as well as FX cameras.
Auto Focus and Manual Focus
If you are using a tripod, you certainly will focus manually as even quick autofocus will not affect the style. But it always helps to choose a lens that has quick autofocus as it comes in handy when you travel without your tripod or when you have to shoot something on the go.
All the lenses from Sony have very reliable autofocus.
The Size and the Weight of the Lens
Lenses might sound amazing when you read about them online or on paper but remember that you are the one who would carry them for hours to shoot. So, consider the size and the weight of the lens and you can check them both online.
Now that we know how to choose the best Sony lenses for landscape photography, let us try and answer some of the most commonly asked questions.
Frequently Asked Questions (FAQs)
What are the kinds of lenses landscape photographers need?
This is a very common question, mostly asked by beginners. There are four types of lenses a landscape photographer can use. They are
A 14mm f/2.8 lens that has a wide angle and a wide aperture and is ideal for nighttime photography.
A 16-35 mm f/4 lens which helps with wide-angle shots
A 24-70mm f/4 lens which works as a walk-around lens
A 70-200 mm f/4 lens helps to capture landscapes from a distance.
Can I use a 50mm lens for landscape photography?
Well, to get quality images of landscapes you need to have a lens that has amazing sharpness, and the 50mm prime lenses are just perfect for the job.
How many lenses do I need to carry?
Photographers often go on a lens buying spree thinking to have a lens each for a conceivable situation. Well, carrying too much weight not only tires you but you might as well find it confusing and hard to concentrate.
You can carry the lens based on what you intend to shoot. In most cases, two or three lenses are what you might need. Think about what you want to achieve and choose the lens accordingly.