If you are a well-rounded photographer, you might have a niche for different genres but there is still one genre you enjoy the most and pursue as your passion. For some such photographers, passion is automobiles or cars.
If you are one of those who enjoys clicking some great pictures of cars, you might be wondering where to start. While one can even use a smartphone to capture some stunning images, it certainly does not give you the results a professional DSLR camera would give.
So, the equipment you use is important and this is one of the reasons why we bring to you the five best cameras for car photography.
Before we get started with the list, let us have a look at a few basics you need to know. Automotive photography is just not as simple as it sounds. You might want to take some excellent shots of those pretty cars in car shows or during car racing and more.
To get some amazing shots of the best cars out there, you need to consider the two most important factors – the twilight and the nighttime. If you want to capture a wide variety of images, you need to be versatile with the lens and also have various flash choices ready.
By using DSLR or ILC cameras, you have all the ability to adjust the exposure and can also keep the shutter option as it helps with light painting. All these cameras certainly provide you with stunning and high-quality pictures.
So, let us know and have a look at the best cameras you can use for car photography.
Best Cameras for Car Photography
1. Canon EOS Rebel T6 Digital SLR Camera
The very first camera on our list the Canon Rebel T6 18MP APS-C sensor DSLR camera is capable of equipment that is way better than other entry levels of cameras available online.
If you are a beginner and have a small budget, this is the right one to choose. The camera though is affordably priced helps photographers to take some quality pictures and is filled with a good number of useful features.
The camera has a good large and a bright viewscreen which works amazingly to view the pictures that are taken already and this feature also works quite well when you are working on a well. Though the camera does not tilt or flip, it comes with a Wi-Fi built-in and has an NFC too.
By using this feature, you can easily view the pictures on the smartphone and also use some third-party applications to control the camera.
The Canon Rebel T6 18MP APS-C sensor DSLR camera has an APS-C sized sensor with an 18 MP resolution and this way better than many professional cameras that are available till a decade ago.
Remember the 8 MP cameras from the year 2008 that used to provide excellent prints of 16*20? This camera too helps you take amazing pictures of your favorite car without much hassle.
The camera comes with a zoom lens of a normal range, i.e. 18-55 mm and also includes T6. Photographers can use various Canon EF lenses or any third-party lenses as they all fit well with this camera. Few photographers opt to go ahead with the kit that comes along with the camera but it is slow when it comes to the aperture.
Almost all the DSLRs from Canon provide a decent video and this includes the T6. Though you might not be able to take a very professional video, they are still amazing to be used online- for web posting. The battery life of the camera can decrease if you are using it to shoot a video as it gets switched on to the live view.
The controls of the camera are quick and easy to understand. Most photographers get used to the features without any trouble and the "most used features" can be found easily as they are not placed deep inside the menu.
The Canon Rebel T6 18MP APS-C sensor DSLR camera is indeed the best if you are looking to buy the best camera for car photography.
This is indeed highly recommended by the experts!
Pros
Affordably priced
High-performance DIGIC 4+ Image Processor
Built-in Wi-Fi and NFC connectivity
Focus is quick and accurate
Cons
Only used by beginners
Problems with Wi-Fi connectivity
2. Nikon D3400 DSLR Camera
If you think capturing pictures with your smartphone is easy, think about the clumsy zooming and how shooting in low light conditions is highly impossible.
Well, not anymore!
Photographers who love taking pictures of automobiles can now choose Nikon D3400 and there is no need to compromise on the image quality any more. Capturing some fast action is no longer luck with the D3400.
Experts who have used the D3400 have taken amazing pictures, especially when the light conditions are low. The camera can also be used to take excellent pictures when the cars are fast in action. Photographers can also sync the camera with the smartphone to take absolutely stunning pictures.
The Nikon D3400 DSLR camera is entry-level equipment that includes the DSLR "D3400 APS-C format". The camera sports a 24.2 Mp sensor and can compete with the cameras from the pro series from the same brand. The D3400 is smaller in size and is lightweight and lacks a few features that are present in other high-end cameras.
But, you can still be assured of high-quality image files. Being lightweight is an advantage as you can carry it everywhere you go. The controls of the D3400 are laid smartly and this helps with intuitive control.
The camera has a bright optical viewfinder that provides a glare-free view, which is sharp and lifelike. The camera also comes with an 18-55mm lens kit and the lens provided is indeed a fine performer too. Some of the popular packages of this camera also include the 70-300 f/4.5-6.6 lens, which also works fairly.
Photographers can find a whole range of lenses, flashes, and various other accessories from Nikon online. One of the important things to note is that the lenses that do not have an in-built focus motor will not work to autofocus on this particular camera.
So, this is something you need to check if you are planning to purchase some additional lenses online.
If you are planning to use the camera to capture some videos, it works great. As it is a known fact, the battery life reduces when used in the video mode, but it works fine for exposures of 800 or so.
Another important feature of the Nikon D3400 is the Nikon SnapBridge. Photographers can easily transfer the photos taken to their tablet or a smartphone with ease.
The feature works amazingly with the Nikon Image Space, which is a cloud sharing and storage site, where you can back up all the pictures taken and share the albums with ease on social media.
The camera is lightweight and provides superlative picture quality.
Pros
SnapBridge Bluetooth Connectivity
Lightweight and small in size
EXPEED 4 Image Processor
2MP sensor with excellent image quality
Cons
No touchscreen or a tilted LCD
Few users have SnapBridge connectivity issues
3. Canon EOS 80D Digital SLR
If you are into Car photography, it is time you check out the Canon 80D, a camera that is competing with some of the best ones like the D7200 from Nikon. This is prosumer and hence an excellent choice when it comes to car photography.
In simple terms, the Canon 80D is filled with features, has all the functions you need to get an amazing click, and boasts of excellent build quality. This can be used by an amateur or even a professional and is available for purchase online at a pocket-friendly price.
The camera has excellent autofocus and it features a "45 point AF system" which helps with accurate and fast autofocus in any light condition. The autofocus feature can be used on the EF and AF lenses from Canon and other brands as well. The autofocus can also be used in video mode and it is quite accurate.
The camera includes the 24.2 MP APS-C sensor and this is one of the reasons why you can be assured of amazing images, all of which can be easily blown to large prints. Photographers often take complete advantage of this camera by using high-quality lenses.
Canon 80D has a "vari-angle touchscreen viewscreen" which is perfect to be used for both videos and taking pictures. It can be used for a number of shooting situations and the built-in Wi-Fi and NFC features enable the users to share the images with just a click. All the basic functions of the camera are easily accessible from the menu, which is a touchscreen.
The camera withstands heavier use, and it is also protected against moisture and dust. The battery life of the Canon 80D is much higher when compared to various prosumer cameras from the same brand.
Car photographers can use it to take videos for a couple of hours and still can be used to take 1000 still exposure with ease. The camera also has the needed coatings which help to maintain the color balance and it also reduces ghosting and flare.
Though there are other cameras if you are into making films on car photography, the Canon 80D is still a great choice for professionals. If you are looking for one camera that is perfect for hobbyists and professionals, this is the one to go for.
Pros
Intelligent Viewfinder
2 Megapixel (APS-C) CMOS sensor
High-Quality Image Capture
7-blade circular aperture
Cons
Not ideal for too much of video shooting
4. Sony a7 Full-Frame Mirrorless Digital Camera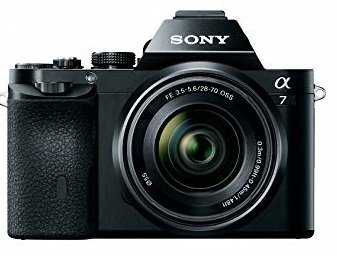 If you are looking for the best bargain, look no further than the Sony a7 full-frame Mirrorless digital camera that comes with a full-frame sensor, just perfect for car photography. The camera is mostly sold with a kit lens which is quite effective.
Even though the Sony a7 is a mirrorless camera, it is compact and easy to carry around. However, the lenses included are not tiny and photographers can find a good number of lenses that can be paired up with the camera.
This is one such camera that easily slides into your camera bag, and leaves a lot of space to add in some lenses and other photography equipment as well.
The Sony a7 comes with a 24.3 MP full-frame sensor and is mirrorless. Due to this, photographers can find adapters that fit any lens made for an SLR 35mm camera that fits perfectly with the Sony a7. The lens kit provided with the camera is sharp and has a slow aperture.
The camera is also excellent for video shooting. The battery life of the camera is a little low when compared to other cameras of the same kind. As the camera is mirrorless, the view has to be electronic.
The camera has a perfect combination of old-school feel and high-tech features, which in itself is a very interesting mix. Some of the options on the camera can be adjusted using the dials, and for others, there is a huge menu you can access.
The Sony a7 has improved autofocus, thanks to the Hybrid AF w/ Phase-detection feature which provides a focusing speed similar to a DSLR. Sony also uses the all-new BIONZ X Image Processing Engine which effectively reproduces real lifelike images.
While most of the features of the Sony a7 are pretty much the same when compared to other cameras, a number of photographers still prefer using a full-frame DSLR camera over APS-C.
Pros
3 MP full frame CMOS sensor
3″ tiltable LCD
Wi-Fi and NFC
New Eye AF Control
Remote Camera Control
BIONZ X Image Processing Engine
Cons
Battery Life
A very deep menu
The lens provided with the kit has a very low aperture
5. Canon EOS 6D Mark II Digital SLR Camera
An outstanding camera for that ultimate performance, the Canon EOS 6D Mark II digital is just what you need for your car photography. Though a compact camera, it provides excellent performance and is available at an impressive price for purchase online.
The Canon 6D Mark II is heavy and larger when compared to the other cameras on the list but is quite rewarding at the same time. Though a little expensive, the camera provides superb image quality, just like it promises.
With improved ruggedness when compared to other cameras and with access to an amazing number of lenses from Canon and other brands, what else can you ask for?
It is a well-known fact that Canon has been making EF mount lenses since the 1980s, and car photographers can use such lenses on this full-frame device to achieve the best quality pictures ever. The autofocus of the camera is fast and very accurate and this can be made ready for auto racing just by mounting a long telephoto lens.
This works great for various kinds of automotive photography too. Photographers can also use various lenses like macro lenses, angle lenses, and zoom lenses of different focal lengths to achieve perfection.
The Canon EOS 6D Mark II digital boosts ruggedness and solid construction and provides ultra-fine quality images. With excellent battery life, it nearly gets impossible to find flaws with the camera.
With a good number of features like the 26.2MP Full-Frame CMOS Sensor and the DIGIC 7 Image Processor, photographers can with ease shoot full HD videos at 60fps.
If you are looking for an excellent full-frame camera, then the Canon EOS 6D Mark II digital is the one you need to go for.
Pros
2MP Full-Frame CMOS Sensor
DIGIC 7 Image Processor
Built-In GPS, Bluetooth & Wi-Fi with NFC
Cons
Little Expensive
Heavy when compared to other cameras
Buyer's Guide for Best Cameras for Car Photography
You need to understand what the suitable conditions are, in order to take picture shots while staying in the car. You need to consider several angles while going in for automotive photography.
This buyer's guide for best cameras for car photography illustrates the top brands you go in for. Plus we also provide you with tips and strategies for shooting cars.
You can park the car in a safe zone to click pictures with stunning views of the mountain in the background or take a dig into the gurgling waters of a springing water body. You could also pay attention to factors like lighting, angle, background, camera settings, etc. This can add a sea of difference to your pictures and quality.
Lighting Conditions
Choosing the right lighting conditions can actually reflect on how good your photos turn out to be. You can use hours after the sunlight until the hours just before the onset of a sunset. Utilize these hours to catch up with super-good photo shoots. Low angle sunlight can always add warmth or texture to sharp images.
Once the lighting becomes dimmer, switch on the focus-mode lights. The sky sometimes shapes up into a vibrant kaleidoscope of colors just before the onset of a sunset.
You need to pay attention to the clouds and work hard to get the shot dialed in. Choose cameras with higher aperture values ranging from f/14 to f/20. You can buy a Canon or Nikon model with higher aperture values.
Use Stylized Techniques
Using stylized techniques can enhance the quality of your photoshoots especially while you try clicking ones from your car. You need to defocus the background throwing more focus into the subject. This technique is named bokeh.
You can use set the aperture as wide as possible (f 2.8/ f4). This way, you are able to get better pictures.
Here you just do one thing that is different. You boost up the shutter speed. The images will appear sharper and will unveil an artistic flair as well. Canon EOS 200D 24.2MP Digital SLR camera fitted with an f4 STM lens can be a great buy indeed.
What vision do you have in mind?
In this buyer's guide for best cameras for car photography, we look at it the other way around. The tips or strategies required to take wonderful car shoots are discussed at length. You can then choose the relevant models accordingly.
Again to take great photos while driving, decide on what vision you have in mind. Sometimes you may want to take a closer snap of an airplane flying above your Rolls Royce. Choose the airport where you have slightly lower traffic on airplanes. You can choose the parking lot accordingly.
You can also upload a tracker named FlightRadar 24. This tracks incoming flights. Choose the timing and the spot. This way, you get the picture frame with an aircraft flying just above your car.
You can use similar techniques to shoot fancy images stuttering above your car or limousine.
Zoom the environment by de-focusing the subject
In the previous set of paragraphs, we had spoken about de-focusing the background and emphasizing on the subject. This time, you are going to try doing it the other way around. Using extra lighting, beautifully highlight the natural background.
It can be a scenic view of the mountains or a beautiful lake. Focus on natural surroundings completely. And merge it with the insides of the car. It may take about 20 laps to get the shot and the timing is done perfectly.
But in the end, it is fun and exciting.
These are some of the mind-boggling strategies you can use while clicking photos driving down the road. Canon, Nikon, Sony, and Panasonic are great models you can invest in for the ultimate unique range of pictures in car photography.
Now that we know about various tips to keep in mind while buying a camera for car photography, let us have a look at a few questions that are frequently asked.
FAQs
What camera do I need to start with?
This is one of the most common questions beginners have. You can go ahead and ask this to various car photographers and you are bound to receive different answers each time. You can start taking amazing pictures of cars using a beginner DSLR camera that can help you grow as you keep learning.
You can choose the best cameras from brands like Nikon or Canon, as they are user-friendly and have an affordable range of cameras that come with a lens bundle.
What is the right gear I need to have to capture some great automotive photos?
Well, the gear that you choose or that you have in your camera bag is indeed your own personal choice. It entirely depends on the skill of the photographer and the kind of photography they are interested in. You can choose a good DSLR camera and most of them come as a bundle.
You can even add a 50mm lens as it is fantastic as a starter lens. Once you have explored enough with the lenses you have, you can try using a wide-angle lens and telephoto focal lengths. You can also choose the best from the zoom lenses available online.
Car photography is more than a hobby to many. To pursue your dream and to capture the best images of your dreamy vehicles, you certainly need to have the best gear in hand.
So, get online to check out the best cameras for car photography available for purchase.