In this article, we have reviewed the 10 best tripods for DSLR in India along with a comparison table and a detailed buyer's guide to help you choose the best tripod possible for your needs.
In this running life, you cannot hold anything. The time passes and memories get faded, but you have to keep a few of them fresh with you in the form of photographs. Photography is a passion for few, and few love to so that they can steal a moment that will not come back ever. The photos people have are not just a piece of paper, but it has a complete story.
Taking pictures has become very easy nowadays. Everyone carries a camera with them on their mobile phone, but nothing can replace DSLR. The image quality and clarity in the photos clicked by DSLR worth appreciation. A full-fledged DSLR can make your photography experience unforgettable.
When you think about the DSLR crew member, the first name that comes to mind is a tripod.
DSLR tripod can make it easy for you to capture some amazing photos. Tripod keeps your camera in a steady position, and you can click a picture without any shake. A shaking camera can only capture the blur images, a black spot on a newbie's prestige to an experienced photographer.
No matter where you are carrying your DSLR and what type of photos you are to click, its best companion is a tripod. Many of us may think that it's just a stand of the camera with three legs, but only the experienced photographer knows its importance.
If you are a solo traveler, it will let you click some mesmerizing photographs, and if you are traveling with a team, you suddenly become the most important person in the team with a DSLR and tripod.
You will find various options in tripods at online shopping sites. If you plan to buy one for your DSLR from the Offline market, it's better to check than online first. The availability of various DSLR tripods and variations in their Price can confuse anyone about what to buy.
So here we have the ten best tripods for DSLRs in India. Read about them and find out which one is suitable for you and why;
10 Best Tripods for DSLR in India:
A tripod helps a photographer take a perfect shot. It blocks the movement of the camera so that a perfect picture can be clicked. Sometimes a photo gets blurred because of shaking, and we miss capturing a moment.
If you love to click nature photos like sunset or sunrise, you will also need a perfect tripod with perfect timing. In close-up shots and sports photography also a tripod helps a lot in getting the perfect picture.
The market for tripods is huge enough to confuse you about what to buy. To choose the right tripod for DSLR easily, we have the ten best tripods here. We reviewed the best ones to find out their pros and cons.
So, let's get the benefits of our brutally honest reviews on the best ten tripods for DSLRs in India.
1. Photron STEDY Pro 550 Tripod
If you ask someone passionate about photography about the best tripods, the person will take Photron's name in the first few tripods. It's one of the highly recommend tripods that is easy to adjust, assemble, and carry. It comes with four-tube section legs made with Aluminium.
The maximum height of the tripod is 1050mm, and its minimum height is 415 mm. For the stability of the tripod, it has robust aluminum construction. The tripod can carry a load of up to 2.5 kg. It is ideal for DSLR, and if you want, you can also click photos from the camera.
The metallic black color of the tripod makes it a classic choice for professional photographers.
It comes with a level tester that makes your photographs perfectly captured. With the tester, you will get to know the level of the ground. Its three-way pan head and quick release plate make it a perfect tripod. The lightweight tripod is made in India.
Pros
The product is the value of money. You can buy it at a reasonable price.
Photron Tripod 550 is much better than its earlier versions in load holding capacity, durability, and product weight.
The tripod is designed to hold a DSLR, but it also comes with a removable mobile phone holder.
Cons
The tripod has a bubble tube on its legs. If it were placed on the top of the tripod, it would be easy to use the bubble tube effectively.
Its low load capacity makes it a perfect tripod for mobile phone photography. For DSLR, its load capacity is slightly low.
A remote is missing from this tripod. If it was added with it, then it could become the best deal.
2.

Benro T600EX Digital Tripod Kit
The Benro T600EX Digital Tripod Kit is best for travelers. The best thing about this tripod is its weight. The tripod kit's total weight is just 1.5 KG that makes it an ideal partner for traveling.
Its 3-way Pan head lets you rotate the camera as per your requirement. The tripod has a plastic and aluminum body that makes it durable. The quick lock-in legs is the USP of the product.
Pros
A very light weighted tripod that can be carried anywhere.
A quick lock in the legs to make the camera stable and photos perfect.
The product comes at a reasonable price.
The tripod is easy to adjust.
Cons
Benro T600EX Digital Tripod is slightly expensive.
Within the same range, a few tripods are available with remote options.
3. Everycom Pro Tripod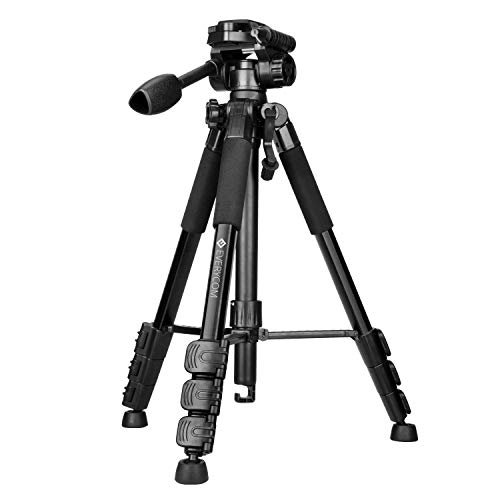 Everycom Pro Tripod is very light weighted. Its weight is slightly more than a pound only. It is made of light-weighted Aluminium, so it is light in weight and high in performance.
The product is durable and long-lasting because of Aluminium. It has a Pan Head that can rotate the camera to get you to the right angle. Its 3 section lever lock legs give the desired height to the camera.
Pros
The tripod's quick-release plates make it easy for the photographer to transition between two photos quickly.
The lightweight tripod makes it the perfect shooting accessory.
The 4 section column legs cab be extended enough to provide the perfect height to the camera.
Cons
The Price of the tripod can be a reason for disappointment.
4. Yunteng Aluminium Tripod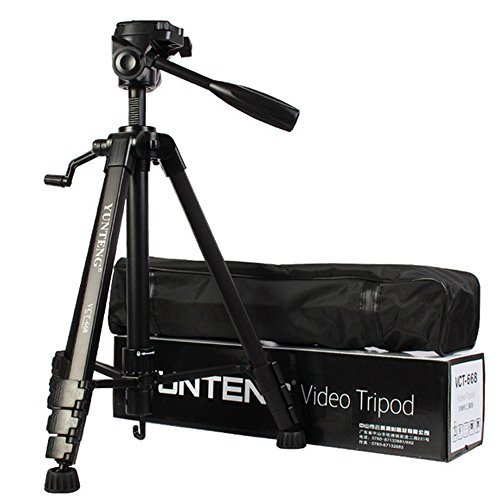 The Yunteng Aluminium tripod has a load capacity of up to 4 kg, so you can trust this one to handle your DSLR load. The tripod's maximum height is 1455 mm. The tripod is made of Aluminium, so it is durable.
The product's weight is 1.3 kg, so it's light enough to carry even to hills to have good photographs.
Pros
The tripod is very lightweight.
The load capacity of the product is sufficient enough to hold a DSLR
Yunteng Aluminium tripod is made of Aluminium so that it will be long-lasting.
Cons
Plastic is also used in the tripod which makes it less durable.
5.

Vanguard CX203AP Tripod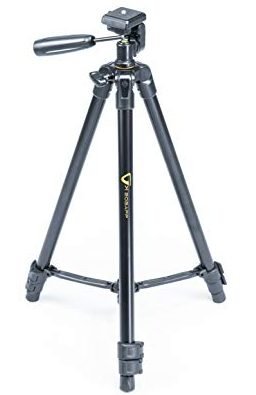 The tripod can carry more than a 7 kg load. When the tripod is capable of carrying such a heavy load, then you can feel relaxed. Despite being capable of handling a 7 kg load, the tripod is very light weighted.
The total weight of the tripod is 1.1 kg. The product is made of Aluminium and comes with two years of warranty. It can be extended up to 61 inches.
Pros
The Vanguard CX203AP tripod is made from Aluminium, and it looks classic and expensive.
The tripod has a nice grip on your camera.
The leveling bubble of the tripod is a perfect position.
Cons
The handle of the tripod is short.
The x-axis tilt needs more pressure to work smoothly.
6. AmazonBasics 50-Inch

Tripod
The AmazonBasics, a 50-inch tripod, is made with light-weighted Aluminium. The recommended weight for the tripod is 2 kg. Though it is slightly overweighted within its range, the product is perfect.
Tripod comes in a very reasonable price range. Its three-way head has a good grip, supports the tilt, and is compatible with landscape and portrait positions. Its height can be extended up to 50 inches.
Pros
The tripod comes in a reasonable price range.
It has three sections lever lock to adjust the height easily.
Cons
Not compatible with mobile phones.
7.

Manfrotto MK055XPRO3-BHQ2 Aluminum Tripod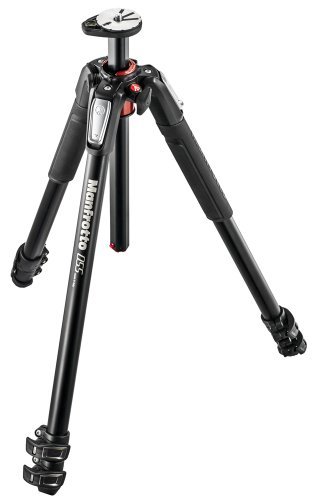 The Manfrotto MK055XPRO3-BHQ2 Aluminum Tripod comes in the exclusive category of tripods. The tripod is expensive in comparison to the others mentioned above. This Italy-made tripod is exclusively used by professionals. It can take up a load up to 9 kg.
The quick power lock of the tripod is a surity of the stability of the camera. The product is made from Aluminium and fiber. The Manfrotto with a set of three fiber legs and XPRO head ball is also available separately, but newbies and professional photographers love their combination.
Pros
The tripod provides the required stability to the camera even when it is at maximum height.
The ball head works amazingly well.
Cons
It's supplied without any spiked feet.
8. Kenro Karoo Travel Tripod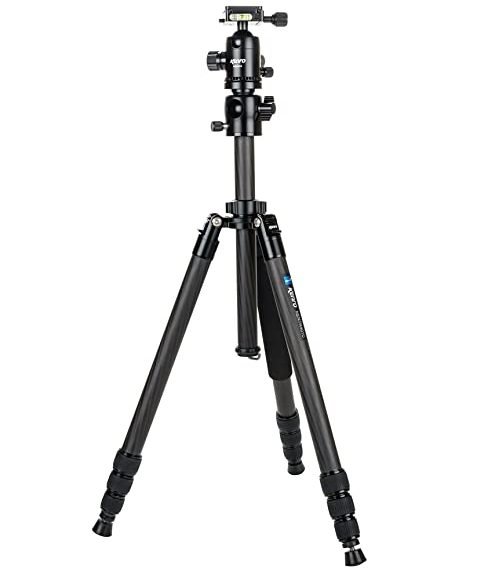 The tripod is exclusively for professionals. The weight handling capacity of the product is 8 kg. Though after folding it, its size gets reduced still it is not recommended to shoot random photos.
The tripod has carbon fiber legs. One of its legs can also be used as a monopod. Overall the product can be a perfect one if you are learning photography and want to be a professional soon.
Pros
Most of the tripods could not keep a camera stable when they reached on their maximum height but this one is good in this. It keeps the camera stable even at any height.
Its load handling capacity makes it a perfect tripod that can handle the DSLR and its accessories.
Cons
The total weight of the tripod is slightly more than 2 kg. In the price range of this tripod, many are available with less weight.
It remains long enough to even after folding it.
9.

Simpex Professional Aluminium Tripod
The head of the tripod lets the camera shoot at a low-level shooting. It can also be transformed into a monopod. The tripod's maximum height is 5 ft. the tripod is a perfect accessory for professionals.
It let the camera move from landscape to horizontal easily. The lightweight of the tripod and its compatibility make it one of the best tripods.
Pros
A light-weighted tripod with fiber and Aluminium. Both of the material makes it a durable and light-weighted product.
Its maximum height can be 5 ft but it becomes a tiny one after folding it.
It can also be transformed into a monopod so that you don't need to buy an additional accessory.
The product makes the camera stable on mountains with high elevations.
Cons
It takes a long time to convert it from its actual to compatible size.
The price of the tripod is high so not an ideal product for new photographers.
10.

DIGITEK DTR 550 LW Tripod for DSLR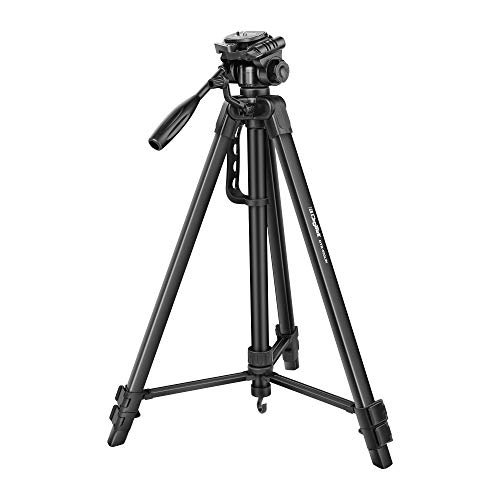 All professional photographers understand the importance of a tripod. To click photos like a pro you need a tripod that can handle the load of the camera and adjust it to click a photo from a right angle.
Digitek DTR tripod offers stable support to the camera so that a high-quality image can be clicked. Three height adjustments help the photographer click the best sunrise and sunset images. The lightweight tripod is easy to carry and you will not hesitate to add it to your luggage when going to the hilly area.
Here are the pros and cons of the tripod, check them out.
Pros
The tripod is made with aluminum which is a light weighted and durable material.
The three height adjustments help to click the photos from all angles. The height of the tripod and its leg spread is adjustable. It works perfectly in hilly areas where each of the three legs of the tripod cannot be on the same surface.
The stability of the camera is good enough so that the panorama and panning shots can be shoot.
The weight of the tripod is 1.2 kg which makes it easy to carry the camera accessory.
The tripod is compatible with camera and mobile both.
Cons
The mobile holder is not firm and has a loose grip over the phone.
A few customers received a damaged product.
A fragile tripod.
How To Buy the Best Tripods for DSLR in India:
Tripod is a must-have accessory for your DSLR. Many different kinds of tripods are available on the market, and all of them claim to be perfect for DSLRs.
Most new photographers follow the other's advice in choosing a tripod that lands them on a bad deal. So it is better to choose a tripod based on your need and requirement. Here we have mentioned a few points that you need to keep in mind when choosing a tripod.
Check them once before making a deal to get a tripod for your DSLR.
Why Buy a Tripod?
Tripod is required to keep the camera stable when you are to click the photographs. It not only prevents the photos from being blurry because of shaking but also lets you relax when you wait for the right moment to click some natural event.
To click some close-up photographs also you would need the support of a tripod.
A tripod balances your camera in uneven places and makes you use your hand freely after setting up your camera in a tripod. It has become a piece of must-have equipment for outdoor shootings and travels photography. You can place your camera on a tripod and check out your diary to learn about Lance's position to click a perfect photo.
A tripod can also be a tool for giving a light effect to your photograph. You can place the LED or any other shade of light on the tripod to click a photo. Overall it is a perfect companion for your DSLR.
The impression of a DSLR and a tripod is unbeatable and can make you a rock star in your group.
What are the components of a tripod?
Before buying a tripod, it's better to know about its components. If it is the first time you are buying a tripod and haven't used it ever, knowledge of components will help you choose one.
Legs: It is a basic and most important part of a tripod. As the name shows, a tripod has three legs is generally made of Aluminium. You can also find the tripods with legs made from plastic, fiber, basalt, and steel, but Aluminium is the most common material used for tripod legs. The legs are extendable to increase the height of the tripod.
Head: To hold the camera or phone or a lens, a tripod needs a tripod head. The ball heads and the pan-tilt heads are the most common heads for tripods.
Centre Column: Tripods also come with an additional leg that can be placed in its center. This leg is named a center post or center column and is used to raise the tripod's head.
Feet: Just below the legs of the tripod feet are placed. The feet give a good grip to a tripod on any surface.
Now you know the components of a tripod. The quality of these components makes a tripod good or bad. The tripods that fall the budget-friendly category have legs with a fixed and non-replaceable head. The Centre column is generally missing from these types of tripods.
As you shift to premium categories of tripods, its material started to be finer, and its components' quality increased. In a high range tripods, the load capacity can be 7 to 9 kg, but only 2 to 5 kg only in the economic range.
What type of tripod will be perfect for me?
If photography is your passion, and you are new to this skill, then buying a tripod will be a current moment. Adding one accessory to give s professional touch to your photography is great, but doing it without research is not recommended.
Shopping for a tripod cannot be similar to shopping for any gadget. You cannot rely only on other customers' reviews to buy a perfect tripod for you as everyone has different kinds of requirements.
Here, look at the basic things you need to keep in mind while adding a tripod for a DSLR to your cart.
Weight of Tripod
The first thing you should notice about a tripod is its weight. A heavy tripod becomes a useless accessory for your photography as you cannot carry heavy camera equipment anywhere easily. Go for a light one to be easy for you to take the tripod on every long and short trip.
Load Bearing Capacity
Another important factor that can play an important role in making a tripod worth using is its weight rating or weight-bearing capacity. Do be calculative when you decide on a tripod for your DSLR. A tripod must be capable of bearing more weight than the actual weight of your camera.
If you are very particular about the tripod weight rating, you may end up with broken lenses or cameras.
The ideal match for your camera is a tripod that can at least bear 1.5 more weight than your DSLR weight. There is no point to keep your tripod only for your camera support. You can also use it as a prop in your photography by adding some lights to it to give effects to your photos.
So it has to be capable enough to handle that extra weight. Also, keep in mind that sometimes when you will use long lenses, you may need some support to your hand, and the tripod will offer it. So, it's better to go for one that can handle more load than your camera.
Height of Tripod
The tripod's height must match with your after extension. The benefit of keeping these criteria in mind while buying a tripod will not let you bend. When your tripod can be equal to your height, you can click a photo without bending your knees. For a good photo in a comfortable posture, the viewfinder should be on your eye level.
If the tripod makes the viewfinder higher than your eye level, you adjust the tripod's height to bring it to your level. For the fixed head, tripods check their tip. A perfect head tip is that which comes to your jawline.
For a tripod that has a separate head, check the tripod's leg. An ideal pair of legs should come to your shoulders for a better photo.
Material of Tripod
The material of a tripod plays an important role in its weight and durability. A tripod made with light-weighted Aluminium is one of the recommending ones.
Aluminum is a long-lasting material, and when you invest in a tripod made with it, you will get long time returns. Another material then the professional recommends the most is carbon fiber. This material is used in the tripods of the exclusive range. Carbon fiber is much lighter than Aluminium and very durable.
Another material used in the making of a tripod is plastic. The material is cheap and has almost no durability. In economical range tripods, plastics are used. It's better to avoid the tripods with plastic to go for a long-lasting product.
Tripods made from stainless steel are durable but too heavy to take outdoor shots, hence not recommended.
Type of Legs
The legs of tripods are available in two types; tubular and non-tubular. In all the premium and expensive range of tripods, you will find tubular legs. In the normal and economical budget range, the legs are available in the non-tubular form.
When you choose a tripod made of fiber, then you will find its legs have a tubular form. The legs have a threaded twist-lock system that locks the legs quickly and prevents them from falling. The tripods made from Aluminium or stainless steel have non-tubular legs. These legs can also be locked, but a quick lock is missing with these legs.
Moreover, when you increase the height of your tripod, the non-tubular legs become less stable.
Center Post
As we mentioned above, a few tripods also provide an extra leg named a center post. The leg is placed in the middle of the tripod to give more stability to your camera. Though it is an extra facility, it is recommended for professional photographers and traveler photographers. The professionals have different kinds of opinions on the center post.
A few consider it as a must-have accessory of your tripod, and the rest find it useless. Keep it in mind if you need a center post or not before deciding to buy a tripod.
Tripod Feet
The tripod feet are generally made from plastic, rubber, or spikes. For indoor shoots, the plastic and rubber feet are fine, but when you are to go outdoor for shooting and click the photos of sports events, then the material spike feet are recommended.
Tripod Head
The head of the tripod holds the responsibility to secure the camera and lenses. The modular tripods don't have a fixed head, and you will have to buy one separately. Check the load capacity of the tripod head before finalizing one for you. Ideally, it should be equal to the weight of the legs of your tripod.
You can choose one of the following heads for your tripod for DSLR;
Pan Tilt Head: is the most common head that is used for both horizontal and vertical movement. It comes with tripods in the economic range.
Ball Head: The head is very flexible and holds the camera and lenses smoothly yet strongly. You will have to buy it separately as it does not come with a tripod. You can place it on the tripods from the exclusive category.
Gimbal Head: the head is used for professional photography. This one is also available separately. The head's load-bearing capacity is much higher than the two types mentioned above of heads. It handles the camera and lenses perfectly.
Stability
The tripods are used for stability. To stable the camera and click the perfect picture, tripods are required, and if any tripod cannot offer this function, then buying it will be in vain.
Sometimes the tripods from the exclusive range cannot keep the promise to be stable, so check this function first then invest in any tripod. You can read other users' reviews to find if the tripod you have shortlisted is stable or not.
Final Words
We have done the research to shortlist a few best tripods for you. When you plan to buy one, keep your budget and use of a tripod in mind. If you are a travel photographer, then invest in one light weighted tripod. For photography in snow-covered areas, it is recommended that you use a tripod with metal spiking feet.
Here we have kept the category of amateur photographers or those who are not trained but love to click the photographs. All the tripods on this page are suitable for un-professional photographers.
To conclude all our research on a tripod and to suggest to you the better ones among the best, we would like to take the names of Yunteng Aluminium Tripod, Simpex Professional Aluminium Tripod, and Manfrotto Tripod.
All three tripods have a good load-bearing capacity. Range wise they are slightly expensive, but they will not cost you as much as your DSLR.
When you invest in a tripod, it must be capable enough to handle your DSLR weight. The cheap ones are not bad either, and if your budget and requirements don't allow you to go for the expensive ones, you can go for the Amazon Choice tripod.
We hope the article has helped you in your search for the right tripod. Keep clicking photos and storing memories with your DSLR.